Repair & Re-Coating Techniques for Composite Housings & RTV Coated Insulators
Silicone rubber has been applied as insulation material in high voltage equipment for decades now because of its advantages, including lower weight and hydrophobicity. However, the weathering resistance of silicone rubber is weaker than that of traditional insulation materials such as porcelain and glass. While it is usually believed that a porcelain or glass insulator has a lifespan of at least 30 years, a composite insulator may have only 10 to 15 years and this time is even shorter in the case of room temperature vulcanized (RTV) silicone rubber anti-pollution coatings.
This past INMR article, contributed by JIA Zhidong, Professor, Graduate School at Shenzhen, Tsinghua University and LI Yaozhong, Sr. Engineer at the Xinjiang Electric Power Research Institute in Xinjiang, China analyzed two kinds of commonly used silicone rubber: liquid silicone rubber (LSR) and RTV coatings. LSR is usually two-part addition-curable and enjoys a good reputation for its low viscosity and good fluidity. It is typically used to make the housings for high voltage substation apparatus such as transformer, breaker and wall bushings as well as surge arresters. RTV coatings are usually one part condensation-curable and widely used to treat the surface of porcelain and glass insulators in order to improve their anti-pollution flashover performance.
---
In the China Southern Power Grid, there have recently been many reports of severe ageing phenomena affecting both LSR hollow core composite insulators and RTV coated insulators. In Guangdong Province, for example, a growing number of hollow core composite insulators have shown different levels of chalking and cracking, resulting in loss of hydrophobicity and decreased mechanical strength.

The mechanical properties of RTV silicone coatings are not necessary to maintain the shape of sheds, as is the case for the HTV silicone and LSR used in composite insulator housings. The performance challenge for such coatings relates rather to their adhesion to insulators and this has also become a critical issue in China. Ageing phenomena such as chalking, color fading and peeling have been observed on some RTV coated insulators after only a few years in service.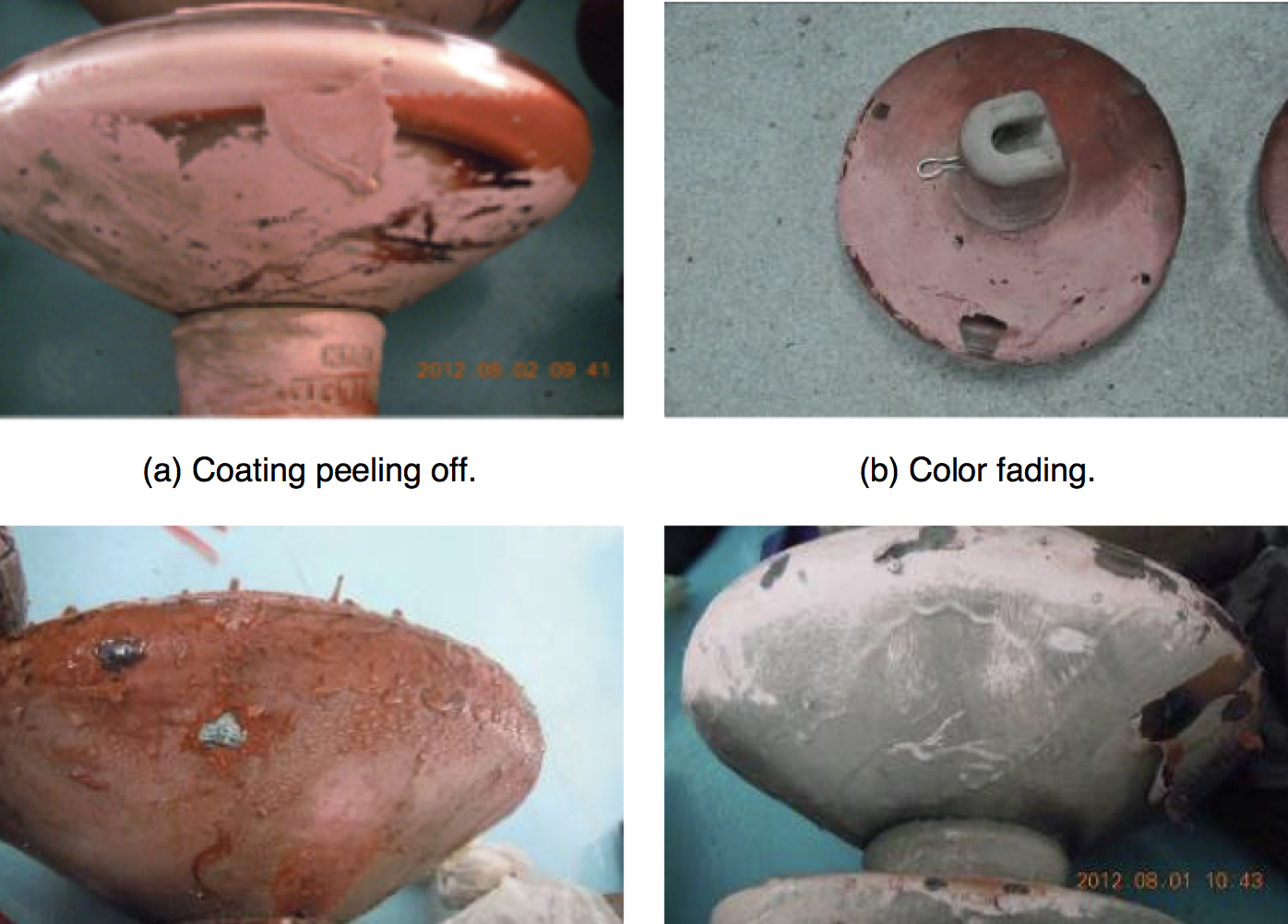 When such ageing phenomena occur, the common practice is to replace the affected insulators with new ones. But the cost is high, especially when it comes to equipment such as wall bushings or other key apparatus. Moreover, the service interruption time for replacement to be made is also considered too long. Given this, re-coating and repair are becoming a superior alternative.
Repair of Hollow Core Composite Insulators
Assessing Degree of Ageing
The first step when it comes to repairing a degraded hollow core composite insulator is to evaluate its ageing degree and performance. In this regard, such insulators can be divided into three categories: unaged, repairable and un-repairable. A repair procedure can only be carried out on those considered repairable. A microscope is used to study the ageing of LSR samples. A layered structure can be observed when dissecting the shed of an aged LSR insulator, which could then be divided into 3 layers.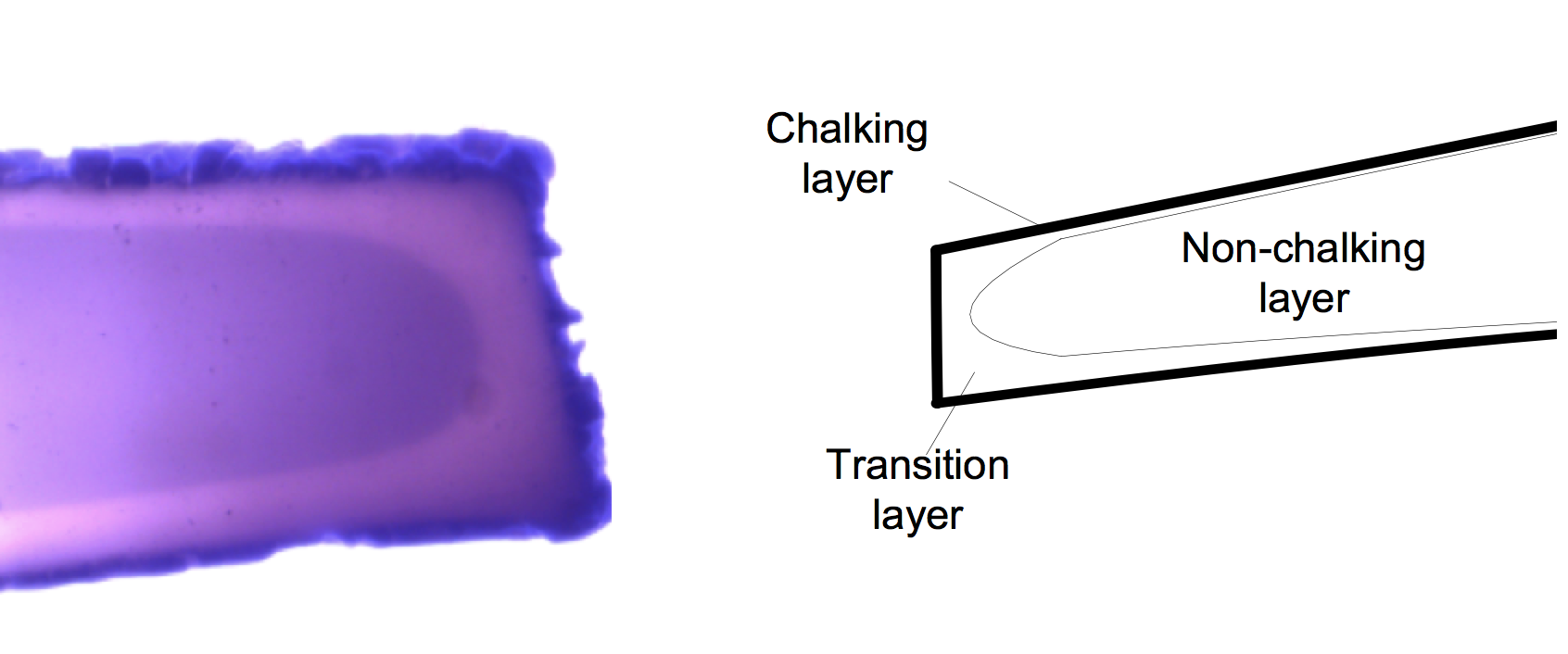 The surface of the shed is white and opaque. Non-recoverable cracks are formed when bending the shed. This part, with a thickness of 0.3 to 0.5 mm, is called the chalking layer. Inside this chalking layer, the LSR shed is relatively transparent and the color is much lighter than the surface. This part is called the transition layer. Inside this layer is the core part of the shed, called the non-chalking layer, in which all the usual properties of LSR are still present.
The cutaway view shown in Fig. 4 demonstrates that the ageing process develops 'outside-in' and degree of ageing could be evaluated by the thickness of this chalking layer. Further study shows that degree of ageing of LSR sheds could be determined by the following indices:
Mirror glossiness: The 60 degree mirror glossiness of unaged LSR is above 60 and gradually decreases after ageing.
Shore hardness: Shore hardness of LSR increases after ageing. Its normal value is 35-40 while the aged value is 45 or higher.
Hydrophobicity: The hydrophobicity of normal LSR sheds is HC1-HC2 while for aged ones, this value is HC6-HC7.
| | | | | |
| --- | --- | --- | --- | --- |
| Category | Chalking layer | Hydrophobicity | Mirror Glossiness | Shore Hardness |
| Unaged | No chalking layer | HC1—HC2 | 60~75 | <40 |
| Reparable | <0.3 mm | <HC6 | 20~30 | <50 |
| Irreparable | 0.5 mm | HC6—HC7 | < 10 | >50 |
Repair Technique
The top priority when repairing an aged hollow core composite insulator is to allow it to recover its hydrophobicity without damaging the unaged part. This procedure is detailed in Fig. 5.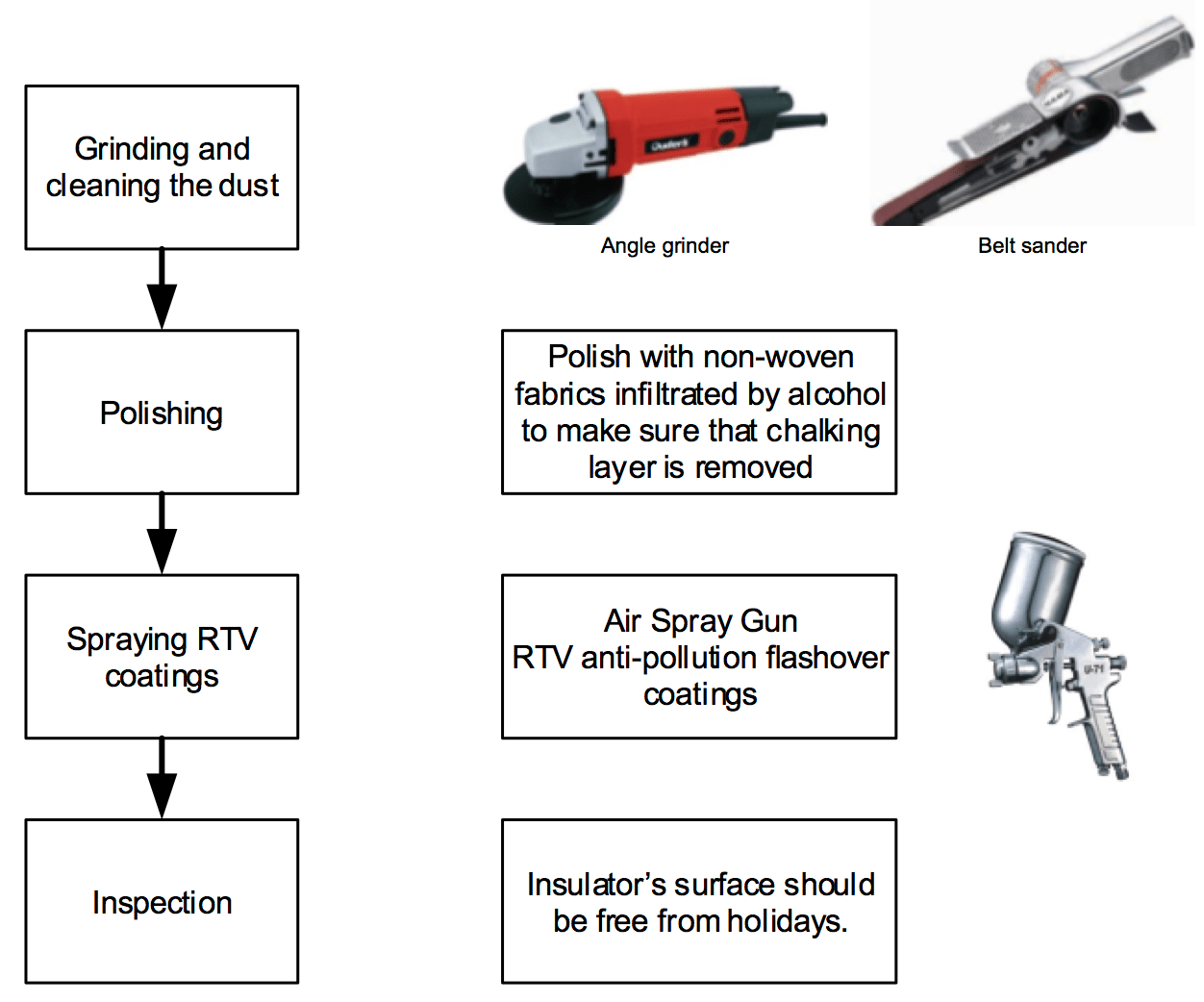 Repair Practice
Repair of aged hollow core composite insulators has been carried out at three substations in Guangdong Province, following the procedure shown above.

Study on Re-coating Weather
Adhesion and hydrophobicity are the most important evaluation criteria when it comes to RTV coatings. Hydrophobicity is determined mainly by the silicone rubber itself, while adhesion depends largely on application technique. When applied during bad weather or with dust or water on the insulator surface, even RTV coatings of good quality could show poor adhesion during service. The recommended re-coating procedure for RTV coated insulators are listed in Fig. 7.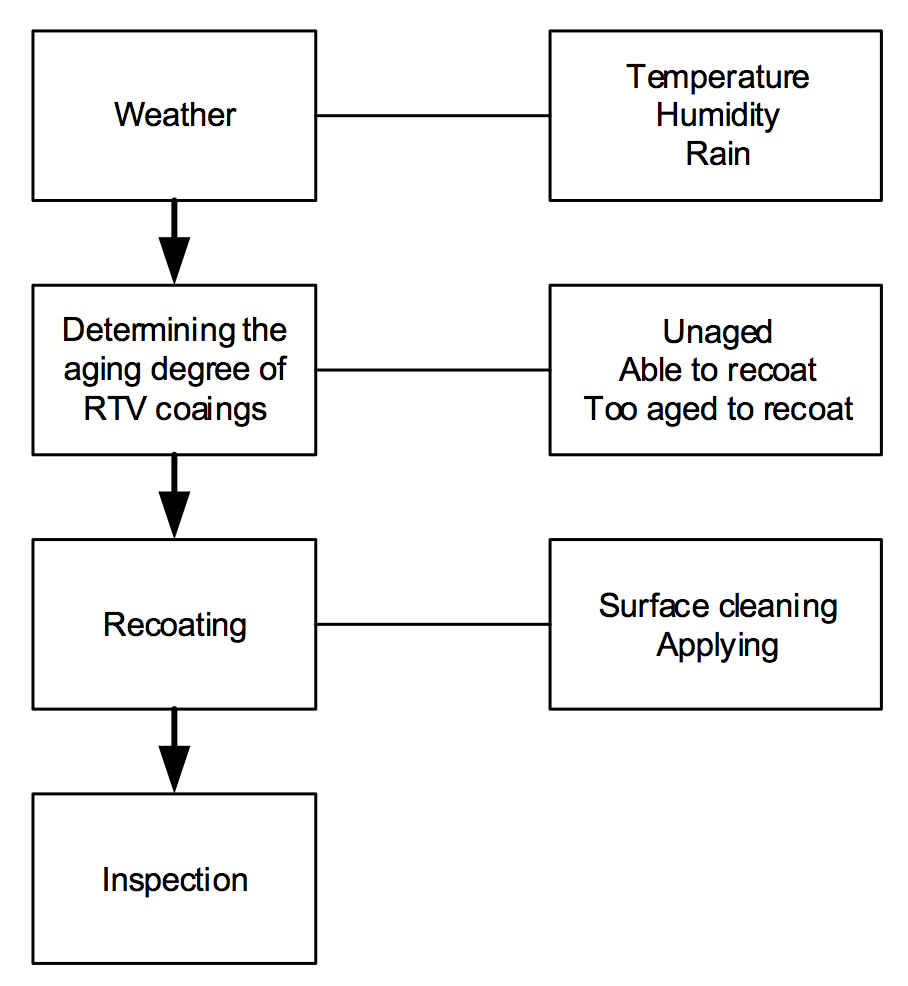 Adhesion Property
Circle scratch tests were conducted to evaluate the adhesion of RTV coatings. The influence of temperature, humidity, surface condition (dust and water) were also taken into account.
Temperature: The temperature was set at 5°C and 45°C, which was approximately the lowest and highest temperature that maintenance staff might come across during re-coating practice. The relative humidity (RH) was set as 60%. Circle scratch tests were conducted on both samples, as shown in Fig. 8.

Test result shows that adhesion of both samples is ISO1, which is considered good for RTV coatings.
Humidity: Four tests were carried out under different relative humidity conditions. The temperature was set at 25°C and the RH at 33%, 75%, 100% and 10%. Test results are shown in Fig. 9.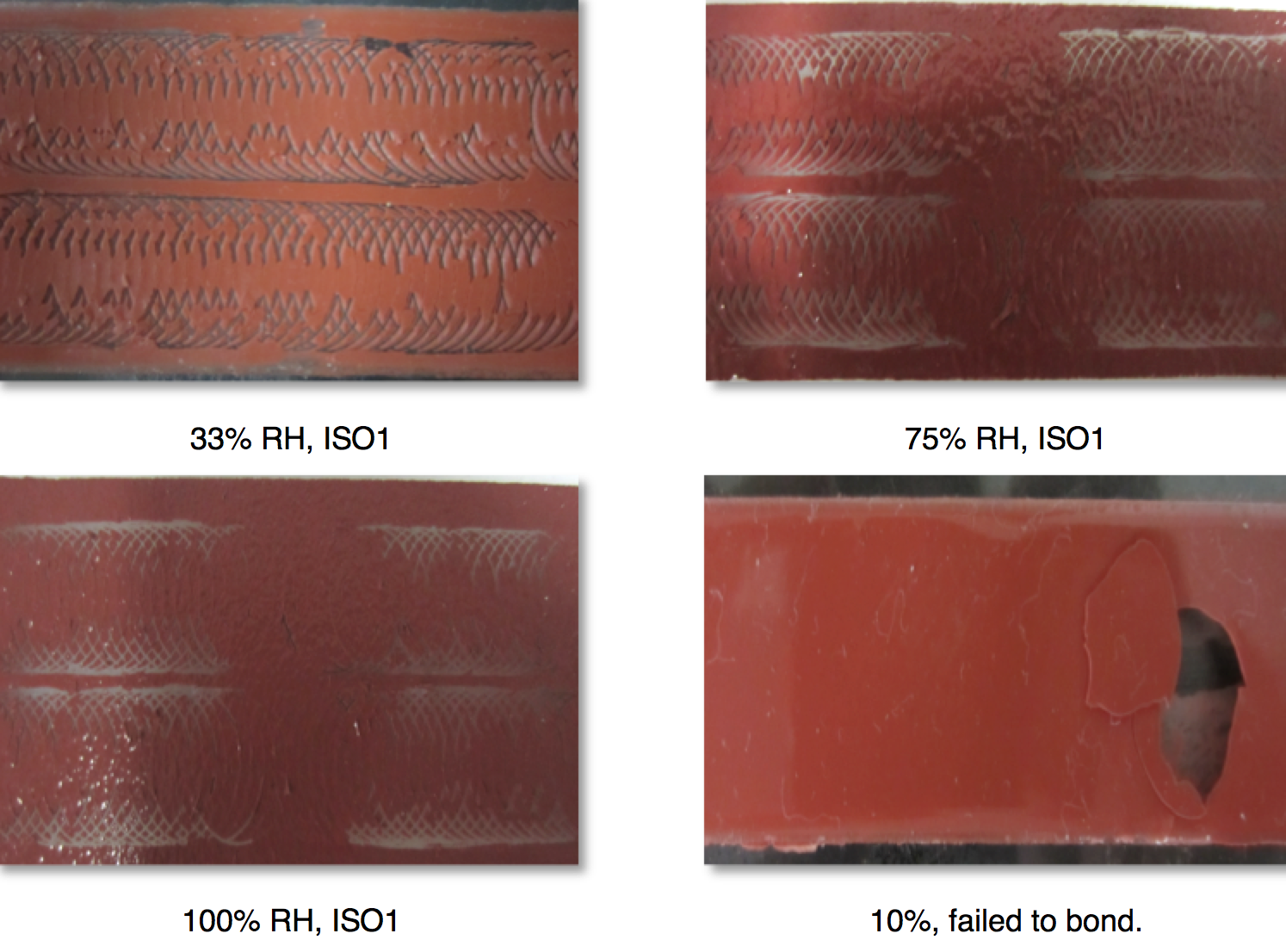 Adhesion of samples in 33%, 75% and 100% RH is ISO1 whereas the sample in 10% RH did not even bond, which indicates that proper humidity is quite important during vulcanization.
Surface Condition: Surface condition of insulators could have great impact on the adhesion of RTV coatings. In re-coating practice, adhesion between the existing RTV layer and the insulator surface is usually very strong. As such, it is not cost effective to remove the original coating. But it is of great importance to polish the surface since dust and water could significantly lower adhesion between the original and new RTV coatings, as shown in Figs. 10 and 11.
The influence of water was tested as well. In the four samples shown in Fig. 11, RTV coatings were sprayed and vulcanized with water droplets on the insulator surface. As in the test with surface dust, adhesion of all samples worsened.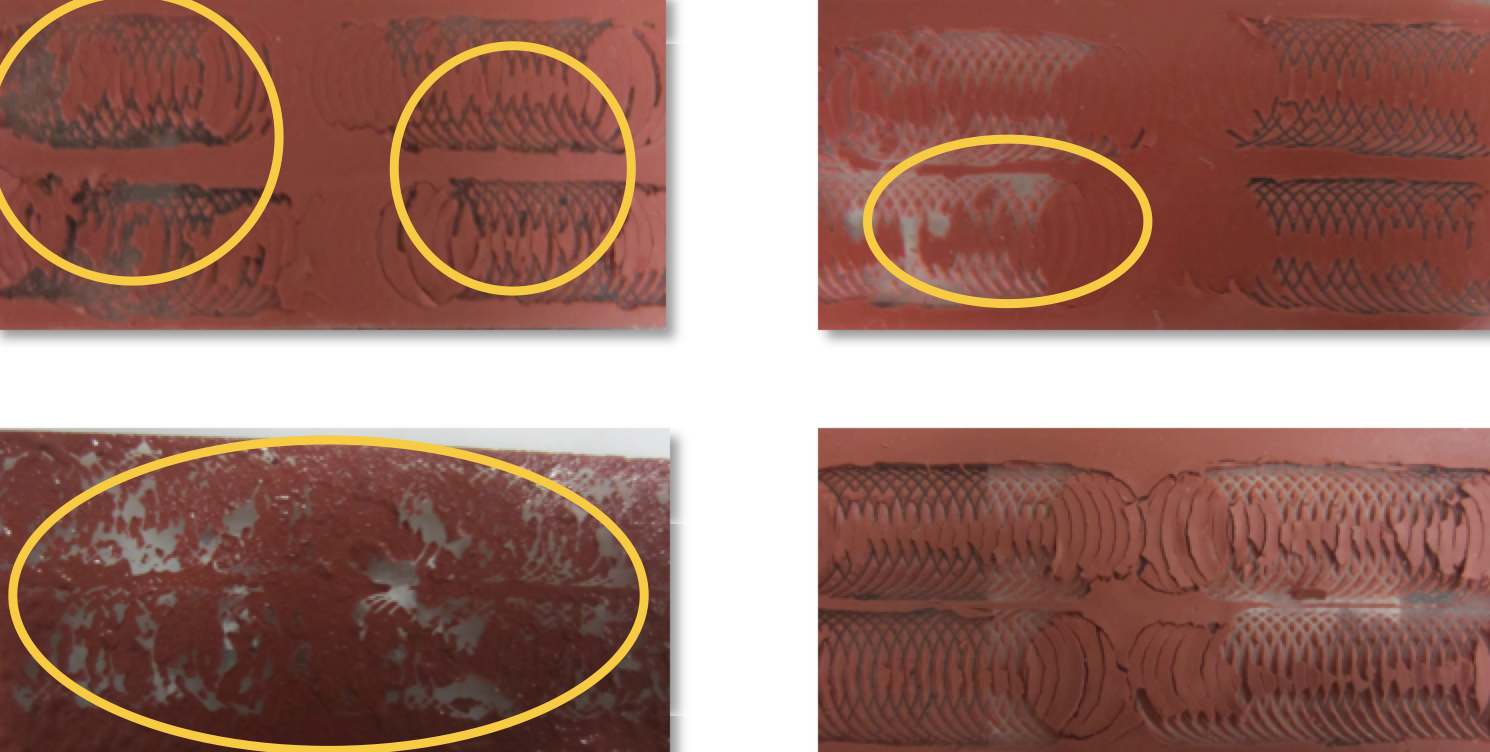 Recoating Procedure
Treating: Spray Details
Spraying is recommended as the better application methodology both in the IEEE standard and in the Chinese national standard, yet details such as air pressure, distance between sprayer and surface and spraying time are all still being studied. Spraying was carried out under 6 different sets of conditions and spraying details. The results and appearance are shown in Table 1 and Fig. 12.


Option 4 proved the ideal condition for yielding a suitable and even thickness.
Re-coating Practice
Re-coating of RTV-coated insulators has already been carried out on several 220 kV tension strings in Shanxi Province, as shown in Fig. 13.

Conclusions
Ageing phenomena such as chalking and cracking of hollow core composite insulators have a potentially great impact on the performance of outdoor insulation. As far as slightly aged insulators are concerned, repair is both time efficient and economical. Original outdoor insulation performance can be regained by removing the chalking layer on silicone rubber housings and spraying RTV coatings onto the insulator surface. Mirror glossiness, Shore hardness and hydrophobicity could all be used to evaluate the degree of ageing of LSR housings and to identify those that can still be repaired (versus those that can no longer be repaired)
To repair an aged insulator, the first step is to use a grinder to remove the chalking layer and clean the surface with air spray guns. The second step is to treat the surface with RTV anti-pollution coatings to recover hydrophobicity.
As far as RTV coated insulators are concerned, removing the original coating is inefficient. Hence, the better choice is to re-coat new RTV coatings directly on top of the original coating. Weather, surface condition and application methods can influence adhesion between the new and original RTV coatings. Tests show that adhesion of RTV coatings is good when applied under 5°C to 45°C atmospheric temperature. High relative humidity would not affect the adhesion whereas extremely low humidity may lead to bonding failure. Dust and water have a great negative impact on adhesion and thus must be eliminated. Spraying is believed to be the best choice to apply RTV coatings and the recommended air pressure, spraying distance and time is 0.6 MPa, 20 cm and 5 s, respectively.