Wildlife Protective Devices for Arresters
The term wildlife protective device is relatively new to the power industry and refers to any device used on the network to reduce outages due to the impact of wildlife. Other terms sometimes used to describe these devices include animal guards, bird guards, bird deterrents, to name a few.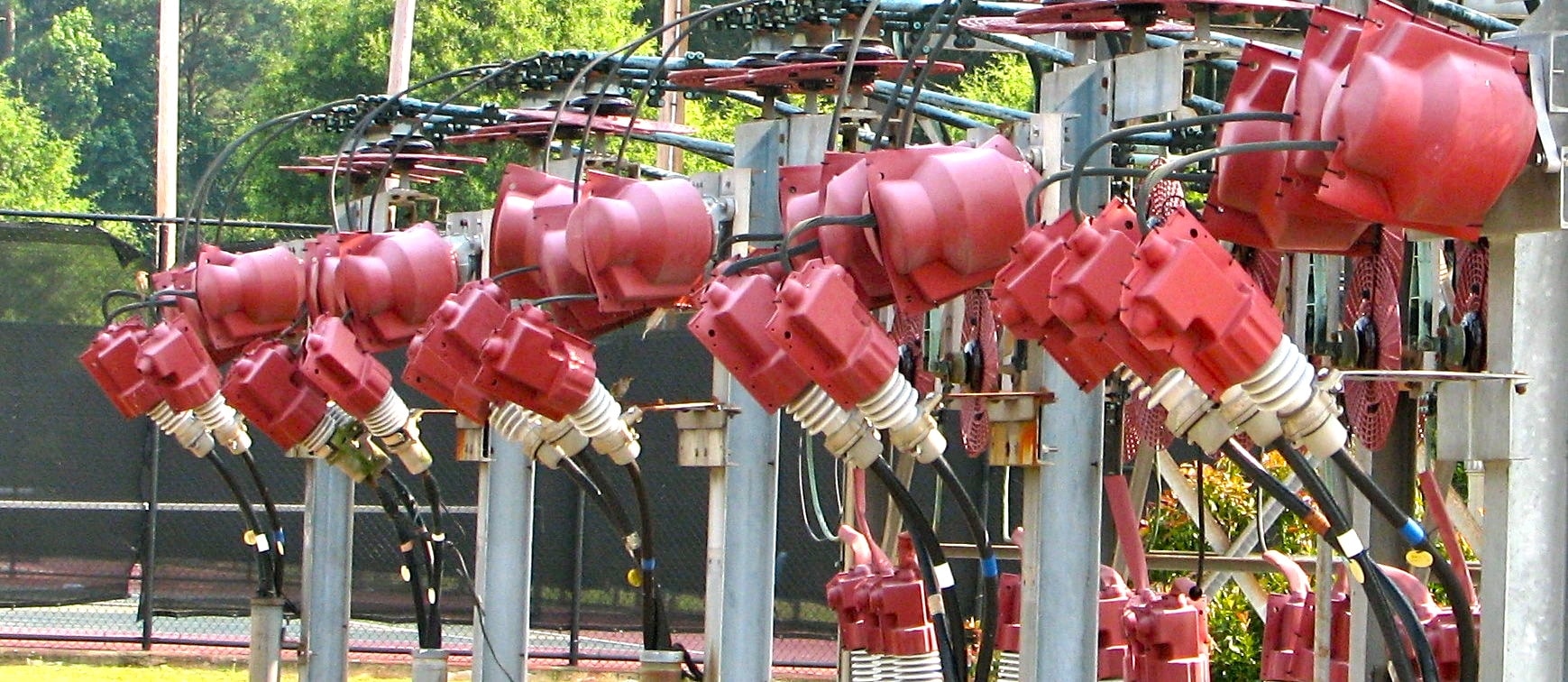 This INMR article from 2010, contributed by Jonathan Woodworth, provided an overview of such devices used to reduce power system outages caused by wildlife. Design considerations, testing methods and installation issues are all covered.
---
Introduction
Devices used to mitigate the effect of wildlife on power systems have been in existence for many decades now. Figure 1 shows an example of such a wildlife protective device (WPD) used on an arrester.
In fact, WPDs are used not only on arresters, but on all types of equipment where animal contact between earth and the high voltage side of the insulator is possible. Figure 2 shows WPDs on a distribution system recloser bushing as well as on the arresters
Standards & Guides
IEEE 1656 is a Draft Testing Guide for WPDs, as yet not published but already in the final balloting stages. The Guide defines WPDs as "A device, guard or structure providing electrical isolation from high voltage equipment that is intended to prevent contact by wildlife that would result in a momentary flashover or short circuit of the electrical system. Contact by wildlife should not produce physical harm to either the equipment or wildlife."
This Guide, which was initiated in an attempt to eliminate ineffective designs, will be the first ever on how to test WPDs in order to verify their quality, effectiveness, capabilities and environmental withstand. When published later this year, it will become the only document that covers this important topic anywhere in the world. The focus is entirely on wildlife guards up to 38 kV, which seems appropriate for this type of device since equipment in this voltage range is short enough that the potential for wildlife contact between the HV end of the insulator or bushing to earth is reasonably high. At voltages above these levels, insulator length and spacing is usually great enough to make such a device much less necessary.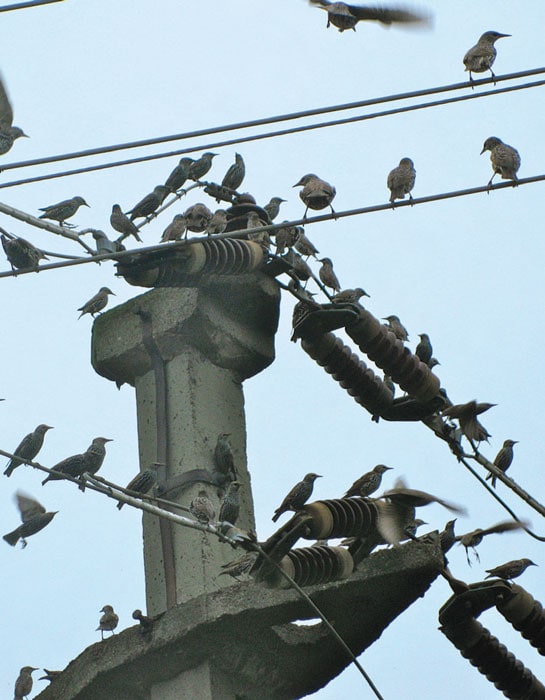 A second and equally valuable document is IEEE 1651 titled "Draft Guide for Reducing Bird Related Outages." This Guide, also in the final balloting stages and not yet published as such, focuses on avian (birdrelated) issues and contact with power systems. It is not a testing guide but rather an application guide and, when published, it will provide an excellent overview for transmission system operators on how to deal with all bird contact issues. One WPD discussed in detail in this guide is the deterrent to the highly conductive streamers caused by defecating birds.
There do not yet appear to be any IEC documents that deal with WPDs but this is likely to change very soon. A presentation on the issue is scheduled at the next meeting of CIGRE Working Group A3.25 (in March of this year) to begin work on the subject.
The Edison Institute in the U.S. has published a comprehensive guide relative to this subject, titled "Suggested Practices for Avian Protection on Power Lines – The State of the Art 2006" and is available at www.aplic.org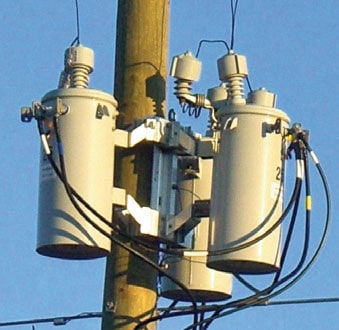 Benefits of Wildlife Protective Devices  
There are several benefits of applying WPDs on power systems, the first of which is that effective installations will result in lower outage rates caused by animal contact. According to a National Rural Electric Cooperative Association (NRECA) survey in the United States, animals are the third leading identifiable cause of power outages and birds cause more transmission line outages than any other animal. For example, a wildlife protective device improvement program was initiated at Duke Power (a major American utility) more than 15 years ago. Since that time, outage rate due to animals has been reduced significantly. While the robust guards may appear much larger than necessary (as it can be seen in Figure 3) stocking only one size for all applications is more cost effective. Indeed, as per an article in T&D World (Sept 2004), author Joe Kysely at WE Energies claimed a US$ 27,000 savings realized annually by eliminating wildlife flashover on arresters alone by means of effective WPDs
A second benefit is reducing electrocution of animals. This is particularly important for species that are on the protected species list such as certain vultures and raptors. It is illegal to cause the death of an eagle in the United States, yet power systems that are not well equipped with WPDs can do just that.
Design & Installation Considerations
Cover Type WPD  
This style is designed to cover the HV end of an insulator, as seen in Figures 1 and 2, and while by far the most common type, is also the one that is most difficult to install. The main issue in this regard is the simple fact that the critical flash area is easily compromised. Indeed, a universal misconception is that, if it is covered, it is wildlife proof. But this is not true since the electrical field can easily extend beyond the physical limits of the cover. Figure 4 is a concept sketch only and shows that, while the field usually does not extend beyond the solid insulation, it easily extends out between seams and around ends of the barrier material. An animal perched or sitting on the mounting bolt that encroaches this Critical Flash Area will therefore cause a power frequency arc and flashover of the arrester. In other words, the animal doesn't necessarily have to touch the arrester's HV side – only get sufficiently close to it while sitting at earth potential.
A second potential oversight by users, manufacturers and designers of this type of WPD has to do with the leads. If the conductor must pass into the covered area, it too must be covered and protected for full voltage. Again, just because a lead is covered, doesn't mean it's insulated for full voltage. Also, as evident from Figure 4, the Critical Flash Area extends beyond the insulation of the wires and it's therefore always advantageous from a WPD perspective for leads to enter and exit at the top of the cover. Since this is not always possible, other means need to be employed to account for potential lead mismanagement.
Based on the above, it is obvious that the optimum design for a cover type WPD is one that does not allow any encroachment into this Critical Flash Area. The only way to ensure this is to use a large cover, which is simple and effective, even if not aesthetically elegant. Ignoring installation issues, a cover type WPD as shown in Figure 5 is therefore an optimum arrangement.
Once the size of the cover type WPD is resolved, then lead management becomes the next major challenge for the device designer and user. As stated above, it is preferred that the leads enter and exit directly out the top, but this means that installation requires de-energization.
Retrofitting a WPD is very high on the design priority list so other accommodations for leads exiting the side have been developed. At first sight, it is not obvious why there is so much extra material used but after a closer examination, it is clearer. Several manufacturers of cover type WPDs had used a split wing addition to a large cover that allows the lead to be slipped between two sheets of polymer along a slit in the side of the cover. The sheets insure that the critical flash area stays within the cover along the slit and at the same time insures that the wildlife cannot easily reach the lead while perched or sitting on earth.
Figure 7: Example of using a large cover type WPD mounted over a horizontally mounted arrester with poorly managed leads. The lead extends out the side of the arrester cover and is only a few inches from metal structure in the substation. A squirrel or large bird could easily span the distance from points A to B.
Barrier Type WPD  
The barrier type WPD (shown in Figure 8) is another common device. The strategy here is to insert a 'fence' between the HV side of the insulator and earth so that wildlife cannot touch both at the same time. If there is sufficient space available in the equipment layout, this solution can prove highly effective and also makes it much easier to manage leads or bus work on the insulator. There is no attempt to cover anything, but rather just install a barrier between critical parts.
In this type of design, it is very important not to install the barrier so close to the high voltage end that it allows for encroachment of the Critical Flash Area, as seen in Figure 9. In such a case, if the animal is resting on earth and extends a wing or paw near the top of the insulator, a flash can still occur.
As with all HV equipment, even all these type of devices and efforts can still be compromised by animals. For example, as shown in Figure 10, a substation already equipped with WPDs still experienced a fault due to a bird. In this case, a mourning dove nested on a correctly mounted barrier type WPD but installed on a slanted insulator. The nesting material contained conductive wires from a nearby pile of wire thus making the nest even more of an issue. The lesson here: watch out for the unwanted combination of slanted insulators and doves.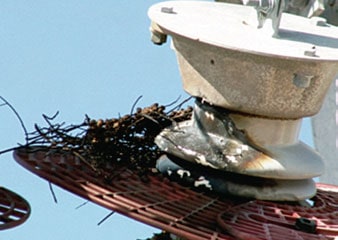 Electrostatic Type WPD  
This type of WPD, relatively new to the industry, can be described as an advanced barrier type because it does in fact act a barrier but with an added feature. The floating conductors can pick up a charge and will discharge a very small amount of energy should contact be made with an animal. The discharge is minor and can be compared to the shock received when touching a doorknob after walking on a synthetic carpet. Figure 11 illustrates the details of this device.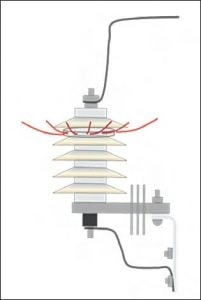 Testing Considerations  
The IEEE 1556 Guide to Testing Wildlife Protective Devices also presents, for the first time, an effective method to determine the withstand level of electrical apparatus equipped with wildlife protectors. The purpose of the test is to determine if the WPD meets its claimed performance. The test technique, which is simple but revealing, is called the moving electrode method and sees the WPD assembled on a test fixture or actual end application and energized. The power frequency voltage on the HV side is then raised to 120% of that expected in service. (Note: this is not an impulse test, but rather an AC test). A grounded contact is then moved around the protected side of the WPD.
If there is no flashover after covering all surfaces on the protected side of the WPD, then the device is considered to have passed the test. It is through such a test that one realizes the impact of even a small seam in the product. It also immediately demonstrates the fallacy of believing 'if it is covered, it is protected'.
Figure 12 shows the results of such a moving electrode test at 15.3 kVrms. It can be seen that, even with a covered HV side of the arrester, there are flashes to the moving electrode outside the WPD. With the large design, however, the only flash points are at a distance much further from the arrester's earth end.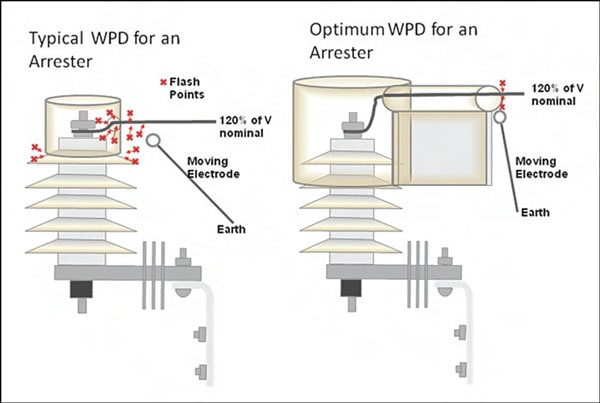 Other Tests  
Also introduced in this Guide is a retention test that requires the WPD to withstand a 60 mph continuous wind and remain attached to the insulator it is protecting. For some designs this will be a demanding requirement while for others it will not represent an obstacle. Testing is really the only reliable way to know what will happen in such cases.
A perhaps surprising element of the new test sequence with regard to cover type WPDs is the salt fog test. It seems likely that those who wrote the Guide added this requirement to ensure that these devices could also withstand the rigors of a seashore environment. Indeed, such testing suggests that there can be a significant interaction between the polymeric insulators and the WPD over long, continuous periods of salt spray. The key factor is how much partial discharge takes place between the device and the insulator. If there is significant partial discharge between them, damage to one or the other will take place during the test. The ideal method to mitigate this issue is not to cover too much of the insulator with the WPD and to make sure there is as much contact between the two as possible.
Installation Considerations  
Key points to remember when installing a WPD include:
1. If using a cover type protector, it must be sized and mounted to ensure that the Critical Flash Area falls within the cover. If a barrier type protector is used, it must be located between the second and third sheds down from the top of the arrester on a 34.5 kV system and between the first and second sheds for systems operating at less than 34.5 kV
2. Ensure that the arrester lead is outside the reach limit of the wildlife. It is generally best to direct the line lead out the top of the guard if it is a cover type and up and away from barrier type guards.
3. Make certain that the WPD is secure and does not change position in the wind.
4. Ensure that any seams are located where they will not allow the flash area to leak out.
5. Always take the time for a second look to make sure that all potential flash points are protected, not just some of them (refer to Figure 2).
And if there is still doubt, Figure 13 provides a wonderful example of how not to do it. This example came from a 25 kV side of a 115 kV transformer at a substation.