Reliability of transmission systems has become increasingly important as the global economy demands energy with high quality supply. Moreover, consumers are more aware than ever of their rights, forcing service providers to develop processes that minimize interruptions. In addition, in many countries unavailability of transmission assets generates steep fines for power utilities if established targets are not met. Given the above, it has become essential for companies in the electrical energy sector to prevent interruptions in supply.
Electrical failure of insulators due to pollution flashover is among the main and most recurring causes of interruptions in electricity supply. Extended outdoor distribution and transmission lines as well as substations can be subjected to a wide range of environmental contaminants whose intensity is a key parameter for dimensioning insulators for these service conditions. Part of this process depends on type of insulator, based on the different possible dielectric materials and shed profiles. Another relates to the environmental aspects linked to the location of any substation or the route of any transmission line. These aspects include climate, geography, nature of land use and local sources of pollutants, whether natural (e.g. salt fog and desert) or human-caused (e.g. industry, agricultural spraying). Interactions among these various aspects can also impact electrical performance of insulators.
Level of pollution severity in a region can be obtained from on-site measurements, by studying the behavior of insulators in service in nearby installations and by simulation. There is also information available such as the guidelines presented in Technical Specification IEC/TS 60815-1:2008, which offers examples of typical environments to assist in correctly selecting insulators for any specific environment. However, the key criterion in successfully applying these guidelines is that the severity of the pollution at the site is known. Unfortunately, in most cases, pollution severity is either not well defined or unknown. The result is often inappropriate selection of insulator type and dimensions.
In a large country such as Brazil, information of pollution severity is still scarce with only limited data available for different regions of the country. Dimensioning of insulators is therefore typically being done without benefit of some quantifiable basis. This stands in contrast to certain other countries that have already established pollution maps, either fully (e.g. China, Italy, South Africa, Spain) or partially, (e.g. Egypt, Iran, Israel, India). These country pollution maps were created based on results of ESDD and NSDD measurements conducted over many years.
The Brazilian electrical system is composed of a vast network of lines and substations that cover a significant area of the country. At the end of 2021, for example, there was a total of almost 170,000 km of transmission lines in operation ranging from 230 kV to ±800 kV vDC.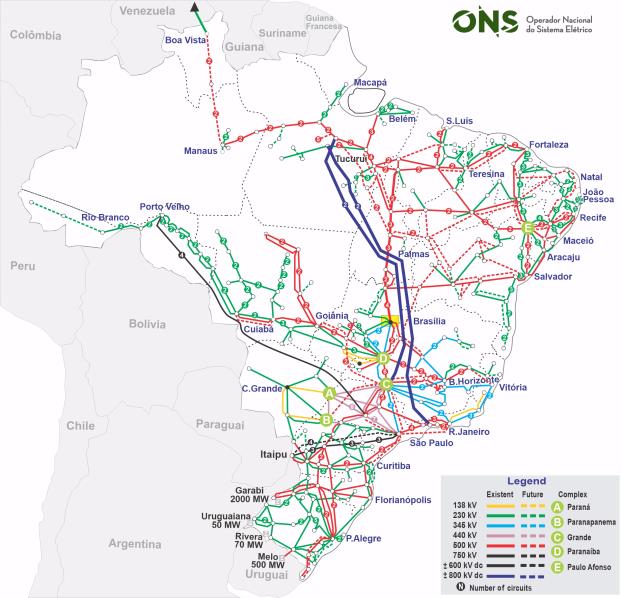 The provision of public electricity transmission service in Brazil takes place through a bidding process with the National Electric Energy Agency (ANEEL) responsible for organizing tenders for contracting concessions. Currently more than 200 companies and Special Purpose Entities (SPEs) operate substations and transmission lines across this country. In regard to pollution, the information for bidding always refers to the minimum specific creepage distance required of insulators. The bidder is then responsible for evaluating actual pollution conditions. In reality, however, this is rarely carried out based on actual field measurements.
The next bidding processes scheduled by ANEEL will add more than 32,000 km of transmission lines and dozens of new substations by the end of 2026. Developing a countrywide pollution map will contribute to improved selection of insulators for these new projects.
Attend the 2022 INMR WORLD CONGRESS in Berlin, where research expert, Ricardo Wesley with the Asset Management Technology Dept. of CEPEL will give a lecture dealing with elaboration of a pollution map of Brazil based on updated environmental data. This work will allow far more consistency in assessing pollution severity to ensure correct selection and dimensioning of insulators.