The population of installed paper-insulated cables at low and medium voltages is estimated to still represent over half of the underground networks in many countries. However, these days, virtually 100 percent of new cable installations are polymeric type. Connecting these old and new cable technologies requires what are referred to as 'transition joints', which are now increasingly used at all voltage levels. These joints not only to connect different cable insulation materials but also different cable constructions, from three-core to single core. They also serve in connecting different screen designs and different conductor materials as well as cross sections. Given the importance of their role, the main driver in transition joint design is not cost but rather achieving a high degree of flexibility so as to fulfil as many requirements as possible with only a single product. The central component of such a joint is the connector, which should be able to connect different conductor materials as well as round and sector-shaped solid or stranded types of conductor. In the case of paper-insulated cables, a separation wall is also mandatory to avoid propagation of any draining compound inside the conductor from one type of cable system to the other. An example of an optimal solution to meet this requirement is the shear bolt connector shown in Fig. 1.

Not surprisingly, the major application of transition joints these days is connecting old paper-insulated cables with new polymeric type cables at all voltages. In this application it becomes necessary to transform the paper cable into a 'quasi-polymeric' type. This means making the end of the paper cable tight for whatever its impregnation medium, whether oil or any other draining or non-draining compound. Such oil tightness is achieved mostly with heat shrinkable oil barrier tubes. Using cold-shrink components for this purpose is more difficult because of the high pressure of the impregnating compound due to load variations on the cable. All kinds of installation technologies are possible for joint insulation – from heat-shrink to cold-shrink to slip-on to cast resin to other more specialized methods. Fig. 2 shows an example of such a universal transition joint, consisting in this case of an inner part (white) filled with liquid silicone as insulation and an outer part (red) filled with cast resin for mechanical and moisture protection. While quite a complicated construction, this joint makes it possible to connect nearly all kinds of MV cables (single or three-core, paper or polymeric types).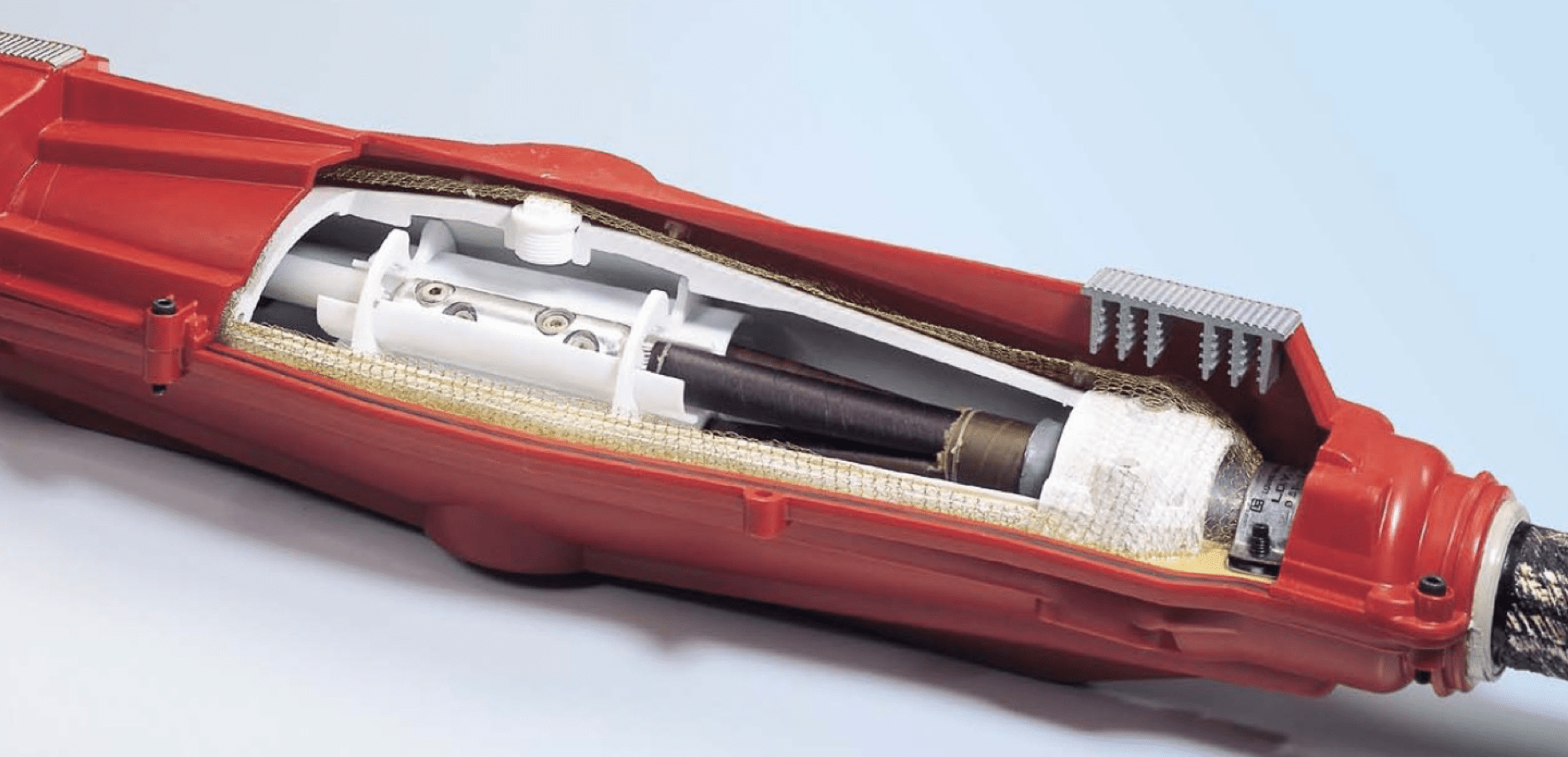 The construction of transition joints at different voltage levels depends mainly on their type of application. For example, at low voltages, cast resin or heat shrink joints are used for transition from three-core paper insulated and mass-impregnated cables to three-core polymeric types. In the medium voltage range, most transition joints are heat-shrink products, connecting mainly polymeric cables with different types of paper-insulated cables (e.g. belted cable for 10 kV, metallized paper screened cable or three-core single lead sheath cable from 10 to 36 kV). More specialized solutions with a broader range of applications are also on the market. When it comes to high voltages, each transition joint usually requires a more customized construction.