Testing Silicone Elastomers for DC
Silicone elastomers are being used worldwide to produce MV & HV outdoor insulating components such as insulators, bushings, cable terminations, arresters, etc. The growing service population of these components attests to the advantages offered by this polymeric material family. At the same time, more and more of these components are now also being installed for DC applications. Positive service experience has been widely reported in spite of only limited material testing as well as lack of test standards. The edited article by Dr. Jens Lambrecht of Wacker Chemie in Germany presents the view of a material supplier and deals with initial comparative material testing under DC.
---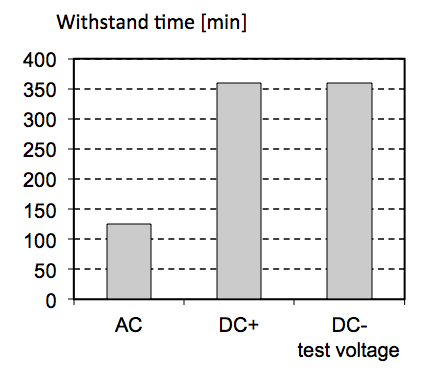 Dynamic Hydrophobic Properties
Silicone elastomers, especially those formulated for outdoor HV applications, show advantageous dynamic hydrophobicity properties – as described by retention, recovery and transfer of water repellency. Hydrophobicity leads to suppression of leakage current and a high pollution flashover voltage. The following can be found in IEC/TS 60815-3 Edition 1.0 2008-10: Polymeric insulators present certain advantages over ceramic and glass insulators due to their form and materials. These advantages include a generally improved pollution withstand behavior when compared to similar ceramic or glass insulators of equal creepage distance; this improvement is even more enhanced by use of HTM. In principle and purely from pollution withstand or flashover point of view, it can thus be concluded that a reduced creepage distance may be used for such insulators.
Investigation of material-related hydrophobic properties and their influencing factors can be accomplished by applying accelerated multiple stress wet test procedures as well as transfer tests with artificial pollution layers. The previously used rotating wheel dip test has been modified to the new greater acceleration factor dynamic drop test, which allows evaluation of hydrophobicity retention and recovery at the same time (Fig. 1). The procedure provides rather well reproducible test results with a low deviation of the realizations especially when compared with the experiences from the wheel-test. The device allows a proper material differentiation and is part of the ongoing work in the CIGRE Working Group D1.14.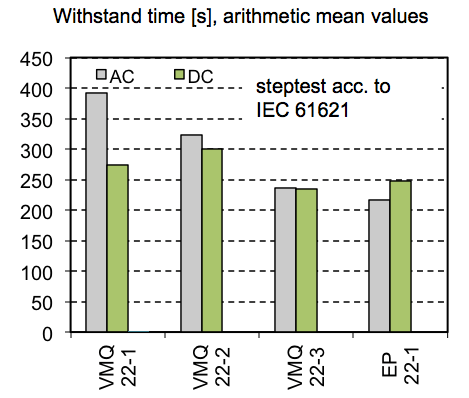 When applied to the same material at AC and DC at the same voltage rms-level the retention (stability of hydrophobicity) was found to be significantly higher at both positive and negative DC- when compared to 50 Hz-AC-stress (Figure 2). Major differences of the electro-hydrodynamic behavior of droplets in AC- and DC-field are understood to be the reason for these results that are in line with service experiences.
Application of HV Arc Test for DC Testing
Another direction of work is the application of a modified arc test with DC stress (Fig. 3). This not only allows elimination of the unwanted corrosion effect found in the so-called inclined-plane-test at DC but is also fast and repeatable. If done 'according to the AC-standard', i.e. by applying stepwise increasing stress with the clocked current, results (in withstand time) are in line with those for AC testing (Fig. 4). These latest results demonstrate that it is important to look beyond current applications and standards in order to create the knowledge and know-how needed to make additional testing tools available.