The macroscopic internal interface between silicone rubber (SR) housing and the fibre reinforced plastic (FRP) rod of a composite insulator is usually one of the weakest point due to possible poor adhesion, moisture ingress, presence of impurities, etc. This edited contribution to INMR by Xidong LIANG, Weining BAO, Shaohua LI and Yanfeng GAO of the Dept. of Electrical Engineering at Tsinghua University and the State Grid Jibei Electric Power Co. Ltd. Research Institute in Beijing proposes interface resistivity as a sensitive parameter to evaluate the electrical property of this interface.
---
An interface is defined as the surface between different materials. For example, the internal interface between an SR housing and FRP rod (i.e. the rod-housing interface) in a composite insulator is a macroscopic interface. Generally speaking, due to different properties of these different materials and a poorer chemical and physical structure versus bulk materials, the interface typically becomes the weakest point in the entire composite structure. Ageing and degradation of insulation then generally originate from this interface. Indeed, interfacial defects such as poor adhesion, moisture intrusion and impurities can lead to significant reduction in insulator performance. In 2000, CIGRE investigated different in-situ accidents of composite insulators worldwide and results indicated that interface breakdown ranked second among the most common source of failures, after rod fracture (see Table 1). Thanks to improvements in the production process of composite insulators and selection of more appropriate coupling agents for the FRP rod to housing interface, interface performance has improved. In recent years, however, there have been several new type fractures of composite insulators with different features versus the well-known brittle fracture. This type of abnormal fracture has been termed 'decay-like fracture', with macroscopic features such as a crisp and decay-like fracture location, puncture holes in the housing and a separated, degraded epoxy resin matrix in the FRP rod. Moreover, interfacial failure and weak adhesion at the FRP rod to housing interface were found in these accidents. Failure of the interface can give rise to moisture and tiny discharges on the surface of the FRP rod, causing loss of mechanical properties. According to the present study, interface failure between the FRP rod and the housing are regarded as an important influencing factor behind such fracture accidents. In addition, operating experience in Sweden also showed fracture accidents of composite insulators caused by adhesive failure of the FRP rod to housing interface.
Table 1: Composite Insulator Accident Statistics by CIGRE: 2000
Damage type
Electrical Damage
Mechanical Failure
Total
Flashover
Interface Breakdown
Metal Part of Fitting
End-fitting Slip Out
Rod Fracture
U<200 kV
25
51
2
4
23
105
200£U<300 kV
8
10
0
2
8
28
300£U<500 kV
0
6
0
0
101
107
U³500 kV
0
2
0
0
1
3
Total
33
69
2
6
133
243
Ratio (%)
0.015
0.02
0.035
The steep-front impulse voltage test and the water diffusion test in the IEC standards are not effective in detecting a weak FRP rod to housing interface adhesion and even lack sensitivity to detect intentional defects. Since these methods have had no direct relation to the failure mechanism and ageing process of the interface, there has been a need to develop new detection methods for selecting and evaluating interface quality.
In previous studies, little research was conducted on the interface, which was identical to the production process between FRP rod and SR housing in composite insulators. For example, Andersson and Gubanski in Sweden inserted a wire electrode system to investigate ageing phenomena of the interface between silicone rubber and epoxy under electrical stress. The silicone rubber was cured for 6h at 130°C and two types of interfaces, with and without a primer, were applied for a tight chemical bond between the materials. A thin wire was inserted into the interface as the high voltage electrode and two brass plates, connected to ground, were clamped on both sides of silicone rubber and epoxy. After ageing for 330h at room temperature and a relative humidity of 100%, the material properties of the silicone rubber and epoxy and the adhesion strength between them were investigated. Other research focused on the effects of voids, moisture and pressure on electrical properties such as breakdown strength, partial discharge and tracking phenomena of the interface between different materials (e.g. silicone rubber, epoxy, polypropylene, EPDM, XLPE, etc.). The test methods and electrode structures here were similar to research on the FRP rod to housing interface of composite insulators. However, since such interfaces were connected by an adhesive material, pressure and mineral insulating oil instead of a saline coupling agent, microstructure of these test cells was different from that in the FRP rod to housing interface of composite insulators.
To evaluate interface performance of composite insulators, the electrical parameter of interface resistivity is more sensitive than a mechanical property parameter such as peel adhesion strength. A new electrode system, called a four-electrode system, was designed to measure interface resistivity between SR layer and FRP substrate. Since liquids can permeate from the sheath into the FRP rod to housing interface and lead to degradation, effects of liquids permeation on interface resistivity changes were analyzed and investigated as well.
Experiment
Four-Electrode System
The three-electrode system in IEC 60093 measures surface resistivity of dielectric materials such that current is separated into dielectric surface and bulk by a shield electrode. Based on this, a new four-electrode system was designed to measure interface resistivity between different materials (see Fig. 1).
The four-electrode system includes a high voltage electrode, a measurement electrode and two shield electrodes. The high voltage electrode and measurement electrode are embedded between the SR layer and the FRP substrate. The electrodes are formed by a vacuum ion sputtering device (ETD-900M) with thickness of several tens of nanometers, controlled by sputtering time. The round measurement electrode has a diameter of 40 mm (d1) while the high voltage electrode is in the shape of a ring with 64 mm outer diameter (d3) and inner diameter (d2) determined by the gap width between these electrodes. Gap width varies from 1 to 4 mm. The interface between these two electrodes is the test object. Two shield electrodes are placed on both sides of the SR layer and FRP substrate, respectively, to shield most of the bulk current.
Measurement System
Interface resistivity is measured by a system that includes the four-electrode system, a pico-ammeter and a programmable DC power supply. The samples are placed into a metal chamber used to maintain constant relative humidity and to shield electromagnetic interference during measurement. Relative humidity is controlled at 55 ± 10% and temperature in the chamber is kept at 20 ± 3°C. During measurement, the DC power supply provides a voltage of 1 kV (r.m.s.) with a ripple below 5 mV (r.m.s.) and is adjusted by the computer via MODBUS-RTU protocol. A Keithley 6514 electrometer is applied to measure current with sample rate of 1 S/s and total measurement time up to 600s. The formula for interface resistivity is calculated according to surface resistivity.

where U is applied voltage, I is steady-state current at 600s, d1 is diameter of inner measurement electrode and g is gap width between embedded high voltage and measurement electrodes.
Test Sample
The FRP substrate was provided by a Chinese manufacturer and made by a pultrusion process with ECR glass fibers – identical to the FRP rod material in actual use for composite insulators. Thickness of the FRP substrate was 2 mm with a dimension of 80×80 mm2. A round through-hole at the midpoint of the FRP substrate with diameter of 1 mm was punched before the test. Afterwards, the FRP substrate was cleaned by de-ionized water and alcohol and then dried. An Au electrode film was formed and shaped as round and ring electrodes on the FRP substrate by a vacuum ion sputtering device. A brass foil electrode with dimensions 30 mm × 8 mm × 2.5 um was pasted by NISSHIN conducting adhesive on the ring electrode to extract a lead for high voltage electrode. Meanwhile, a brass nail was used to extract a lead for measurement electrode to pico-ammeter through the pre-punched hole. It is noted that production process of the interface samples in this research is consistent with that for the FRP rod to housing interface of composite insulators in actual use. A saline coupling agent was applied on the surface of the FRP substrate and the electrodes. The sheet of silicone rubber and FRP substrate was put into a mold and then vulcanized under normal SR composite insulator vulcanization conditions using a flat-panel curing machine. The silicone rubber layer had similar shape to the FRP substrate and thickness could be varied depending on size of the mold.
Test Procedure

The interface samples were cleaned by de-ionized water and alcohol and dried for 24h. The initial polarization curves of the interface current of each sample were measured before the test. Then, a polymethyl methacrylate (PMMA) container was placed on the silicone rubber side of the sample (see Fig. 2) and petroleum jelly was used to seal the voids between container and interface sample. Different types and concentrations of solutions were poured into the container such that the liquids would permeate into the silicone rubber and reach the interface after some period of time. Inner diameter of the container is larger than that of the ring measurement electrode, ensuring that the area where the interface between embedded measurement and high voltage electrodes is located was totally covered by the container. After a certain time of liquid permeation, the container was removed from the interface sample. Liquid remaining on the surface was wiped off with filter papers and the polarization curves of interface currents were measured. Then, the container was placed on the sample again and another period of time of the liquids permeation began. Meanwhile, two embedded electrodes were connected to ground during the liquid permeation to relive the residual charge produced by the DC power supply. The process of measurement and permeation was continued multiple times. In this study, de-ionized water and three other types of solutions were used (i.e. 0.5 mol/L NaCl solution, 0.01 mol/L and 1 mol/L HNO3 solution). Duration for liquids to permeate was up to 2500h, after which the permeation process was deemed saturated. The recovery process of interface resistivity when the interface samples were dried at room temperature was investigated once resistivity became stable.
Results
Effects of Shield Electrodes
Before the permeation test, polarization curves of initial interface currents, with and without shield electrodes, were measured to verify effect of the shield electrodes. Test results are shown in Fig. 3. Average values of currents at 590~600s (referred to here as steady-state current) are listed in Table 2.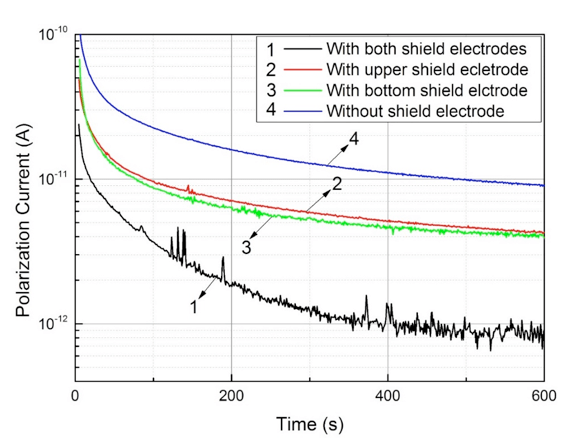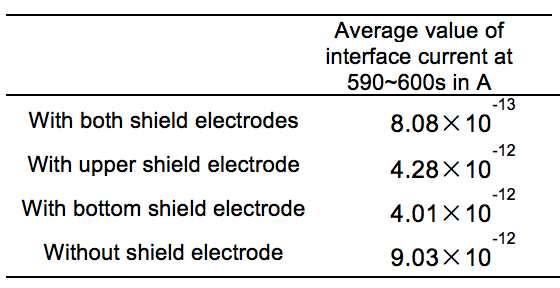 Once voltage was applied to the embedded high voltage electrode, current would flow from the high voltage electrode to the measurement electrode. One flow path is along the interface between the two materials. The other two paths are through the bulk silicone rubber layer and the FRP substrate. As such, it is essential to distinguish the first from the other two. Using two grounded shield electrodes placed on both sides of the SR layer and FRP substrate, a large part of the bulk current will flow to the shield electrodes. Test results of the polarization curves of interface currents, with and without shield electrodes, indicated that the ratio of bulk current flowing to the measurement electrode was reduced greatly (see Fig. 3 and Table 1). Therefore, accuracy of measurement of interface current would be enhanced significantly. It should be noted that current flowing from the bulk to the measurement electrode cannot be completely avoided, even in the standard test method for measurement of surface resistivity. In this research, only relative order of magnitude change in interface resistivity after liquid permeation is of concern. Therefore, use of shield electrodes could be regarded as a feasible solution. Bulk current would then not influence subsequent conclusions.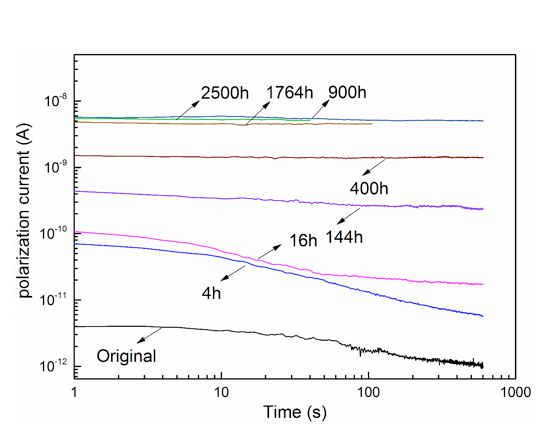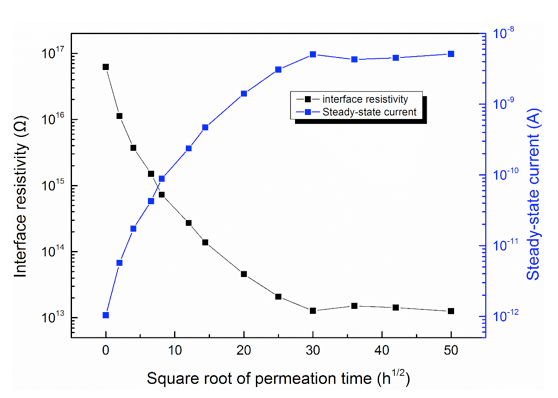 Water Permeation
Polarization curves of interface current were measured before and after de-ionized water permeation up to 2500h, as shown in Fig. 4. As for the initial polarization curve, an obvious absorption current caused by slow polarity relaxation was detected, compared to the polarization curves after 400h. After selecting the interface currents data of the last 10 seconds of test duration (i.e. ten minutes), the steady-state current was confirmed by the average value of the last 10 seconds and then interface resistivity was calculated by formula (1). The results are shown in Fig. 5. The initial steady-state current was about 10-12 A, which could be calculated to 6×1016 Ω of interface resistivity. Interface resistivity reduced more than 3 orders of magnitude to more or less 1013 Ω after about 900h deionized water permeation and kept constant until 2500h.
Liquid Permeation & Recovery Process
Some different types of solutions, de-ionized water, 0.5 mol/L NaCl, 0.01 mol/L and 1 mol/L HNO3 solutions, were used in this study to reflect the influences of liquid permeation to the measurement of interface resistivity. In section 3.3 and 3.4, for convenient comparison between different liquids permeation and influencing factors, the data of interface resistivity were calculated and then normalized by dividing the initial interface resistivity before permeation. It is easy to prove that the variation trend of the normalized interface resistivity is identical to that of the original interface resistivity. Results of interface resistivity changes after permeation of four types of liquids are shown in Figs. 6 and 7, respectively. Interface resistivity reduced 2 to 4 orders of magnitude after liquid permeation of de-ionized water. With 0.5 mol/L NaCl and 0.01 mol/L HNO3 solutions, influence of salt and low concentration acid solutions was larger than for de-ionized water. Moreover, in regard to the influence of a high concentration of nitric acid solution, the curve of interface resistivity in Fig. 7 could be divided into two parts. In the first stage of less than 900h, the variation trend of interface resistivity was similar to that of the other three types of liquids. After that, normalized interface resistivity dropped suddenly from 10-2 to 10-6 Ω and it was assumed that the interface was destroyed during this time period.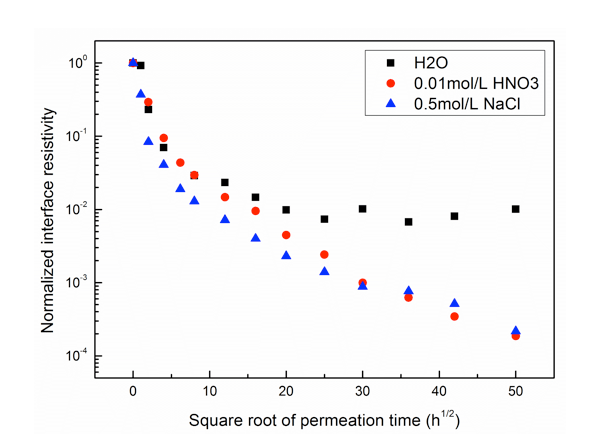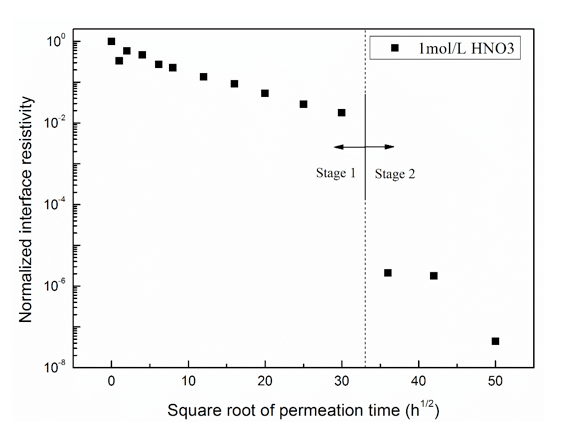 When interface samples were prepared, a saline coupling agent was applied to the surface of the FRP substrate as the adhesive agent and it bonded chemically to the SR layer and FRP substrate simultaneously. However, the chemical bond between saline coupling agent and FRP substrate could be hydrolyzed in an acid medium and then weak interface adhesion was found. This was regarded as the mechanism of reduction in interface resistivity after permeation of 1 mol/L HNO3.

After 2500h permeation, interface samples were placed out of permeation and dried at room temperature. As shown in Fig. 9, interface resistivity of the samples after de-ionized water, 0.5 mol/L NaCl and 0.01 mol/L HNO3 permeation almost recovered to the initial level, while interface resistivity was not reversible after 1 mol/L HNO3 permeation, which was because of the serious degradation of the interface.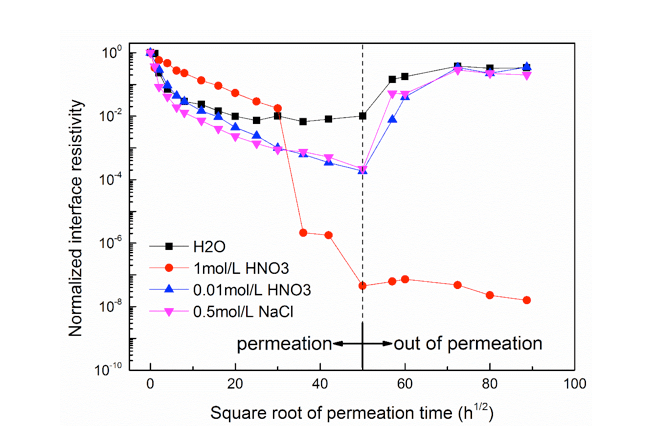 Influencing Factors
SR Thickness
Changes in interface resistivity with different SR thickness after de-ionized water and 1 mol/L HNO3 permeation are shown in Figs. 10 and 11. The results showed that interface resistivity reduced more as the SR was thinner. Similar phenomenon after high concentration HNO3 permeation with two obviously different stages were observed, but the threshold was earlier.
Gap Width
Interface resistivity reduced more as gap width between embedded high voltage and measurement electrodes decreased. 2 to 4 orders of magnitude reduction of interface resistivity was measured using interface samples with gap width of 1 to 4 mm, as shown in Fig. 12.
Electrode Thickness
The thickness of the embedded Au electrode film depended on the sputtering time of vacuum ion sputtering device in this paper. After the sputtering time of 60s, 120s and 300s, the thickness of Au electrode film was 25, 60 and 100 nm, respectively. No significant difference in interface resistivity was found between the three curves in Fig. 13.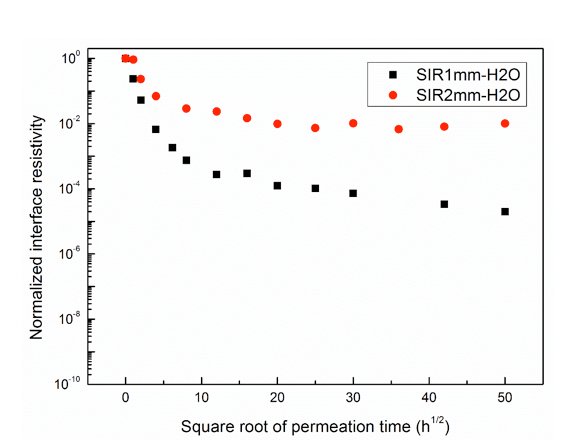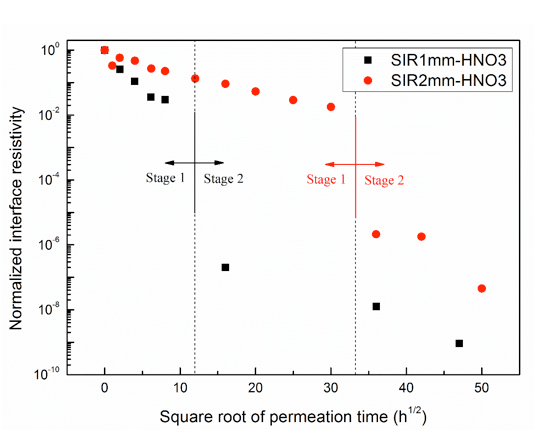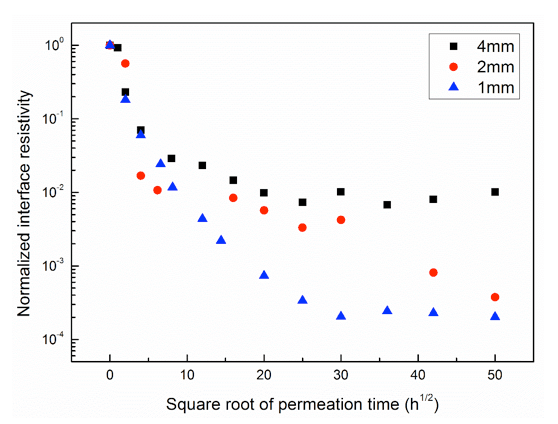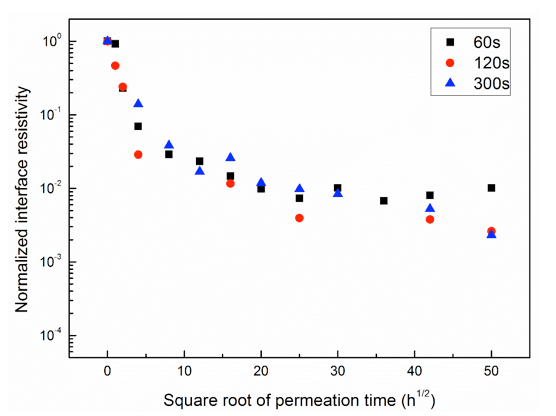 Conclusions
Interface resistivity is proposed as a sensitive parameter to evaluate the property of the FRP rod to housing interface in composite insulators. A newly designed four-electrode system with embedded measurement and high voltage electrodes was developed to measure interface resistivity. Measurement results showed that interface resistivity reduced 2 to 4 orders of magnitude after 2500h de-ionized water permeation. The types and concentrations of solutions, such as 0.5 mol/L NaCl solution, 0.01 and 1 mol/L HNO3 solution, influenced measurements of interface resistivity. Among these, permeation of high concentration nitric acid caused hydrolysis of the saline coupling agent used as adhesive agent at the interface. The decline in interface resistivity of 6 to 8 orders of magnitude was not reversible after drying at room temperature. Moreover, factors influencing measurement of interface resistivity were studied. Results showed that thickness of silicone rubber had most influence on change in interface resistivity. Gap width has less influence while thickness of embedded electrodes within the range of 20 to 100 nm has almost no influence. The interface resistivity method is useful to study interface performance and to select a suitable interface coupling agent for use during the insulator production process.