Testing Adhesion Between Fiberglass Rod & Housing in Composite Insulators (Part 2 of 2)
Worldwide experience with composite insulators is today considered on par with that of glass cap & pin insulators, with a population in service exceeding 20 million pieces. This population consists of insulators of different generations in terms of design, materials and production methods. Initially, lack of full understanding of composite technology, as was typical for some 1st and 2nd generation insulators, led to quality problems that included poor sealing, deficiencies in the interface between core rod and polymeric housing, flashunder, rod tracking and brittle fracture. These defects were acknowledged, investigated and eventually overcome in succeeding generations. In fact, an international project on infrared detection of interfacial defects, completed in 2002, had to rely on testing insulators with internationally simulated defects since no defective samples could be found in service at the time. More recently, however, as a result of rapid growth in production and with many new competitors having entered this market, composite insulators these days can be of much different qualities. As a result, the issue of quality of interface between fiberglass rod and silicone rubber housing has taken on renewed importance. Indeed, several service and after-service investigations have confirmed that the root cause of many recent failures in the field was poor adhesion at this critical interface. Significantly, this was clearly revealed by non-standard adhesion tests but not by existing IEC-based tests intended to verify the integrity of interfaces. Thus, quality is considered as not being fully covered by the existing IEC standards relating to such insulators.
In 2008, the key product standards for composite line insulators (IEC 61109 and IEC 61952) were revised to align with the first edition of IEC 62217 – a standard which applies to all HV composite insulators and prescribes common tests including interface tests, housing tests, core tests, etc. IEC 62217 was last revised in 2012, with changes mainly in the UV ageing and the dye penetration tests. Moreover, both the wheel test and multiple stress tests were transferred to an IEC Technical Report. At present IEC 62217 is again under revision by MT19 TC36. It can be considered that the IEC standards mentioned above utilized knowledge obtained a decade or so ago and several tests in IEC 61109 have in fact remained largely unchanged since their introduction in the first edition. There seems a clear need to closely review these IEC standards, especially considering recent reported field experience.
Given this, a group of 9 European power companies (Amprion in Germany, Elia Group in Belgium &Germany, E.ON in Sweden, ESB in Ireland), Fingrid in Finland), REE in Spain, Statnett in Norway, Svenska Kraftnät in Sweden) and Vattenfall in Sweden), together with experts at the Independent Insulation Group, started a collaborative research project. One of the main goals was to develop a robust, effective test to evaluate level of adhesion. The following edited report by I. Gutman, A. Dernfalk and P. Sidenvall of the Independent Insulation Group reviews what has been accomplished.
---
Basics of Adhesion
The central weakness revealed in the insulators investigated during this research was poor adhesion – likely the result of production deficiencies. A possible mechanism behind what occurred during service could be that, over time, air-filled voids between the fiberglass rod and the silicone rubber housing filled with moisture due to diffusion through the housing. This eventually led to a partially conductive layer in this interface into which HV potential was transferred from the live fitting along the insulator. The short-circuited path amplified electrical stress and initiated corona, whose impact generally starts by degrading local hydrophobicity. The final result was either erosion or puncture through the housing. A schematic of this mechanism, believed to represent the process of its development over time, is shown in Fig. 10. It is interesting to note that this mechanism was proposed in year 2000, while intensive testing of composite insulators with intentionally produced artificial defects (semi-conducting bands and channels simulating poor adhesion). At that time participating utilities were not able to provide damaged insulators from service (there were not any), however the volume of service experience was at that time limited.
Proper adhesion between fiberglass rod and housing should result rather in cohesive failure of the rubber than adhesive failure between rubber and rod (as illustrated in Fig. 11).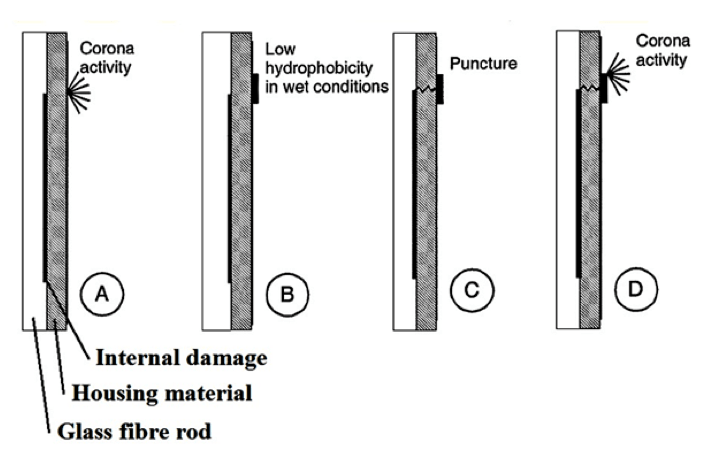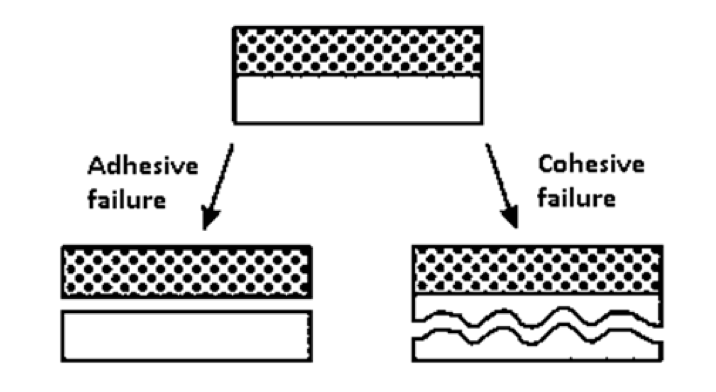 The effective service life of a composite insulator will typically be reduced if there are voids due to inadequate adhesion in the interface between rod and housing. While it is normal for moisture vapor to penetrate into silicone rubber, this is a dynamic in-out process and does not affect insulator performance. However, if there is space for condensation within the interface, semi-conducting layers of water will be created within the voids. These will trigger discharge activity that can result in semi-conductive tracking path on the surface of the rod. Another possible outcome is a relatively new type of failure mechanism, i.e. semi-conductive erosion of the fiberglass rod, also referred to in Chinese literature as 'decay-like fracture'.
Advertisement

Theoretically, two types of adhesion – mechanical and chemical – are found in insulators presently being manufactured, of which chemical adhesion is the more critical requirement. A special coupling agent, or primer, serves the key function of achieving chemical adhesion between fiberglass rod and housing material and is usually proprietary to each manufacturer. Several factors need to be controlled during insulator production to assure good adhesion:
• Cleanliness of rods before application of primer;
• Ageing of primer, either before application (due to being past expiry date) or after application (due to improper storage of insulators before next manufacturing steps);
• Primer efficacy in terms of humidity control;
• Temperature during extrusion/injection molding;
• Proper pre-heating or post-curing of fiberglass rod;
• No or only weak silanization of ATH filler used in HTV silicone.
All these can result in poor adhesion and must be under proper control by manufacturers. It is also important for them to know limits of electric field in interfaces and materials so as to avoid discharge activity.
Development of Test Program
The main goal of this project was to provide participating utilities with practical guidelines on how to effectively monitor for problems of poor adhesion in composite insulators before these are put into service. This would be achieved by means of testing samples from larger batches. These same test methods are also being recommended for inclusion in design tests in the relevant IEC standards. Until now, three of the six steps (i.e. 1. through 3. below) have already been completed:
1. Development of representative and relevant test methods;
2. Verification of test methods on specially prepared (pre-fabricated) samples;
3. Verification of test methods on insulators taken from inventory of participating power companies;
4. Verification of test repeatability (i.e. in same laboratory) and reproducibility (i.e. at different laboratories);
5. International acceptance via dissemination of results;
6. Proposals for CIGRE/IEC.
Choice of Test Objects
The goal was to develop test methods and criteria with preference for these being representative, robust and time-effective. The comprehensive array of test samples included:
• Three 'academic' groups of insulators intentionally made to have different levels of adhesion, i.e. with correct primer, weakened (dissolved) primer and no primer;
• Preliminary array of test objects stored at STRI's HV Laboratory that included:
◊ Three manufacturers but much different year of production;
◊ Samples after laboratory testing and from service;
◊ High temperature vulcanized (HTV) rubber and liquid silicone rubber (LSR);
◊ Different rod diameters;
◊ Differing levels of adhesion based on earlier investigations and stripe test results.
• Final array of test objects comprising 14 different insulators from 58 units originally provided from power company inventories (i.e. samples from batches already purchased, as in Fig. 12). The following were also considered in creating the final test array:
◊ Different designs (standard vs. alternating shed profiles, different fitting and end sealing designs, etc.);
◊ Different year of production (1999 to 2017);
◊ Different housings (HTV rubber and LSR materials);
◊ Different voltage classes (123 to 400 kV);
◊ New reference insulators from storage (10 ps.) or taken from service (4 ps.);
◊ Different rod diameters (mechanical classes), 16.5 to 90.0 mm;
◊ Different manufacturers with different suspected levels of adhesion;
◊ Insulators contributed by different project participants (i.e. from 7 different utilities).
Test Methods
Stripe Test                                                                                                  
Two parallel cuts, approximately 10 mm apart, are made through the rubber housing, either along the insulator or around its shank. The resulting stripe is then pulled from the underlying fiberglass core using pliers, knife or by hand. Adhesion is judged subjectively based on fracture appearance. If the fracture occurs inside the rubber (i.e. cohesive failure), adhesion is considered adequate whereas if it occurs along the interface between materials (i.e. adhesive failure), adhesion is inadequate.

Water Penetration Test
This method is based on a procedure described in the standard for optical fibre cables (IEC 60794-1-22) whose purpose is to evaluate longitudinal water tightness. During testing, the cross-section at one end of the specimen is exposed to water at a pressure equivalent to 1 m water depth while the other end is left in ambient air. Tightness is evaluated by examining the air-side for signs of water penetration. In this research, examination was done up to 1500 hours after the test started.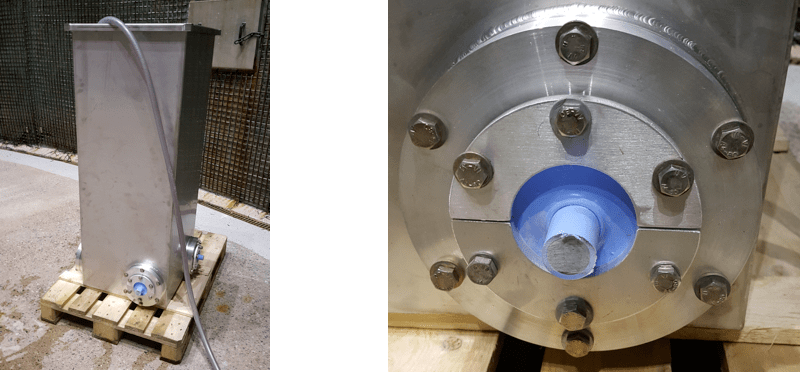 Mechanical Stress Test                                                                                                          
The idea for this came from another project where accidental damage to a composite insulator occurred during application of artificial contamination for pollution testing. At the time, a long insulator was placed horizontally and supported by pairs of wheels placed at the ends and the middle, allowing for continuous rotation by a motor drive. The principle of cyclic mechanical shear stress of the interface was adopted for the current investigation as a means of pre-conditioning before evaluation of adhesion through the stripe test. A special tool was developed to allow for defined mechanical load of the interface between silicone rubber housing and fiberglass rod. The adjustable claw, fitted with two ball bearings to provide low friction at contact surfaces, is placed around the insulator shank. Level of sheer stress can be changed by adjusting the separation and applied weight hung from the claw. The insulator sample is placed horizontally and rotated around its axis at 10 rpm (as in Fig. 15, right).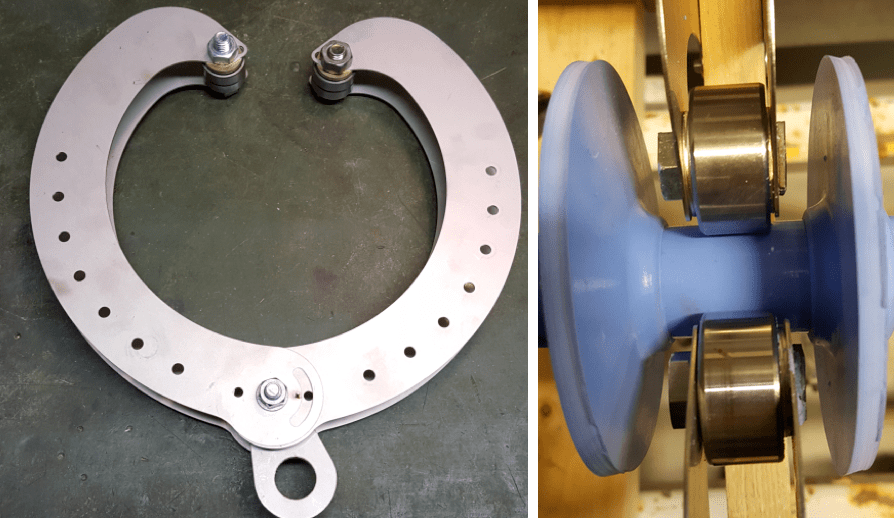 Temperature Cycle Test                                                                                                         
 Studying possible effects of pre-conditioning by temperature cycling saw samples first immersed in boiling water for 6 min and then moved directly to another container with water close to 0°C for another 6 min. After 16 repetitions of such cycling, adhesion was evaluated by cutting the rubber.
Advertisement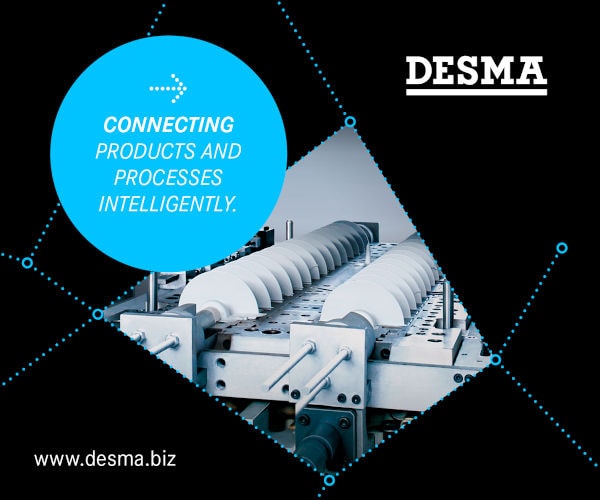 Water Diffusion Test                                                                                                              
This test is standardized in IEC 62217. Samples with rubber coating are cut close to perpendicular to the insulator axis using a diamond-coated circular saw blade and under cold running water. Specimens of only one core material are boiled together in the same container for 100 h (see Fig. 16, left). Voltage is applied within 3 h after removal of specimens from the boiling container with each specimen placed between the electrodes (see Fig. 16, right). Test voltage is increased at about 1 kV/s up to a level of 12 kV, kept constant for 1 min and then decreased to zero. The acceptance criterion is that neither puncture nor surface flashover occurs. Also, AC current during the entire test shall not exceed 1 mA (r.m.s.). It was decided to start with this standard method and, depending on results, experiment with modifications such as: increasing boiling test duration from 100 h to 300 h; measuring current at AC (for 1 min.) and DC (for 5 min.); measuring DC current and then AC current on the same sample.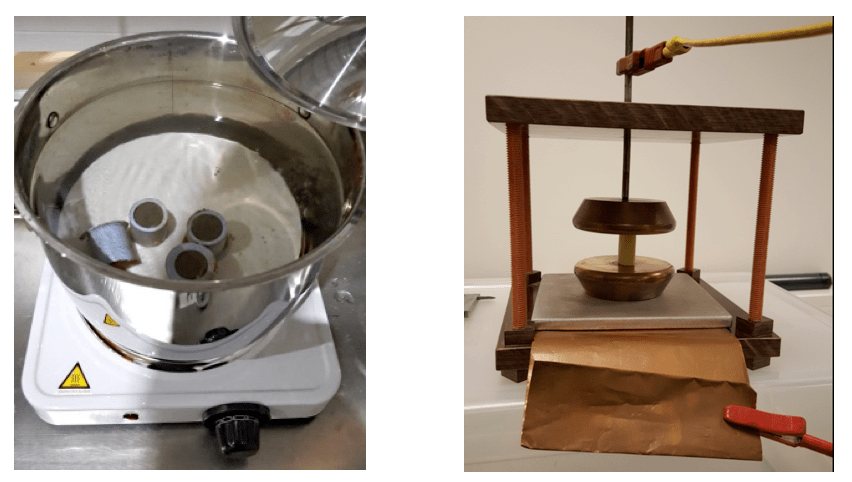 Dye Penetration Test                                                                                                                
A dye penetration test, also standardized in IEC 62217, was carried out on the same type of specimens used in the water diffusion test, however sample height was now 10 mm. Specimens are placed in a vessel on a layer of glass balls with diameter of about 2 mm. A solution of 1% by weight Astrazon BR 2001 in methanol is poured into the vessel to a level of 2 mm to 3 mm higher than the level of the balls. According to the standard, specimens should be left for 15 minutes and the criterion is that no dye shall rise through them before this time has elapsed (see Fig. 17, left). In addition, two modified tests are also performed: a test of increased duration, i.e.16 hours (see Fig. 17, right) and a test with increased duration under pressure, originating from porosity tests done on porcelain insulators.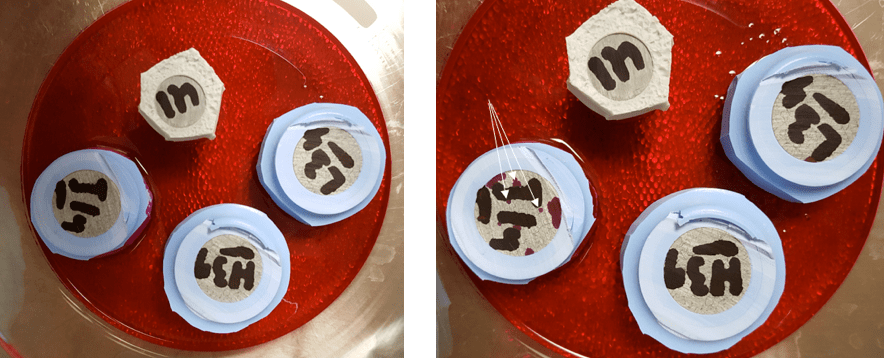 Shear Stress Test                                                                                        
The purpose of this test, found in Russian standards, is to apply defined shear stress along the interface between rubber housing and glass fibre rod, allowing for evaluation of response. A short, cylindrical sample is cut from the insulator under study, as in the water diffusion test. The specimen is placed on a support plate with a circular hole (anvil) corresponding to rod diameter plus a selected tolerance, and resting on the rubber only (see Fig. 18, left). Applying a force to the end of the rod subjects the interface to shear stress in an axial direction (as in Fig. 18, right). A small, manually operated hydraulic press of 20 ton maximum rating is utilized in this test to apply the mechanical force. To measure force, the press is fitted with a load cell providing digital readings in kgs. Since rubber material is highly elastic and deforms when being stressed, shear stress will not be constant along the sample length and be highest at the anvil. Measurements of maximum shear stress per unit length were used in this test only for the purpose of comparative rankings.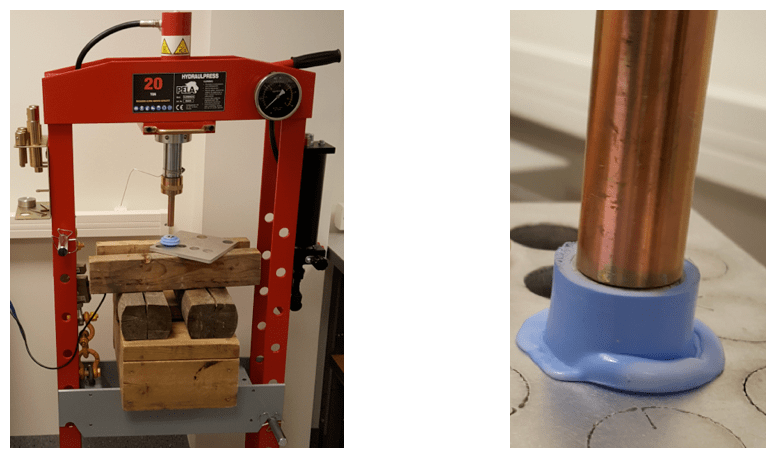 Pull-Off Test                                                                                              
The idea for this test also came from a Russian standard. During a pull-off test, adhesion between materials is evaluated by pulling the shed apart (see set-up in Fig. 20). Tests are performed using a standard tensile test machine with maximum pulling capacity of 10 kN, allowing for controlled application of mechanical load. Here, the instrument has been set at a fixed rate of elongation of 50 mm/min, while applied force is recorded. After completion, ultimate breaking stress, i.e. maximum applied force divided by material cross-sectional area at the rubber-rod interface, is calculated and used for further analysis.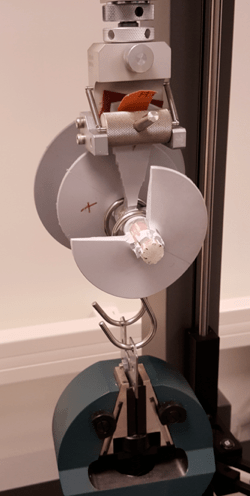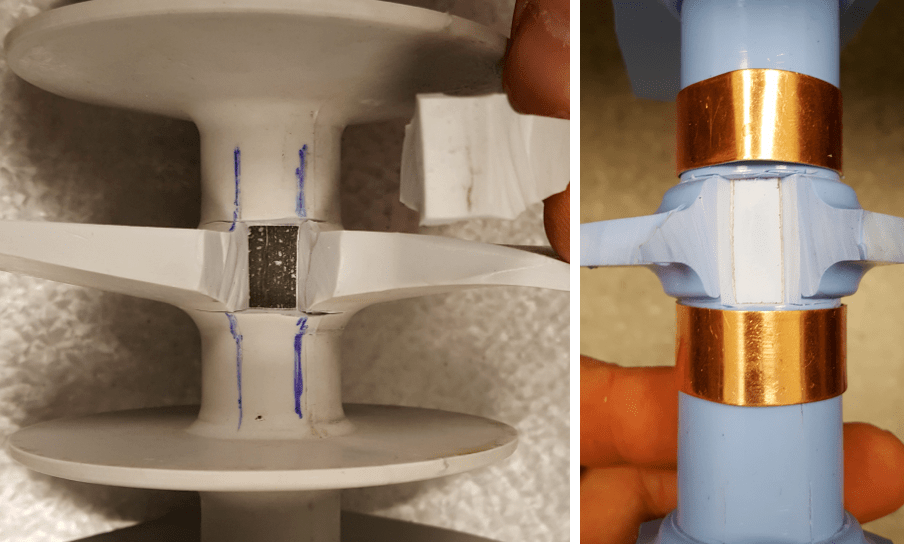 Test Results
Table 4 summarizes preliminary test results, i.e. the first round of selecting appropriate tests, and allowed focus to be placed on those that seemed most promising. Table 5 presents all results obtained (i.e. the main round of selection of appropriate tests) using traffic light principles whereby red indicates 'did not pass'. Insulator housing material (H=HTV and L=LSR) is also presented. To make results comparable, simple acceptance criteria for ranking have been proposed. For example, for the water diffusion test, this was a current lower than 0.25 mA while in the case of the pull-off test this criterion was a stress higher than 1.5 N/mm2. The following abbreviations are used in Table 5:
• Different materials (H = HTV; L = LSR)
• St = stripe test
• Sh.= shear stress test
• Shear stress (F = force, i.e. maximum stress; A = appearance of fracture)
• WD = water diffusion test
• P = pull-off test
The analysis is naturally concentrated on results after 100 h of boiling. This duration was chosen since it directly corresponds to the present requirement of IEC 62217, which then facilitates further standardization. Insulators D-I-L-M all had suspected low levels of adhesion based on service records or intentional manufacturing of 'academic' samples. Detection rate for both pull-off test and water diffusion test was 3 out of 4, i.e. 75%. Thus, it is proposed that both pull-off and water diffusion tests be used for final evaluation with the goal of revealing poor quality insulators. The physics of the complex interactions of environment and specific insulator product, as characterized by specific materials, technologies and manufacturing qualities, is not fully understood. This is why detection rate is not 100% for any of the tests investigated. Thus, both tests are needed for a definitive evaluation of adhesion. Comparison between the final array of tests and final considerations are presented in Table 6.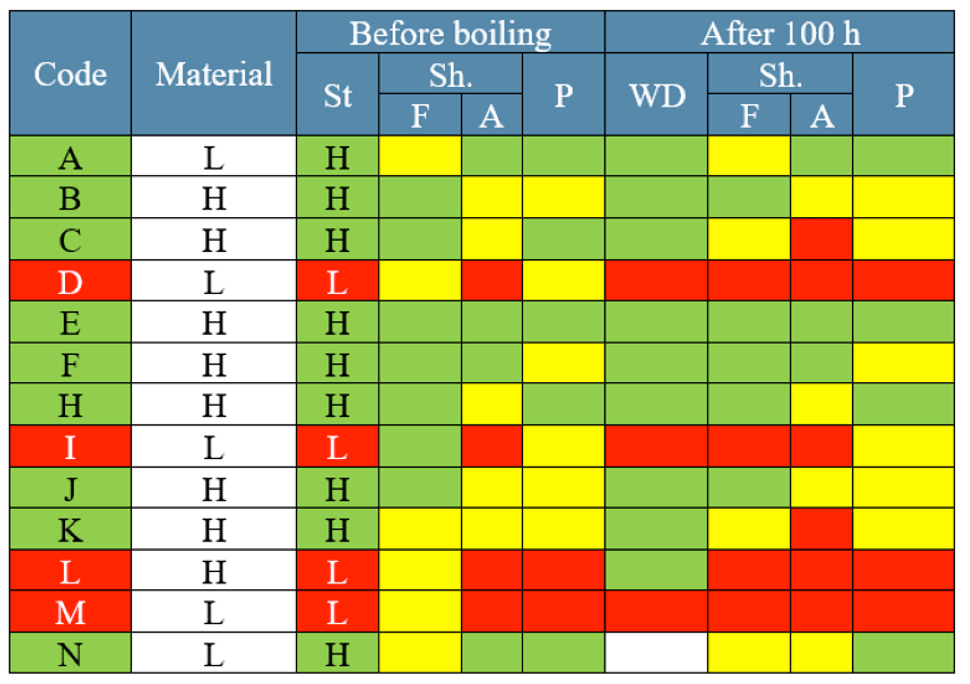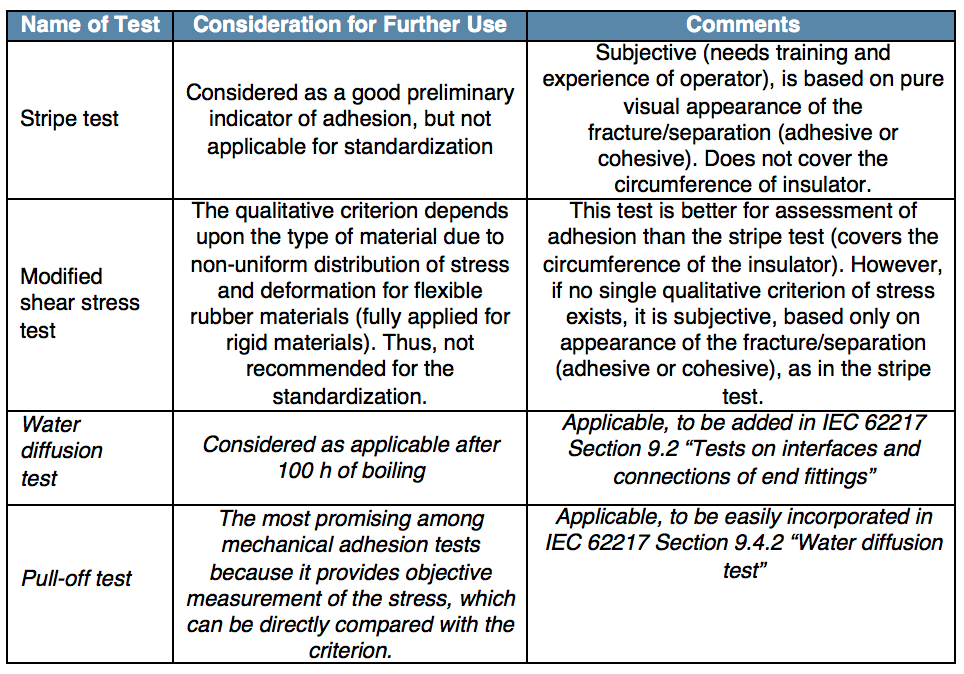 Summary                                                                              
Several different methods were investigated to identify the most promising tests to identify composite insulators having poor quality adhesion of the external housing to the internal core rod. These tests will allow filtering out inferior insulators before these are installed on power networks. Two tests (i.e. the water diffusion test and the pull-off test) are considered as representative as well as initially repeatable, thereby fulfilling two of IEC's four requirements for any test (i.e. being representative, repeatable, reproducible and cost-effective). The exact place for these tests in IEC 62217 (which has been under revision) is proposed and implementation of test methods requires only minor changes to the text of this standard.
Advertisement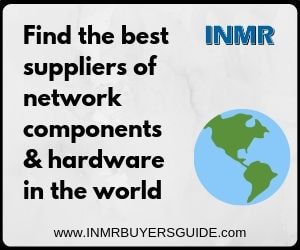 Acknowledgments
The authors kindly acknowledge the group of power companies supporting this work, actively discussing the results and making this publication possible: Amprion (Germany), Elia Group (Belgium/Germany), E.ON (Sweden), ESB (Ireland), Fingrid (Finland), REE (Spain), Statnett (Norway), Svenska Kraftnät (Sweden) and Vattenfall (Sweden). The authors also acknowledge STRI-ABB for providing excellent test facilities. I. Gutman, T. Hayashi, A. Phillips, A. Pigini, J. Seifert, F. Schmuck, M. R. Shariati, V. Sklenicka: "Guide for the Assessment of Composite Insulators in the Laboratory After Their Removal from Service", Working Group B2.21, CIGRE TB 481, December 2011