Projects with voltages of 800 kV DC and 1000 kV AC represented major milestones in the development of equipment and insulators for electrical transmission. For applications where pollution is an issue or where high seismic performance is required, composite insulators have become the preferred technology while insulator length has had to meet insulation co-ordination requirements and the need for adequate creepage, especially in the case of DC.
The engineering processes required to design and manufacture long insulator strings have benefitted from cumulative service experience as well as developments in standardization over the past 40 years. In this regard, when 'up-scaling' of string/insulator length on overhead lines, controlling electric field is critically important to prevent premature ageing of the polymeric housing. For suspension strings and line post concepts at 420 kV, such as insulated cross arms, solutions have already been introduced at very high voltage levels. In the case of substations, however, a relatively easy upscaling of existing experience and technology to UHV has not been so technically straightforward. For example, mechanical strength rating of post insulators for support applications (e.g. bus bars, smoothing reactors, etc.) is an important design criterion. Moreover, in the case of composite post technology, permitted deflection also has to be considered – particularly for posts of 10 m or more.
In general, product standards are available for such applications, especially when suitability of a given design has to be demonstrated. Such design tests are typically performed on short units. However the situation becomes more challenging when it comes to type testing. For complex insulation arrangements such as long station posts, standards do not yet provide sufficient guidance.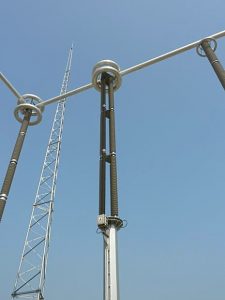 Electrical test requirements are determined by the applied insulation co-ordination and complex insulation arrangements can then be tested in a laboratory. But suitable mechanical testing in regard to safety and other aspects is more problematic. Often, a compromise is made such that the expected forces on individual insulators are calculated and each is tested separately – though not as a final assembly. Of course, such a compromise carries a risk that the overall response of the assembly is not fully known and possible weak components are not identified. For instance, if a pivoted braced line post moves around its axis, arc protection devices must not be allowed to touch the insulator.
In the case of long station posts, the following table depicts the relationship between alternative technologies and recent applicable standards:
Technology
Standard
Porcelain post
IEC 60273
Porcelain post with silicone rubber coating (typically RTV grade)
IEC 60273, IEEE 957,

IEEE 1523

Hybrid post consisting of porcelain core and/or polymeric housing/sheds only
IEC 60273, IEC 62217
Composite hollow core filled with gas or solid internal insulating material such as foam
IEC 61462
Composite solid core
IEC 61952
One example is the ± 800 kV Yunnan-Guangdong Project. Given the demand for long station post insulators, the pros and cons of existing technologies were carefully compared. A special tripod solution was ultimately developed and tested. The advantages of this solution included:
No need for internal filler material and monitoring (gas);
No macroscopic internal interface;
No risk of moisture ingress;
High cantilever strength and low deflection – all at competitive cost;
Low weight and high seismic performance;
Versatile, customizable solution for various station components;
Simple inspection during maintenance shutdown of station;
Low transport cost because of individual leg insulators (i.e. easy assembly at substation).
Design tests for this well-developed composite solid core technology were already fully available and confirmed by long-term service experience. However, mechanical and electrical type tests were performed full scale. A comprehensive description of this project was published at a past CIGRE General Session in a Paper: 'Development of an 800 kV HVDC Station Post Design Based on Long-Term Experience with Composite Line Post Insulators'.
Dr. Frank Schmuck