Composite insulators fabricated from high temperature vulcanized (HTV) silicone rubber are increasingly being used on UHV transmission lines since they are lighter as well as stronger than glass or porcelain insulators and also offer superior anti-pollution flashover properties. By the end of 2011, for example, well over 5 million such insulators were already in service in China with about one-third of these used on UHV lines. Given this, it is important to understand the technology behind their fabrication, testing and maintenance.
The injection molding process, attachment of end-fitting hardware, production of acid-resistant core rods and suitable shed geometry have all been well researched and have contributed to development of improved insulators. Apart from internal faults that shorten the service time of a composite insulator, another key issue relates to the resistance of the silicone rubber housing to ageing and weathering that could also decrease service life.
Polymeric sheds made from HTV silicone are produced by many companies and are put into service across a range of different service environments, from desert to coastal to mountainous to windy plains. Each of these different silicone rubber formulations can exhibit different levels of performance in regard to resisting damage from weathering. This INMR article from 2013, contributed by Wang Xilin, Zhu Zhengyi, Ma Guoxiang, Prof. Jia Zhidong and Prof. Guan Zhicheng of China's Tsinghua University, Shenzhen Campus, reviewed the problem of shed tearing caused by high winds in excess of 40m/s.
---
An internal report prepared by the Xinjiang Electric Power Company several years ago disclosed that there were growing numbers of cases of composite insulators whose sheds had been torn by strong winds. The highest concentration of these was discovered on 750 kV AC lines running through the Gobi Desert between the cities of Urumqi and Turpan (see Fig. 1). These composite insulators had all met the demands of the Chinese Standard as well as the standards set by the State Grid Corp. of China and had performed well in other service areas. The damaged insulators were in service in unpopulated areas (e.g. Sanshili and Baili) where the wind speeds can exceed 40 m/s and even attain 50m/s. Therefore, it seemed that the only possible cause for the shed tears could be high winds. For example, based on local weather reporting in affected areas, average 10 minute maximum wind speeds could be 37.6 m/s and 33 m/s respectively between March and June. As evident in Fig. 1, the tearing affected mostly the large diameter sheds while the other two shed diameters remained unaffected. Shed spacing on affected insulators (as shown in Fig. 2) was 140 mm and shed diameters were 210, 130 and 175 mm. The total length of the affected insulators was 7150 mm.

The problem of shed tearing in high wind service areas presents a new research challenge, different from more traditional topics such as conductor galloping and tower design. Nevertheless, such research can help electricity supply companies in safely maintaining their transmission system by guiding both specification of composite insulators and line design.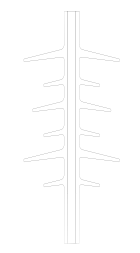 Wind Tunnel Experiments
To better understand the problem, researchers conducted experiments in a wind tunnel where speeds could be set as high as 100 m/s. Test insulator samples with the exact same shed geometry as used on affected 750 kV AV lines were installed as shown in Fig. 3. The wind tunnel was closed in a ring and for this part of the experiment was kept 1 m high and 1 m wide. Wind could blow uniformly through the tunnel with wind speed controlled continuously so as to vary from 0 m/s to 60 m/s. For each 5 m/s wind speed increment, a 3-minute video was made of the insulator and whenever the sheds started vibrating, the test would stop and the wind speed be recorded. Then when wind speed was up to 60 m/s we would depress the wind speed until the shed stop vibrating. The wind speed when the insulator sheds started vibrating was called upgoing wind speed while the wind speed when the insulator sheds stop vibrating called down wind speed.
The ends of the composite insulator were both fixed and the insulator had an angel with the horizontal plane. This angle called suspending was very important in our study and we changed several angels in the experiments.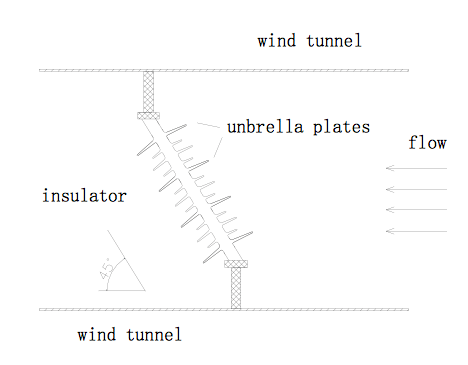 Results & Discussion                                         
Shed Vibration
Fig. 4 shows how one composite insulator tested was affected by different wind speeds in the tunnel and it is clear that different diameter sheds experience different types of vibration. When wind speed was set as low (i.e. 0~30m/s), the widest sheds begin to warp and the edges of sheds vibrate at low frequency and amplitude (Fig. 4a), as clearly recorded by the high definition camera. When wind speed is higher than 30 m/s (as in Fig. 4b), sheds vibrate at high frequency and amplitude and the edge of the widest sheds warp at a big angle. By contrast, the mid and narrowest size sheds would not vibrate or warp at all. 3 of the 4 widest sheds vibrated, the exception being the one located at the top right-hand corner. As wind speed rises continuously from 30m/s to 60 m/s, the widest sheds vibrated more violently such that their edges touched the narrowest sheds. Mid size sheds would also vibrate at low frequency. As recorded by the HD camera, the vibration frequency of the widest sheds was between 16 and 20 Hz. The widest sheds continued this type of vibration as wind speeds became higher than 30 m/s.
After the experiment, scratches were discovered near the edge of the widest sheds in the location where these had rubbed against the narrowest sheds (see Fig. 5). Based on insulator appearance after the experiment, none of the insulator sheds had torn, which confirmed that even though the widest sheds were vibrating, warping and twisting, the stress on their edges was lower than the tensile strength of their HTV silicone rubber material. The reason for shed tearing in service could therefore be eventual stress fatigue.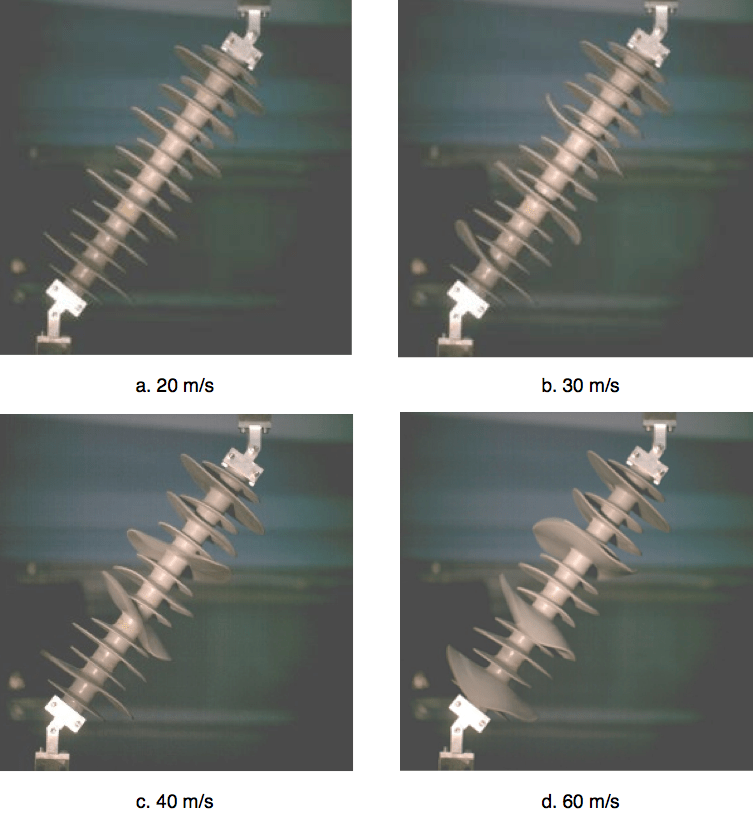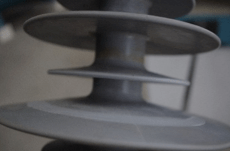 The wind tunnel experiment also allowed studying the effect of suspension angle of insulators being tested. When the angle was less than 30°, the widest sheds deformed, as seen in Fig. 6, but did not vibrate as in Fig. 4 – even at very high wind speed. When the suspension angle was 81°, the widest sheds would vibrate at a lower frequency than in Fig. 4b. If wind speed was higher, vibration frequency and amplitude would not increase and be lower than shown in Figs. 4b or 4c. This finding suggests that suspension angle influences vibration and deformation of sheds. In the case of the affected 750 kV lines, for example, composite insulator strings were designed and fixed in a 'V' pattern, meaning their suspension angle was poor to be able to better resist high winds.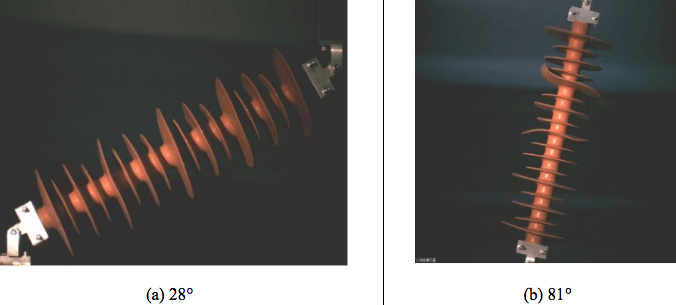 Simulation
To study stress and wind distribution on insulators sheds, a composite insulator model was set up in the Ansys software, with size and geometry parameters for the model being the same as shown in Fig. 2. While a composite insulator core is normally an FRP rod, to assist calculations in this case the core was made of aluminum. The shed and housing material was HTV silicone rubber with density set as 1420 kg/m3. The elastic modulus and Poisson's ratio of the rubber were measured by the tensile test. The computation domain was set as cubic and the air was gas of density was 1.18 kg/m3. Input fluid velocity was set as 40 m/s.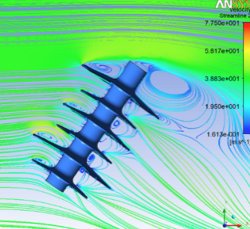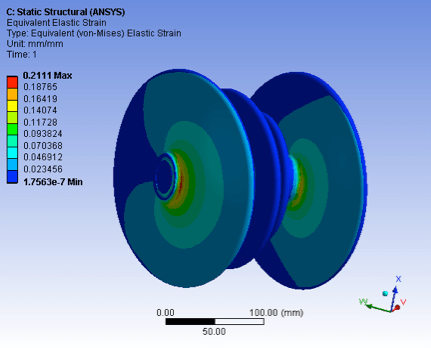 Figs. 7 and 8 show fluid distribution around the insulator as well as stress distribution at the sheds. When the wind fluid blows around the insulator, vortexes appear at the edge of sheds or near the core. These vortexes vibrate at some frequency associated with wind speed, shed structure and material modulus. When vibration frequency of the vortexes was near the natural frequency of shed vibration, resonance would appear and amplitude of vibration would increase. This resonance would be the main reason for shed vibration at high amplitude.
As seen in Fig. 8, when the widest shed vibrated periodically at very high amplitude, stress at the shed surface would distribute differently. Obviously, stress was greatest near the shed base and the maximum value was concentrated at the point where shed and housing meet. This maximum stress value is lower than the tensile strength of the HTV silicone rubber. As such, if sheds begin to vibrate at high amplitude, their base would not immediately tear. Tears at the shed surface were therefore due to stress fatigue, i.e. the stress is greater than the fatigue limit of the material. When wind speed increased from 20 to 60 m/s, maximum stress would increase from 0.1 to 0.6 MPa.
Conclusions
• When used in high wind service areas, sheds of composite insulators studied would vibrate at high frequency and amplitude whenever wind speed was greater than 30 m/s. Vibration of sheds leads to stress being concentrated at their base.
• While the maximum value of this stress is less than the tensile strength of the HTV silicone rubber material, it is greater than its fatigue limit. Periodic stress at the shed surface would cause 'micro tearing' and this then expands into full tears.
• To minimize resonance between a fluid (i.e. wind) and sheds, there may be a need to further improve shed structure parameters as well as material.