The rate of accumulation of pollution, along with climatic factors such as typical and extreme duration of dry periods, combine to give estimates of the soluble and non-soluble deposit density on exposed insulator surfaces. Pollution flux can then be expressed in a number of complementary ways:
• Soluble and insoluble dust fall amounts on upward facing surfaces;    
• Electrical conductivity & chemical composition of precipitation samples;
• Annual totals of wet deposition, combining precipitation conductivity & volume;
• Concentration of pollutant gasses such as SO2 & NOx;
• Annual totals of dry deposition;
• Visibility or more precise measurements of aerosol optical depth (AOD);
• Density of particulate matter of specific size (PM10­ or PM2.5).
There is strong correlation between total annual deposition rates of individual ion species, such as sulfur and nitrogen (R2 > 0.9), and a more modest correlation (R2 = 0.5-0.6) between wet and dry deposition rates for individual ions. Recent studies have interpreted satellite measurements of aerosol optical depth (AOD) at several important optical wavelengths to obtain wide-area measurements of some particulate and soluble pollution concentrations. This article, contributed by industry expert, Dr. William Chisholm, describes ongoing progress in validating these estimates using ground-based reference measurements. It also outlines additional research needed in order to better adapt satellite measurements to select insulator dimensions and profiles.
---
Pollution on insulator surfaces accumulates in two main forms: soluble ESDD and insoluble NSDD. Surface orientation (upward or downward) as well as insulator profile (smooth or ribbed) together has significant impact on equilibrium values of ESDD and NSDD. Electrically conductive ions such as NaCl from ocean or road salt, industrial or environmental pollution accumulate through a process of dry deposition onto insulator surfaces. The resulting surface pollution is expressed as an equivalent salt deposit density (ESDD) in units of mg/cm2 or mg/cm2. This represents the sum of contributions from all ions to the electrical conductivity of the surfaces when fully wetted. Some insulating surfaces – such as glass or glazed porcelain – come to long-term equilibrium with pollution flux in months or years. Other surfaces, notably silicone rubbers, are active rather than passive. Silicone materials tend to provide a continuous supply of low molecular weight (LMW) silicone oil that percolates outward through pollution layers to restore hydrophobicity initially lost when pollution is first applied. Silicone insulator materials and coatings also have a 'critical loading' at which pollution accumulation rate overwhelms the material's ability to recover.
The ESDD is electrically non-conducting until wetted by the environment. The process of wetting a pollution layer may involve direct accumulation of precipitation or may 'scavenge' moisture from air. The wetting process is stabilized by the presence of inert, non-conducting material from the environment, e.g. clay particles in the range of 1 mm up to soil particles of 100 mm. The stabilizing role of non-soluble deposit density (NSDD) is recognized in the most up-to-date advice in IEC 60815-2008 with regard to selecting insulators in polluted conditions.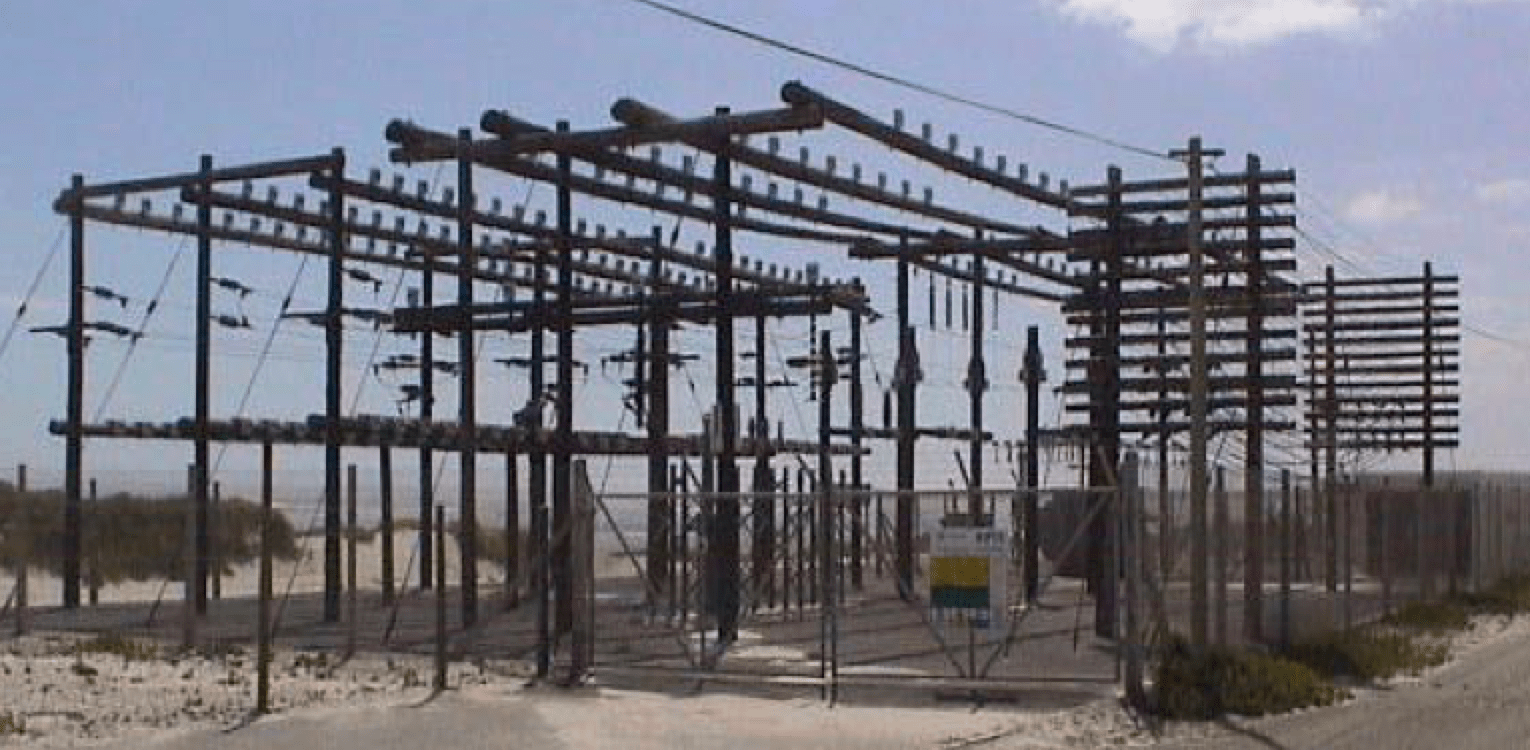 Monitoring Insulator Pollution Levels
CIGRE Technical Brochure 333 describes some typical research stations, usually near the ocean (see Fig. 1). These stations energize several different types of insulators in parallel at normal line voltage. The relative performance of insulators is evaluated using leakage current measurements and flashover performance over exposure periods that may be months or years.
Insulator test stations also incorporate basic meteorological measurements including wind, ambient temperature, relative humidity, rainfall and UV radiation. Capability for sampling insulator ESDD and NSDD is also recommended. Most insulator test stations are temporary, with observation periods of two or three years to meet specific utility requirements. There have been few long-term studies of insulator pollution accumulation and these test sites have typically been located near the ocean.
Estimating Insulator ESDD from Pollution Data
Over the winters from 1991 to 1994, a series of cross-calibration tests were conducted to establish whether a network of pre-existing dustfall and air pollution samplers in Ontario, Canada could be used to estimate insulator pollution levels at critical 500 kV stations. Energized and un-energized station post insulators were exposed along with removable strings of standard and bell-profile ceramic disks and distribution posts. One conclusion was that increase in ESDD from AC energization was about 12% for station post insulators of the same profile, with a linear Pearson regression coefficient of R2=0.97. Another was that measurements of total suspended particulate matter (TSP) with aerodynamic radius up to about 40 mm had no apparent relationship to insulator ESDD. However, a simpler measure, of total dust fall, proved to be relatively good predictor of median and season-peak ESDD values (see in Fig. 2).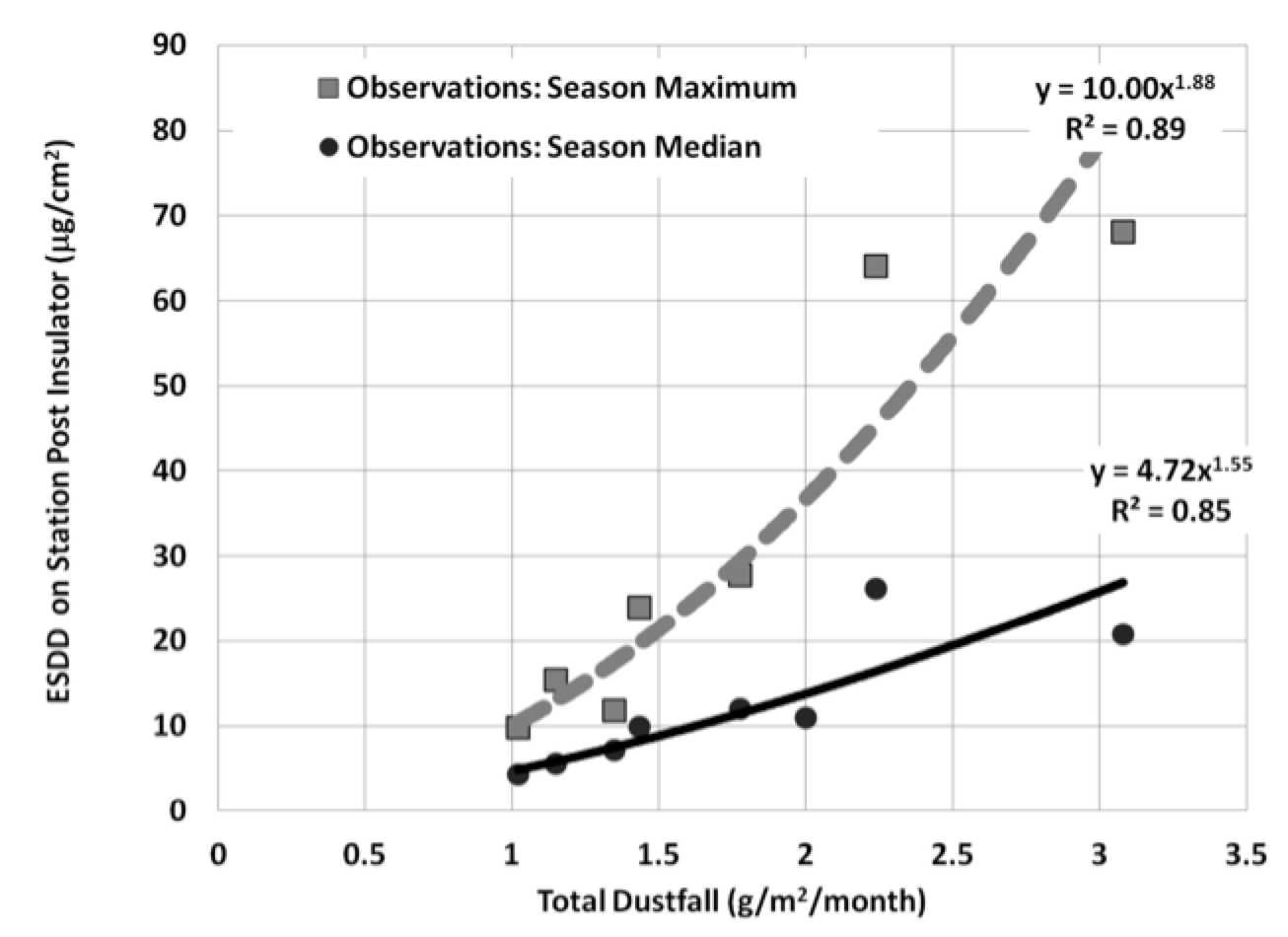 Soluble and total dust fall averages were equally good predictors of average and maximum ESDD. There were also some correlations found between the chemical composition of precipitation and that of the ions that were deposited on insulator surfaces. For example, in one urban area of central Canada, near a busy highway, Fig. 3 illustrates how road salt showed up clearly in both local precipitation and insulator surfaces. This location was more than 1000 km from the sea but still provided marine exposure.
At the same time that Ontario studies were validating the standard measure of dust fall, an alternative estimator for insulator pollution, a 'directional dust deposit gauge' (DDDG), was being developed in South Africa. This apparatus has four 500 mm long round collection tubes, oriented vertically. Each tube has a slot of 40 mm width and 350 mm length in its side, and the slots are oriented at north, south, east and west.
While this is similar, in principle, to traditional dust fall sampling, including analysis of soluble and insoluble components, there is also only limited cross-calibration experience in the literature. Correlation between average insulator ESDD and average DDDG conductivity in Fig. 4 has a linear regression coefficient of R2 = 0.62 for zero offset. The corresponding linear fit (ESDD = 7.2 ´ dustfall) to Fig. 2 has a similar R2 = 0.66 for the same fitting process.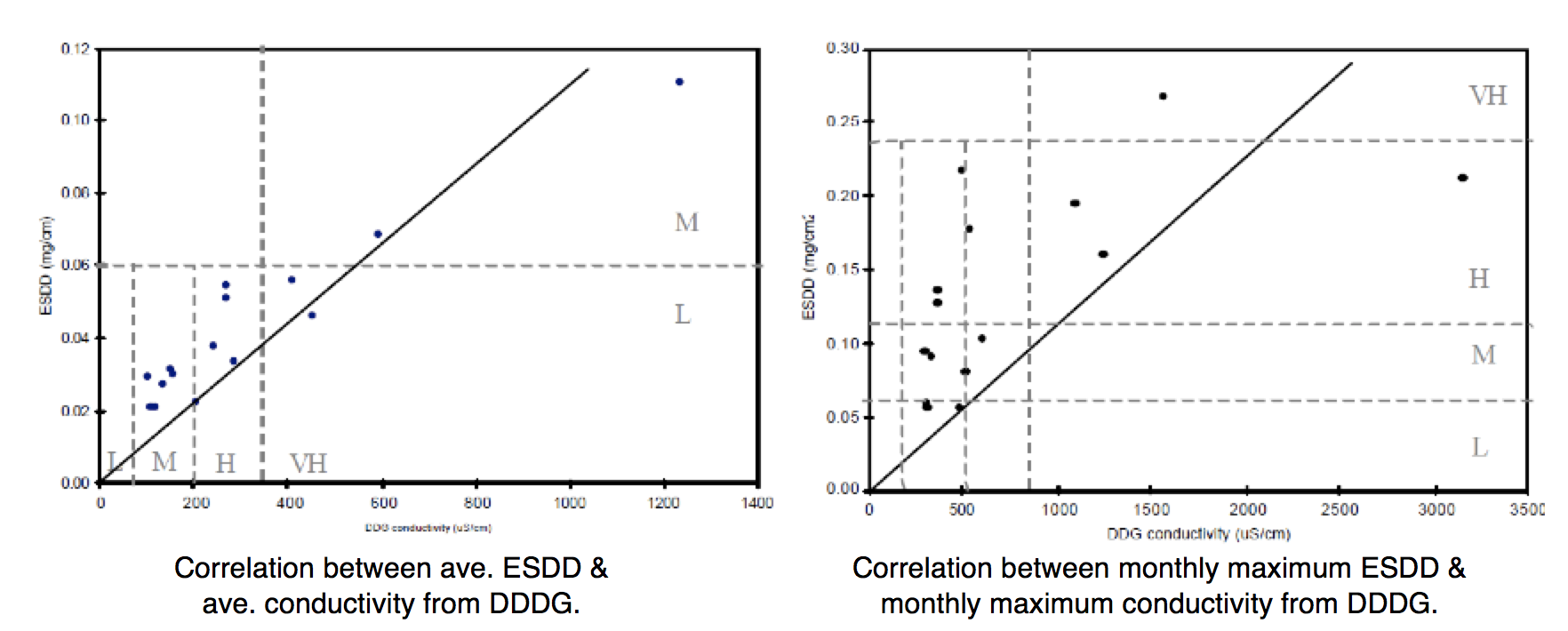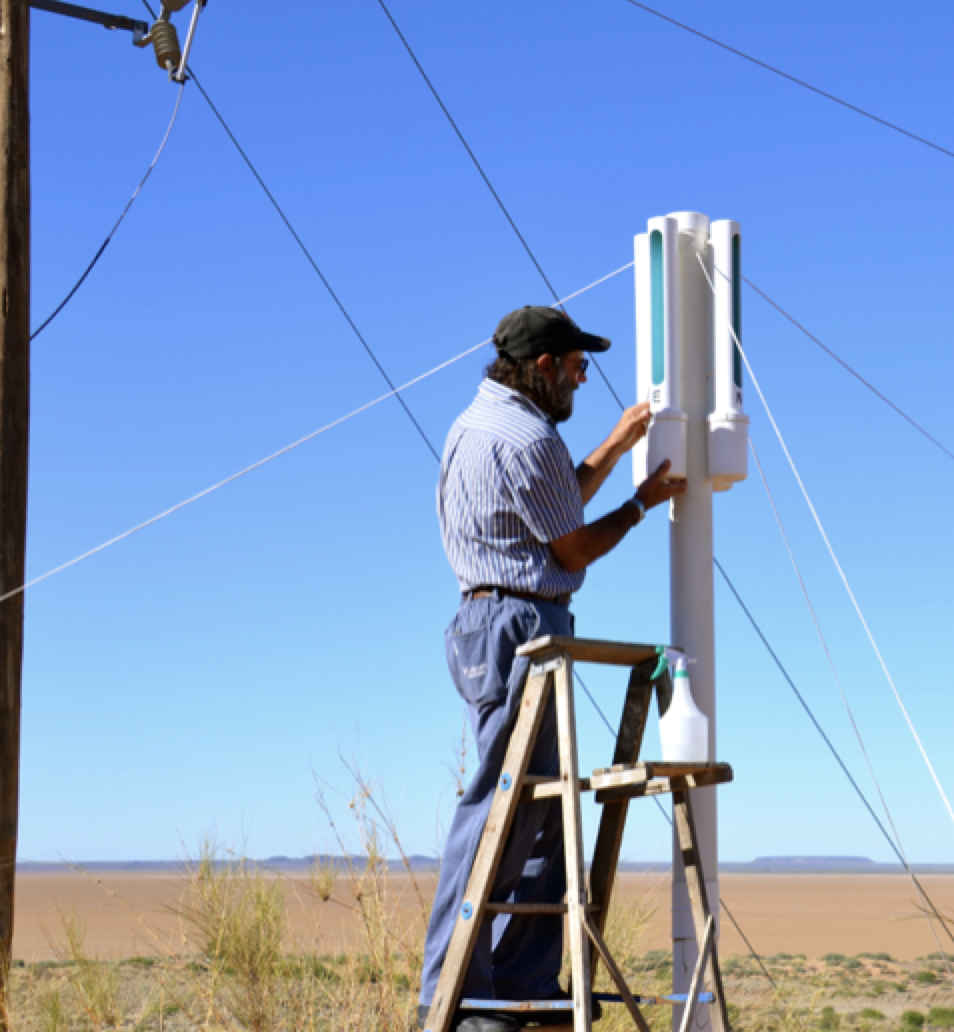 Ground-Based Monitoring of Precipitation
Before introducing satellite maps of pollution, it is important to understand the nature of the underlying calibration data, from surface observations. At present, these are not widely used in selection of insulators. The observation networks are sparse and data indicate background levels rather than peak values that may be found near fossil fuel generating plant substations. Countrywide maps of dry and wet deposition rates are updated annually. In the U.S., for example, the National Atmospheric Deposition Program (NADP) reports concentrations of ions in weekly precipitation samples from about 200 stations as shown in Fig. 5.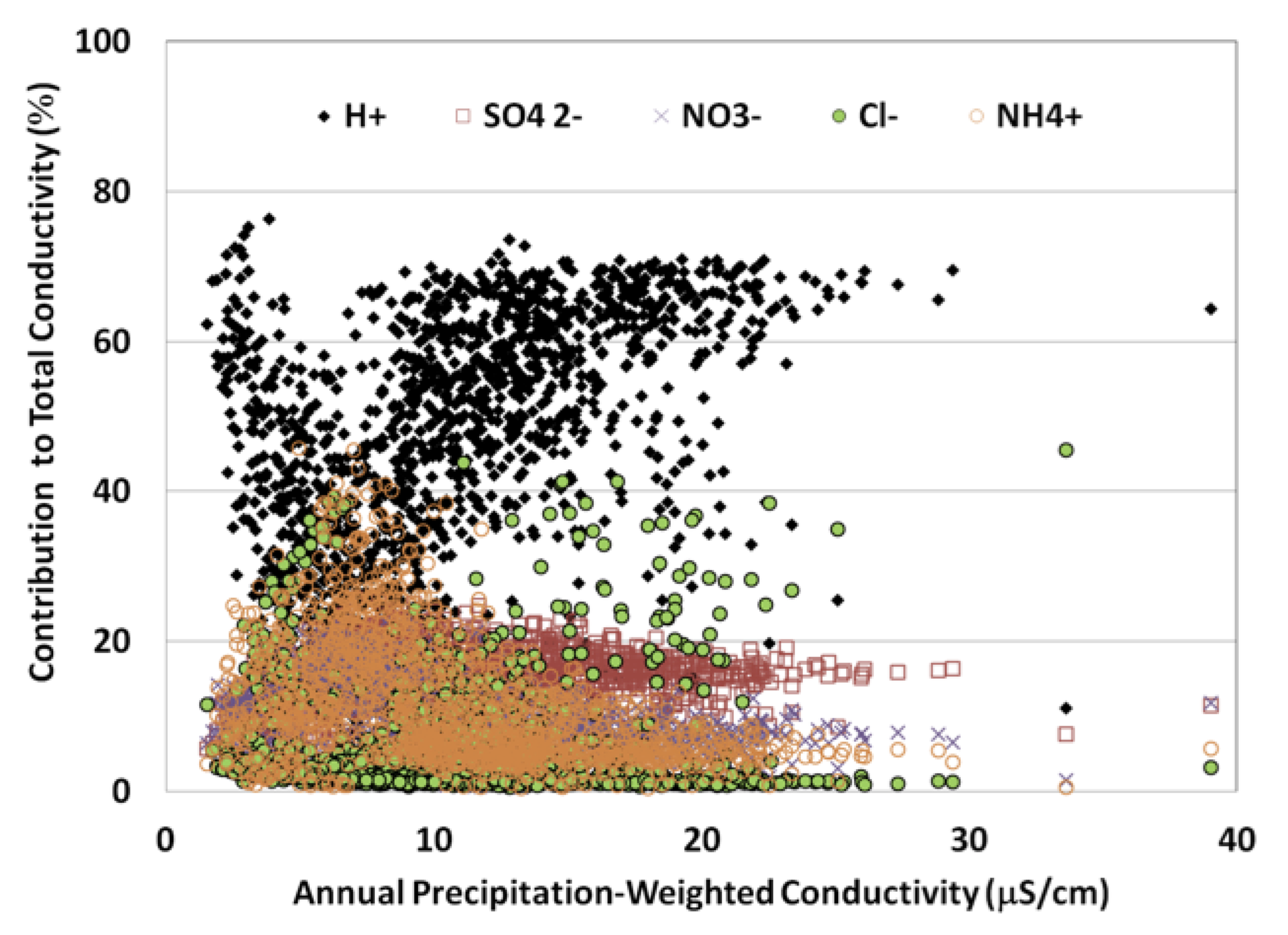 The annual sum of ion concentrations multiplied by corresponding precipitation volumes define wet deposition rates for the 9 most important conductive ions: H, SO4, NO3, NH4, Ca, Mg, K, Na and Cl. The values in kg/hectare are computed from the ion concentrations (mg/L) multiplied by the precipitation amount (cm) and divided by 10 for unit conversion. Sodium and chloride wet deposition rates in Fig. 5 show peak values, near the Gulf of Mexico, of 5 and 10 kg/ha respectively. The rates differ mostly by the ratio of atomic weights, 23 for Na and 35.45 for Cl. Any imperfect balance of Na and Cl ions suggest a mix of ocean and other pollution sources. By contrast, maps of sulfate and nitrate pollution in Fig. 5 as well as acidity (H+) show a high rate of flux along the Ohio River, east of the Mississippi. This is an area with many coal-fired electrical generating stations. Pollution flux has been monitored closely and regulated since the 1980s and improved controls have led to significant reduction in flux over time. Some of the contribution to nitrogen flux comes from agricultural fertilizer sources as ammonium. The conductivity of precipitation is directly relevant to some assessments of electrical flashover risk. Insulator heavy rain and icing electrical flashover tests have default values of 100 mS/cm. The value of sW, the applied water conductivity, corrected to 20°C, is rather important as a term in icing stress for selecting insulator dry arc dimensions for freezing conditions.Fig. 5: Chloride and (sulfur + nitrogen) wet deposition in NADP precipitation samples, 2011.
Estimates of precipitation conductivity can be formed by downloading the ion concentrations for particular NADP sites and combining the measured concentrations using the specific conductance of each ion. Normally, this would make use of the stations closest to a line or substation. This analysis task was performed for every reporting NADP site over the period 2001-2006 to build up a continental scale that can be compared with estimates from satellites. Fig. 6 shows one of the outputs of this analysis. As a percentage, the dominant source of conductivity in most precipitation samples is seen to be H+.
NADP data also show correlations among some ion concentrations in Fig. 7. The expected slope for Na:Cl from sea salt, for example, would be 0.65 based on atomic weight for ocean salt, and a value of 0.55 is fitted with high linear correlation of R2 = 0.998 in Fig. 7. The slope for SO4:H2 is theoretically 48 with a reported average value of 55 and data have more scatter, but still a strong linear relationship.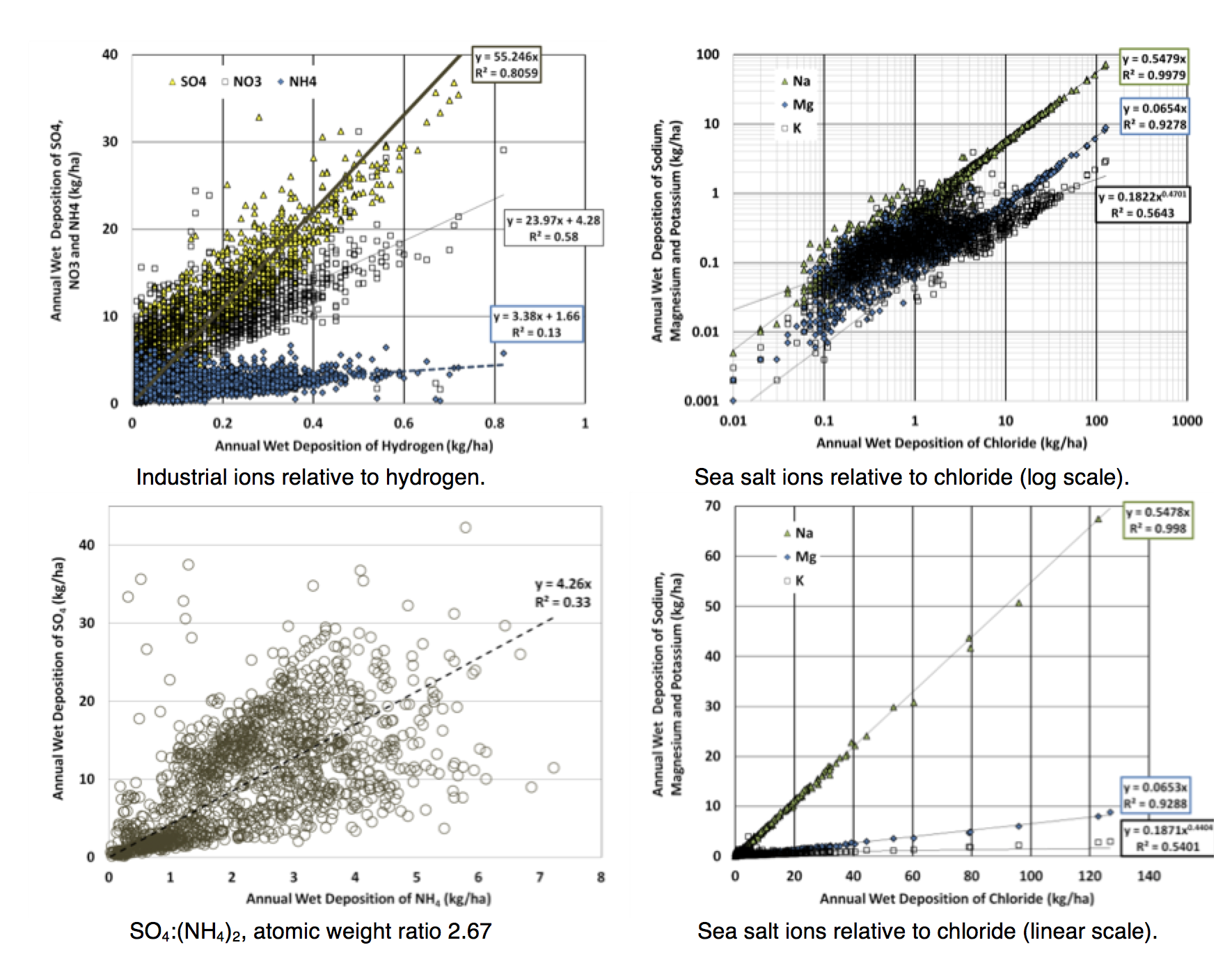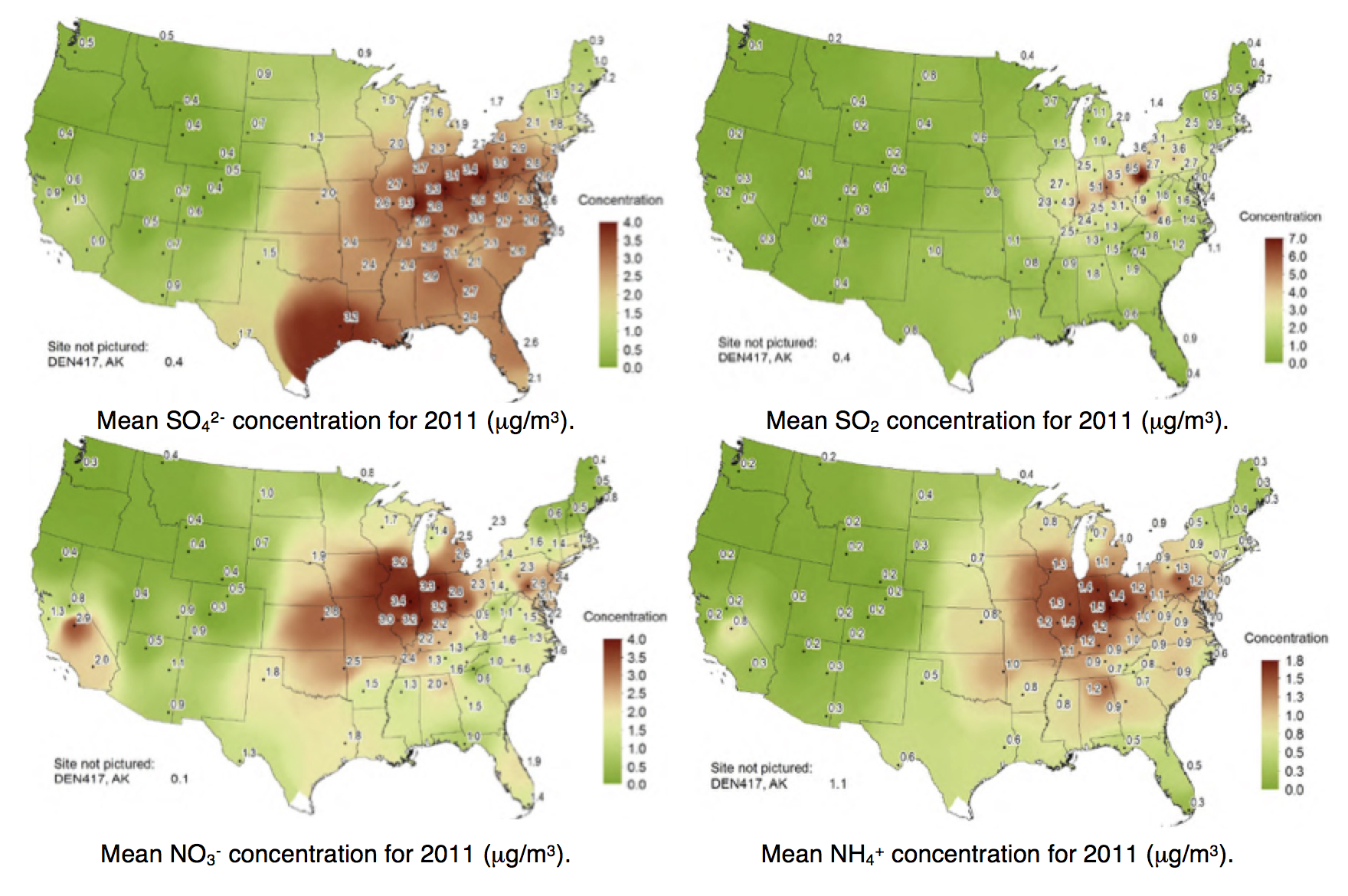 There was essentially no correlation, positive or negative, between NH4 and H in the NADP precipitation samples. However, there is a stronger correlation between SO4 and NH4 in Fig. 7 because ammonium sulfate (NH4)2SO4 is a dominant reaction product of SO2 in the atmosphere.
Ground-Based Maps of Dry Deposition
There are complementary networks of pollution monitoring stations for dry deposition flux of pollutants. The sampling draws air at a constant rate through filter packs, typically teflon, nylon and K2CO3-impregnated cellulose. In the US CASTNET program, filters are collected and analyzed weekly for sulfur (SO­­2, particulate), nitrogen (HNO3, particulate nitrate and ammonium) as well as Na, Cl, Ca, Mg and K.
In Canada, Fig. 9 shows that the correlation between total (wet and dry) deposition of sulfur and nitrogen in a similar network rather strong, as were relationships between dry and wet deposit rates.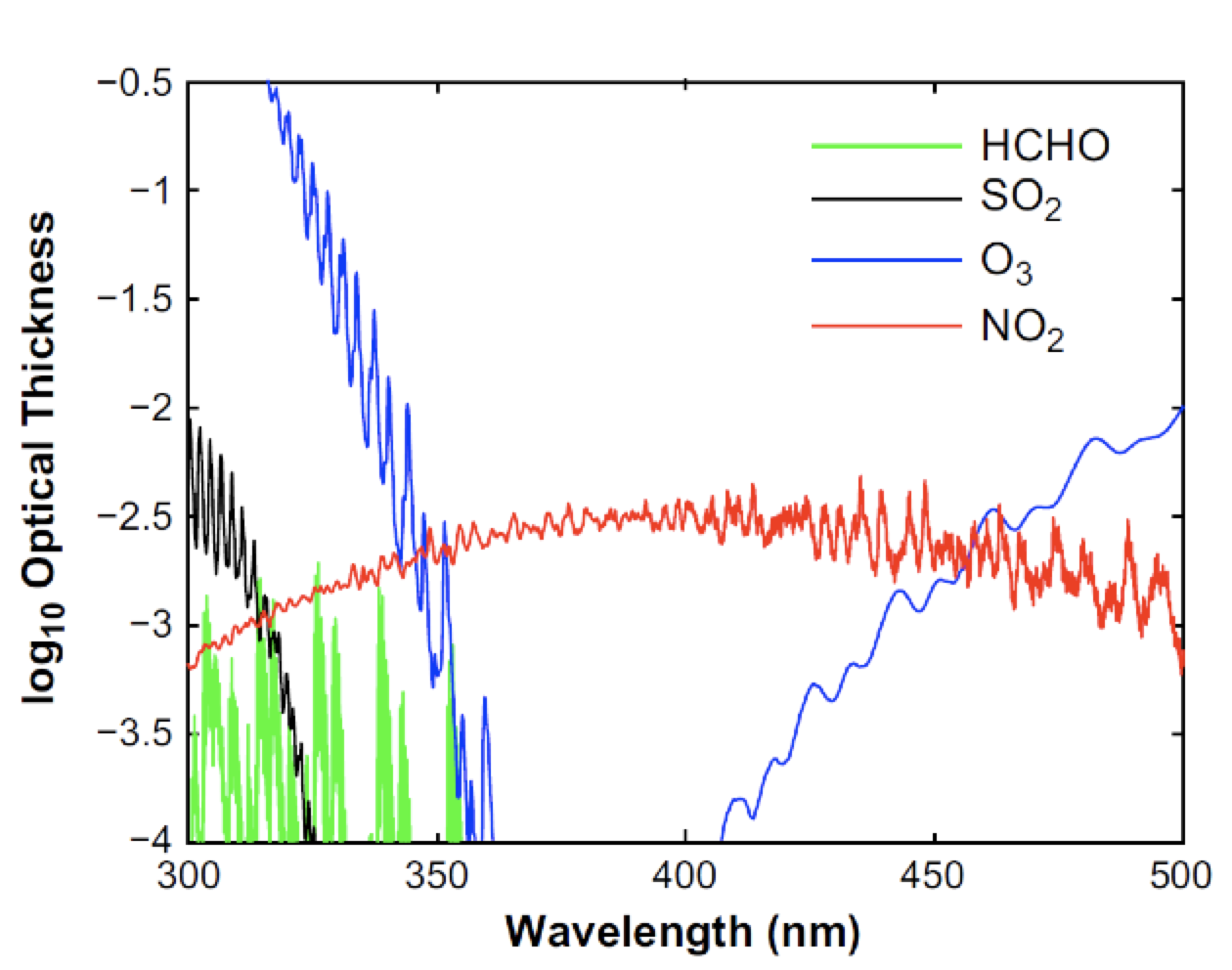 Satellite Technologies for Monitoring Pollution
Looking down to the earth surface on cloud-free days, satellites measure optical characteristics of the air path at many wavelengths, with wide dynamic range and excellent spatial precision. Martin reviewed the possibility of using these data to establish air quality in 2008.
To carry out a reliable measurement of an individual effect, a satellite needs to resolve unique peaks in the spectra. For example, between 360 nm and 410 nm, the optical thickness is dominated by NO2. This concentration can then be factored out of the responses of other trace gasses. On cloudy days, nadir-viewing satellites can measure trace gas concentrations only in the upper atmosphere, above the cloud reflections, with high sensitivity, since they cannot see down to the earth surface. On clear days, it is important to correct for the reflection coefficients of each wavelength of light or UV from the local surface of the earth. Four of the 13 satellites reviewed by Marin in 2008 provided some capabilities for NO2 mapping. These were the ERS-2 GOME (ending 2003), Envisat SCIAMACHY (ending April 2012), Aura OMI (started 2004) and MetOp GOME-2 instruments (started 2006). Of these, the Aura OMI instrument was the only package that also measured aerosol optical thickness.
Satellite Estimates of NSDD
Particulate Matter: Dust Flux Estimates
Mineral dust aerosols, including small clay particles (< 1 mm radius) and silt fraction (1 -10 mm radius), have been tracked using optical thickness, with 4 x 5° horizontal resolution by Tegen et al. Fig. 11 shows important contributions from the Sahara, Arabian and Gobi deserts in spring and summer and a strong contribution east of the Caspian Sea in Kazakhstan in the fall.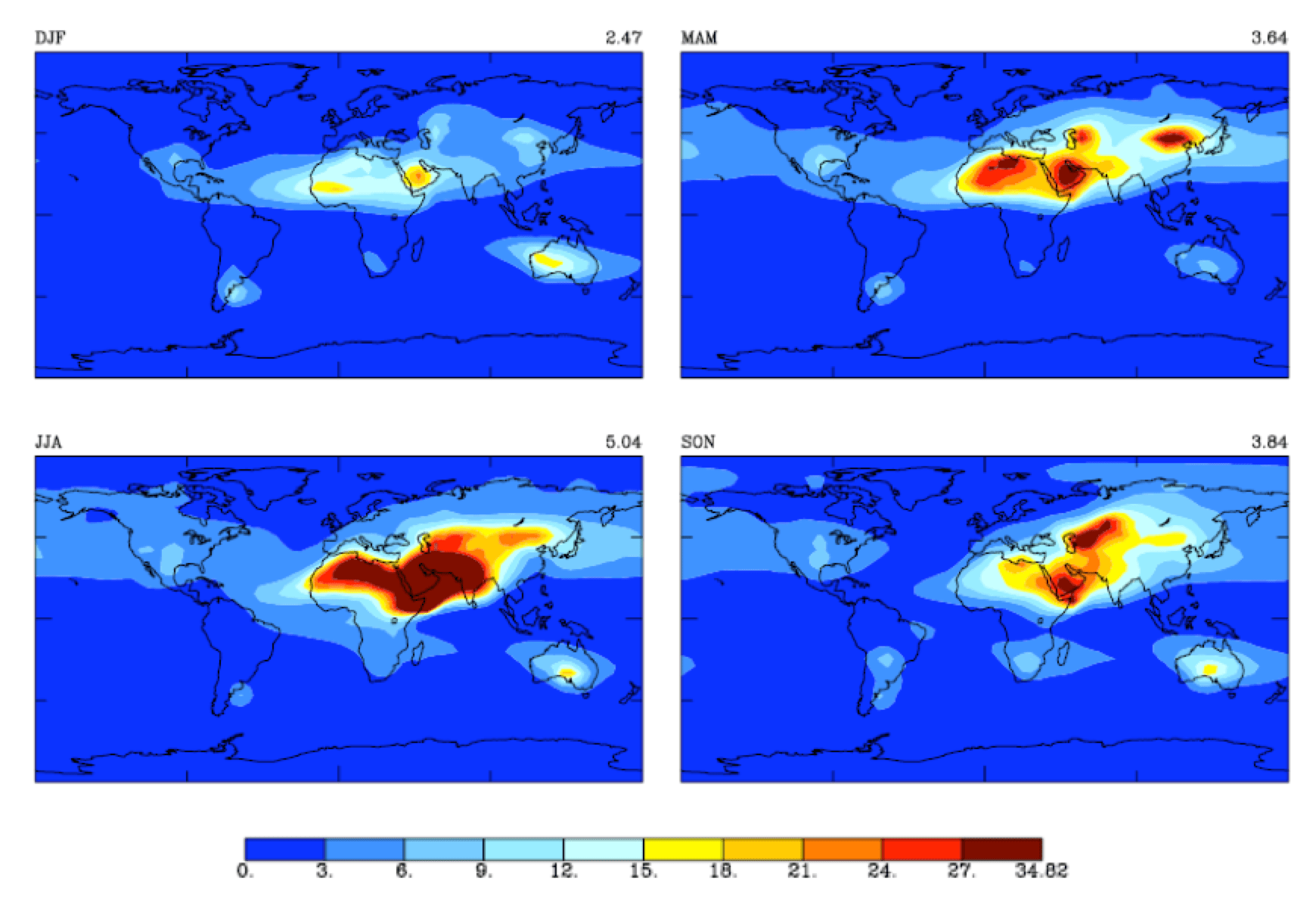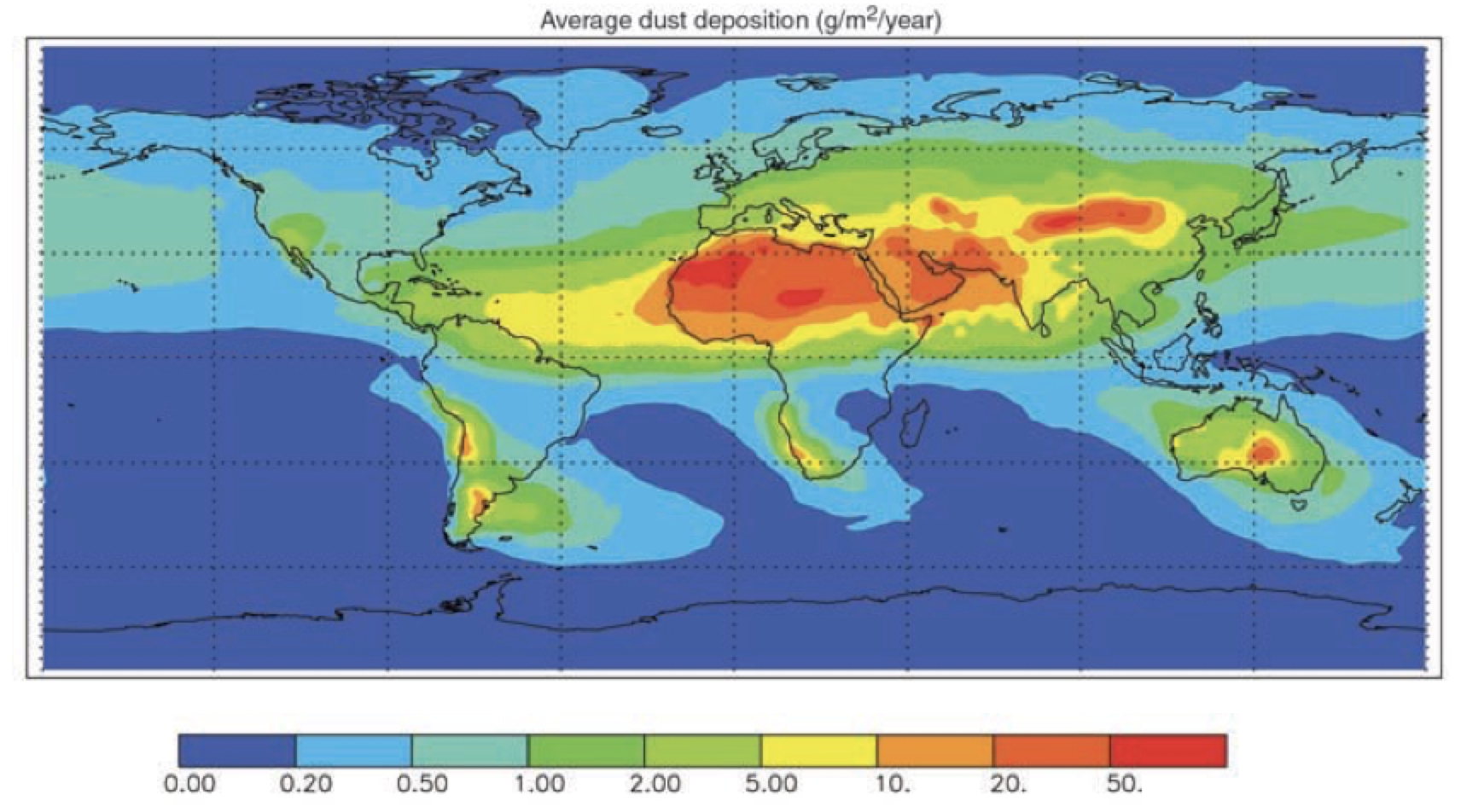 In 2005, Jickells et al. made an important advance in the study of dust deposition by developing strong agreements among 3 different data sets of dust observations using satellite optical depth, validated by ground-based measurements. Their specific purpose was to study the deposition of iron but the dust fall map of Fig. 12, in units of g/m2 per year, but has also been proposed for use in estimating the rate of increase of NSDD on insulators.
Some areas with elevated iron dust flux above 20 g/m2/year in Fig. 12 have also been found to have high levels of non-soluble deposit density in insulator pollution studies.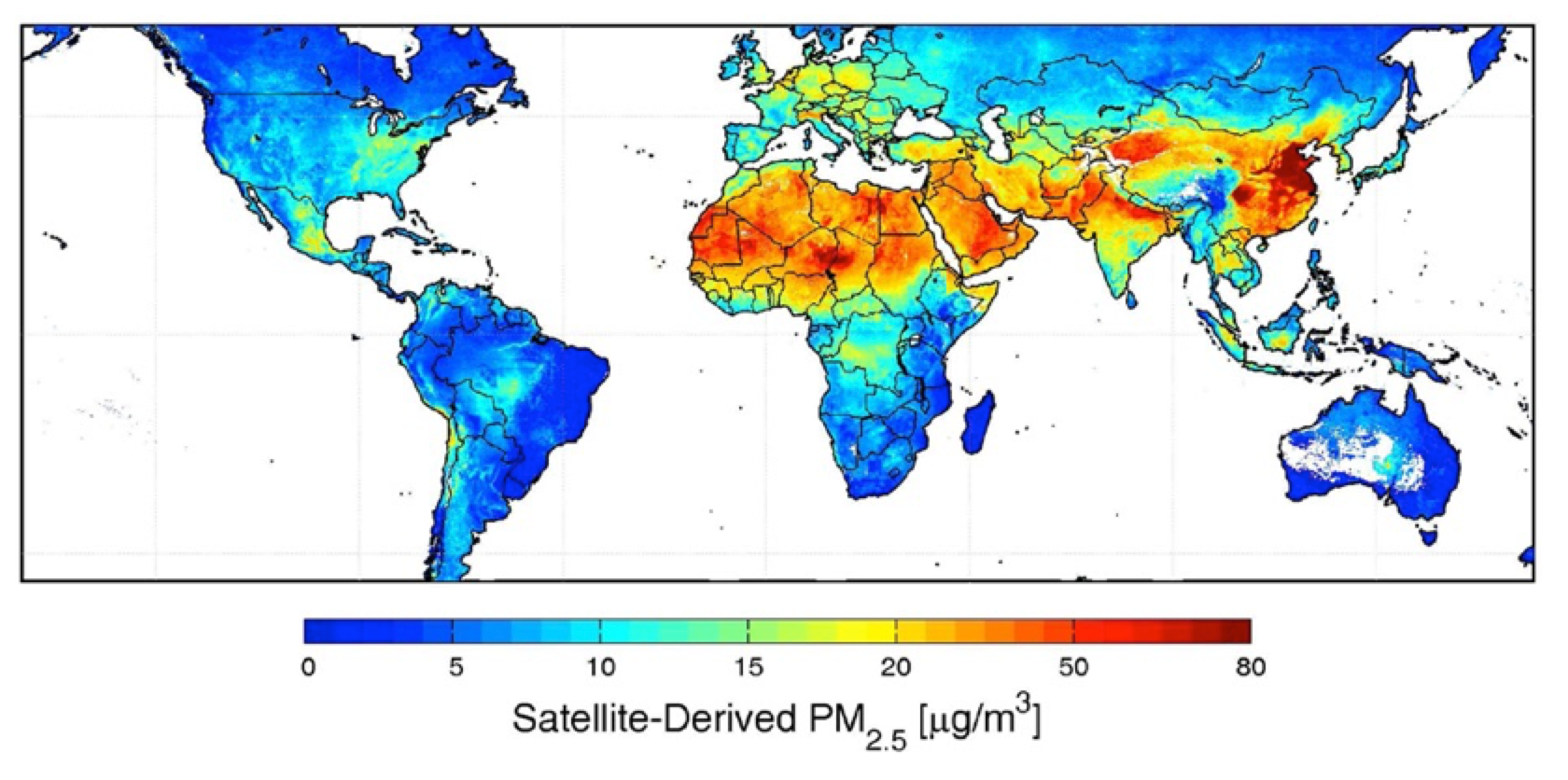 Particulate Matter: PM2.5 Estimates
There are three common measures of particulate matter in air, related to the size of the aerosol. The subscript 10 or ­2.5­ in PM10 or PM2.5 refers to the aerodynamic diameter of the particle in mm. The TSP measure with larger particles has already been discussed, and inclusion of large particles did not improve estimates of insulator pollution level. Dust, smoke and other aerosols contribute to the total particle density. In this way, PM2.5 estimates respond to the presence of inert dust (NSDD). In many areas, NSDD equals or dominates ESDD by a fixed ratio. For example NSDD/ESDD = 10 has been reported in North Africa on the south shore of the Mediterranean, Israel and Iran, with NSDD/ESDD = 5 on polymeric insulators in China and a ratio of 1:1 in Texas. PM2.5 represents a single-variable estimate of pollution that is especially interesting for assessment of health risks, since the small particles are not well filtered by the body and can enter the lungs more easily. In 2010, researchers at Dalhousie University developed an improved processing algorithm for converting aerosol optical depth measurements from MODIS and MISR satellites into estimates of PM2.5 with global coverage (as in Fig. 13).
The raw data in Fig. 13 are available in a spreadsheet with a resolution of 0.1 ´ 0.1°. An alternative to using satellites, looking down from above, is the use of sun photometer stations such as AERONET. The photometers measure the radiance of sun and sky in the visible and near-infrared spectra. The results of satellite and ground measurements should agree when there are no clouds in the light path.
Satellite Estimates of NO2
In addition to the estimates of PM2.5 concentration using optical data from air columns, surface reflection coefficient data and chemical mixing models, there has been considerable progress in monitoring and mapping the concentration of NO2 in the troposphere layer closest to the ground. The results from the SCIAMACHY instrument, which went out of service in April 2012, are shown in Fig. 14. The improved resolution of the OMI instrument is apparent in a scan of Europe in Fig. 15.

SO2 is emitted naturally by volcanoes, organic decay and rock weathering and artificially by combustion of coal and use of its residue as fertilizer. In the air and clouds, SO2 transforms in a series of reactions to particulate SO42-. Sulfate forms a major component of PM2.5, mainly as ammonium sulfate (NH4)2SO4 and also reacts to form sulfuric acid, H2SO4 which is a major source of precipitation conductivity. Electrical generating units and metal ore extraction plants are increasingly monitored and regulated for SO2 output. This has resulted in a steady decline from 6 mg/m3 in 2001-2006 to a median of 2 mg/m3 in the eastern U.S. by 2011. The model for satellite SO2 observations makes use of differential optical absorption spectroscopy. Absorption of light by dust has a broad band of extinction, while the trace species such as SO2 have specific peaks and valleys in a narrow ultraviolet range from 300 to 320 nm as illustrated in Fig. 10. The algorithms for these measurements were developed in the mid 1990s. SO2 estimates are made difficult by some overlap with ozone (O3) spectra as shown in Fig. 10. The conversion of observed spectra to concentrations also relies on some assumptions about the distribution of SO2 within the observation column.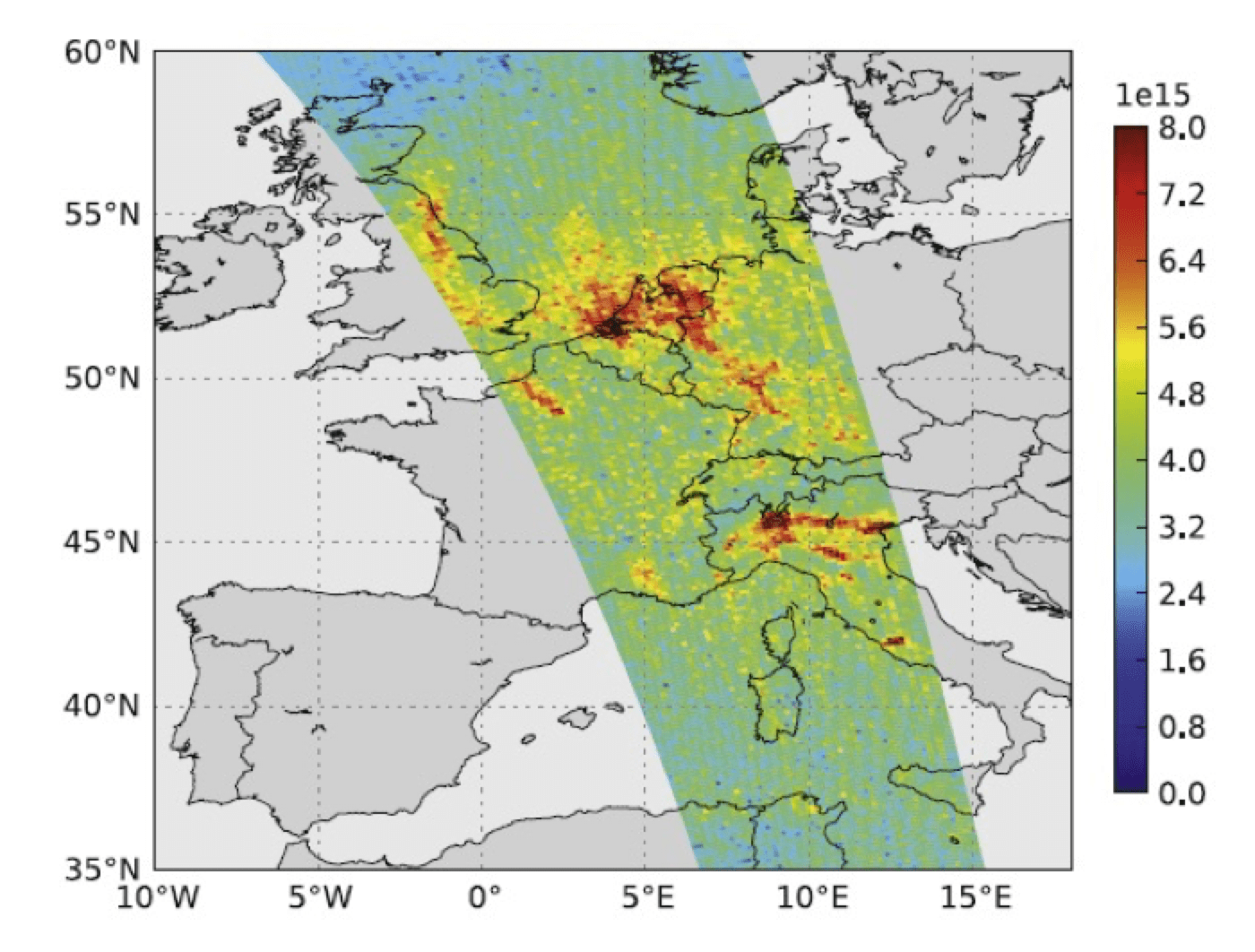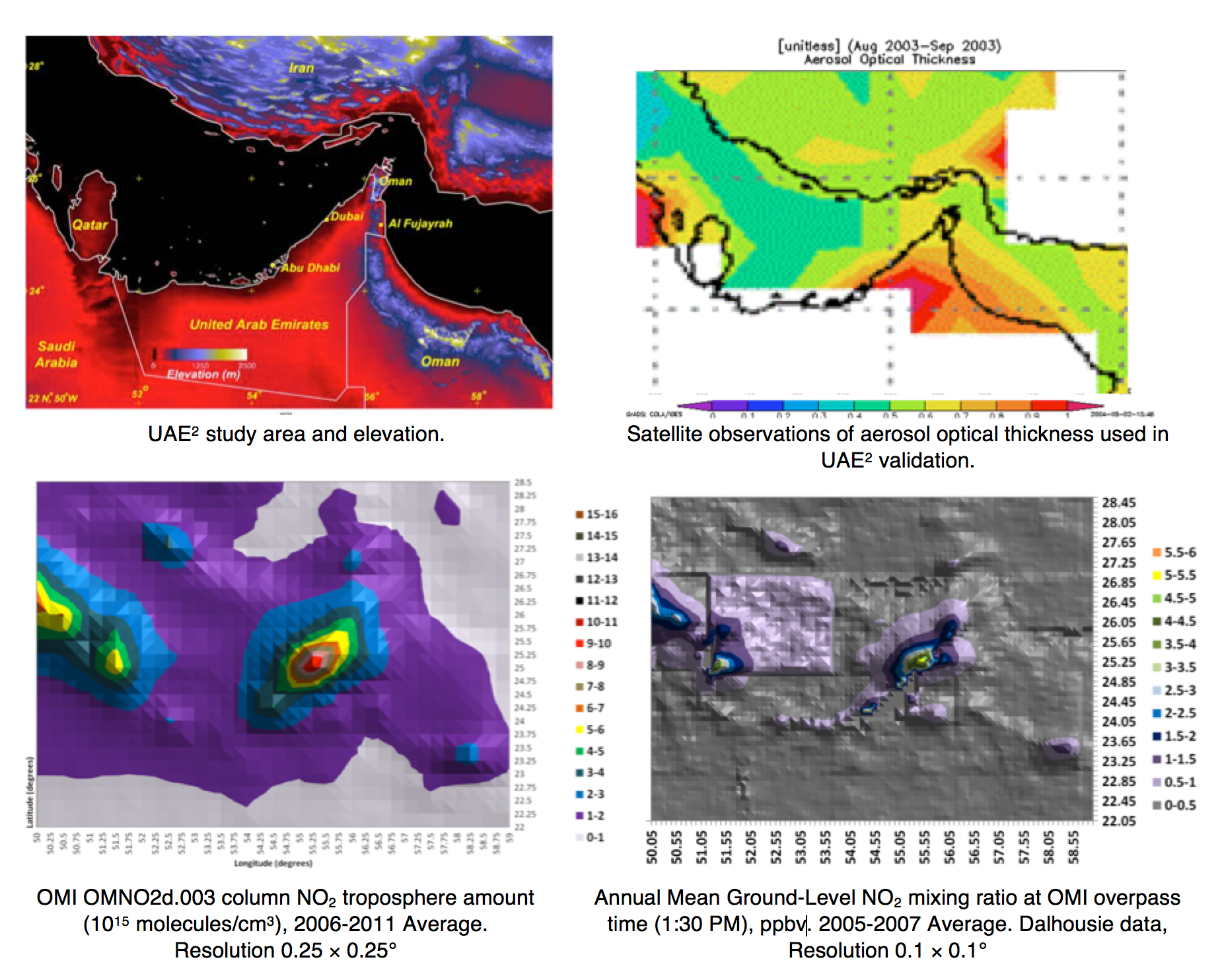 Validation of Satellite Pollution Estimates
The U.S. Naval Research Laboratory considered that the United Arab Emirates (UAE) was an ideal region to carry out some of the first validation studies of satellite pollution monitoring. There are many sources of aerosol particles in the Arabian Gulf, and the abilities and limitations of the following satellites to discriminate sources were tested:
• AATSR: Advanced Along Tract Scanning Radiometer;
• AVHRR, Advanced Very High Resolution Radiometer;
• MODIS: MODerate resolution Imaging Spectro-radiometer; and
• MSIR: Multi-angle Imaging Spectro-radiometer.
The unique climate of this region made it an ideal proving area for separating the effects of inert dust from electrically conductive pollution in satellite observations. For calibration, mobile atmospheric aerosol and radiation characterization observatory, MAARCO, were deployed in 20 ft. shipping containers. The sensors included ground-based measurements of weather, visibility, optical depth by light spectrum color, as well as particle size and composition. There was some focus in the experiments on distinguishing between dust, from intense sandstorms, and other aerosols such as SO2 that are related to man-made or volcanic pollution sources. Findings from this calibration project were adapted into successful high-resolution estimates of NO2 and PM2.5 levels, as illustrated in Figs. 16 & 17.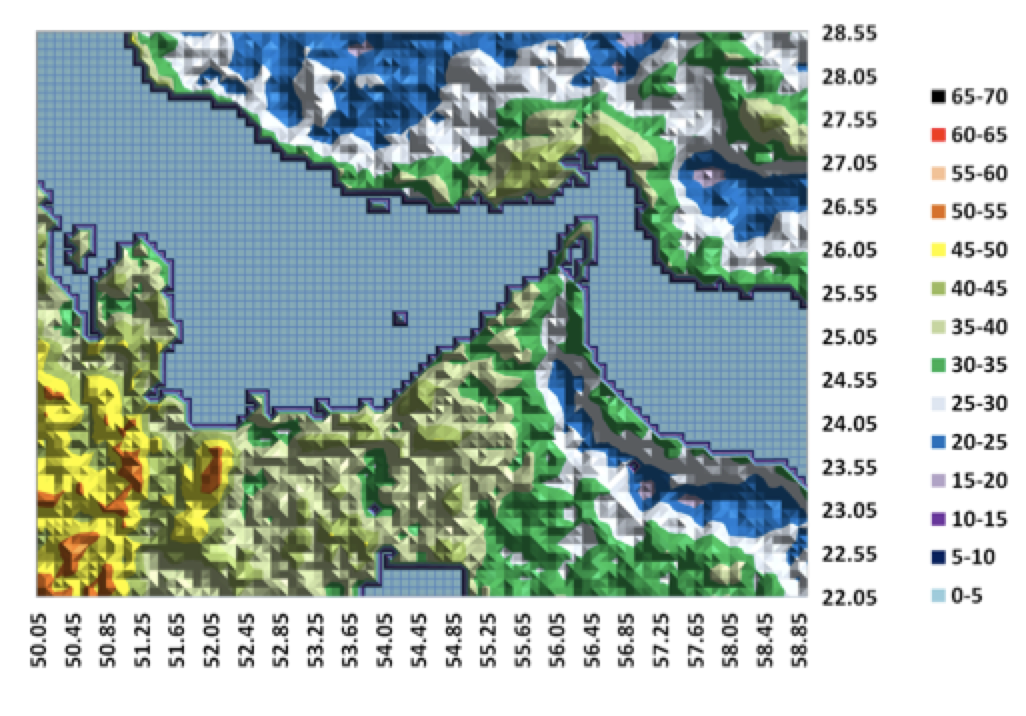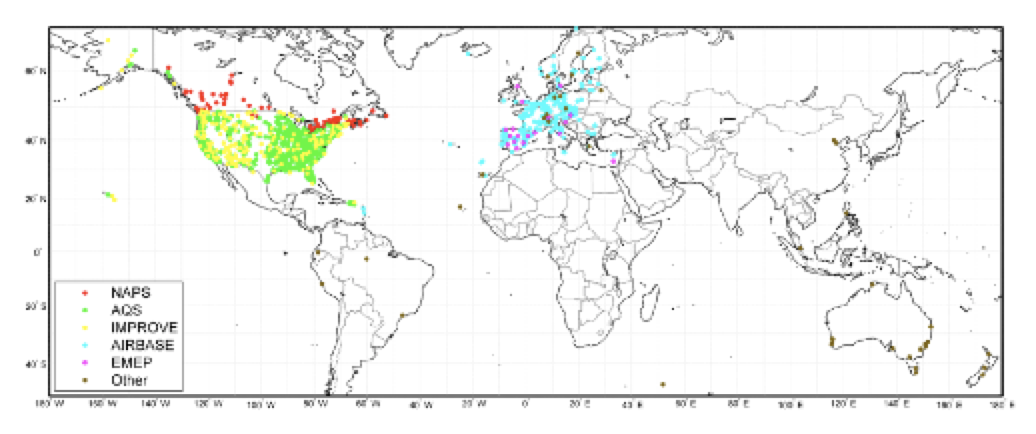 Satellite remote sensing therefore offers a promising approach to develop estimates of PM2.5 and NO2 concentrations on a physical scale from individual regions to fully global. However, raw data consisting of the aerosol optical depth (AOD) measurements are recorded only at specific overpass times and not valid on cloudy days. The accuracy and precision of ground-level aerosol mass concentrations, inferred only from satellite remote sensing, needs to be double checked with existing but sparse ground-based sensors with locations shown in Fig. 18.
Another example of the cross-calibration is given here. In the U.S., as discussed, the NADP network of pollution monitoring stations collects samples of rain water for chemical analysis. Pollution conductivity, including concentrations of H+, SO2, NO2 and NH3, has been mapped as wet deposition rates, expressed in kg per hectare per year. The ability of PM2.5 and NO2 satellite measurements to predict precipitation conductivity was tested as follows. The NADP data for the period of 2001-2006 were downloaded, organized by site, and summed as annual average values of precipitation-weighted conductivity. Most sites had 6 annual values. These were plotted against the median of nine, 0.1×0.1° grid squares centered at each NADP monitoring site.
For the 2001-2006 average values of PM2.5, individual ions had linear correlation coefficients R2 in the range of zero (NH4) to 0.4 (SO4) for inland pollutants. There was no correlation between PM2.5 and measured concentrations of Na, Cl, Mg or K that are related to ocean exposure. Fig. 19 shows that there is a significant correlation between the PM2.5 estimates and the observed precipitation conductivity in the continental U.S.. This correlation may be weaker or have a different slope in areas where the ratio of surface PM2.5 to aerosol optical depth is different.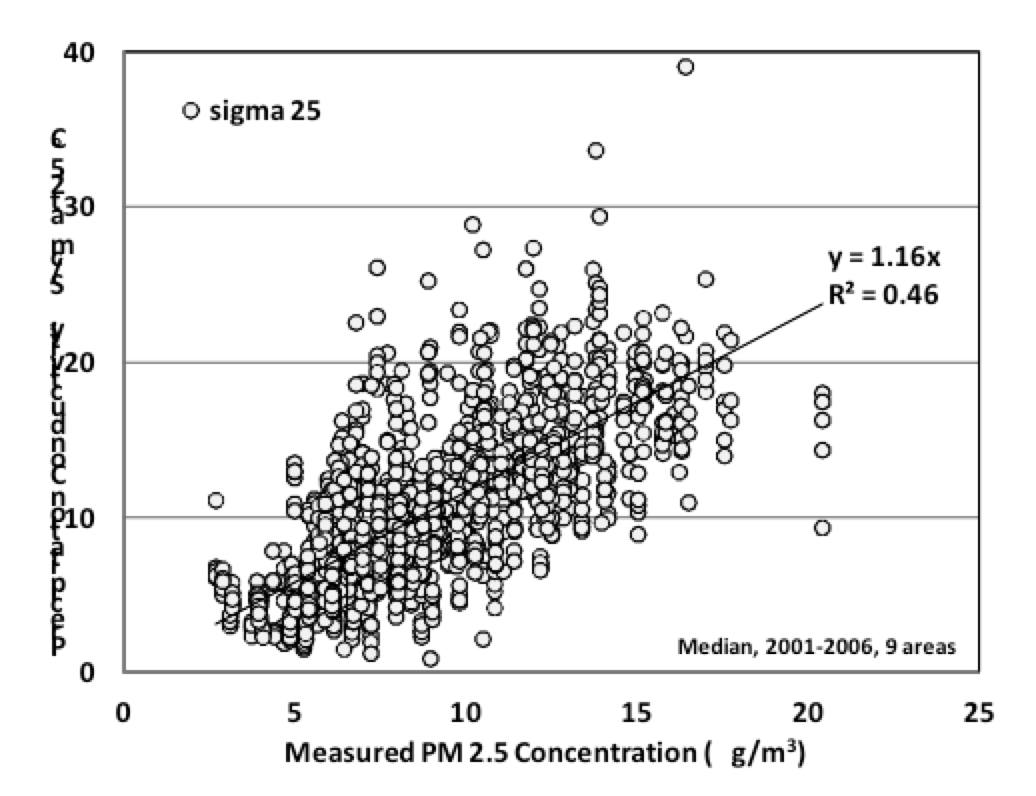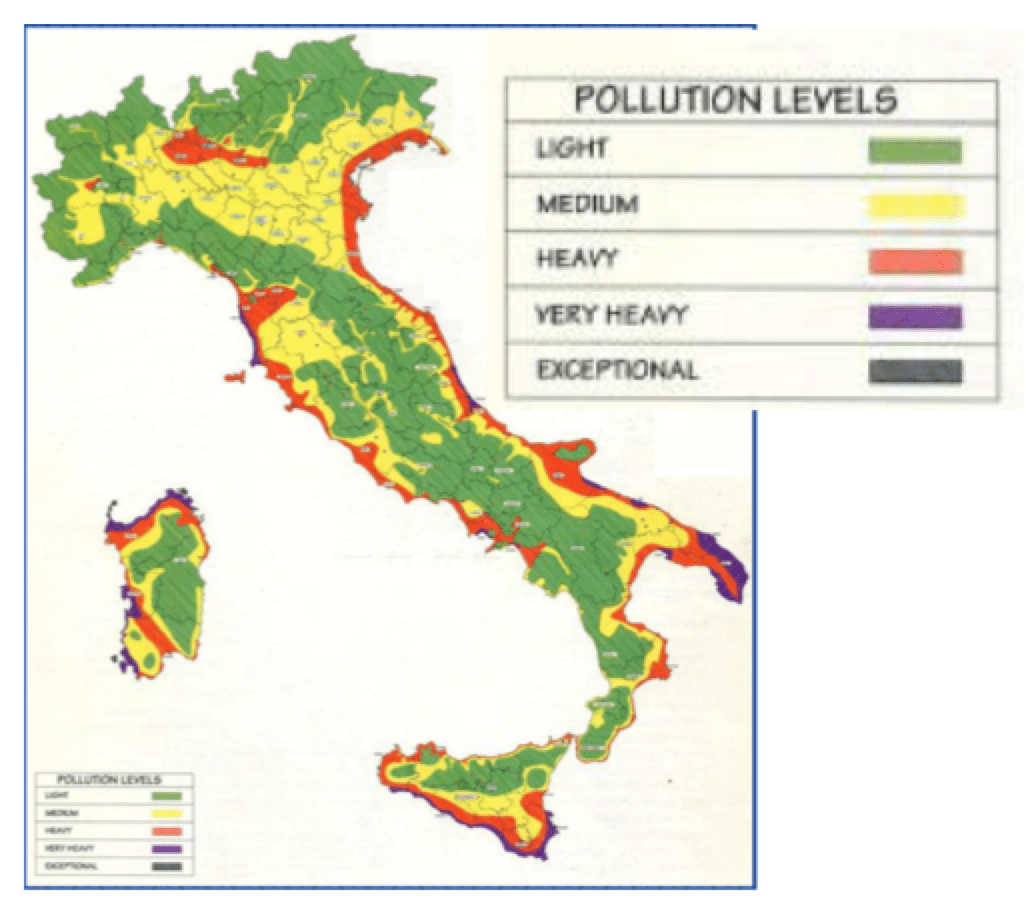 Many INMR articles discuss measurements of local insulator pollution problems. These include monitoring of energized insulators at points of extreme pollution exposure, as per the CIGRE Guide. It is an interesting task to extract satellite measurements corresponding to previous station exposures and to compare these with the utility findings.
One example is given here: Comparison of the pollution map for Italy (Fig. 21) used for insulator selection with PM2.5­ and NO2 satellite maps (Fig. 21), shows important differences. The central industrial area only has one small region of heavy pollution in the insulator application map while satellite measurements suggest that this region actually has among the highest levels of pollution within Europe. Conversely, very heavy pollution zones associated with marine exposure as per the insulator map do not appear in the PM2.5 map and would not be expected to show up in NO2 results.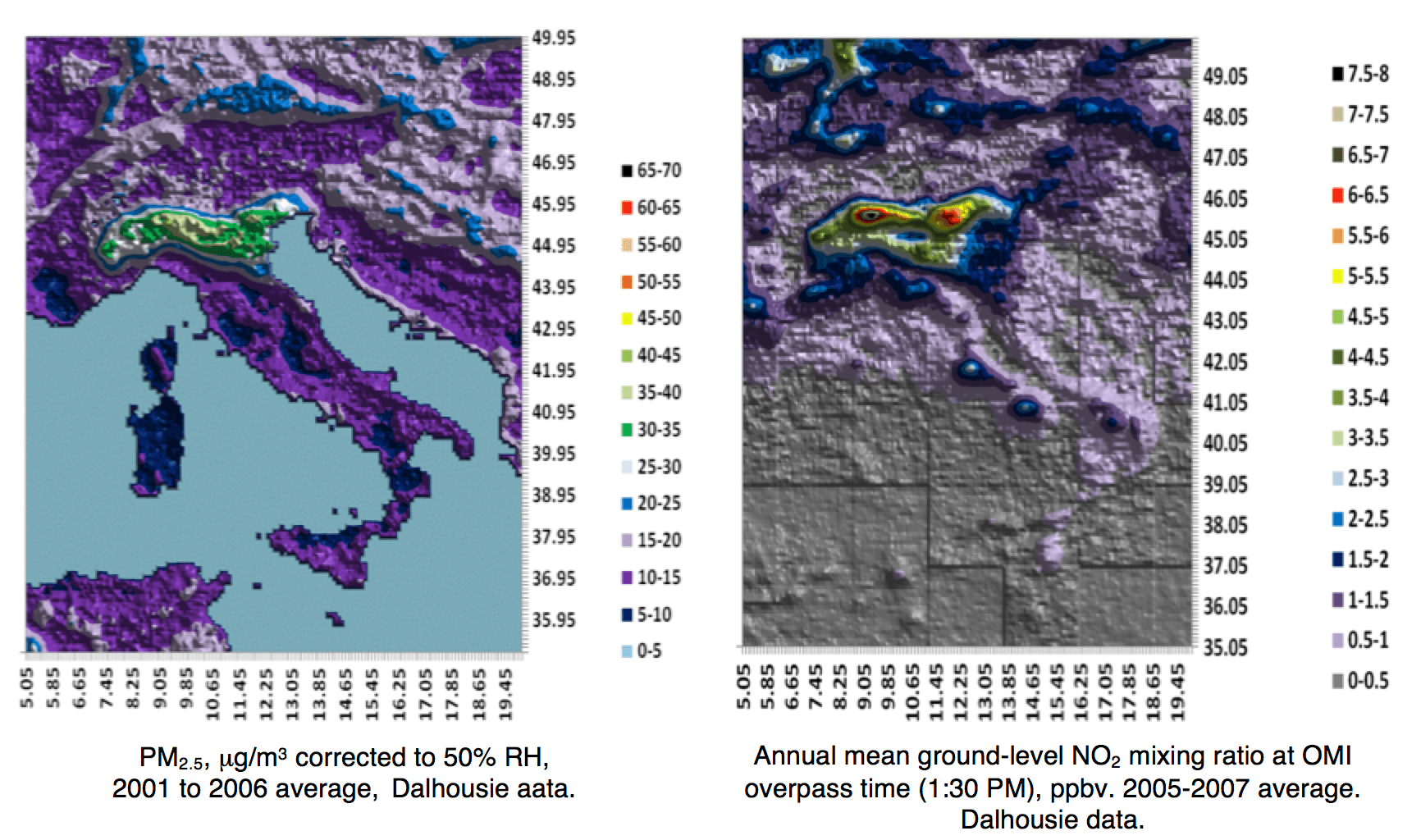 Improved Satellite Observations
There are several ways that satellite observations have been improving, in step with advances in optics, electronic sensors and communications:
• Higher resolution, reducing the footprint of each observation pixel from the present day (50 x 50 km) down to perhaps 10 x 10 km;
• A greater number of sensors in each camera, increasing the width of view of the swath on each pass of the satellite;
• More satellites, so that the re-visit time can be reduced from a day to an hour; or, in the limit;
• Geostationary satellites that cover important regions all the time.
Deposition Velocity Estimates for Insulator Surfaces
Prior to use in future design guides for insulators and building on work done in CIGRE TB 361, insulator specialists have some technical vocabulary and concepts to master. These relate to the transfer function terms used to translate from pollution measurements to environmental science. In particular, dry deposition to plants is modeled as the product of measured concentration (mg/m3) and a 'deposition velocity' value Vd (m/s) that incorporates wind speed as well as resistance of soil and plants to the deposition process. To date, with a limited number of these pollution observation sites, there has not been much motivation to establish deposition velocity relations for insulators – until now. Hard, but convoluted, ceramic insulator surfaces will have different effective roughness than soft but smooth polymeric surfaces and as such will have different values of Vd on top and bottom surfaces. Development of suitable deposition velocity models as well as critical loading levels that overwhelm silicone's hydrophobicity will be important steps to make effective use of more detailed estimates of dry deposition that become available from satellite monitoring.
Electric Utility Support
Satellites will increasingly be used to monitor and regulate pollution from thermal generating stations. It is in the best interest of electric utilities to make sure that these measurements are accurate and to derive economic benefits by better matching insulator characteristics to whatever local pollution problems are found. One tangible point of cooperation, for example, would be adding sun photometer measurement stations to the existing complement of meteorological instruments found at most insulator pollution monitoring sites. This research direction may be more effective in the long-term than ongoing deployment and support of dust fall gauges. A limited number of high-priority sites have already been identified in a global Surface Particulate Matter Network (SPARTAN) to continue validation of satellite-based PM2.5 measurements, including Mexico City, Kuwait, Sao Paulo, Osaka, Witwatersrand University in South Africa, Singapore, Hong Kong, as well as other locations throughout south-east Asia. Electric utility support of SPARTAN or similar initiatives in terms of co-location with insulator contamination stations could advance aerosol and pollution monitoring science and, at the same time, establish some needed cross-correlations between satellite results and actual insulator pollution levels.
Historically, there have been a few attempts to correlate environmental measures such as dust fall or precipitation conductivity with the ESDD and NSDD that accumulate on insulator surfaces. With care, regression coefficients on a seasonal or annual average basis, R2, can exceed 0.6. Satellite observations of dust flux, expressed in g/m2 per year, have given a global indication of the problems to be expected with non-soluble deposit density. Generally, areas with high dust flux also have high ratios of NSDD:ESDD – on the order of 10:1. Recent improvements in satellite observations, resolution and processing allow researchers to make differential measurements that enhance the capability to measure particulate matter (notably PM2.5) and NO2 sources. These maps provide a more complete picture of where industrial pollution sources are located. The work to validate SO2 sources seems to be more difficult than for NO2 although work is continuing in the atmospheric science community. In some regions, there is a strong correlation between SO2 and NO2 concentrations in precipitation that can be exploited using satellite NO2 maps with a suitable scale factor to infer dry deposition rate (1 kg/ha/year or equivalent 10 mg/cm2/year).