Pollution problems affecting insulators are certainly not new to power companies operating in the southeastern United States. For example, INMR articles from the 1990s reported on major 'salt storms' that led to widespread outages, such as in 1991 when much of the 230 kV network in Florida was impacted. Another particularly bad storm in November 1996 resulted in almost 150 substation outages at one utility alone. These affected mostly 138 kV substations and triggered programs of remedial measures including application of semi-conducting glaze porcelain, RTV coatings and polymeric station posts.
INMR contributor, Robert Gemignani, retired after a long career in the insulator industry, met with local utility engineers and reports on how problems of contamination and bird interaction with distribution networks have been handled in some of the most severely affected regions.
---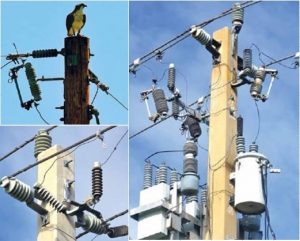 According to engineers at distribution system operators in the southeastern U.S., one of the most challenging aspects of ensuring high reliability of their overhead lines is managing the environmental factors typical of subtropical locations. These include coastal and agricultural pollution as well as the presence of large bird populations that both adversely impact insulator performance.
Most environmental issues can be managed with the typical engineering approach to problem solving. Here, the root cause of a problem is identified as are the available remedial measures. Whatever changes are deemed necessary can then be implemented through revised product selection and procurement standards.
Wildlife intrusion, by contrast, requires an entirely different mindset. Here, the process must begin with research aimed at better understanding the behavior of creatures that can interfere with the safe operation of lines. The learning curve here can challenge many power engineers who have to reach outside their normal 'comfort zone' to find the effective corrective measures allowing peaceful co-existence of wildlife and power infrastructure.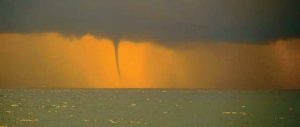 Contamination Sources
Much of the service area in the U.S. southeast is situated near to or along the seacoast and salt spray deposited by wind poses a continuing threat to lines. In the past, this problem was notorious for instigating flashovers of porcelain insulators – especially on transmission lines where resulting circuit interruptions were known to impact large service areas. While not attracting quite the same public attention due to fewer affected customers, distribution insulators have been equally vulnerable to this phenomenon.
Moreover, in sections with wood structures, power arcs from insulator flashover have also ignited pole fires. This further slowed the time required for power restoration as lines workers had to wait for the fires to extinguish and then to find a temporary means of stringing conductor. The end result proved not only labor intensive but required at least two trips to the site: the first to locate the source of an outage and re-energize the line using temporary measures; the second to put up a new structure. That would mean another service interruption.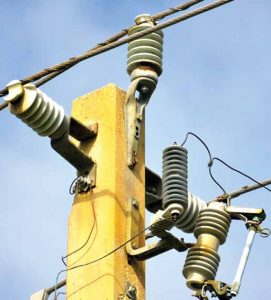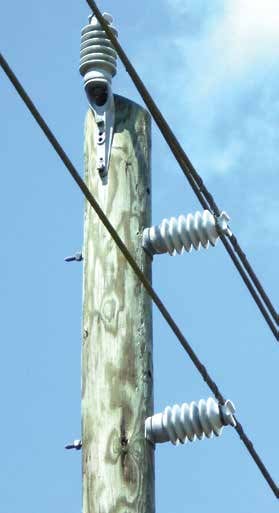 Apart from a broad exposure to the sea, states such as Florida also have large agricultural industries. During plowing season, fertilizer chemicals as well as topsoil become airborne and deposit onto insulators. Adding salt spray or early morning dew to the surface is then all that is needed to initiate the classical flashover process. The mechanism behind insulator failure here is the same as when triggered by maritime pollution alone, but rate of occurrence is lower since tilling is done only 2 or 3 times a year. The problem areas in this case are easier to isolate since affected power companies monitor all farmland near a distribution line and determine its vulnerability to plowing debris by looking at factors such as wind direction and distance. Salt spray always seems to also be present and it is often only a matter of severity. For example, under heavy winds, spray travels well beyond the Atlantic shoreline and leaves a large contamination 'footprint' inland. Whatever solutions are found to deal with such contamination would apply to agricultural areas as well.
Dealing with Contamination Flashover
Phase 1
Several U.S. utilities have been pioneers when it comes to applying polymeric insulators at transmission voltages. Installations at 138 kV, for example, go back to 1987 while use of these insulators at 230 kV and 500 kV followed in the 1990s. Silicone rubber has been the polymeric material of choice because its hydrophobic sheds and core sleeve were found to most effectively reduce and in many cases eliminate contamination flashovers in coastal and agricultural locations.
While it might seem intuitive that success with silicone rubber on transmission lines would transition quickly to distribution this has not only proved to be the case. The reason for this is that silicone insulators at distribution voltages are often more costly than equivalent porcelain and also tend to be longer due to the need for engagement of the end fitting with the insulator's fiberglass core. Given this, the initial approach at some power suppliers has been to continue to rely on porcelain technology to overcome flashover problems but to move the voltage class of insulators up a level so as to over-insulate lines. For example, porcelain designs with ratings of 35 kV and 45 kV have been applied at 12.47 kV and 24.9 kV system voltages respectively. This strategy increased the lengths of insulators and also enhanced leakage distance as well as withstand voltages. Unfortunately, although this system upgrade was rolled out as a solution to contamination flashover problems has not always lived up to expectations. Rather, any improvements achieved sometimes proved marginal and the search continued for better long-term solutions.
Phase 2
Given the unsatisfactory experience from over-insulating with porcelain, the issue of acquisition cost has often become secondary since additional funds had been allocated to over insulating with porcelain but without much payback. The next step at some power companies was therefore to deploy 35 kV and 45 kV silicone designs to benefit from their inherent hydrophobicity. Designs from several competing manufacturers were evaluated and approved for installation. Tables 1 and 2 compare the physical and performance attributes of these insulators versus porcelain.

As shown in Table 2, section length of polymeric insulators is longer than for porcelain equivalents but this has typically been deemed an acceptable tradeoff since maximum design cantilever rating remained the same. More importantly, the silicone rubber units provided higher impulse withstand voltage (by 10% and 30%), higher 60 Hz dry flashover (by 19% and 30%) and more leakage (4 inches/10 cm). These improved performance metrics usually helped justify any additional acquisition cost. Nevertheless, certain power companies decided to continue applying both technologies: porcelain for light contamination areas and silicone rubber designs in locations most exposed to salt spray or agricultural contamination. Because of the various alternative end fitting and base configurations available from suppliers, a range of different insulators were eventually approved, including polymeric as well as porcelain designs rated 35 kV and 45 kV. Although this range was selected based on electrical and mechanical properties, maintaining adequate inventory of each has often proven cumbersome not only for staff in the stores departments but also for line crews who would then have to carry an assortment of different insulators on each service call. It quickly became apparent to local engineers that greater product standardization was necessary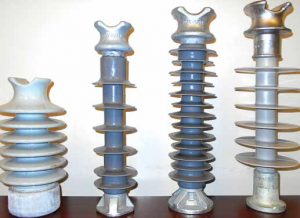 Phase 3
Phase 3 in the process was the result of additional product analysis aimed at standardizing the least possible number of different insulators needed to prevent contamination flashovers. To simplify inventory and make it easier for line crews troubleshooting an outage, some power system operators eventually standardized on a single 45 kV silicone rubber insulator design for application on all 12.47 kV and 24.9 kV lines. Still, three different end fitting combinations were required: stud base/F neck, stud base/vertical trunnion and stud base/ horizontal trunnion. Even though the acquisition cost of these proved about double that of porcelain, this was deemed more than offset by savings realized in such areas as:
1. Improved contamination performance (virtually no flashovers recorded with new silicone designs);
2. Only 3 different insulators needed on every truck versus up to 15 in the past;
3. Lighter weight of the polymer insulator, which made handling easier and installation time faster.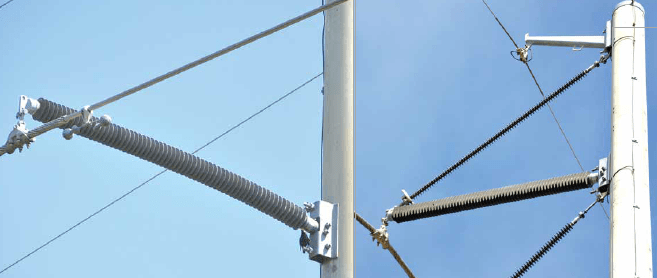 Managing Interaction of Lines with Birds
Large indigenous raptors and other birdlife that perch or nest on crossarms have been another major cause of insulator failures. In this case, failure resulted from the dry arc distance being bridged with branches and twigs. According to local engineers, finding solutions to this problem required more "out of the box" thinking than the systematic approach used in finalizing insulator design. Still, it too often ended up being a three-part process.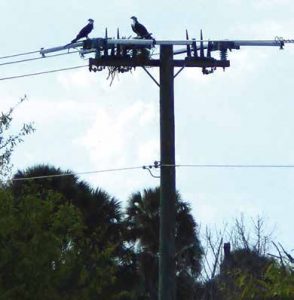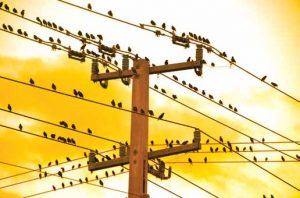 Part 1:  Polymeric Cones
Since interaction with birdlife was not an insulator performance issue, solving this line problem relied more on ingenuity than engineering and an entirely different approach was deemed necessary. Now, it was intrusion of wildlife that was putting birds in danger and also the distribution line at risk of tripping out.
Local power supply companies often began this process by conducting research and soliciting help from the Federal Wildlife Service in order to better understand why raptors perch on conductors and cross-arms. Studying their habits revealed a propensity for large birds to build nests on taller structures compared to smaller avian species that prefer the cover afforded by tree limbs and foliage. Florida, for example, has a generally flat topography and towers are often the tallest structures available. This accounts for the attraction of large birds to the grid.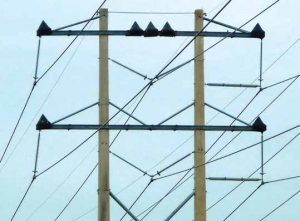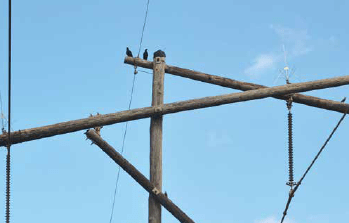 During the late 1990s, the transmission groups at some local utilities experimented with devices to prevent birds from landing on towers. Trial installations of these revealed that the most successful solution appeared to be a polymeric cone placed directly above the phases deemed most vulnerable to nesting or perching. The intent was to make it as difficult as possible for birds to land on a structure. Applied to distribution lines, these devices were smaller. The Federal Wildlife Services assisted their evaluation at various trial installations but found that birds were still able to perch on structures. A more effective solution was clearly needed.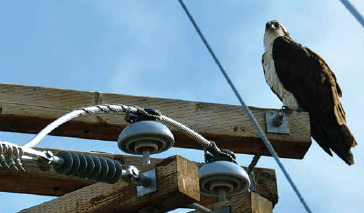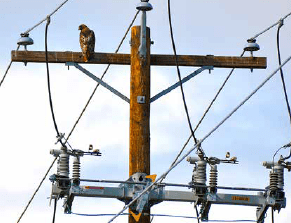 Parts 2 & 3: Nesting Platforms & Raptor Guards
Since it became apparent that raptors would find ways to land on structures, a more novel solution was proposed which would see a de-energized pole placed along the right-of-way. This structure would be equipped so as to encourage raptors to nest there instead of on live structures. Since such a device was not available in the marketplace, some utilities decided to fabricate it internally. Field evaluation of these nesting and perch designs was conducted jointly by affected power companies and the Federal Wildlife Service. Results proved excellent and these were later installed at sites where bird nesting and perching were known to have created problems in the past. Many such platforms were eventually put up along the distribution network. A non-conductive sleeve was also approved for protecting conductors and insulators. This three-component solution involving nesting platform, conductor and insulator guard and cone has already proven itself effective.