A quick review of papers submitted at this past 2016 CIGRE General Session shows impressive growth in their number, with a total of 543 international contributions compared to 467 back in 2014. In terms of insulators, insulator tests and materials as well as insulator applications, there were 7 papers in Study Committees B2 (out of 39) and 6 in D1 (out of 32). Specific topics during the Group Discussion Meeting of B2 included:
• Line Compaction;
• High temperature conductor including line monitoring; and
• HVDC and hybrid lines.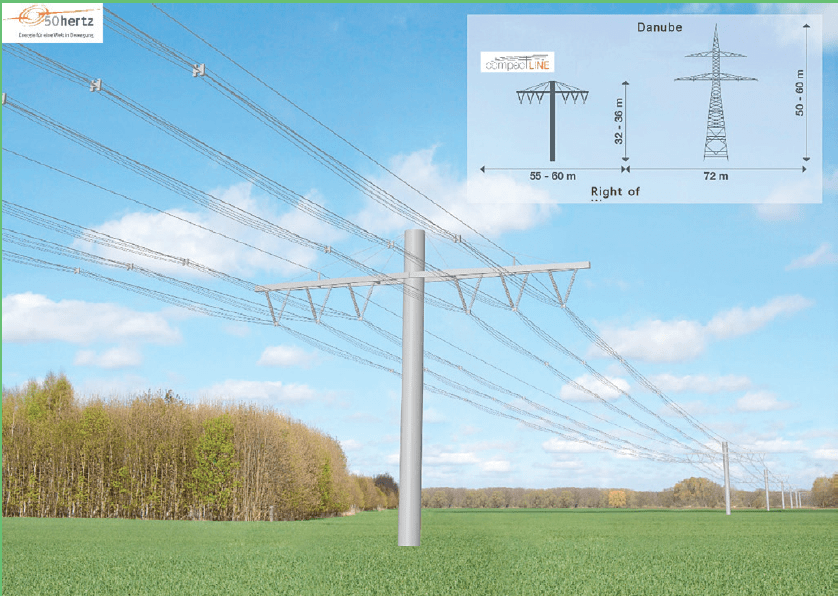 As mentioned in my last Column, Paper B2-307 described a compact line concept that 'consumes' for 420 kV the same 'volume' in terms of height and right-of-way as a 245 kV line (Fig. 1). This is achieved based on significant reduction of conductor sag using steel rope supports (as used in cable cars and bridges) installed under high tension between towers. Each phase conductor bundle is attached to the steel support rope, resulting in only 6 m of sag for a span length of 420 m (at EDS and 10°C). It will certainly be interesting to monitor service experience once the planned pilot project is commissioned in 2017.
Paper B2-106 discussed line stability, which can become an issue when using pivoting cross-arms (also named horizontal Vees). For example, such cross-arms can rotate under conditions of non-linear wind. Employing a model that includes random wind occurrence, the conductor was simulated as non-linear using finite element analysis. Results of the simulation showed that span length has an important effect on stability. Therefore, 300 m would result in a span length of 2700 m with pivoting cross-arms while the result for 400 m would be 2400 m. Fig. 2 shows one solution to stabilize a line using pivoting cross-arms and the beauty here is that only well-proven individual components are used, i.e. solid core posts and bracing long rods.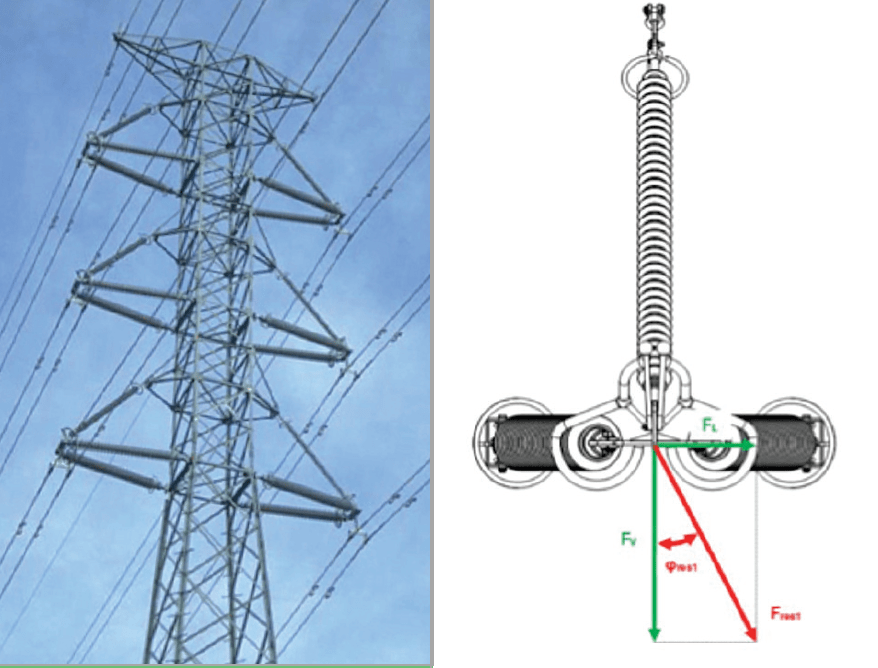 Paper B2-208 reported on the impact of bird streamers (also reviewed in Paper D1-111 for HVDC lines). Porcelain long rods have long been utilized across Europe and due to the limited length that can be produced in one piece, insulator strings for higher voltages have had to accommodate 2 or more units in series, connected by hardware. This caused string length to be longer by at least 1 meter versus a one-piece composite insulator solution. As such, using composite insulators offered the additional benefit of more clearance to ground. However, it has been found that shortening the air gap between a grounded tower and the live end could lead to greater incidence of flashovers caused by birds. That means that when certain bird species rest on a tower, there are added risks due to simple physics not to any shortcoming in composite insulator technology. Several solutions have been investigated in a field test, where care was taken not to harm any birds.
Special Acknowledgments
Prof. Dr. Klaus Fröhlich (2012- 2016) and Dr. Konstantin Papailiou (2010-2016) are two Swiss specialists who, along with German specialist, Prof. Josef Kindersberger (2010-2016), have now 'retired' from the CIGRE community (hopefully only in terms of their responsibilities). They have recognized CIGRE as part of their professional careers with corresponding contributions as well as deep engagement and the exemplary character of their will benefit future generations. Indeed, in recognition of all their work, Dr. Papailiou and Dr. Kindersberger received CIGRE`s Honorary Member Award for 2016. Congratulations to them!
To Dr. Rob Stephen of Eskom, H. Lugschitz of AGP in Austria and Dr. R. Pietsch of HighVolt in Germany, congratulations on your nominations as new President and new Chairmen of B2 and D1 respectively. Wishing you much success.
Dr. Frank Schmuck
frank.schmuck@pfisterer.com