Most power engineers are familiar with porcelain as an outstanding insulating material used for over a century in myriad overhead line and substation applications. What is much less known, however, is that the performance of electrical porcelain depends as much on the raw materials that make up its mass as it does on maintaining a well-controlled manufacturing process. Too often, there is the perception that these materials are little more than 'common dirt' when, in fact, their composition and physical parameters must be tightly regulated and monitored from the moment they are extracted from the ground.
In late 2012, INMR met with experts at Imerys – the French-based industrial minerals giant and one of the world's major suppliers of specialized raw materials, including ball clays, for the porcelain insulator industry – to examine the important role that raw materials actually play.
---
Given its extraordinary lifetime, it seems only fitting that the origins of porcelain should be in the distant past. Indeed, the ball clay that makes up a large proportion of a porcelain insulator's mass is the result of natural forces that have been at work since the Earth's Eocene Period – some 45 million years ago. Over the millennia, sediments from kaolinite-rich rocks, washed down from hills and were trapped in areas such as coastal deltas where they settled and accumulated underground – only awaiting discovery and extraction.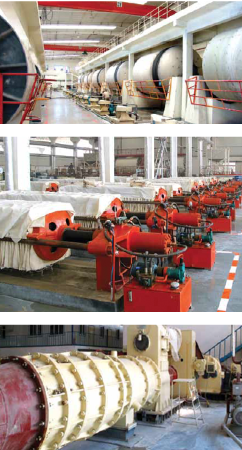 According to Neil Mifflin, Technical Manager in charge of the quality control laboratory at the UK Ball Clay Operations in the county of Dorset, the confluence of all these conditions is quite rare in the world and accounts for the scarcity of high quality ball clay deposits. He goes on to note, however, that this area of southern England has long been known to contain ball clays with properties considered ideal for applications in the ceramics industry. In fact, the region was mined as far back as Roman times and during the 1700s rose to prominence by supplying raw materials to Josiah Wedgwood, a pioneer in the production and technology of ceramics. The term 'ball clay' apparently also has its roots in history since the malleable material was originally sold in the form of small cubes, which during handling became ever more spherical.
When it comes to electrical porcelain used in high voltage line and equipment insulators, the properties required of ball clay are typically very demanding. Here, the focus is on high strength and plasticity as well as good drying behavior, with minimal presence of organic matter. The importance of good drying can better be appreciated if one considers that most of the production lead time for porcelain made by the classical wet process is dictated by how rapidly the extruded 'green' body, with relatively high moisture content, dries to the point where it can be turned on lathes and later fired. Other required key ball clay parameters include fine grain size and low residue content. Together, all these characteristics allow it to be shaped into large pieces without deformation and fired in a kiln with no release of gases that might cause unwanted porosity in the body.
Moreover, these essential properties must be consistent from one batch to the next. Says Mifflin, "the most important factor for users is that all the critical parameters of the ball clay remain constant. That's why we must perform quality control at every step whenever anything is done to the clay either while mining or during subsequent processing."
Given such considerations, it is not unusual that a quarry used to supply ball clay for certain ceramic applications might not be considered ideal for others. For example, Mifflin notes that Povington Pit is well suited to meet the special needs of electrical porcelain as well as refractories and tiles, whereas nearby Imerys quarries in Devon supply ball clay mainly for sanitary and table ware.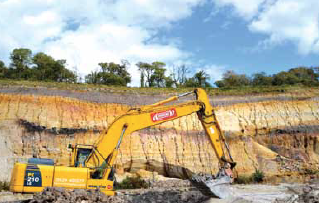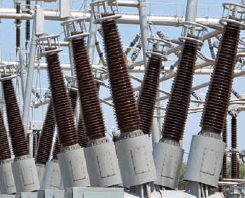 Eugen Alexa is responsible for Imerys sales of raw materials to the world's ceramic insulator industry. He reports that porcelain's high mechanical and dielectric strength combined with its inertness to the environment have long made it the preferred electrical insulating material. Still, Alexa explains that the specific composition of electrical porcelain can vary significantly depending on application, with a number of categories of porcelain, including C110, C111, C112, C120, C130 and C140. C110 is mainly clay rich in silica (SiO2) whereas C112 contains cristobalite, an SiO2 variant with a different crystal structure. The masses most commonly used for MV and HV insulators are C110, C120 and C130, the latter two having a relatively high content of alumina (Al2O3).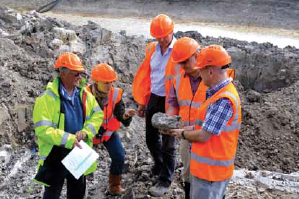 Says Alexa, "the ceramic body is usually prepared according to a strictly followed 'recipe' which involves a compromise in the relative amounts of different ingredients to meet such goals as long service life, ease of production or some combination of low cost and sufficient performance." A typical formulation for the porcelain will contain varying proportions of ball clay, kaolin (for 'green' strength and plasticity to allow easier handling), feldspar (a flux that helps sintering in the kiln), and fillers such as quartz, alumina or calcined bauxite (intended to modify properties, such as imparting additional mechanical strength). A variety of secondary materials are also used to facilitate processing including water and additives such as binders, which are burned off in the kiln during firing at temperatures of up to 1300°C.
The raw materials components that are key to the shaping processes of porcelain insulators are the ball clays and kaolins. Ball clay is regarded as the most critical of the three in as much as it is the most difficult to source and, if not just right in properties, can lead to a range of problems during production. For example, it should have higher plasticity than kaolin, resulting from its more complex chemical structure, and have particle sizes that measure only some 2 microns across. At the same time, it must have low content of carbon and good drying behavior.

Kaolin, like ball clay, is also formed naturally over millions of years and is typically larger in particle size but with lower contamination by unwanted materials such as metal oxides. Ideally, it must be consistent in having high alumina content as well as low levels of free quartz, with a distribution of particle sizes that fall within a narrow prescribed range. Imerys claims to be the world leader when it comes to kaolin extraction and application, sourced from mines as far afield as Brazil, France, New Zealand, Thailand, Ukraine, the UK and the US.
Apart from these main ingredients, feldspar (mainly from potassium rich grades) is also present and plays an important role in reducing vitrification of the ceramic body. Potash feldspar is recommended due to its contribution to a lower pyroplasticity, thereby allowing even very heavy insulators to withstand their weight during the critical firing process. To be suitable for this role, the feldspar must be low in sodium oxides.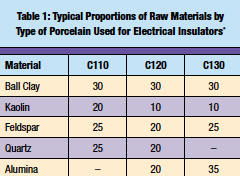 Finally the porcelain body also contains fillers such as calcined alumina, generally the most expensive material in the formulation, or alternatively lower cost quartz– both intended to increase firing as well as bending strength. Generally, bodies with higher contents of alumina have proportionately less kaolin (see Table 1). Reviewing all these various raw materials, Alexa notes that the main objective is to arrive at the optimal mix to ensure adequate plasticity and workability of the porcelain body in its 'green' unfired state, given constraints associated with subsequent drying and firing. Yet another important factor is achieving a good match in thermal expansion of the body with the applied surface glaze, whose primary functions are protection and increasing the insulator's final mechanical strength by as much as 30 percent.
Glazes are typically prepared in ball mills or annular gap mills with water and a variety of components including quartz, feldspar, dolomite, kaolin and zircon. There is also some iron oxide added for color as well as chemicals such as binders and flocculants. They then go through a screening process with magnetic elimination of any metallic impurities. A glaze gives a smooth, non-porous coating that minimizes the adherence of atmospheric pollutants and permits their easy removal by wind and rain. Also, since a glaze is in slight compression over the porcelain, overall mechanical strength of the insulator is increased.
According to specialists at the Imerys mine in Dorset, the process of extracting and controlling the physical parameters of such raw materials is more complex than one might guess. In the case of ball clay, for example, identifying deposits and then planning for their extraction is usually measured in decades, not years. Bore holes are sunk into unexploited areas some 50 meters apart and core samples taken to assess their properties in the laboratory. This allows the mine operator to develop an accurate 3-D representation of reserves, showing the location and depth of different types of clays. Moreover, the planning must go all the way through to subsequent restoration since, in places like England, public authorities require a detailed scheme of how quarries will be returned to their original state after mining. As a result, there is always a balance between extracting only desired materials from the pit with an ongoing program of subsequent re-filling using unwanted materials from what make up the 'tip'.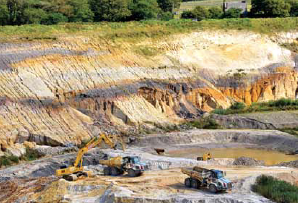 Similarly, once extracted and shredded, all clays are carefully analyzed to ensure their composition and properties remain constant. This involves a process where each material sample is tagged with its own I.D. number, dried and milled into powder for subsequent testing. Among the main parameters measured, for example, are surface area and chemical composition. Modulus of rupture, which involves a 3-point bending test, is also performed to assess mechanical strength, as are firing tests of prepared disc samples with 8 percent moisture content.
David Heys, a ceramic scientist working at the full-fledged ceramic technology centre in nearby Devon, says "the key in our business is maintaining product consistency from pit to pit since the porcelain industry demands to be served with consistent materials. Even though we are fortunate in that we have consistent components from our mines, we still need ongoing geological expertise to confirm what we are really getting in our ball clays and to interpret any variability." Heys emphasizes that continuous testing and planning of extraction are both essential in this regard.


Alexandre Sevagen, Ceramic Technologies Manager for Imerys Ceramics echoes this sentiment. "In our business," he explains, "we try to understand what is key and design our products accordingly. In the case of electrical porcelain, higher plasticity of the clay means a better product and since every layer in our mines offers different quality, we have to extract from each and then mix to achieve the consistency required. In fact, we work at a 20-year level in our planning not only to make sure we always have the right products available for customers but also to be in a position to develop new products."