Global demand for insulators used in transmission and distribution will reach US$ 6.5 billion by 2025 according to Goulden Reports – a British consulting organization that provides market intelligence to the electrical industry. The latest edition of a report published for more than 20 years – 'The World Market for High Voltage Insulators and Bushings 2015-2025' has recently been released and provides an overview of the international markets for high voltage insulators and bushings. The report gives an estimate of value of insulator as well as bushing consumption in each of 170 national markets, which are also grouped into 10 regions. It also segments data by insulator technology (porcelain versus composite versus glass) while bushings are divided by application, i.e. transformers, switchgear and other.
The following synopsis of market data and projections from this latest report has been provided to INMR as a service to readers, some of who may wish to contact Goulden Reports to order the complete document.
---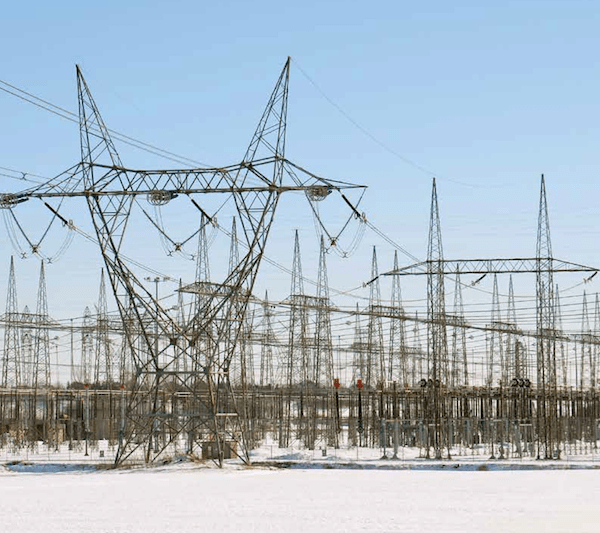 Global Insulator Market Size & Growth
The world market for HV insulators was estimated at US$ 4,822 million last year and is expected to reach US$4,953 million for 2015. This market is forecast to increase at a compound annual rate of growth (CARG) of 3.1% to nearly $5.8 billion by 2020 but growth is then expected to slow to 2.4%, reaching $6.5 billion by 2025.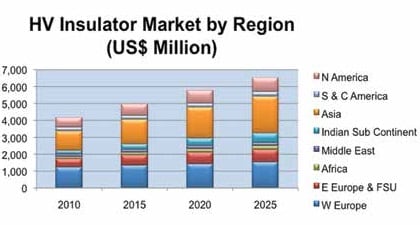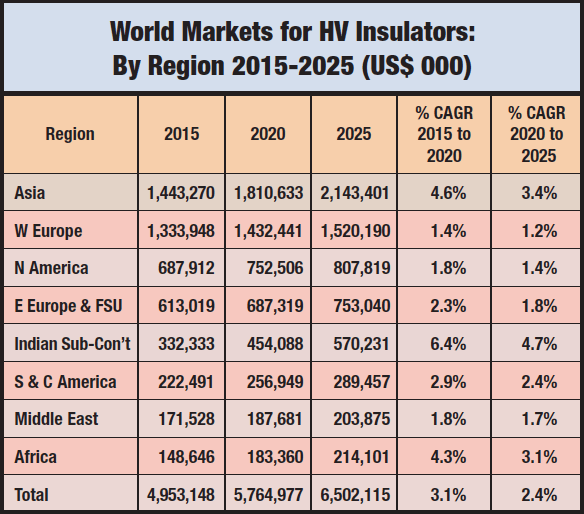 The largest single market last year was China, estimated to be valued at US$ 684.3 million and accounting for over 14% of the total. The next largest markets were the United States (US$ 436.7 million), followed by Germany (US$ 299.7 million) and India (US$ 292.6 million). The Indian Sub-continent, Asia and Africa are forecast to show highest growth rates over the next 10 years, with regional CARGs of 6.4%, 4.6% and 4.2% respectively. By contrast, the Middle East will grow at only up to 1.8%, Eastern Europe and FSU at 2.3% and South & Central America as well as the Caribbean at 2.9%.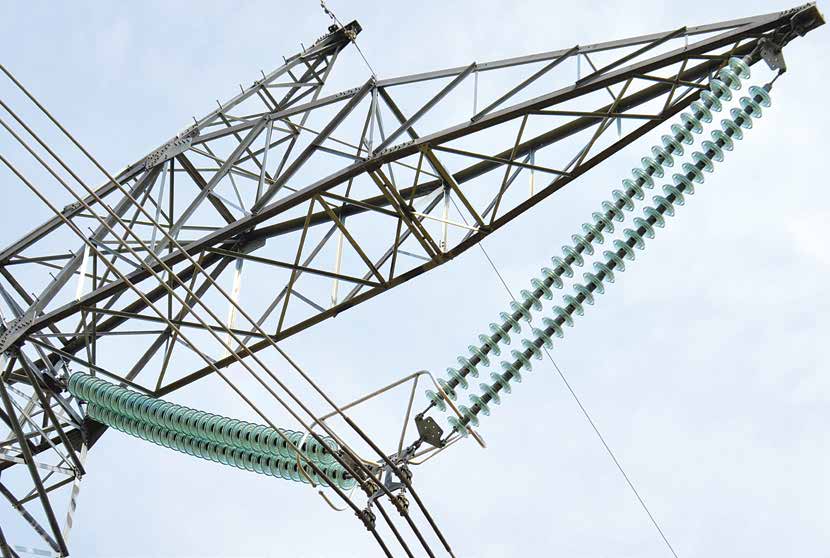 In 2010, porcelain insulators accounted for a little over 50% of the overall market, while glass accounted for just over 10%. Composite type insulators represented 39% of the total. This year, glass is expected to have increased share to nearly 12%, with composite types also increasing slightly to 40%. Porcelain has declined in share to just over 48%.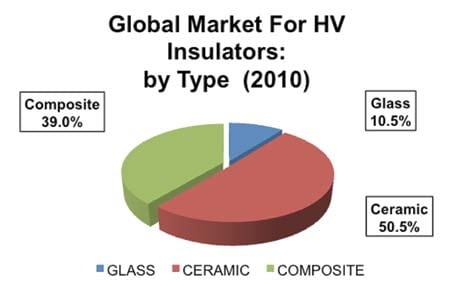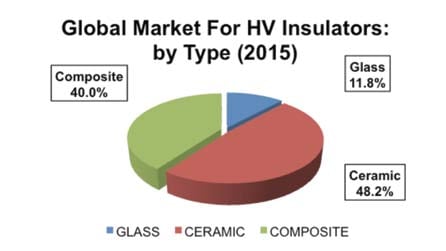 Global Market for HV Bushings
The world market for bushings is currently estimated at US$ 2,208 million and will grow at a CARG of 3.6% between 2015 and 2020 and from then increase at 2.8% annually to reach US$ 3,031 million by 2025. Approximately US$ 380 to $400 million of principally porcelain housings are supplied into this bushings market, accounting for some 16% of all sales of porcelain insulators.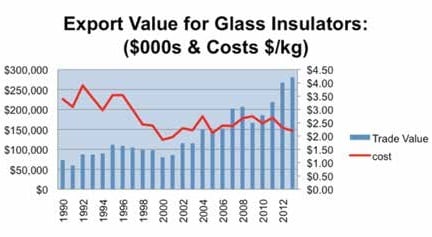 The largest regional markets for bushings are Asia (US $1,257 million), followed by Western Europe (US$ 574 million). The largest country markets in 2015 are China (US$ 682 million), the United States (US$ 203 million) and Germany (US$ 192 million).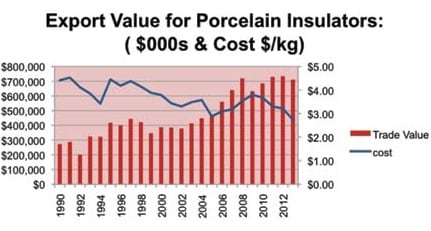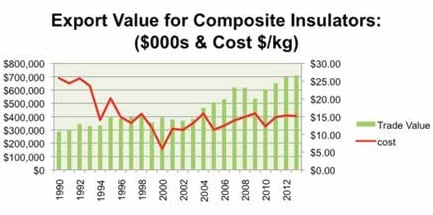 Nearly 35% of bushings are used in the transformer industry, 56% in the switchgear sector and a little less than 10% for other applications, such as wall bushings.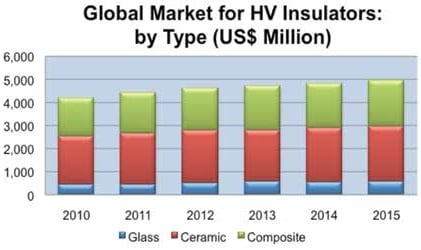 Insulator Trade Trends
Trade patterns and volume of world markets supplied from abroad vary by type of insulator. It is estimated that about 60% of total world demand for insulators is met by domestic manufacturers, while just under 40% is supplied by imports.
Overall, trade has been on an upward trend, increasing from 34% in 2005 to 37% in 2008 when the financial crisis hit. Trade levels fell back to 32% in 2009 but then increased gradually up to 2014 to exceed the 2008 peak. Nearly 52% of global demand for glass insulators is met by imported products, having increased from a level of 33% in 2009. The comparative figure for porcelain insulators varies between 32 and 34%. Composite insulator import share is also estimated to be fairly steady, within the range 37 to 39%.
Trade Pricing Trends
Analysis of global exports reveals that while export values have increased over time – measured in current US$ – the value by weight (and, by inference, per unit) has fallen significantly between 1990 and 2013. This finding applies across all insulator technologies.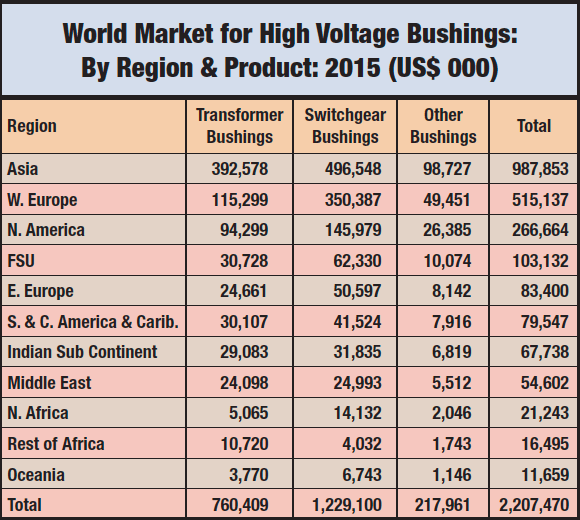 Historical data illustrate the sharp decrease in the value of trade that occurred in 2009 and which interrupted the upward trend starting around 2000. Similarly, glass and composite insulators showed a pronounced dip in cost per unit in 2010. This decline is less pronounced for porcelain but unit price has continued to fall since 2009.
The clear conclusion is that, over the last 20 years, there has been a 25% decrease in cost/unit for glass insulators, a 30% decrease for porcelain and a nearly 40% decrease in unit cost of composite insulators. How much of this is due to changes Source: Goulden Reports Publication "The World Market for HV Insulators & Bushings 2015 – 2025" in profile of products traded and how much to depressed pricing is not clear and probably known only to manufacturers.
Market Leaders & Industry Concentration  
Global production of HV insulators has recently been dominated by the Seves Group with 2013 sales estimated at about US$ 488 million – translating into a global market share of nearly 11%. NGK followed with estimated sales of US $468 million (or 10% share) and other top producers included Nanjing Electric, Lapp Insulators and TE Connectivity. The top 5 producers are estimated to have a combined market share of 30.3%.
The largest producer of HV bushings in 2013 was ABB, estimated to be producing US$ 445 million or about 20% of the world market. ABB has displaced Siemens (including Trench) with an estimated US$ 388 million or about 18% market share. The top 5 producers recently had a combined market share of circa 63%