With XLPE technology, the reliability of cables – especially those from manufacturers with strict quality control – has become very high. As a result, a large proportion of cable failures in recent years seem to have involved problems with accessories, such as terminations, rather than with the cables themselves. Tests of accessories according to published standards are carried out with samples taken at random from the production line in order to ensure that findings represent an evaluation of a 'typical' product. This way, they also help confirm that both the design and production process are satisfactory. Moreover, since cable accessories are subject to possible installation errors or other problems in the field, the whole cable system is sometimes later subject to on-site commissioning testing – something that becomes increasingly important at higher voltage levels. In order to maximize customer acceptance of associated test reports and documents, design and type tests of this sort are often performed at independent facilities, such as laboratories accredited according to ISO/IEC 17025. These laboratories offer the advantage of meeting all required standards in quality management and use of a common interpretation of the standards.
The following article, contributed by Heiko Jahn of CESI Group's FGH Engineering & Test Laboratory in Germany, reviews some test requirements for cable accessories.
---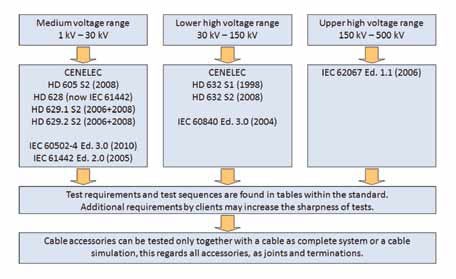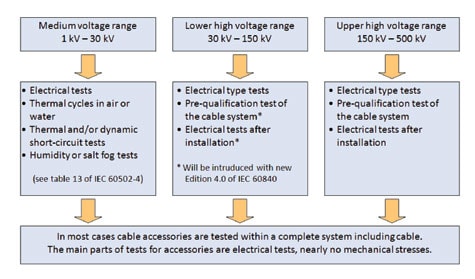 Fig. 1 depicts various IEC and CENELEC standards for testing medium and high voltage cable accessories. While these standards define the minimum requirements to satisfy the quality demands of customers, certain large power utilities sometimes issue their own additional specifications, based on these standards but placing higher stress on the accessories to be tested.
As shown in Fig. 2, some tests (e.g. the thermal cycling test) are similar across all applicable voltage levels. By contrast, short-time current and peak withstand current tests are requested mostly for MV cable accessories. Pre-qualification tests are generally required only in the case of HV accessories.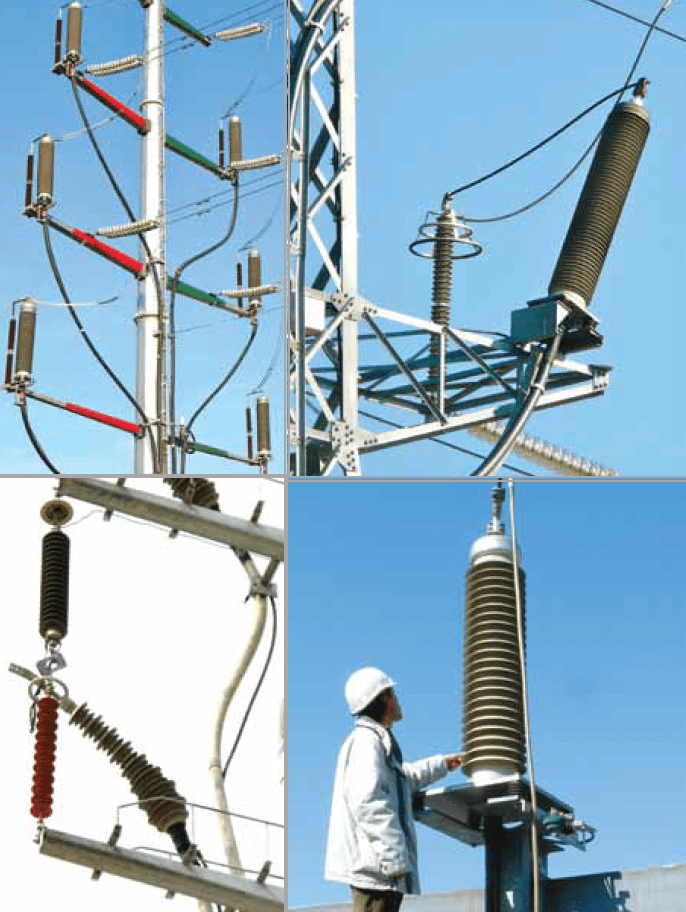 Tests on Cable Accessories
Humidity & Salt Fog Testing of Terminations
Given the importance of reliable service performance, even under demanding service conditions, non-ceramic insulation has become the state-of-the-art for terminations in most MV cable systems. Moreover, such insulation is now increasingly found in HV cable terminations as well. Nonetheless, there is always some concern that the surfaces of such polymeric accessories might be adversely affected by tracking and erosion. In the case of MV terminations, for example, these are usually installed with a significant mechanical strain on the cable. In the event that tracking affects a termination's edge or that any surface erosion becomes too deep, the material could conceivably rupture. This, in turn, could lead to moisture ingress and the eventual need to replace the termination.
Given this, a humidity test for indoor terminations as well as a salt fog test for outdoor terminations have been introduced into the standards with the goal of assuring that the required performance could be met in both types of applications. The main differences between the two are in test duration as well as in the conductivity of the salt water being used.
A corrosion-proof test chamber with inclined roof is essential to avoid any influence from water that might drip down onto the test samples and affect test results. Moreover, the feeding circuit has to provide low impedance so that there is only a small voltage drop under high test currents. Testing three-phase cable accessories with spreader caps may require significant additional preparation to build up the appropriate test circuit.
Since humidity and salt fog testing lasts for up to 1000 hours, most customers seek additional information on the accessory, apart from simply monitoring its surface condition. Therefore, while only detection of over current (flashover) is requested in the standard, today's test systems also provide for long-term measurement of leakage current. From such data, any loss of hydrophobicity can be monitored and the stress on the cable termination estimated. With the latest test systems, it is also possible to save all relevant test data in the event of flashover, thereby providing the opportunity to carry out additional investigation into its cause (see example in Fig. 3). Moreover, using currently available technology, test bays can even be observed by remote access to the measuring system, allowing the test engineer to be kept fully informed by phone or e-mail.

While the pollution behaviour of MV terminations is tested as described above, no similar test procedure is as yet requested in the case of HV terminations equipped with non-ceramic housings. This stands in contrast to cable terminations using porcelain, which are required to be tested according to either IEC 60507 for AC or IEC 61245 for DC. Still, given the fact that non-ceramic housings are now increasingly common in HV terminations, there is clearly the need to test their surface behaviour as well. At the moment, the only applicable IEC test for the hollow core composite insulator is the tracking and erosion test according to IEC 62217/IEC 61462. Unfortunately, this is not a full-scale test and therefore does not account for the influence of length and field grading of the termination (as is the case of bushings). As such, the only information arising from this test is the quality of the cover material and design. Given this, some power utilities have started to issue their own test specifications to verify the performance of HV cable accessories under pollution.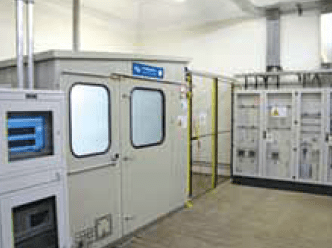 Electrical Type Tests
A thermal cycling test under applied voltage is requested for MV and HV accessories with load current up to the maximum conductor temperature. Since conductor temperature must then be measured, a so-called dummy loop has to be used. The heating current of the test loop is regulated such that sheath temperature of the test loop is the same as for the dummy loop. As such, it can be concluded that conductor temperature has this same value. Fig. 4 shows a typical such test circuit for the electrical type test of HV cable systems as well as their accessories.
Proper set-up requires the possibility to adjust and measure voltage and current in the test loop as well as in the dummy loop. A typical thermal cycle then consists of:
1. A heating interval where the test loop conductor is heated to the maximum temperature;
2. A stabilization interval during which temperature is held close to this maximum; and
3. A cooling part with the heating current switched off.
A specific number of such cycles have to be carried out followed by whatever high voltage withstand tests and measurements are specified. Since the heating current is mostly inductive, the feeding current can be reduced by the use of capacitive compensation circuits. This way, the requested power is influenced mostly by losses in the cable and in the heating transformers.
Pre-qualification Tests
Pre-qualification testing is similar to the electrical type test described above except that its duration is 8760 hours (equivalent to one year) and that it is performed under realistic installation conditions for the complete cable system, e.g. in natural soil, a concrete tunnel or a PE duct.
The relevant standard for the prequalification test requires a test loop length of at least 100 m. Because of this large size and the installation conditions to be simulated, these tests must be carried out in an outdoor test field. As defined in IEC 62067 for cable systems with rated voltage of 170 kV and higher, a total of 180 thermal load cycles at 1.7 times the rated conductor-to-earth voltage have to be applied over the course of the one year test period. Moreover, with edition 2.0 of IEC 60840, this test is now also recommended for systems from 36 kV to 170 kV in cases where the dielectric field strength is similar to that for cables with higher rated voltages, i.e. 8 kV/mm at the inner conductive layer. This means that manufacturers of such products will now also be required to provide evidence of performance. By contrast, this test is not required for complete systems (including accessories) in the MV range and only a long duration test of the cable itself is needed.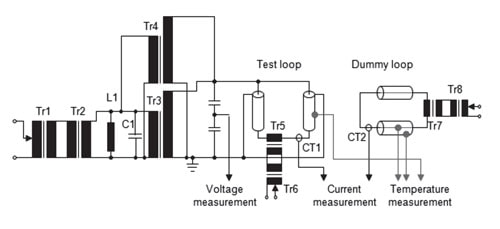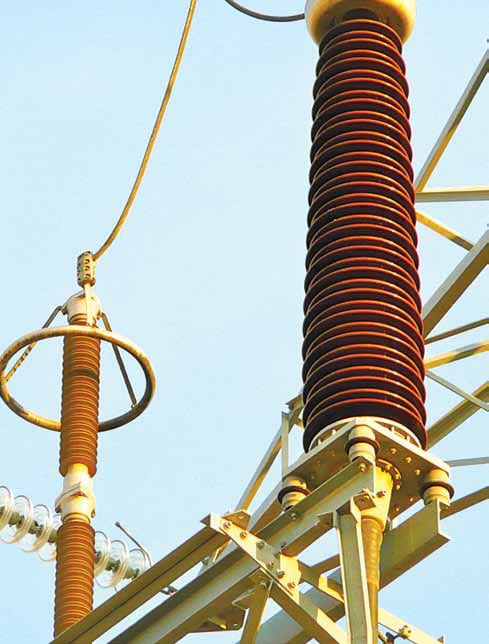 The application of heating cycles to a cable system installed in an outdoor test field is far more difficult than performing a type test in an indoor HV test laboratory. For example, the ambient temperatures of systems can differ by more than 40°K over the course of the one year test period and this has to be taken into account in terms of feeding power of the heating circuits. SCR-controlled heating circuits are therefore necessary to ensure the heating cycle will follow the defined temperature curve exactly. This type of system takes into account the maximum heating current allowed as well as the conductor and sheath temperatures of the test and dummy loops and applies precisely the current needed to follow a pre-defined temperature curve. Even higher dielectric losses of the test loop on which voltage is applied have to be taken into consideration using an offset and any deviation between target and real conductor temperature must be kept to less than 0.2°K. The resulting curves are then shaped perfectly and the number of invalid cycles significantly reduced. Fig. 5 shows an example of such a heating cycle.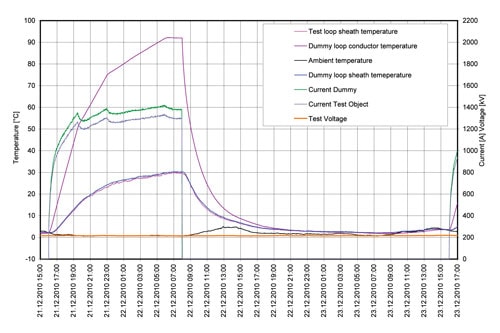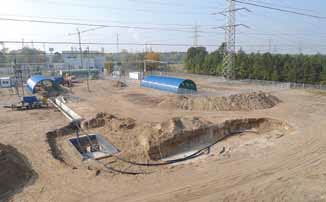 As shown, there is an offset between the heating currents of the test loop and of the dummy loop and this offset is necessary to get the sheath temperatures of both loops as close together as possible. Even though the dummy loop conductor temperature may appear artificial, it is in fact a real measured temperature curve. This curve consists of several basic points connected by straight lines. The position of these points are stored as constants within the program for the SCR controller but can also be changed manually. The controller regulates the heating currents so as to follow the straight lines precisely. This, of course, is not possible manually if an operator is not constantly observing measured values during the heating period. Manual adjustment of the curve parameters can be used to minimize energy consumption of the heating system.
Introduction of pre-qualification tests to lower voltage levels has required additional testing capacity and today large laboratories offer test bays for several test loops, in some cases up to a test voltage of as high as 800 kV. A growing request in recent years when it comes to testing is the possibility to observe test loop behaviour on a real time basis as the test progresses. Upon request, some facilities offer remote viewing access to the measuring system via the internet. This allows not only the client but also test engineers to access data from the systems, in the latter case with writing capabilities to the equipment as well so as to permit process parameters to be adjusted if necessary without the need to be physically present. Further evidence of progress in this field is the possibility to test the whole test loop with lightning impulse upon conclusion of the cycles. In the past, the standard was met simply by choosing the most stressed part of the cable and cutting out a section of 30 meters to test. With mobile impulse generators, however, it is now possible to place the generator close to the test loop and carry out the lightning impulse test on the whole loop, including accessories, without any need to cut or move the cable. While this type of test procedure is not required by the standards, it increases confidence in test results.
On Site Tests
The performance of any cable system depends greatly on the quality of installation of its various accessories. Since the cable itself is routine-tested at the factory, the probability of it failing is very low. Accessories, by contrast, are assembled on site, often employing a range of different materials. Final system quality, therefore, can be assured only by a clean installation with no damage to any of its components. To ensure that no serious defect has occurred during installation, on site commissioning tests can identify any possible weaknesses. For example, modern equipment now allows measuring partial discharges in the field and this means that the likelihood of detecting installation problems has increased significantly. Since the capacity of an installed cable system is relatively high, resonant test transformers are the preferred equipment for AC tests. Test frequencies vary between 20 and 300 Hz while test current is in the range from 80 to 240 A. The photo below illustrates an example of such on-site measurement that involves mobile test platforms that guarantee high availability and reduced transport costs.