Utilities have three proven insulator technologies they can deploy on their networks. Porcelain and toughened glass insulators have been around since the first days of overhead power delivery and have a demonstrated record of high reliability. Composite insulators, by contrast, were introduced on a large scale only about 35 years ago but have since made rapid strides to be considered alongside with porcelain and glass. Still, there are important differences in these insulators. For example, both porcelain and glass are easily wettable, brittle and heavy materials, whereas composite insulators are light, non-brittle and discourage water filming for extended periods of time. However since the outdoor conditions and the conductors they are supporting are the same, line design in terms of insulator dimensions as well as electrical and mechanical strengths is virtually the same for the different insulator technologies. They also have several common national and international standards within ANSI and IEC. While many users feel that operation of lines with aged insulators and maintenance practices on these lines should also be the same for all insulator technologies, nothing could be further from the truth. All similarities between the different technologies should end once insulators are no longer in their new condition. This is because the various service stresses (electrical, mechanical, environmental, etc.) can produce significant differences in insulator performance over time.
Many users expect these insulators to last over 50 years and this has indeed been demonstrated for toughened glass and some porcelain. Still they are known to fail occasionally due to problems originating from manufacture, misapplication, contamination and vandalism. At the same time, failure modes of porcelain, toughened glass and composite suspension insulator are different and relevant failure rates vary accordingly. In most cases, differences in failure modes are related to the materials and the manufacturing methods used. More important than failure rate is impact of a single failure on system reliability.
This 2011 overview by Prof. Ravi Gorur, explains why there can be important differences in the types and incidence of failures for porcelain, glass and composite insulators.
---
Production Methods
Electrical grade, high strength porcelain is made using a wet process. The raw materials are clay, quartz, feldspar and corundum, which are all mined and can vary in quality, impurities and consistency. These raw materials are mixed in water to facilitate intimate blending of the constituents and help shape the product into the final form. Water is slowly removed in several progressive steps up to firing the porcelain in a kiln, where temperature is tightly controlled. A glaze is applied prior to firing and its role is to form a smooth surface and improve mechanical strength. Hardware is attached to each disc or bell using cement, typically Portland cement. At the microscopic level, porcelain is heterogeneous, with crystals of different sizes and chemistries, pores and grain boundaries.
Raw materials used in manufacturing glass insulators include soda ash, feldspar and cullet (small pieces of glass) as well as minor amounts of other agents. These are crushed to form powder and melted in a furnace. The molten glass drops into a mold and is immediately pressed into shape and subjected to toughening, which is a rapid and controlled cooling of the still hot glass shell. The purpose of toughening is to increase the mechanical strength of ordinary annealed glass by a factor 4 to 5, in order to make it suitable for manufacturing high strength cap & pin suspension insulators.

Composite insulators consist of a central fiberglass core, polymeric housing and metal end fittings. The core provides the mechanical and electrical strength. For suspension insulators, the core is made by pultrusion of unidirectional glass fibers that are bonded by an epoxy resin. Since materials used degrade in the presence of moisture and electric stress, the core must be protected at all times and this is done by the external housing and the seals used to bond the housing to the core and end-fittings. Housing materials are expected to resist weathering as well as damage from electrical activity such as corona and surface discharges that can result under wet and contaminated conditions. The method of fixing the housing over the core is different among manufacturers. Some mold the housing over the rod in one or more sections, whereas others use a combination of extrusion and individually molded sheds that are positioned over the extruded sheath and chemically bonded. Seals (single or multiple) at hardware junctions to prevent moisture ingress are commonly employed, although some manufacturers mold the housing over the hardware at the triple junction of hardware, rod and air dielectrics to perform the function of a seal.
Failure Modes
Each failure mode has specific consequences on the serviceability of the insulator and the string that contains the failed units. In some cases, the failure mode will result in loss of service e.g. separation of the cap and the pin or the fiberglass rod breaking with resulting line drop. In other cases, less severe failures might be noted, such as partial damage to the bells or housing, shattering of the toughened glass insulator shell (for which there is no immediate consequence on the safety and integrity of the string). Therefore, when comparing failure rates of different insulator types it is important to also qualify them based on their associated failure modes, risks and consequences.
Pin Corrosion
Some modes of failure, such as pin corrosion, can occur in places with severe contamination. This is associated with hardware and independent of dielectric material. In the case of composite insulators, the long rod between points of different potential limits the current to very small values; hence hardware corrosion is not as serious a problem as for porcelain and glass insulators. In any case, use of sacrificial zinc sleeves for corrosion protection is a proven technology.
External Flashover
This mode of failure occurs external to the insulator and results in a temporary loss of insulation strength. It depends mainly on pollution conditions and lightning activity as related to the electrical design parameters of the string (leakage distance and dry arc distance) as well as the overall insulation coordination of the system. For any given leakage distance, flashover is more common in porcelain and glass insulators due to their easy wettability compared to composite insulators that utilize low surface energy materials able to resist water filming over long periods. No significant difference in external flashover failure rates have been reported between porcelain and glass insulators of given leakage distance and shell profile as well as comparable strings design parameters. The power arc current typically causes the glaze in the porcelain to melt leaving behind a rough surface on those units in contact with the power arc. Composite insulators are usually more resistant to power arcs; only superficial burning and/or ablation of the housing material are observed. Some melting of the hardware is usually common but there is no internal damage.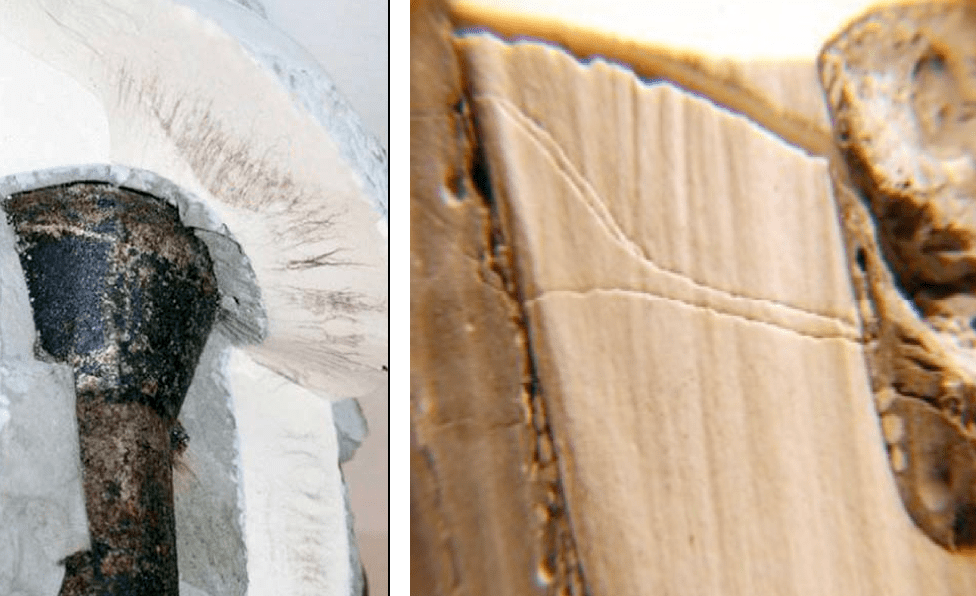 Internal Puncture
This failure mode is seen in porcelain insulators and is primarily related to the quality control of raw materials and manufacturing process employed. Some manufacturers have better process and quality control: consequently there are differences in macroscopic properties such as color and microstructure of the porcelain body. Fig. 1 shows the microstructure from insulators that pass all tests in their new condition. The presence of pores (voids) and numerous grain boundaries between the various crystals are common to porcelain. Sometimes tiny cracks or micro-cracks can exist and these grow over time under the multiple stresses generated by service conditions. Eventually, they can lead to electrical breakdown through the dielectric (as shown in Fig. 2). These internal punctures of porcelain insulators are only detectable with close, in-line inspection using measuring instruments. Reliable statistics for this type of failure are not available on a global scale but field experience shows that this event is generally rare on new lines but not so rare with older lines, especially if the porcelain insulators are not of high quality.
In one study, for example, porcelain insulators removed from service were subjected to insulation resistance measurement and power frequency puncture test, as described in ANSI 29.2. Some bells showed extremely low insulation resistance (less than 10 MΩ) and were not subjected to the puncture test. Of those insulators that showed high resistance (>100 MΩ), some could not withstand more than 10 kV in the puncture test and were cut open with a water jet. Fig. 2 shows the internal degradation and puncture paths observed.
Composite insulators are not normally subject to puncture since the electrodes at different potential are separated by a long fiberglass rod. However, punctures in the form of holes on the housing have been detected in some designs and these provide an access for moisture into the rod. Tracking of the rod inside the housing material has been known to occur, resulting in permanent loss of electrical strength, just as in a puncture. If the internal tracking is considerable, the insulator will not be able to support the electrical stress and the rod will become carbonized along its entire length. This mode of failure, shown in Fig. 3, is sometimes referred to a flashunder. Damage to the housing during handling and installation can also result in tracking along rod and flashunders.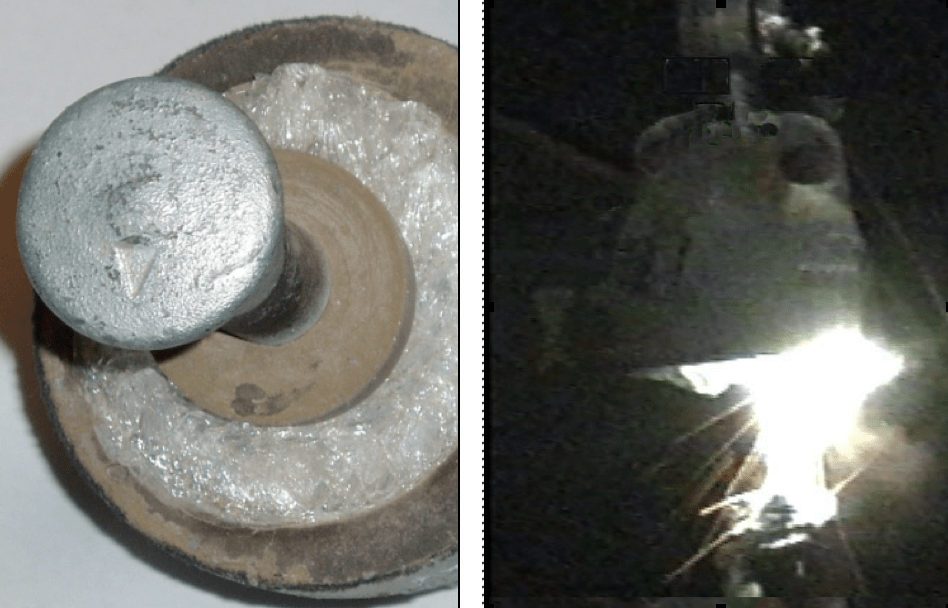 Puncture of toughened glass insulators is not normally seen in service due to the toughening process. Strength increase is obtained by virtue of the opposing and balanced tensile stresses induced inside the mass of the glass body and the compressive stresses induced in the outer layer across the surface of the glass shell. As a result, the glass shell can only either shatter completely or remain complete (binary behavior). As glass is essentially a cooled liquid, there are no interfaces within the dielectric. The toughened glass shell is immune to hidden internal micro-cracks or punctures, as their initiation would cause it to shatter instantly. A toughened glass shell always breaks in a predictable and consistent pattern. Moreover, while it is possible to puncture the dielectric with very high electric stresses in the laboratory, such stresses are not normally encountered in service. Even when a shell is broken, the external air insulation of the stub (i.e. the remaining part of the bell) breaks down before the electric stress can rise to higher values, thereby eliminating puncture of the dielectric. Even in case of flashover of a glass insulator string, the arc is always external to the stub since the internal impedance is significantly higher than for the air gap between the cap & pin electrodes (as shown in Fig. 4).
Mechanical Separation
This failure mode is very rare in the case of toughened glass insulators. Data reported by utilities suggest that the failure rate over the last 50 years is extremely low and on the order of 1/10 million. Such occurrences are generally associated with exceptional events such as repeated power arcs melting the metal fittings or uncontrolled vibrations of the phase conductors propagating to the insulator strings and leading to fatigue breakage of the pin. On the other hand, service experience by reporting utilities shows that separation of strings of porcelain insulators is not so rare. The term 'decapping' is used to describe this failure mode, largely associated with time-related ageing effects that lead to cracks and puncture of porcelain shells under continuous electrical and thermo-mechanical stresses. The separation of cap and pin occurs when the string flashes over (e.g. as could be triggered by voltage surges from lightning and switching events or due to pollution). The power follow current produces enormous electro-mechanical forces in the punctured units to cause the porcelain to separate from the cap and result in a line drop (as in Fig. 5).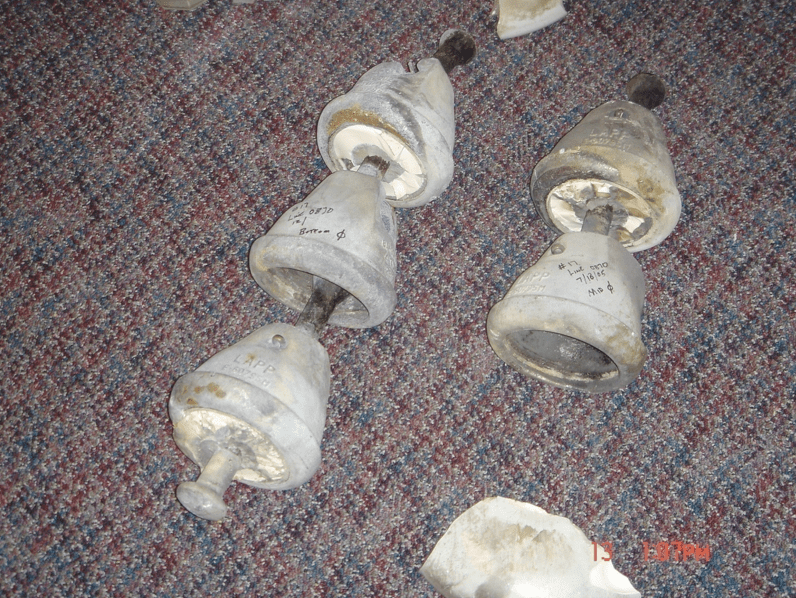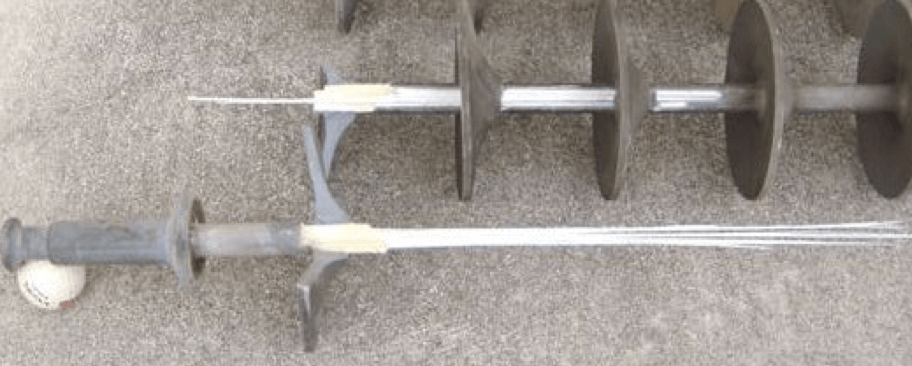 Brittle fracture of composite insulators leads to mechanical separation of the fiberglass rod causing the conductor to drop. This failure mode was noticed in some first generation composite insulators manufactured in the 1970s and attributed to attack of the rod by nitric acid produced by corona in a moist environment. The source of the acid has since been a subject of research. While there is sufficient evidence that electrical stress is not required for brittle fracture, it can accelerate the failure. There is also evidence that certain chemicals used in manufacturing fiberglass can themselves produce acids – with or without external moisture. Nevertheless, it is widely accepted that sealing the rod from the elements and the use of corrosion resistant rods greatly minimize occurrence of brittle fracture. At the same time, it is likely that brittle fracture is due to a number of factors and cannot be always explained by only one mechanism. Fig. 6 shows a brittle fracture of composite insulators that occurred near the energized and grounded end hardware.
Partial Breakage of Dielectric Shell
This type of damage is applicable to porcelain insulators and typically caused by vandalism or by poor handling during storage and installation. Different from toughened glass insulators, only a section of the porcelain disc can be broken. Any internal cracking cannot easily be ascertained but can result in reduction in residual performance. Damage to composite insulators by birds has been reported and can vary from small tears in sheds to complete removal of the sheds and exposure of the core. Many such incidents occurred after installation but prior to energization, although more recent reports suggest that line energization does not always eliminate such damage.
Complete Shattering of Dielectric Shell
This mode of failure is only applicable to toughened glass insulators and due to release of internal mechanical stresses that are induced in the shell by the toughening process. Vandalism (e.g. from stones or gunshots) is the main reason for this type of damage, although at times it occurs without any external agent and is referred to as self or spontaneous shattering – a phenomenon specific to toughened glass. The shattering can be induced by the presence of inclusions or impurities in the tensile zone of the glass body. Inclusions are hard particles that have not fully melted in the furnace and originate typically from the refractory bricks of the glass furnace or from un-melted raw materials. Their average size is less than 100 microns, meaning they are not visible to the naked eye. Because of the nature of these inclusions, there is no direct and practical method for detecting them. Experience has shown that the most effective way to screen out and eliminate toughened glass shells containing inclusions is the application of specific thermal shock tests to each toughened glass shell, prior to assembly. The cold-to-hot thermal shock test is designed to weed out glass shells containing inclusions (by destroying the glass shells which contain them). An internal inclusion lodged in the tension zone of the glass shell is a point of stress concentration and that is where the shattering starts. During this thermal shock, tensile stress inside the glass shell is temporarily increased so as to induce breakage of those that contain inclusions. Even where this cold-to-hot thermal shock is carried out twice during production, statistically a very low probability exists that a few toughened glass shells containing inclusions still survive. These glass shells will therefore be used with others for the assembly of the insulator string and some might shatter over the course of time, usually in the early years of service. Self-shattering in service can happen for a variety of reasons or it might occur when no special circumstance exists so as to be referred to as 'spontaneous shattering'. Statistics obtained over the past 20-30 years reveal typical rates of shattering on the order of one unit/10,000/year or less – from all possible causes, including self-shattering, vandalism, power arcs, etc.
Radial Cracking
This type of failure has been attributed to cement growth phenomenon and exists only in porcelain insulators assembled using overly expansive Portland cement. Radial cracking of porcelain discs often result in internal puncture. There are no reliable statistics relevant to this type of failure but it is generally known and widely published that failure rates of porcelain insulators due to cement growth problems are generally linked to specific production batches. In North America, for example, large populations of porcelain insulators manufactured in the 70s were affected by this phenomenon. Fig. 7 illustrates radial cracking that occurred after more than 20 years in service.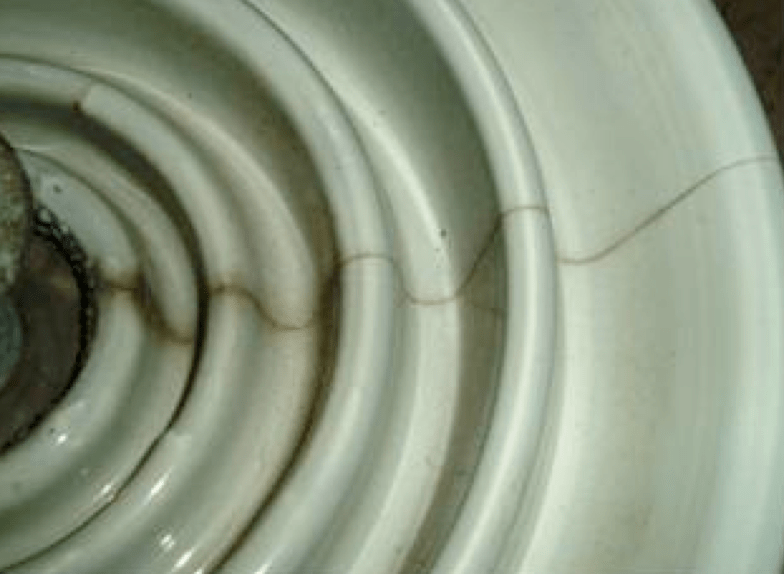 Mechanical Strength of Field-Aged Porcelain & Toughened glass
The primary function of insulators is mechanical, namely to hold the line above ground. Users are therefore most concerned if this property has been compromised because of defects or ageing in service. Condition assessment is therefore critical to users so that proper maintenance and replacement can be done before a failure occurs. Arizona State University has participated in several studies where electrical and mechanical performance of insulators removed from service was evaluated in the laboratory. One past study, for example, studied over 100 porcelain and toughened glass insulators removed from service after periods ranging from 20 to 70 years. The porcelain insulators were evaluated as received. Half of the glass insulators received were evaluated as complete insulators and the remainder only as stubs. The glass shell was broken in the laboratory using a hammer, at the request of the utility who sponsored the work. Figs. 8 and 9 show the failure load in tension normalized to the insulator's M &E rating and it can be seen that porcelain insulators showed large variation in mechanical strength of these field-aged units. A reduction of up to 40% was seen for some. It was also evident that some manufacturers' products were of far superior quality and these exhibited much higher load to failure. The data for glass insulators showed much smaller spread in failing load compared with porcelain. There was no apparent difference between the failing loads of complete insulators versus stubs.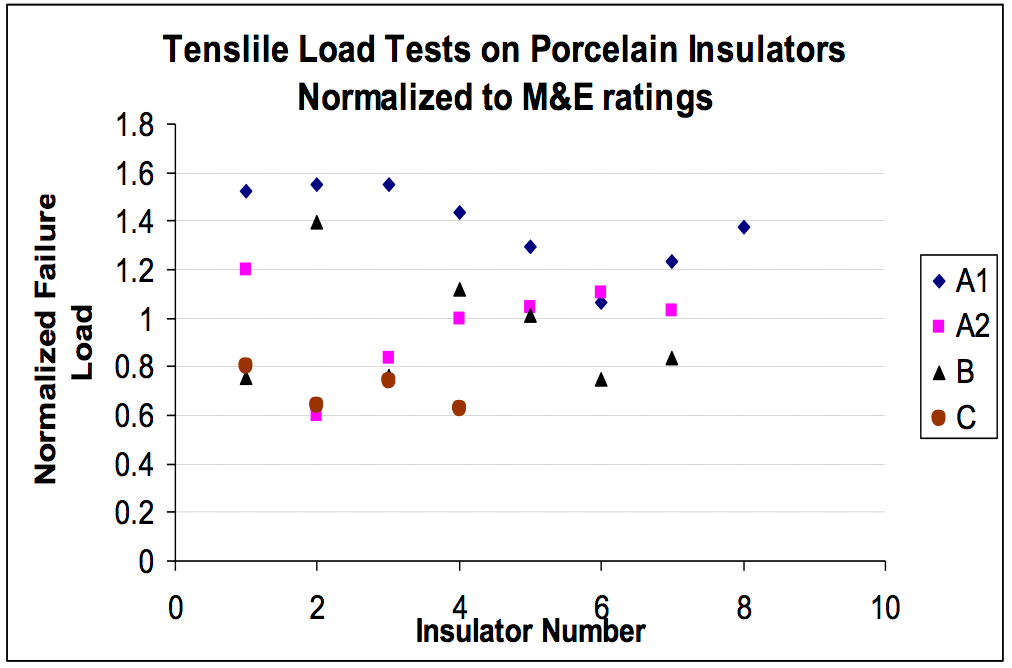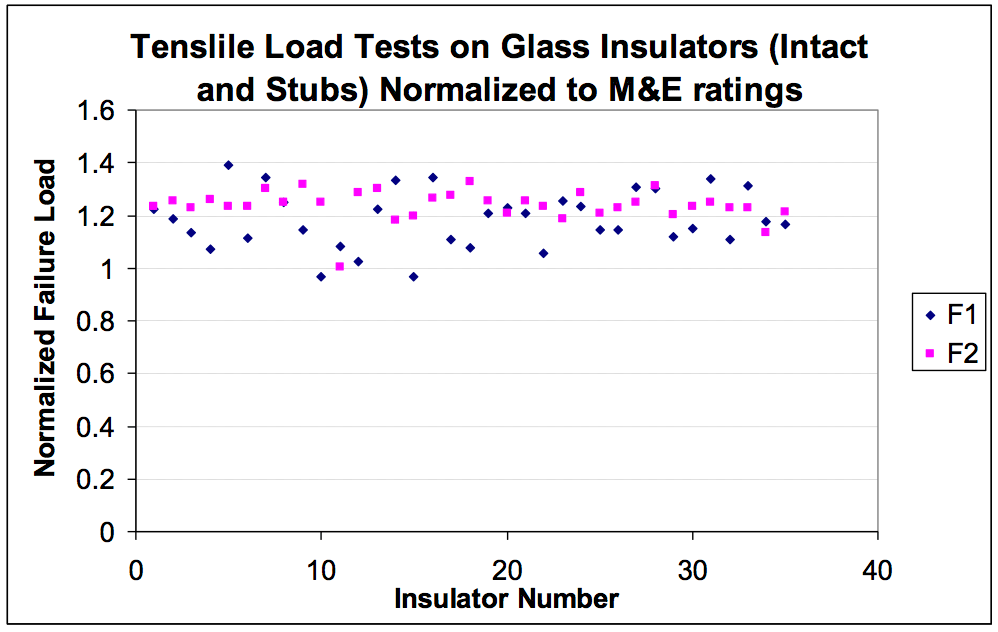 Conclusions
It is more important to focus on the mode of failure and its impact on utility operations than only on failure rate of insulators. Failure rate tends to depend on voltage class since most utilities tend to use well-proven products on critical high voltage lines but are more willing to 'experiment' with a larger supplier base on lower voltage lines. Where failure rate is defined as 'mechanical separation of the string, service experience clearly indicates that toughened glass insulator strings are significantly less prone to separation than are strings of porcelain or composite insulators.
Failures that involve puncture of the dielectric body are typically absent from toughened glass insulators and are rare with composite insulators but can be quite common in older porcelain insulators. Punctured bells cannot be identified from the ground and require additional test equipment. Unless a puncture results in a short circuit, it is not easily detectable. Failures associated with cement growth problems (and consequent radial cracking) have been reported only on porcelain insulators and specifically linked to Portland cement. These problems are hard to detect in the initial stages.
When dealing with shattering rates of toughened glass insulators, it is important to consider that the glass stub (damaged insulator) remains electrically not punctured and mechanically safe. The overall mechanical integrity of the insulator is retained as well. Strings with missing glass shell are easily seen from the ground. With regard to electrical performance, a glass stub will have lost the external insulating function (external leakage distance) but still retains internal insulation sufficient to keep a possible arc in the air, outside the metal fittings and with no risk of pin ejection and consequent mechanical separation. Therefore, self shattering of glass shells is strictly a failure of the external insulation and should not be compared with failure types that involve breakage of the porcelain shell and radial cracking, bearing in mind that in both cases there is possibility of internal puncture.
The organic nature of materials used for composite insulators give rise to failure modes that are unique to this technology. For example, tracking and erosion of the housing material from surface discharges, pecking by birds, tracking of the fiberglass core and brittle fracture are all modes of failure not encountered with porcelain and toughened glass insulators. Moreover, presence of a well-designed corona ring is essential for composite insulators at system voltages above 200 kV, and in some locations may be required at lower voltages to avoid housing degradation. By contrast, in the case of porcelain and glass insulators, corona (or grading) rings are used only for mitigating audible noise, radio and television interference since the inorganic dielectric is immune to damage from corona. Despite their larger number of possible failure modes, composite insulators have improved significantly over the years.