More than 20 years ago, ABB (now Hitachi Energy) performed a review of operating experience at converter stations it had delivered worldwide. It was found that flashover rate had no direct correlation to station voltage level in the case of HVDC stations from 250 to 600 kV. It was also determined that there was no need to choose higher values of specific creepage distance because of higher voltage levels. A low flashover rate of 0.05 per pole per year was being achieved in the total of 80 poles (i.e. 47 HVDC stations). Moreover, it was also clear that successful operating experience was being obtained even with silicone rubber insulators having relatively short creepage distances.
In 2011-2012, a second study was conducted, this time focusing on condition assessment of post and apparatus composite insulators at HVAC and HVDC stations. Again, operating experience was found satisfactory, with no indications of damage from pollution, ageing or deterioration on composite insulators equipped with silicone rubber housings. Moreover, it was also determined that these had a far better ability to perform well in polluted environments than did silicone line insulators. Another conclusion from this research confirmed the validity of the existing good practice of reducing specific creepage distance of composite insulators with silicone housings, compared to for ceramic insulators.
Up to 2022, HE has continued to observe the performance of composite insulators installed at delivered HVDC stations from the reliability point of view. Over these past 10 years, the number of installed composite station post and apparatus insulators delivered by HE has doubled, reaching 200,000 pcs by 2022 due to exponential growth in electricity demand from renewables. More extra high voltage and ultra-high voltage DC converter stations have been commissioned during the past decade. Due to this increase in both operational time and numbers of HVDC stations, much more service experience was gathered versus previously performed reviews. The goal of the latest study has been to update the information on operational experience of outdoor DC composite insulators installed at 400-1100 kV HVDC stations delivered by HE over the past 30 years.
At HVDC converter stations, the area where DC apparatus is installed is referred to as the DC yard and post insulators are used in this area for supporting DC pole busbars and apparatus. Up until the early 1990s, most such insulators were made of porcelain, which experienced severe flashover problems caused by rain and pollution. Various mitigation measures were introduced. Application of different types of hydrophobic coatings and replacement with composite insulators were the most successful. Since the 1990s, apparatus with composite hollow core insulators were progressively being introduced into DC yards while since the 2000s all apparatus in DC yards were delivered only with composite hollow core insulators.
The latest research focused on composite post insulators and bushings installed in EHV and UHV DC converter stations since 1992 in different environmental and pollution conditions worldwide. These stations are located on different continents and across several countries including India, China, Argentina, Brazil, USA, Canada, Scandinavia and South Africa (see Fig. 1).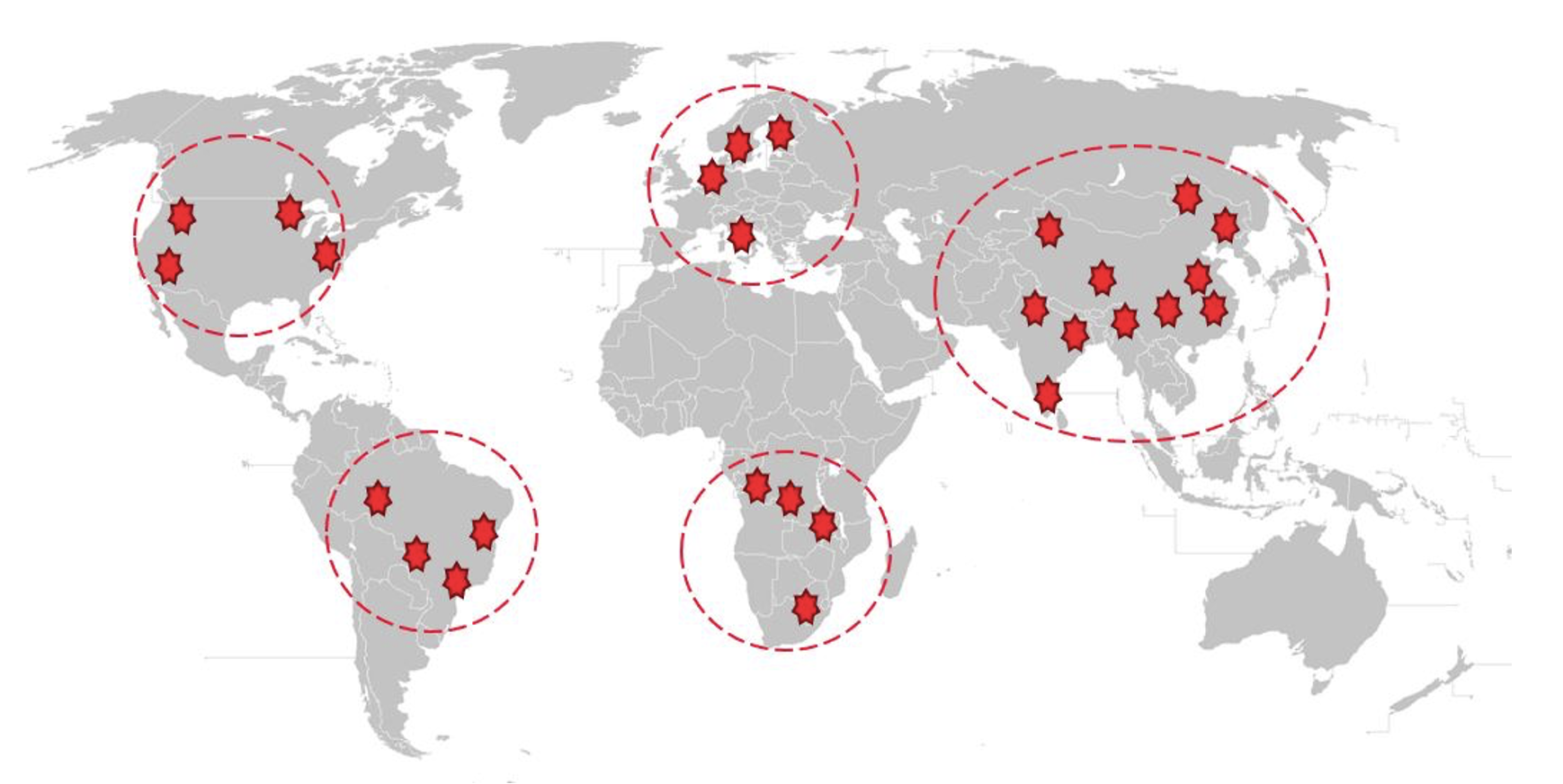 Locations were chosen to cover different Site Pollution Severity classes (SPS) from 'medium' to 'very-heavy', according to IEC 60815-1. Highly polluted areas were of main interest. As can be seen, the locations are spread widely and cover different types of environments: desert, coastal, industrial, agricultural and inland. Most of the sites belong to 'heavy' and 'very heavy' SPS class. Several sites are located in areas with high levels of UV radiation as well. Operational time of the composite insulators installed at some of the HVDC stations considered in this study has already reached 30 years.
Attend the 2022 INMR WORLD CONGRESS in Berlin, where insulation expert, Dr. Yury Solovyev of Hitachi Energy, will present the findings from this extensive study of operating experience with composite insulators. Based on these findings, he will also offer recommendations for qualification of composite insulators for HVDC applications with respect to crucial parameters such as housing material and shed design.