Norwegian TSO Re-Dimensioned Insulation in Voltage Upgrade Project
The Norwegian power utility, Statnett, operates a network of over 10,000 km of overhead lines from 132 to 420 kV. Recent changes in power flow have made it necessary to increase capacity so, like many transmission system operators worldwide, Statnett has been working towards building the next generation grid. Given public opposition to new lines and the difficulty in obtaining additional right of ways, this was planned to be accomplished mainly through a program of upgrading existing lines. By the time the project has been completed in 2030, the length of the 420 kV system will have grown to about 7,500 km. Similarly, there has been a plan to upgrade 300 kV lines with twin conductor bundles to 420 kV, in the process boosting line capacity by about 40%.
In order to optimize insulation coordination for the upgraded lines, a systematic program of research was carried out into icing and pollution behavior of different insulators options. Lightning and switching performance of both the insulators and air gaps was also undertaken, both in the laboratory and in the field. The goal was to minimize the required extension of existing insulators and to keep air clearances to a minimum in order to ensure the lowest incremental visual impact from the voltage upgrade.
This INMR article from 2012, by Sonja Berlijn of Statnett as well as Igor Gutman and Jan Lundquist of STRI, reviewed the tests and programs required for re-dimensioning the voltage upgraded lines – some of which presented a greater technical challenge than designing entirely new lines.
---
Most voltage upgrade projects in recent years have involved maintaining existing towers and conductors with the main change being rather in line insulation. Either existing insulator strings are made longer by e.g. adding discs or one insulator configuration is replaced with one of a different type (e.g. as in a 'V' string or braced line post being substituted for an existing 'I' string).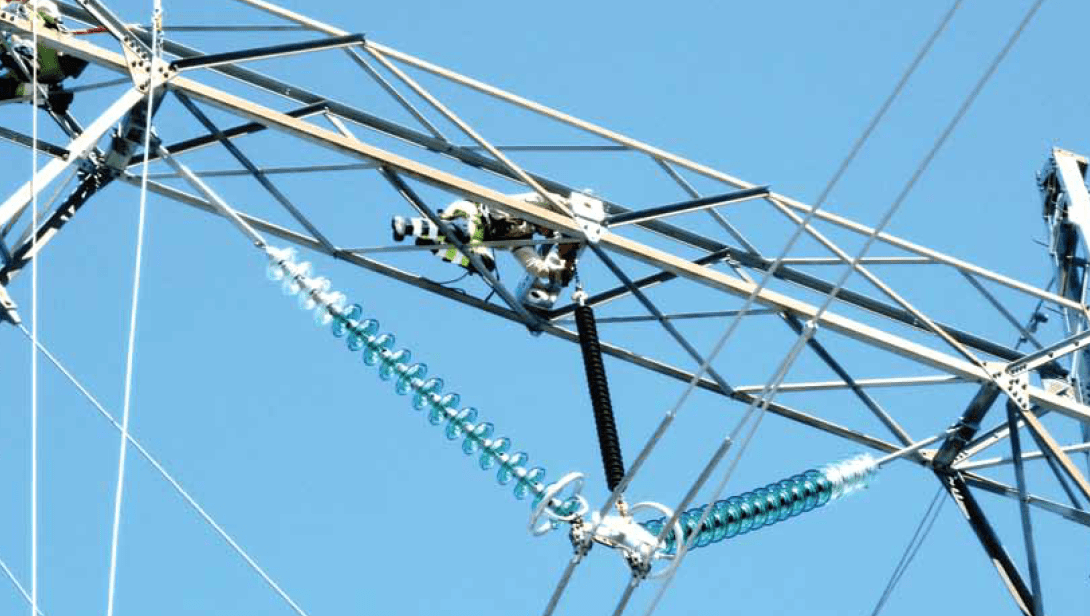 For example, in order to comply with the insulation level required for a 420 kV line, 300 kV 'I' strings would typically need to be extended from 14 to 18 standard (21 ton) glass discs, having a total string length of between 3.5 and 3.6 m. At the same time, the required basic clearance for this insulation level would have to be 2.8 m, according to the EN 50341 European standard. Considering that clearances to cross-arms and guy wires for typical 300 kV towers in Norway are only 2.4 m, it was obvious from the start that such an upgrade would not be easily implemented. With this in mind, Statnett engineers began to ask some basic questions: Could insulator strings be made shorter and, if so, by how much? Moreover, if insulator strings could be shortened from the expected circa 3.5 m, how much could internal clearances also be reduced without negatively affecting line performance?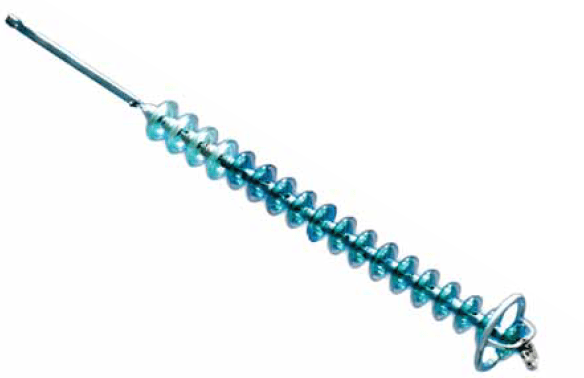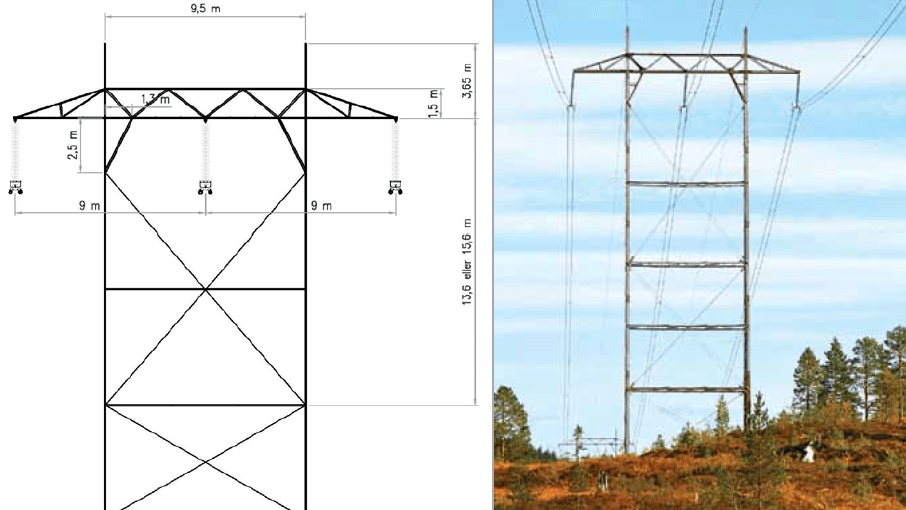 Relying on 'smart' engineering methods based on a probabilistic approach and supported by precise data about insulators and air gaps, it turned out that most towers on Statnett's 300 kV network had just enough space to make the upgrade feasible. In the case of other towers, however, depending on wind, icing, line temperature, geography and line angles, the constraints proved too tight and different solutions had to be identified.
Performance of Insulators
A. Pollution & Icing Tests
The two main environmental stresses considered when selecting line insulation in Norway are icing and pollution and the resulting traditional insulation on Statnett's 300 kV lines has involved glass insulator strings. These were preferred because they were deemed the best choice in regard to performance under icing and also in terms of low maintenance requirements combined with long expected service life. Moreover, since it was desired to conduct as much as possible of the upgrade to 420 kV under live working conditions, the most cost-effective strategy was, wherever possible, to simply increase the length of glass strings.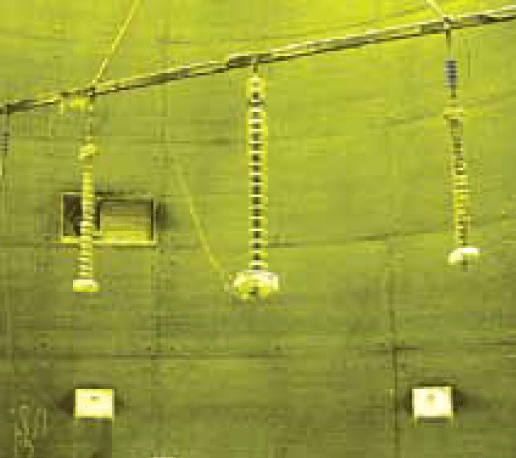 Given the rationale discussed above for seeking to minimize this required extension of existing insulators, a series of ice and pollution tests were carried out at STRI in Sweden. Laboratory test procedures were specially developed to simulate local environmental conditions and these methods were deemed to adequately represent Statnett's service environment. This ensured that test results would indeed be applicable for use in any statistical-based method for insulator dimensioning (according to IEC 60815-1) – now available in a proprietary, easy-to-use software called Line Performance Estimator (LPE).
Icing tests were performed according to the widely accepted Ice Progressive Stress (IPS) methodology (developed by STRI in collaboration with Statnett and the Swedish grid operator, Svenska Kraftnät) and which has now been included in the IEEE Standard 1783-2009. These tests were performed over a broad range of melting water conductivities, from 100 to 300 µS/cm to establish 50% flashover voltage levels. Solid Layer Method tests were then performed according to IEC 60507 and modified to comply with the low levels of NSDD measured on insulators removed from service in Norway. Again, 50% flashover voltages were obtained across a broad range of salt deposit densities, from 0.03 to 0.16 mg/cm2.
The laboratory tests were performed on the specific type of glass cap & pin insulator shell currently used on most of Statnett's 300 kV network. Pollution and icing tests were also performed on other types of glass shells as well as on composite insulators. This allowed a database to be created of comparative results, which could find use one day in future projects. Recently, similar test results were also obtained for RTV-coated insulators and also simulating wet snow conditions.
As a basis for applying the statistical dimensioning method, results from the pollution and icing test were then expressed in the form of flashover performance curves where the key parameters in the calculation included: U50 – voltage level with a 50% flashover probability; l – axial length of the insulator; g – pollution or ice severity; A and a – experimental constants derived from the tests. Results from this program of testing confirmed that the number of insulator discs in strings on uprated lines could be reduced from 18 to 17 if applying deterministic insulation dimensioning. Moreover, if relying on statistical insulation dimensioning, it was found that it could even prove acceptable to use only 16 discs on a limited number of 420 kV towers.
B. Lightning & Switching Performance of Insulators & Air Gaps
With the expected pollution and icing performance of insulators on upgraded lines established, Statnett engineers turned their attention to air gaps as well as lightning and switching performance. The key parameters to resolve in this regard were the minimum clearances required not to jeopardize line performance as well as what distance was needed to ensure no flashovers would occur to tower parts such as guy wires.
To answer these questions, lightning and switching impulse tests were carried out on a model of a full-scale tower set up at Graz University of Technology in Austria. Actual gap factors – relating flashover voltage of the actual gap to that of a standard rod-plane gap – were established for the different air gaps of suspension towers, e.g. across the string, as well as between phase conductor and tower or guy wire given different insulator swing angles. It turned out that actual gap factors for Statnett suspension towers were greater than typical values presented in the standards and this provided a valuable margin utilized in the upgrade. For a standard 'I' string configuration, this meant that clearances required for 'no wind' conditions could be reduced by about 10%.
In the case of tension towers, it was important to determine the optimal position of the conductor bundle in relation to cross-arms and guy wires. For safety reasons, it was deemed preferable that the majority of flashovers should take place between conductor and cross-arm. Test results confirmed that this was the case for about 80% of all recorded flashovers if the conductor bundle was placed so that the distance from it to the guy wire equaled that from the corona ring to the cross-arm.

Statistical Insulation Coordination
With expected insulator performance under pollution, icing, lightning and switching known and gap factors confirmed, Statnett engineers looked to statistical coordination (in place of standard 'black or white' deterministic methods) and used the LPE program to calculate future performance of the upgraded 420 kV lines. To predict line performance, this program relies on data such as:
• system voltage
• annual number of pollution and icing events
• pollution and ice severity
• ground flash density
• soil resistivity
• tower footing resistance
• geometric data for insulator strings (e.g. position of arcing horn, length of hardware)
• tower geometry
• gap factors for lightning and switching impulse in outer and center phases and across insulator strings.
In general, during the course of any voltage upgrade project it becomes necessary to optimize use of available tower top clearances and certain trade-offs may have to be made. In the case of the Statnett upgrade, these can best be explained with the help of Fig. 6, which represents a 'screen dump' of the LPE program outcome when applied to this project. For example, assuming that insulator string length would be shortened by 10 cm versus the optimal selected value (corresponding to -0.1 in the X-axis versus 0.0), the number (or %) of failures due to pollution or icing would increase. At the same time, lightning and switching performance would decrease because of larger available air gaps.
As such, one of the keys during any voltage upgrade is to find the insulator length and matching air clearances that ensure the least number of failures and best overall line performance. Moreover, since tower designs in Norway often vary due to changes in local topography, this optimal solution for Statnett had to be tailor-made for every specific type of tower while at the same time considering overall line performance, which of course was the main goal.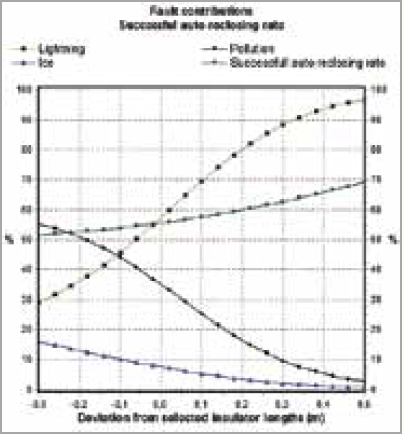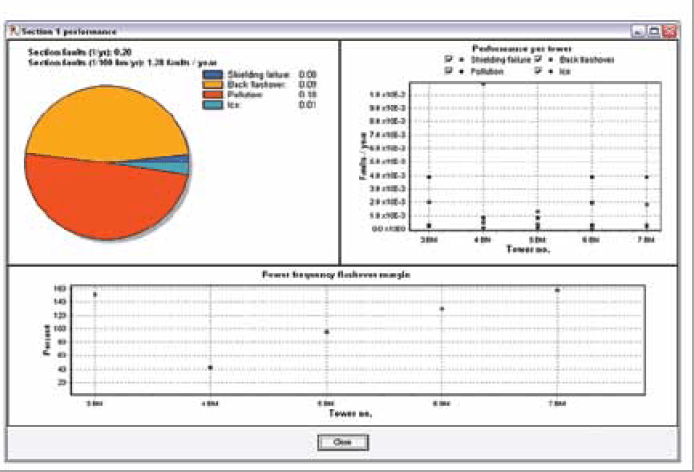 In fact, based on experience from projects such as the Statnett upgrade, the functionality of the LPE program was extended to also make use of data imported from the design software for each individual tower type. Such data includes conductor position, insulator length and calculated tower top clearance under different wind loading conditions. This would then allow lightning, switching, power frequency, pollution and icing performance all to be evaluated for every different tower. In this manner, the statistical insulation performance for the complete upgraded line could be optimized. Indeed, using results from the LPE, Statnett line designers were able to verify calculated lightning, switching, pollution and icing performance results against targets set for the whole line in terms of e.g. acceptable number of failures per 100 km/year. If these targets could not be satisfied, line designers could then identify which specific tower types were responsible for inferior performance and propose appropriate remedial measures. Fig. 7 shows how the result calculated for a particular section of line is presented as a pie chart as well as how performance for five selected towers is depicted.
For enhanced lightning performance in the case of the Statnett upgrade, the primary action would be to replace 'I' strings with 'V' strings. If that were not possible, improved tower grounding or installation of line surge arresters would be considered. Line arresters could also be an option should switching performance need to be improved. Similarly, inferior pollution performance could be overcome in a variety of ways, such as by installing 'V' strings, composite insulators or by using longer glass strings. Icing performance could be improved by e.g. specifying insulator designs with large shed spacing.
Summary
Statnett has been involved in one of the world's largest voltage upgrade projects. Since the intent was to utilize existing towers and conductors to the maximum, there was only limited margin in terms of extending insulator strings and allowing greater air clearances. Insulation coordination also had to be performed precisely since available clearance margins were very small. Using statistics-based engineering methods combined with findings from extensive testing on insulators and air gaps, it was deemed feasible to uprate existing 300 kV lines to 420 kV in a cost-effective manner and with relatively small added visual impact – all accomplished using live line working methods. Insulator string length and internal clearances were kept as small as possible while not sacrificing overall line performance. To be able to make proper use of such precise engineering methods, several R&D projects had to be performed but, in retrospect, this proved money well invested.