New Plant Supplies Growing North American Demand for Toughened Glass Insulators
By the early 2000s, a major shift had taken place in the United States when it comes to the insulator technologies used on overhead transmission lines. Pushed by the sales efforts of major local suppliers, power system operators had moved decisively in the direction of composite insulators. But unlike in other markets, such as China, the major factor behind this shift was not superior pollution performance but rather ease of handling due to lighter weight. There was also the perception that composite insulators better resist vandalism than ceramic counterparts.
Composite insulators are still highly popular in the U.S. due to their relatively attractive acquisition costs. However, they appear to have peaked in growth and indeed now face several challenges in maintaining market position. One is a recent EPRI finding that many such insulators – even in service at lower transmission voltages – are at risk of erosion damage from having been installed without proper field grading. Another challenge has been reluctance to perform live line work with such insulators due to the added safety precautions that must be taken.
Stepping in to fill the void as more and more U.S. power system operators move away from specifying composite insulators for HV transmission applications has been toughened glass. Long popular across Europe, these insulators have begun to enjoy a renaissance as American engineers re-discover a technology that has been around for as long as porcelain.
INMR travels to West Memphis, Arkansas to visit a newly inaugurated glass disc assembly operation – the country's first entirely new insulator plant in many years.
---
Sediver has historically been the dominant player among suppliers of toughened glass insulators and today still claims a world market share of over 50 per cent for line projects of 345 kV and above. René Tabouret, CEO until the end of 2016 and now a special consultant, estimates global demand for glass insulators at between US$ 450 and 500 million, with typical annual variations of as much as ± 20 per cent. Such large swings are due to the presence or absence of new HVDC and UHV projects, such as those in China over the past decade and more recently in Africa. "Stating market size for glass insulators in any single year is really not that meaningful," he explains. "Therefore we prefer to look at the market over several consecutive years."
Advertisement

According to Tabouret, in a world transmission market currently divided about equally between glass, porcelain and composite insulator technologies, Sediver's largest and most important business segments are HVDC and UHV transmission projects. These account for about one-quarter of total company sales that in 2016 amounted to over US$ 200 million. Says Tabouret, "that has been and remains our unique market strength and we see it as our competitive advantage over other suppliers." He points to the recently won ±600 kV DC Belomonte Project in Brazil as evidence of continuing success in this sector.

The company operates two glass furnaces – the larger in Shanghai and another in Nusco, Italy – together having a capacity of 45 to 50 thousand metric tons. Assembly of hardware also takes place in China and Italy.
Not long ago, the idea of establishing a glass insulator operation in the U.S. might have been dismissed as absurd. Although popular with several large system operators during the 1960s and 70s, the number of new transmission projects in that country where glass insulators were selected dwindled after 1985 as polymeric types began to make significant inroads. This made the U.S. experience much different from that of Canada where composite insulator technology never gained traction on HV lines and where glass and porcelain have continued to dominate this application.
However Tabouret explains that attitudes toward insulators by American utilities changed significantly about a decade ago. "Users once came to regard insulators as a commodity to be purchased mainly based on price," he remarks. "But now they have started to focus on another issue – cost of ownership. This includes not only their acquisition cost but also all other costs linked to their operation or failure over several decades of service. With this has come renewed interest in glass insulators."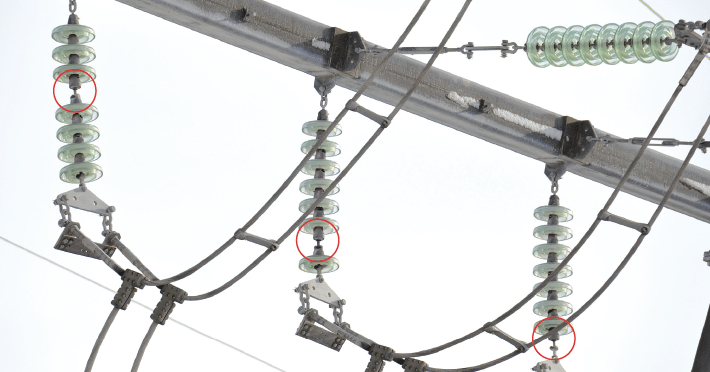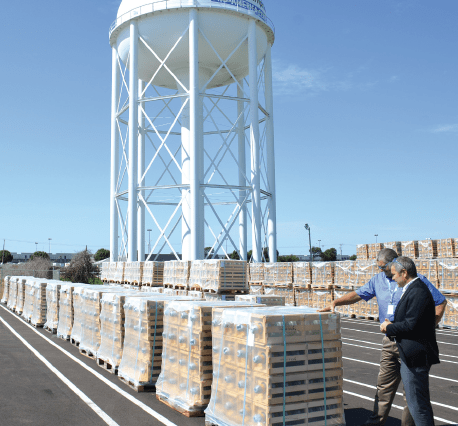 Ironically, looking at total life cycle cost used to be one of the prime arguments used to convert utilities to composite insulators since these do not require periodic washing in polluted service areas. But Tabouret argues that another and equally important consideration is how insulators behave under unforeseen and possibly extreme circumstances. Here, he argues that toughened glass insulators perform exceptionally well and offer highly stable mechanical performance. He then differentiates this with composite insulators that he claims offer less predictable behavior over time and under all types of stresses.
"A term we hear more and more these days," says Tabouret, "is 'resilient grid' – a grid which can withstand the test of time and whatever is being thrown at it. With this, there is growing appreciation that insulators cannot be treated as commodities, especially when it comes to projects of 345 kV and higher."
To highlight the impact of such changing attitudes on insulator selection, he claims that today more than 100 transmission system operators in the U.S. use glass in one application or another versus only less than five in 2010. To put this utilization rate into better perspective, he points out that while there are over 3000 power utilities in the U.S., only about 150 have assets at or above 230 kV.
At the same time, Tabouret emphasizes that while toughened glass insulators offer the possibility of highly dependable long-term electrical and mechanical performance, not all glass insulators are of equal quality. Self-shattering, for example, is the most typical failure mode for toughened glass and also the key criterion for users to assess comparative quality. While the marketplace has come to accept a rate of up to one shattered disc per 10,000 per year, this figure can be even less but also sometimes up to 50 times higher. That means care must be taken to ensure proper procedures are in place when qualifying alternative suppliers and inspecting manufacturing operations.

"The quality of a glass insulator", explains Tabouret, "starts at the batch level and also in the way the furnace is designed and operated. But it also includes screening of raw materials as well as quality control processes undertaken at each stage of production. Finally, assembly of the caps and pins is another element in overall product quality."
Advertisement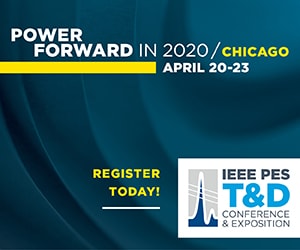 New Factory Capacity Up to 2.5 Million Discs
The idea of starting up a glass insulator assembly operation in the United States took root back in 2008 and coincided with recognition that attitudes toward insulators in that country had begun to change. Tabouret, who was a central figure pushing for such an investment, explains that the timing proved ideal not only given the rising local popularity of glass since 2013 but also because of the acquisition of Sediver's parent, Seves, in October 2014 by European-based Triton. In fact, Triton's significant investments in Seves between 2015 and 2016 proved key to bringing the project to fruition.
The new plant is located in West Memphis, Arkansas – just across the Mississippi River from Memphis, Tennessee – once home to music legends such as Elvis Presley. While a primarily agricultural region and also home to retailing giant, Walmart, the region is also a major transport hub and base of Fedex's fleet of airplanes, the world's largest.
Plant Manager, William Tucker, explains that one of the main goals in the design of the new operation was to keep all processes the same as at other Sediver operations. "We are identical in every respect to our sister companies in Italy and China," he says. "That includes the same processing methods, the same controls and all the same components and raw materials. Moreover, all incoming items – from cement to hardware – have been pre-qualified by Sediver R&D center in France and inspected in Shanghai before shipment. We expect this will remain in force until we have ramped up production and are ready to qualify potential local suppliers."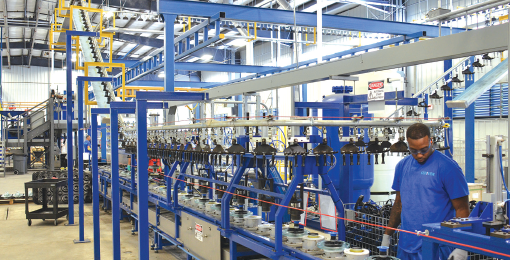 This means traceability of each part is based on test reports issued by the foreign-based suppliers. A system of bar codes for each piece as it moves through assembly is planned for later in 2017 to meet requirements of some local utilities.
Tucker, whose background is in the heating, ventilation and air conditioning industry, was involved in every stage of construction of the new plant. He also worked in Shanghai during set-up of that plant's second assembly line so that he could be exposed to all issues when setting up exactly such a line in West Memphis.
At the moment, the new operation runs with one shift and just over 30 workers. Additional staff is now being recruited for a second shift, planned for September this year, while a third shift is expected to be in place by yearend. When that happens, total annual production will reach plant capacity of between 2.3 and 2.5 million discs.
Tucker credits local authorities and universities with offering valuable screening and pre-employment training during start-up. Indeed, Tabouret reports that availability of such support programs was one of the drivers behind the decision to locate here. "Labor turnover is a key issue for any new manufacturing operation such as this," he remarks. "So outside support in finding and training a workforce was clearly an advantage."
The new West Memphis facility is equipped with a full-fledged laboratory where all required testing is performed – from steep front to thermo-mechanical to failing load, among others. Tabouret notes that this area was planned as more a technical center of expertise than only a lab conducting tests according to ANSI and other standards. "The idea," he says, "was to make this area an extension of our central R&D, located in St. Yorre, France. We will then use it as a platform to share and disseminate our expertise in the insulator field."
Advertisement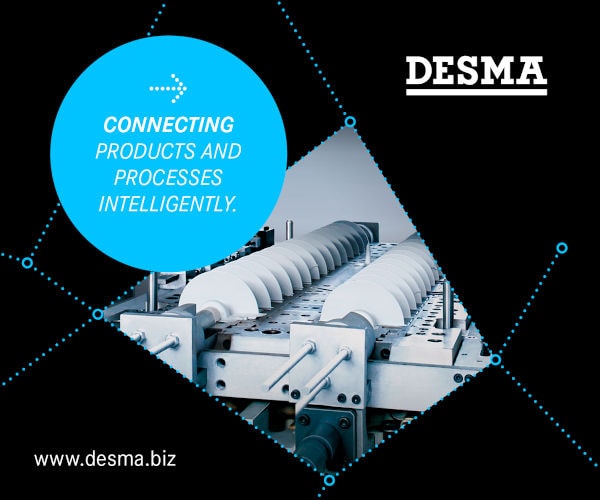 Stopping briefly at equipment that measures mechanical strength, Tabouret and Tucker explain that the new assembly operation aims for such consistency in distribution of average failure load as to meet 3 or even 4 sigma criteria. They also contend that the mechanical behavior of glass discs is so good that even should the dielectric shell shatter, the stub will continue to meet the designated rating. "We guarantee 80%," says Tabouret, "but in fact our testing has shown that we achieve more than 100%."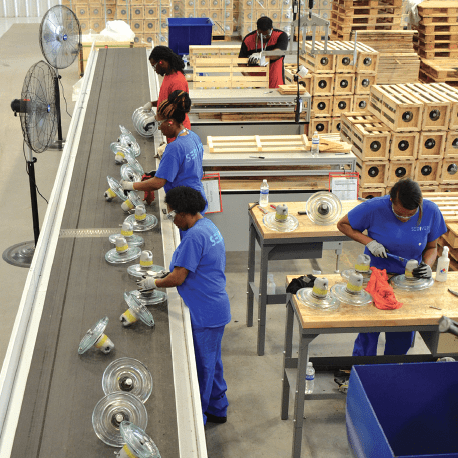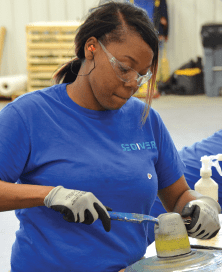 Tabouret is convinced that present market forces in the United States will justify the US$ 15 million invested in the new assembly operation. He also differentiates the situation now versus 1989 when another such operation in Carlstadt, New Jersey was shut down due to declining demand.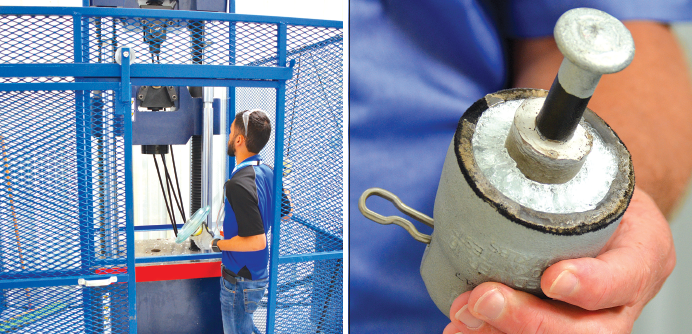 "For the moment," he continues, "we see our main battle in the U.S. is against polymeric not porcelain insulators, which are typically more costly to buy than glass. Fortunately for us, as utilities look at all the various costs associated with insulator failure, their attitudes toward the different technologies are changing. For example, due to all the special procedures needed to carry out live line work with polymeric insulators – versus simple 'at a glance' inspection for glass – an increasing number tell us they will no longer use these above 69 kV."
He also remarks that, while long established in the U.S., toughened glass is sometimes still seen as a relatively new technology. Therefore, communications with customers is aimed at explaining that Sediver is not an opportunistic new player coming in to serve a re-born local market. "We have been here since the mid 1960s and supplied hundreds of thousands of glass discs," says Tabouret. "In fact, many of our insulators from that era are still in service." »