Jeju Island, with its balmy weather and picturesque landscape, is the perfect place for Koreans to escape the daily rigors of life in crowded cities such as Seoul, especially during the cold winter months. However, to engineers at Korea Electric Power Corporation (KEPCO), the island has served an entirely different purpose – as a location to assist development and evaluation of power technologies in a relatively controlled environment. For example, in June 2009 Jeju Island was selected for one of the world's first large-scale smart grid demonstration projects aimed at allowing various technologies in this field to be tested. Similarly, it was chosen as a place to evaluate advanced off-grid energy storage systems based on combinations of renewable energy sources and diesel power generators.
Not so well known yet no less important is the fact that Jeju Island was also site of an interesting project that involved a hybrid transmission line along with planned phased-in trial installations of superconducting ± 80 kV and 154 kV cables. INMR travelled there in 2014 to report on this as well as other recent projects that connect the circa 1900 sq km island with the Korean peninsula.
---
In the face of steadily rising demand for electricity combined with a history of public opposition to new overhead lines, alternative transmission technologies are looked upon with great interest in South Korea. For example, with their potential of carrying great amounts of power along relatively small pathways, superconducting cables have offered a promising alternative to conventional lines in certain applications. Indeed, following the successful commissioning and testing of such a 22.9 kV superconductor installation near Seoul, KEPCO engineers began implementing a three-stage program that also saw testing of ± 80 kV and 154 kV superconducting cables on Jeju Island. According to Sr. Manager of Transmission Operation & Maintenance, Hyunmin Park, KEPCO's interest in superconducting cables goes beyond their being an alternative to overhead transmission. Another key factor, he pointed out, is eliminating the 3 to 5% losses typically encountered on overhead lines at voltages such as 154 kV. Said Park, "unlike the case with ordinary conductors, superconducting cables offer no resistance and that translates into no power losses." Such cables, he went on note, while expensive due to the need to maintain internal temperatures of -273°C, can carry as much as 5 GW of power through a pipe having a diameter of only about 1 meter. This helps make them more cost-competitive while also capable of being deployed using much less space. The ± 80 kV superconductor cable installation planned on Jeju Island allows testing of this upgrade to the 22.9 kV system presently operating near Seoul.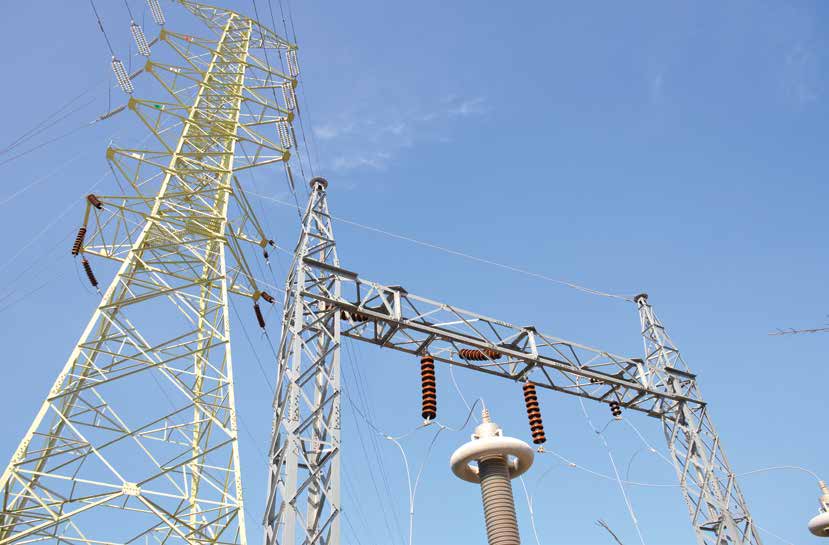 Hee Gwon Kim, Sr. Manager of the Transmission & Substation Team on Jeju Island explained that the program to evaluate superconducting cable consisted of three separate phases. The first involved a hybrid line carrying circuits of 154 kV and ± 80 kV DC on the same towers. The underhung DC line transferred 30 MW per circuit and ran some 5 kilometers between two converter stations – GeumAk and HaiLim – both specially designed to allow testing of different equipment as well as locally-developed thyristor technology. For example, the two stations are equipped with sets of 17 MVAR double tuned (DTF) and high pass (HPF) filters on the AC side to limit harmonic distortion. Similarly, a special heat exchange system is in place to ensure effective heat dissipation from the thyristor valves, with fan speed controlled according to temperature of the cooling water.
On the AC side, the station is connected to the double circuit 154 kV overhead line by 170 kV, 3000A, 60 Hz rated gas-insulated switchgear that supplies the AC power and also protects the converter transformer and AC filters in the event of faults. Said Kim, "there have been three sequential steps in our program with the hybrid line modified in 2015 so that one section consists of superconducting DC cable. Then, in 2017, the overhead DC line will be dismantled and the 154 kV AC line will connect to superconducting AC cable. That's the project's 'final destination'."

Due to a large domestic electronics industry, South Korea has traditionally maintained one of the highest reliability levels in the world. In order to offer uniformly high reliability and power quality in a country with mostly mountainous terrain and some 300 to 400 lightning strikes to transmission lines each year, many overhead lines are equipped with surge arresters. This policy applies as well to the new hybrid line on Jeju Island, where all phases on one of the 154 kV circuits are outfitted with externally gapped line arresters (EGLAs).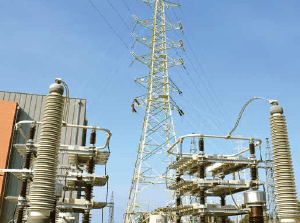 Park explained that the application of line arresters in this case was aimed at meeting the needs of large customers on Jeju Island who are particularly sensitive to even slight voltage dips. He stated that the first test of these arresters at 154 kV began some 6 years ago, with broad scale application starting in 2012. Up to now, several failures have been reported although their precise cause has yet to be identified, whether lightning strike or internal defect. "Normally a lightning surge should not destroy these arresters," remarked Park, "so we have launched an investigation." Another issue, although comparatively minor, has been cases of bird pecking of the silicone housings of these arresters, a problem that he added no one had anticipated at the time the program was launched.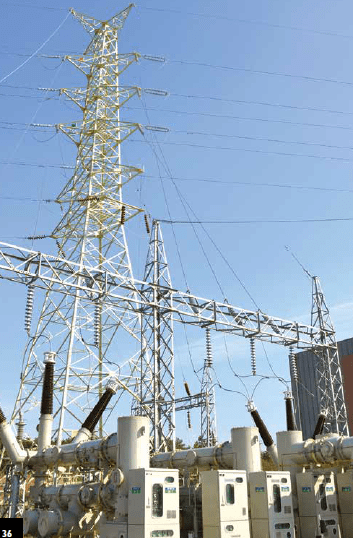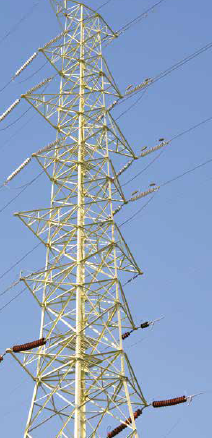 Park also noted that South Korea's first installation of EGLAs at 345 kV took place in 2013 and involved a line connecting to a nuclear power plant. Because of the policy that any fault will trigger an immediate shutdown of the facility, every tower of one circuit on this line has been outfitted with line arresters.
The vast majority of KEPCO's transmission network relies on porcelain cap & pin strings and, in spite of maritime contamination on Jeju Island that requires live washing on an annual basis, these were selected for both the AC and DC circuits of the hybrid line as well. According to Park, this decision reflects longstanding conservatism toward composite insulators, especially at the higher voltages. Indeed, he points out that the country's first pilot project with composite insulators began only some 15 years ago and their application was finally expanded a full decade later, in 2010.
However, failures of 765 kV V-string composite insulators operating in the switchyard of a coastal thermal power plant a few years ago have served to rekindle past doubts. The failed insulators, from a supplier in Europe, were configured in a 90° angle and had a 400 kg weight attached below their connection point in order to reduce conductor vibration.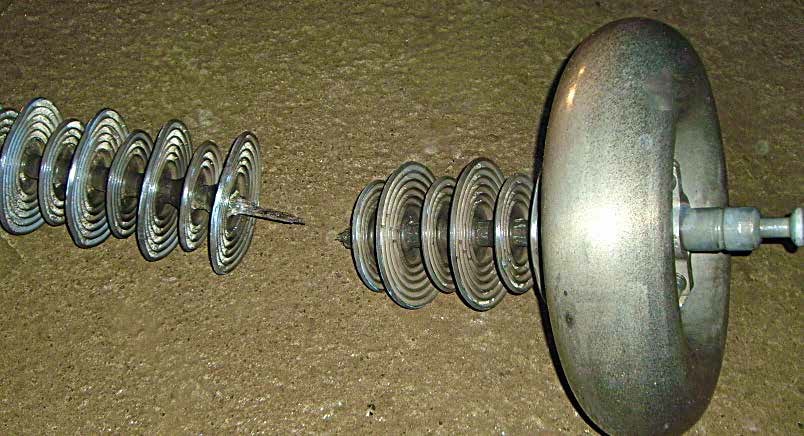 Park reported that the first incident occurred in 2010 and the second in 2012. Subsequent forensic investigation revealed that both failures involved flashunder discharges along the FRP rod resulting in mechanical separation due to fracture. They were later attributed to exposure of the core rod to moisture through punctures in the weathershed material. He also noted that the root failure mechanism in each case was deemed to be excessive E-field concentration resulting in high corona activity along the sheath near the live end fitting. This conclusion, he added, was supported by the fact that there was no evidence of tracking at the insulators' ground end. Said Park, "continuous corona under wetting events such as fog can be due to inadequate grading ring or end fitting design with resulting excessive E-field on the insulator surface. This triggers accelerated ageing processes that in this case destroyed insulators that had been manufactured in 2004 and in service only since 2005. Control of corona through proper grading ring and end fitting design is the best way to prevent such failures, especially under the type of heavily contaminated service conditions that existed at the affected power plant."

Apart from these recent high profile failures, another factor limiting growth in application of composite insulators on transmission lines in South Korea, according to Park, is that many lines pass through hilly terrain. This means a relatively high proportion of tension towers. KEPCO engineers are concerned that maintenance workers may damage composite insulators as they cross them to access the conductor.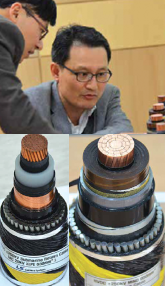 Power to Jeju Island is supplied by two undersea HVDC cables to the Korean peninsula. The first, originating in Haenam, was commissioned in 1996 and now operates at ± 180 kV while the second, from Jindo, is rated for ± 250 kV and has been in service only since 2012. Park and Kim noted that a serious incident occurred in 2006 when the anchor of a ship severely damaged the first HVDC link and blacked out the entire island from 3 to 12 hours. The damage required lifting, cutting and joining the cable in a costly operation that lasted about 3 months. This experience resulted in an on-line monitoring system whereby the control room at the island's new converter station tracks all ship traffic on both sides of the cable links. Any ship that enters a defined 'red zone' is given an immediate radio warning to leave if they remain longer than three minutes inside this narrow band.
In spite of a general conservatism toward composite line insulators, the indoor DC field at Jeju Island's new converter station for the ± 250 kV DC cable link utilizes silicone housed wall bushings, surge arresters, cable terminations and CTs.
Yet another area where testing has been underway on Jeju Island involved application of composite core ACCC conductors, which are now being used in the connection between the ± 80 kV DC line and the cable into the HVDC Smart Center. According to Park, KEPCO's interest in this type of conductor relates to an incident where a passing ship snapped a low-hanging overhead ACSR conductor on the river in Seoul. Low sag ACCC conductors are seen as one means of avoiding future such accidents. Still, since many transmission lines pass through forested mountains, Park did not foresee broad use for such conductors due to their potential for failure in the event of fire.