Failures of insulators due to pollution flashover can prove very costly, causing potentially long outages and requiring expensive and time-consuming maintenance. By most accounts, one of the leading causes of such failures is improper specification of insulators in the first place – to the extent that the designs selected are unable to cope with all the stresses imposed by pollution in the environment. Therefore, it is vital for engineers at power supply companies to correctly understand the real pollution characteristics of the service environment into which insulators will be placed into service. This INMR article from 2012, contributed by Igor Gutman of STRI in Sweden and Wallace Vosloo of Eskom in South Africa, introduced practical field and laboratory experience with different pollution monitoring techniques as well as presents principles to convert from one parameter to another. It also discussed how to use these parameters for insulator dimensioning according to the requirements of the IEC 60815.  
---
According to present IEC recommendations, the process of selecting and dimensioning insulators for use under polluted conditions requires an accurate site severity evaluation. Ideally, this should be performed over a minimum of one year in order to best choose the maximum stress level and corresponding Site Pollution Severity (SPS) class. This process is defined as pollution monitoring and is normally done by Equivalent and Non-Soluble Salt Deposit Density (ESDD/NSDD) measurements on reference insulators (i.e. cap & pin or long rod) as well as using widely accepted Directional Dust Deposit Gauges (DDDG) data. For coastal areas, there may also be a need to estimate Site Equivalent Salinity (SES). Once the correct SPS class is obtained, the specific creepage distance of the selected insulator (in terms of phase-to-ground voltage) is chosen, as per Fig. 1-1.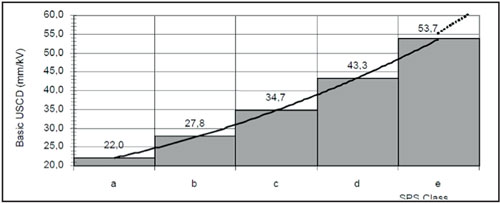 However, optimal insulation dimensioning can be achieved only through application of statistical methods. These methods have been used for decades for switching overvoltages but are now also well established for insulator dimensioning under polluted conditions. For example, IEC TS 60815-1 contains two clear messages: "Both deterministic and statistical design methods are available to design and select appropriate insulator solutions based on site pollution severity (SPS) and laboratory test results" and "Software packages are available for the statistical approach".
The above may appear simple and straightforward. But it has to be kept in mind that input data for insulator selection obtained via pollution monitoring must always be reliable.
Standard Pollution Monitoring Techniques
The recently issued IEC 60815 recommends the following diagnostic techniques to define pollution severity for selecting and dimensioning outdoor insulators:
• Equivalent Salt Deposit Density (ESDD)
• Non-Soluble Deposit Density (NSDD)
• Directional Dust Deposit Gauges (DDDG) conductivity
• Surface Conductivity (SC)
• Site Equivalent Salinity (SES)
ESDD/NSDD is already well known in the power industry since the 1960s and therefore not discussed here. Similarly, SES is a rather unpractical parameter and also not worthy of discussion. Instead, the two other more useful parameters are explained below:

1. Directional Dust Deposit Gauges (DDDG)
A DDDG consists of four collecting tubes, each with a vertical slot on the side into which rain and any airborne pollution are blown. The slots are arranged to face north, south, east and west while removable containers are attached to the bottom of each tube to collect the deposits. Examples of typical installations are shown in Fig. 2-1. The containers are taken out at monthly intervals and their contents mixed with given amounts of distilled water to determine resulting solution conductivity. The pollution index (PI) is then defined as the average conductivity of the four directions expressed in mS/cm and normalized over a 30-day collection period. Moreover, in addition to the pollution index, the amount of non-soluble deposits is sometimes also of interest since it can also influence insulator performance. As such, if considered useful, the amounts of these deposits in the solution should be measured using the same procedure applied for standard NSDD measurements.
If weather data at the site under study is available, the pollution index can be modified to also take climatic influences into account. This is done by multiplying the pollution index (PI) with the climatic factor (Cf), calculated as follows: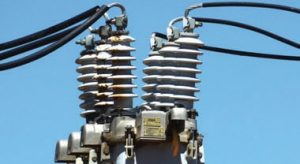 where Fd is the number of foggy days/ year (i.e. < 1000 m of horizontal visibility) and Dm is the number of dry months/yr (i.e. < 20 mm of precipitation). Note that this equation is based mainly on South African experience and should be used with caution in much different types of climates. In particular, other types of precipitation factors could also be taken into account in moderate climates. For example, observe in Table 2-1 (taken from a Russian Guide) where various types of precipitation are related to different 'danger factors' from the viewpoint of insulator pollution performance.
Table 2‑1: Different Precipitation & Corresponding 'Danger Factors'
Type of Precipitation
Factor of Danger
1
Dew with temperature increase
1.0
2
Fog
1.0
3
Light fog
0.5
4
Drizzle
0.8
5
Frost while temperature > -5°C
0.8
6
Rime frost while temperature > -5°C
0.5
7
Wet snow
0.8
8
Rain
0.7
9
Rain with conductivity >1000 mS/cm
1.0
DDDG measurements appear to be quite sensitive to the immediate environment (e.g. see Fig. 2-2). Two test sites, Horred and Ringhals, are both located in western Sweden with Ringhals directly at the coast, while Horred is about 10 km inland. Average DDDG measurements at these sites are different by a factor of 2.

An important question that arises in this regard is whether knowing DDDG measurements would enable converting this into standard ESDD data. The answer can be seen from Table 2‑2 where site severity classes at 12 South African locations are presented in the range from I to IV (according to the old version of IEC 60815). Results obtained utilizing ESDD and DDDG values seem to correspond very well and seem to confirm that using DDDG data for site severity evaluation is indeed feasible.
Advertisement

Table 2‑2: Various Site Severity Classes Based on ESDD and DDDG Measurements in South Africa (2001-2005)*
Site
ESDD
DDDG
Monthly maximum over one year
Site Severity Class
Monthly average
over two years
(in mS/cm)
Monthly maximum over one year
(in mS/cm)
Site Severity Class
Acacia Park
0.22
III
247
573
III
Ascot sub
0.10
II
273
599
III
Atlantic sub
0.18
III
247
534
III
Belhar sub
0.09
II
143
328
II
Bluedowns
0.13
III
133
367
II
Duine sub
0.27
IV
489
1407
IV
Khaylitsha
0.18
III
419
1246
IV
Mpilo
0.19
III
373
1094
IV
Muldersvlei
0.06
I-II
111
309
II
Plattekloof
0.06
I-II
189
479
II
Stickland
0.14
III
150
366
II
Vlakte
0.10
II
210
502
II-III
KIPTS
1.78
IV
4845
14608
IV
* Site severity classes based on old IEC 608156
2. Surface Conductivity (SC)
Theoretically, measurements of insulator resistance with further conversion using a 'form factor' into surface conductivity (in mS) offers many advantages. For example, it allows automatically taking into account the impact of any non-uniformity in pollution layer or combining the effect of pollution and wettability parameters in the case of composite insulators. However, in order to use this parameter as an alternative to standard ESDD/NSDD measurements, it should be applied and standardized in a laboratory environment, from in service measurements and also in any guide materials. Up to now, this has reportedly only been achieved in Russia, where outdoor insulation is selected based on direct artificial pollution tests at about 1.7 x maximum operating voltage as well as at 2, 5, 10 and 20 mS for site severities from I to IV respectively (according to the former version of IEC 60815).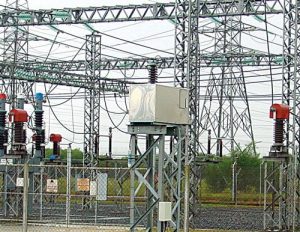 In South Africa, by comparison, a practical monitor called the Insulator Pollution Monitoring Device (IPMD) as well as similar devices whose primary diagnostics parameter is surface conductivity have been developed (see Fig. 2-3). These allow more detailed and frequent assessment of site conditions by automatically determining severity of pre-deposited pollution at selected intervals and by recording any instantaneous pollution events. Some also allow monitoring leakage current amplitudes on in-service insulators. Typical measurements performed by such devices include:
• Insulator surface conductivity under natural pollution and wetting;
• Insulator surface conductivity under natural pollution but with artificial wetting;
• The leakage current amplitude on in-service insulators.
Examples of findings obtained from an in-service IPMD are shown in Fig. 2-4. As both pre-deposited and instantaneous pollution levels are recorded daily, natural pollution and wetting events are not averaged out over a month. This eliminates any risk of missing any singular severe pollution events, as is the case with both the surface pollution deposit and directional dust deposit gauge methods.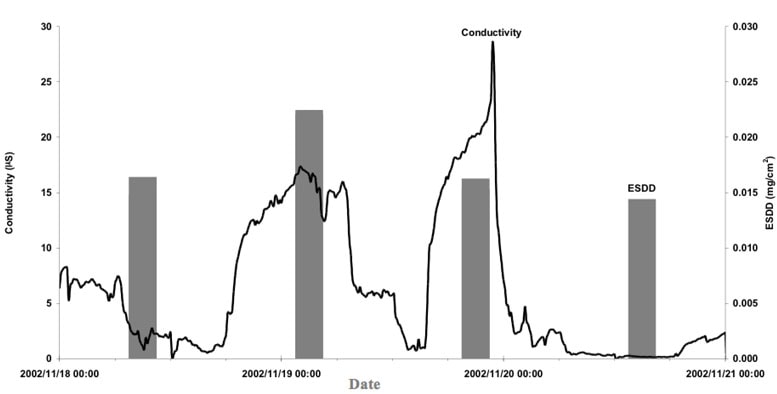 Implementation of Insulator Selection Tool (IST) Program
Input data from pollution monitoring can serve as a direct input for the IST software program that follows IEC 60815. The latest version of this program was developed as a result of close collaboration between STRI and Eskom and includes the following new features: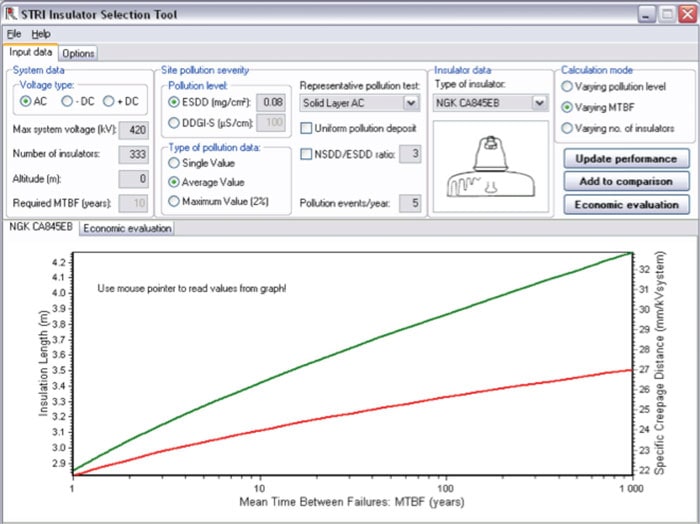 • Possibility for direct dimensioning in the case of DC applications (see Fig. 2-5). Indeed, users can now choose between AC application or negative and positive DC applications. The latter are separated because the electrical strength of a line insulator is lower for negative polarity. The program therefore provides separate calculations per pole.
• Direct comparison of up to three different insulators per screen dump (see Fig. 2-5 "Add to comparison" button).
• Additional input data in the form of DDDG measurements. If no standard ESDD data is available, Equivalent ESDD button and a special window for DDGI-S (Dust Deposit Gauge Index –Soluble) are activated, where a user can write in DDDG data, which the program will convert into standard ESDD data (see Fig. 2-5).
• Two independent databases are also provided. The first database called "STRI proprietary" is created by STRI and STRI is fully responsible for the data, which it contains. A customer has no right to enter this database and make own changes. The second database called "Customer" is completely open for a customer, which can create its own insulation data (both geometry and flashover performance). STRI has no responsibility for this type of the database.
• Economical part of the program allows for comparison of different insulator options from point of view of investments, maintenance costs and outage costs (See Fig 2-6).
Leakage Current Measurements
The leakage current flowing on an insulator surface will be strongly dependent on the characteristics of the pollution present on its surface, insulator geometry and material. Consequently, measurements and analysis of leakage currents may be used to characterise pollution, i.e. estimate pollution severity or, more often, risk for flashover. Leakage currents are generally measured by collecting the current at the grounded end of the energised insulators. There are three main methods applied for this purpose, i.e. peak, surge counting, and accumulated charge measurements: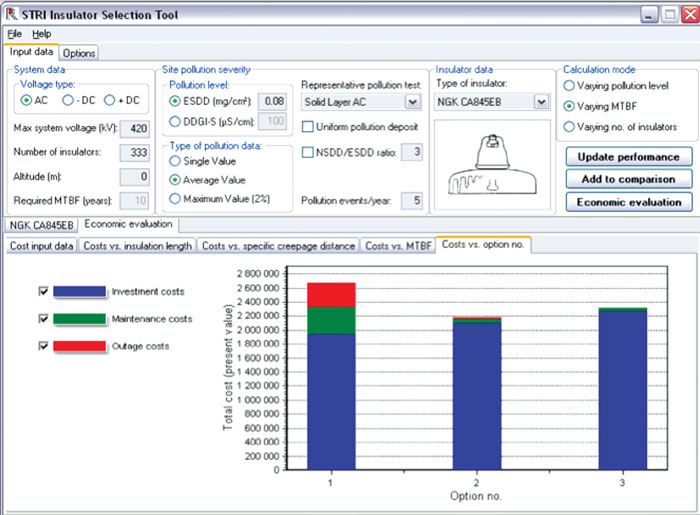 • Information about pollution severity on an insulator can be obtained by recording the highest peak current during a given time interval. This parameter can be related to the risk for pollution flashover.
• The number of leakage current pulses (surges) exceeding a set threshold level can be recorded for a certain period of time. The number of pulses, as well as their amplitudes, increases when approaching the final stage of pollution flashover.
• Accumulated charge measurements are performed in the same way as the leakage current measurement, but instead of presenting values for highest peaks, the signal is integrated to represent charge. This parameter is more related to the ageing process of the insulator surface.
Through the years, many pollution monitors based on leakage current measurements have been developed. During this development the reserchers made a way from simple surge counters to the most advanced multi-channel devices often provided with integrated meteorological stations. Example of such device installed in South Africa and Norway is shown in Fig. 3-1. It allows for continuous sampling of leakage currents on 9 energised insulators and is designed to record peak currents (positive and negative), average currents (positive and negative), RMS currents, accumulated charge and energy loss. The standard system includes an integrated weather station for recording wind speed and wind direction, humidity, rainfall, temperature and UV-B radiation. All the sampled values are saved at a user-defined interval, typically every 30 minutes, and recorded data is retrieved using a serial port, which also is used to configure the instrument.

Using advanced devices shown above, the researchers obtained huge volumes of leakage current and corresponding weather data, which were primarily used to understand the physics of the pollution flashover process on different types of insulators. This was not trivial and sometimes required special mathematical approach. For example, the so-called Multivariate Analysis (MVA) has been used to study a set of variables. MVA methods are appropriate for analysis of data structured on many variables, among which many are intercorrelated. The selected MVA software was successfully tested in an ageing- and a pollution performance study performed for seven insulators that are being exposed at Kelso test station in South Africa and Dungeness test station in UK. Example of the application of MVA is shown in Fig. 3-2. A classical coastal pollution event is characterized by strong wind from the sea followed by some kind of wetting, however, as shown in Fig. 3-2 for silicone rubber insulator, high humidity is not enough to lead to high current and some additional wetting in the form of light rain is a must (positive factors during different pollution events should be analyzed). This mathematical conclusion is supported by the recording of typical pollution event at silicone rubber insulator. Other examples of application of MVA analysis are shown in Fig. 3-3.

The sensitivity of the MVA method may be fantastic. For example, during the pre-pollution phase of the pollution event at Dungeness test station (South coast of Great Britain) the salt is transported from the sea by strong wind. As it is shown schematically in Figure 3‑3, the most dangerous wind direction associated with the four most severe pollution events (leading to the highest currents) has an angle of between 0-20 degrees to the shore line, i.e. it is not perpendicular to it. This effect is probably caused by the small sand wall which protects the test site from the sea from this direction. The description of the pollution event at Kelso test station (Indian Ocean coast of South Africa close to Durban) is slightly different to that described for Dungeness. This is due to the difference in the environmental conditions. During the pre-pollution phase at Kelso the salt is transported not only from the sea, but also from the land (wind is almost parallel to the land line), see Figure 3‑3 showing the wind direction during pollution events on line composite insulators. This wind pattern associated with pollution events is very typical for this specific area. These winds can be identified as a sea breeze. According to local meteorological specialists, "because the sea breezes adjust to the Coriolis force, as they strengthen during the day, they are deflected to become north-easterly winds along the Natal province coast" this is exactly what can be seen in Figure 3‑3.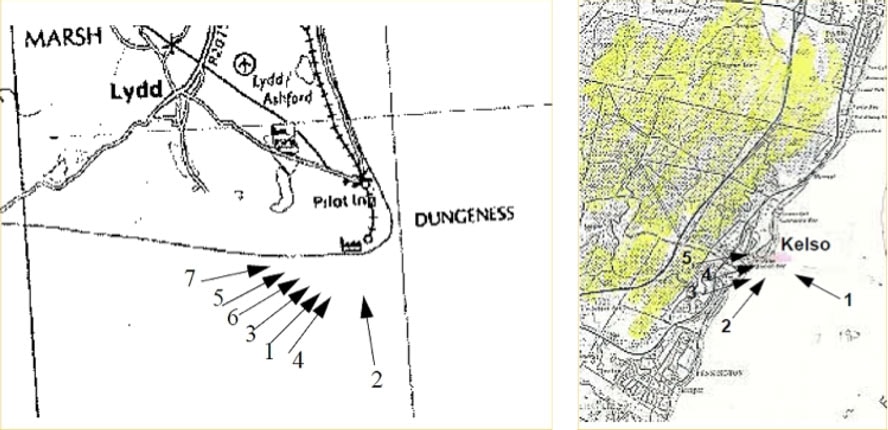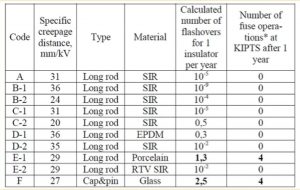 Another application to convert leakage current data in practical analysis would be its conversion into pollution flashover performance curves. This approach was tested using IST program and 10 principally different (in material and profile) insulators from Koeberg Insulator Pollution Test Station (Atlantic Ocean coast of South Africa close to Cape Town). The results were quite reasonable in outage rate in comparison with actual field experience (number of blown fuses), see Figure 3‑4. The results of field station testing can then be used to expand the level of the obtained answer from simple "go/not go" to the estimation of the pollution flashover performance of the complete line located in the same area and equipped by the insulators in question.
However, at present, a need for advanced and complicated "research" systems for leakage current monitoring is reduced and many companies are looking instead for simple and robust systems for just pollution monitoring and warning. This is because many power companies are involved at present in uprating and upgrading of existing overhead lines, which requires more accurate evaluation of pollution levels. Attempts to use the same described above systems in this sense failed, because they are too expensive and needs a proper maintenance minimum once per year, also communication problems were typically observed in many of applications. Thus, single-channel (for only peak current) systems applicable at both overhead lines and substations are required and are under active development at present. The idea is to cover with these inexpensive and reliable devices larger areas ensuring data collection and transfer via Internet. Examples of a couple of such devices are presented in Fig. 3-5.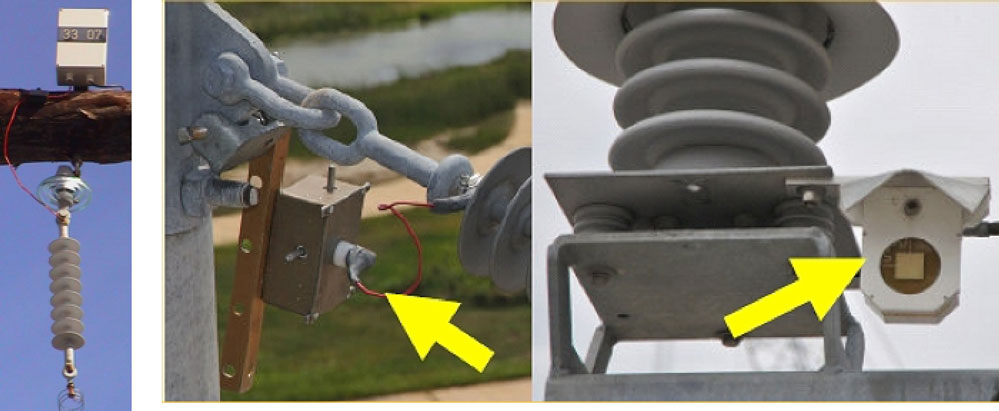 1 Specific Techniques for Composite Insulators
Experience with specific diagnostic techniques for composite insulators are described with practical examples from the field and laboratory investigations. These include:
• Hydrophobicity
• Hydrophobicity Transfer (Localized ESDD)
• Rapid Flashover Procedure to obtain dielectric strength of naturally polluted insulators.
Hydrophobicity measurements are trivial at present, are performed according to the IEC TS 62073, and thus are not discussed in detail in this paper. Two other methods are discussed below.
Hydrophobicity Transfer (Localized ESDD)
Hydrophobicity transfer (HT) is a measure of the ability to recover the hydrophobicity of the material (e.g. silicone rubber). This is done by the diffusion of Low Molecular Weight (LMW) silicones through the pollution layer to the surface and encapsulation of pollution particles including salt. Even if the polluted surface appears to be hydrophilic at the top, part of the pollution layer is penetrated by LMW silicones and the effective resistance has been increased. The HT is defined as:

where ASDD is the so-called Apparent Salt Deposit Density (or Localized ESDD). Both ESDD and ASDD are measured with a small cell filled with de-ionized water where the bottom is the surface of the polluted insulator. ASDD is measured initially as current through the cell when the encapsulated pollution has not yet dissolved. After 5 minutes or when the current level has stabilized the bottom surface of the cell is scraped with a glass rod whereby the encapsulated pollution is set free. This measure is taken as ESDD. The measuring cell can be slightly different as illustrated in Fig. 4-1.

This measurement gives a good indication on ability for composite insulator to recover in different environments. As an example a compilation of HT values and their spread of different AC and DC composite (silicone rubber) insulators is presented in Fig. 4-2 (high HT is > 0.5).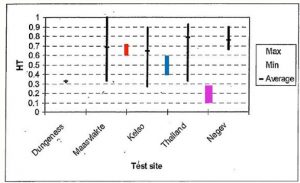 Rapid Flashover Procedure to Obtain Dielectric Strength of Naturally Polluted Insulators
Because very few insulators with natural contamination are normally available from service, it would be extremely time consuming to use the standard procedure of "up-and-down" test to obtain flashover voltage. Thus, the so-called Rapid Clean Fog test method can be used instead. An advantage of the Rapid Clean Fog procedure is that it is directly applicable to both naturally and artificially polluted insulators (STRI and Sediver have performed the first round robin test on cap-and-pin insulators, results to be published next year). The insulator is tested by the consecutive application of voltages, until the minimum withstand voltage at the curve of U-shape is obtained. The flashover levels generally decrease to a minimum before resistance of the insulator starts to increase due to the washing effect, and the minimum level of voltage obtained is considered to represent U50%. Consequently, only one test is required per insulator, pollution level, and degree of hydrophobicity. This method is included in CIGRE Brochure 481 (issued very recently in December 2011) and was successfully applied at STRI for tests of the following insulators:
• AC porcelain support with industrial pollution
• DC glass cap-and-pin with light inland pollution
• DC composite with light marine pollution
• DC composite with light inland pollution
• AC composite circuit breakers with heavy industrial/marine pollution
This method can be applied to create pollution performance curves to be used in IST program, which was done for e.g. insulators replaced from Skagerrak and Cabora Bassa DC overhead lines. This method can also be used to quantify the ability of a composite insulator to recover its hydrophobicity. At present this methods are under consideration of a new CIGRE working group D1.44 "Testing of naturally polluted insulators". Excellent repeatability of the discussed test is illustrated by the results for two different naturally polluted insulators in Fig. 4-3.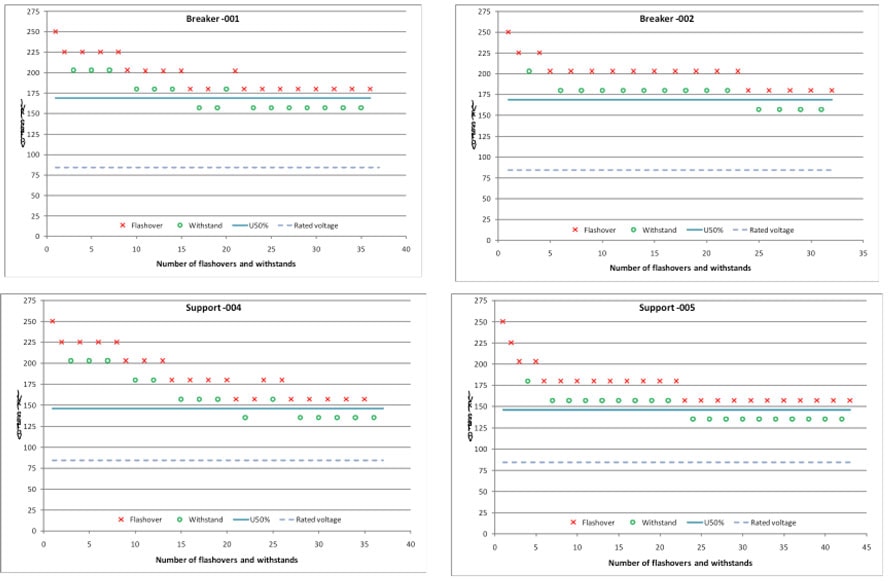 Summary
Recently issued IEC 60815-1 requires accurate site severity evaluation performed during minimum one year to choose the maximum stress level and corresponding Site Pollution Severity (SPS) class.  Such process can be defined as pollution monitoring. This is a starting point in the process of selection and dimensioning of outdoor insulation intended for the operation in polluted areas. Although rather advanced software program Insulator Selection Tool following the dimensioning process of the IEC 60815 is available at present and was thoroughly verified using service experience, the input data for this program created by pollution monitoring is crucial. This paper contributes with evaluation of the latest trends in pollution monitoring and among them the following is highlighted:
• Expanded application of more simple, robust and reliable devices (dust deposit gauges and single-channel leakage current sensors)
• Novel, not standardized yet, methods taking into account specific features of new types of insulators (hydrophobicity transfer/localized ESDD for composite insulators)
• "Smart" and time- and cost-effective methods to obtain flashover voltage of naturally polluted insulators, when only few test objects are available (rapid procedures). Also to be standardized in the future
• Further development of existing specialized software programs towards its final implementation in power companies (thus a combination of technical and economical issues in one program).
NOTE: Part 2 will appear in next week's INMR WEEKLY TECHNICAL REVIEW