Market demand for hollow core composite insulators, long mired below industry expectations, started along a path of exponential growth about 15 years ago. Part of the reason for this was greater knowledge among end users of the benefits of this technology, particularly safety in the event of explosive failure. Another decisive factor has been a greatly expanded supplier base that includes large-scale production sites in Europe as well as China. Presently, this technology is estimated to account for about 30 percent of the total hollow insulator market versus only about half that proportion as little as five years ago. By 2028, these insulators are forecast to be on an equal footing with porcelain in terms of market share for apparatus insulators. Indeed, certain applications such as dead tank breakers and HVDC bushings have undergone a rapid transition in technology and are becoming dominated by composite insulators.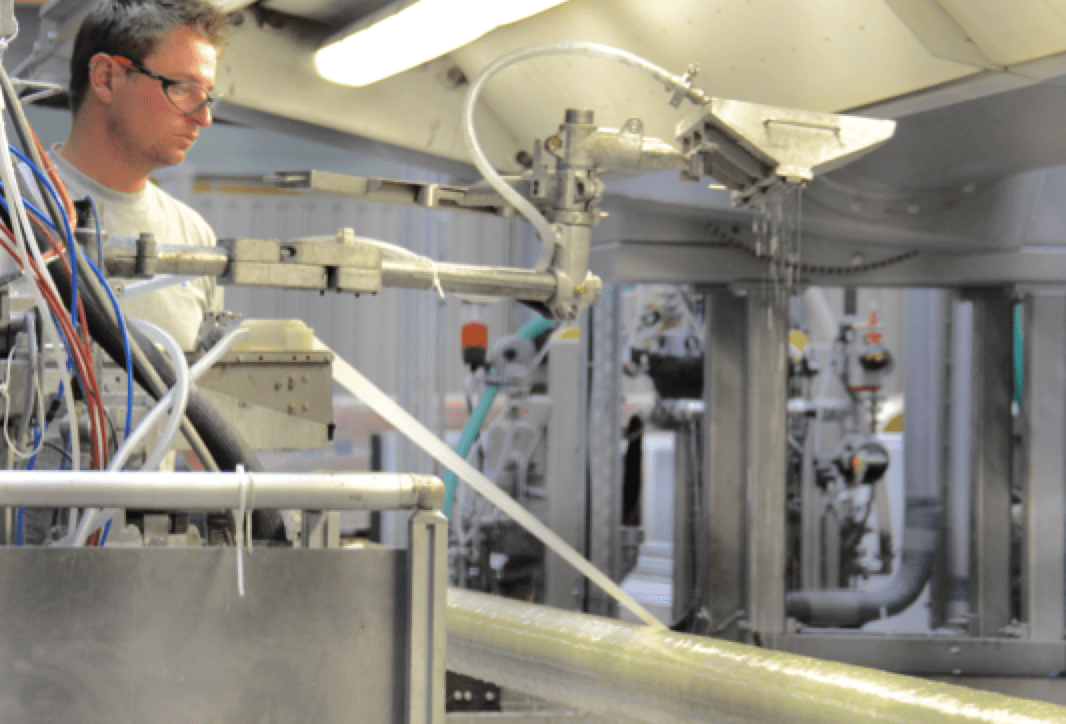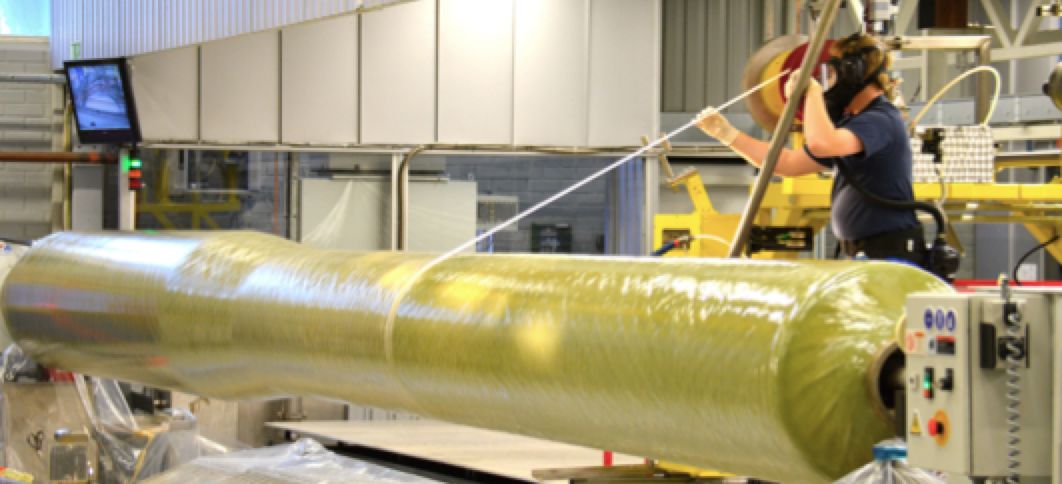 One of the most challenging elements in mastering the production technology behind hollow composite insulators involves the tube, which must perform well both electrically and mechanically. Production of FRP tubes involves a wet filament winding process whereby electrical grade glass fibers pass through an epoxy resin bath before being wound onto polished steel mandrels in precisely defined winding angles. Based on these angles and thickness of winding, a tube can be designed to meet virtually any end user specification in regard to inner pressure as well as bending and torsional loads. Tubes are offered in lengths of 15 m or longer, either as single or jointed pieces, with typical inside diameters that vary from 28 mm to 1 m or more.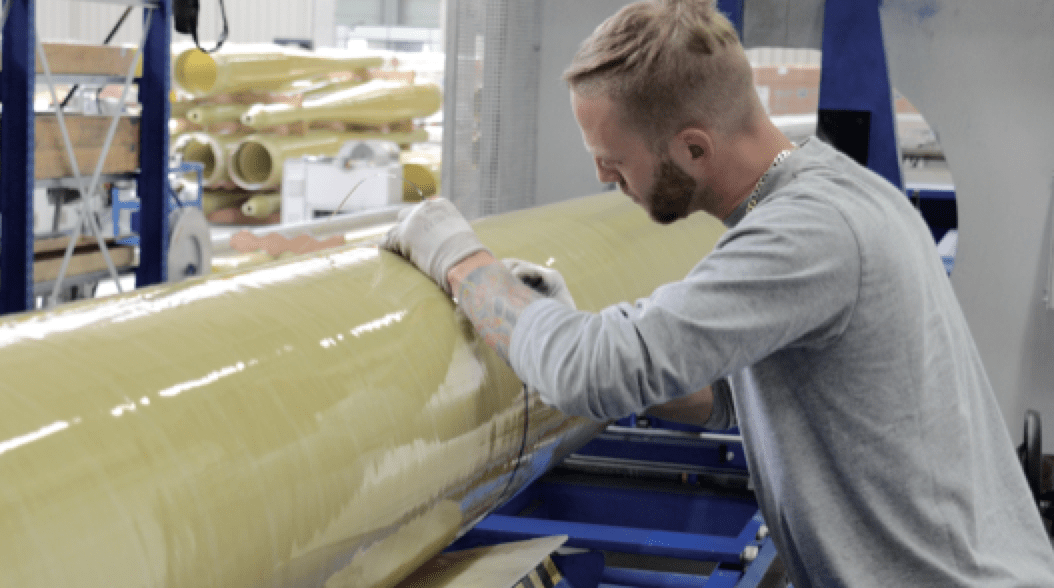 Different resin systems can be used depending on the application's glass transition requirement, i.e. the temperature at which the tube will start to lose mechanical integrity due to heat. Examples of typical Tg values include 128°C and 156°C and even up to 192°C, with higher Tg permitting increased current through the insulator, e.g. from 3000 to 4000A, as dictated by specialized requirements such as wind power generation. A single centralized resin processing system generally mixes and de-airs the epoxy materials and supplies these to the various tube-winding machines versus being produced at each machine. Strict environmental control, even from tiny insects, is a key concern during winding to avoid any risk of contaminants finding their way into a tube. After winding, tubes are cured in adjoining ovens. They are then machined to accommodate assembly of flanges. To guarantee no contamination will be present, some suppliers even peel off the outer layer of each tube just before start of the critical molding process. Once the outer layer has been removed to yield a fresh surface with no cut fibers, tubes are treated in climate-controlled chambers where primer is applied to ensure optimal bonding with the silicone housing.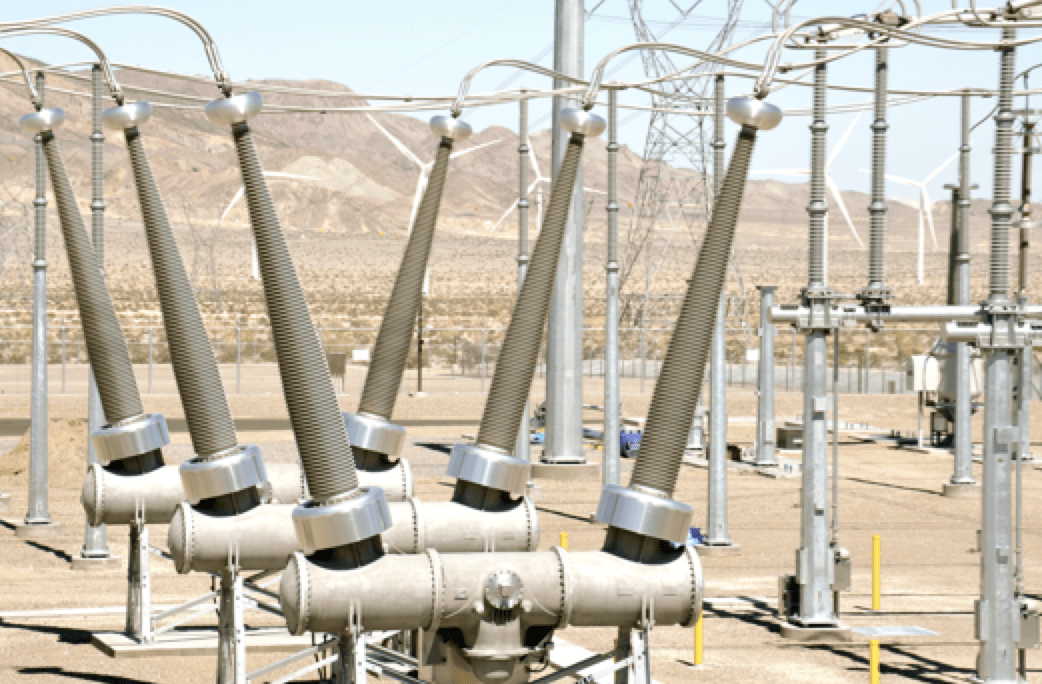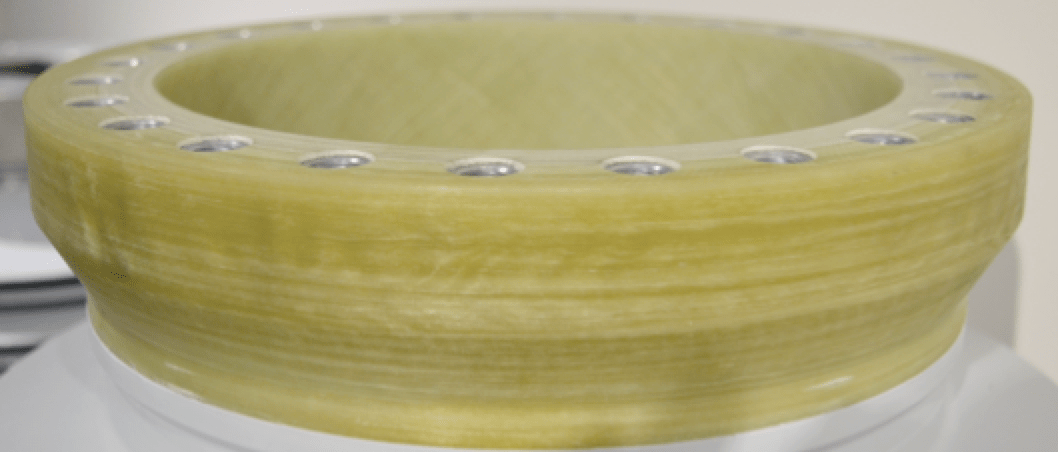 In recent years, conically shaped composite insulators have found a ready market among certain manufacturers of bushings for breakers. While not offering much reduction in tube materials or winding machine time, these do provide economies in terms of faster mold filling and less need for silicone housing material. There are also savings due to smaller top flanges as well as up to 40 percent lower requirement for internal SF6 gas, which in some countries is now taxed by volume. They also help increase phase-to-phase distances, allowing more compaction of equipment.
The gluing operation for aluminum flanges is considered a core technology in this sector and highly sensitive. Essentially, flanges are cleaned ultrasonically in a special bath after which they are heated and attached to the tube using a shrink fit process. The tube is then subjected to a series of routine tests to measure bending and tightness as well as internal pressure performance. One development has been replacing aluminum flanges with ones shaped directly from the tube's resin material to increase effective arcing distance and eliminate Foucault currents linked to high magnetic field. Non-metallic flanges offer somewhat lower mechanical strength than aluminum flanges and are more suited for the top, which experiences lower mechanical loads.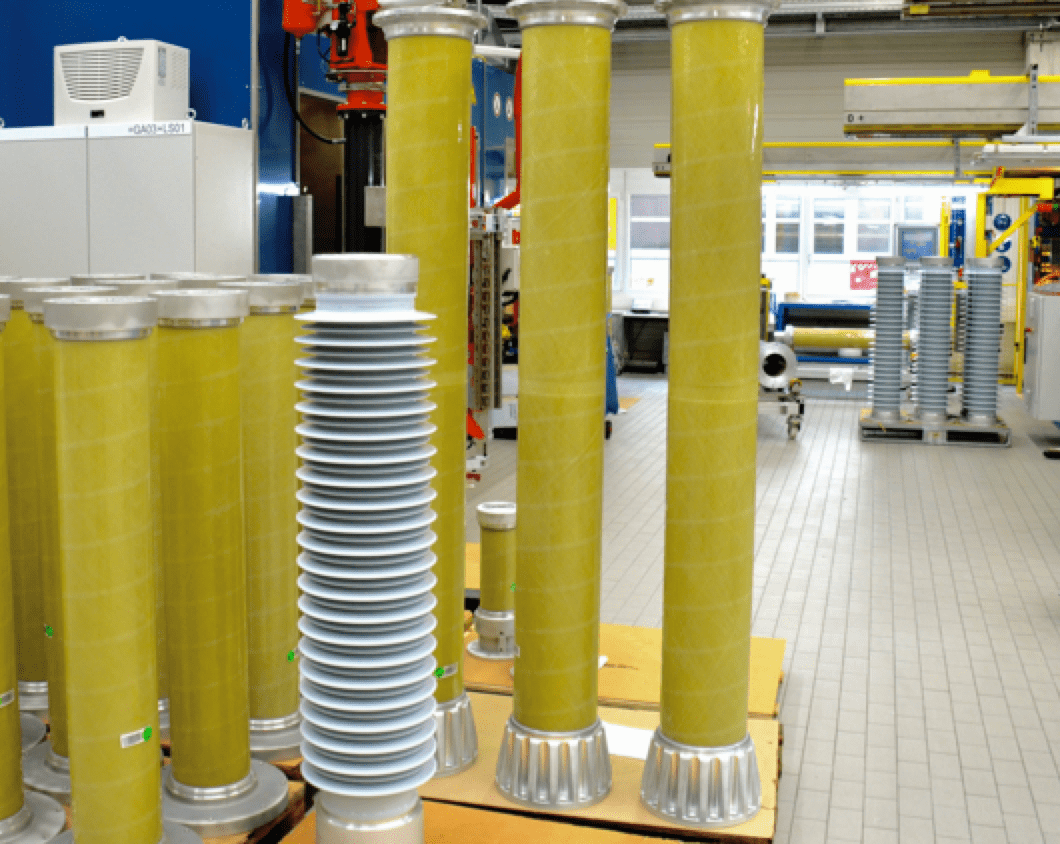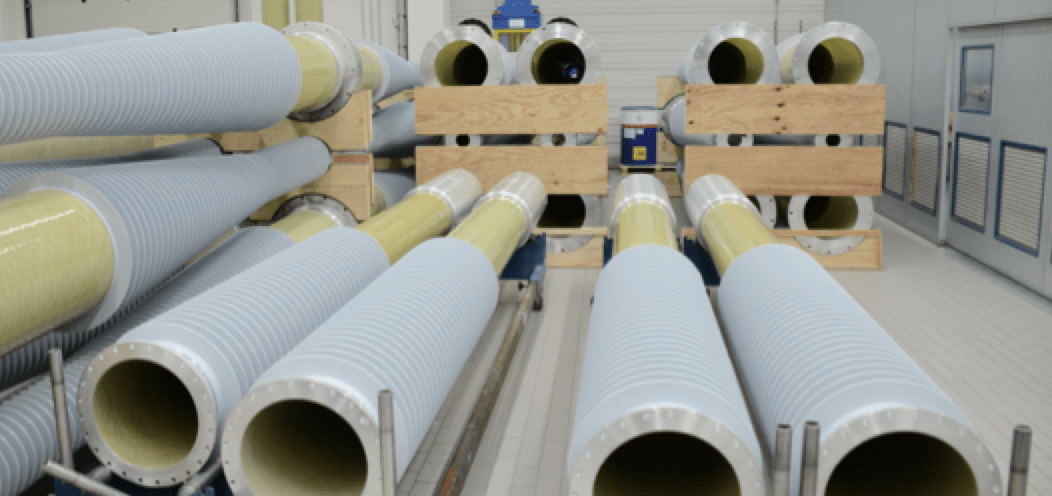 The tubes with flanges attached are then transferred to the final production steps, which begin with application of a chemical primer in special chambers. This is done to ensure maximum bond between silicone rubber housing and tube. Silicone rubber permits water vapor to diffuse through so if there is not a perfect bond of the silicone to the tube, moisture can become trapped beneath the housing and condense. The resulting small partial discharge activity may not cause immediate failure but can eventually erode through and reduce lifetime of the insulator.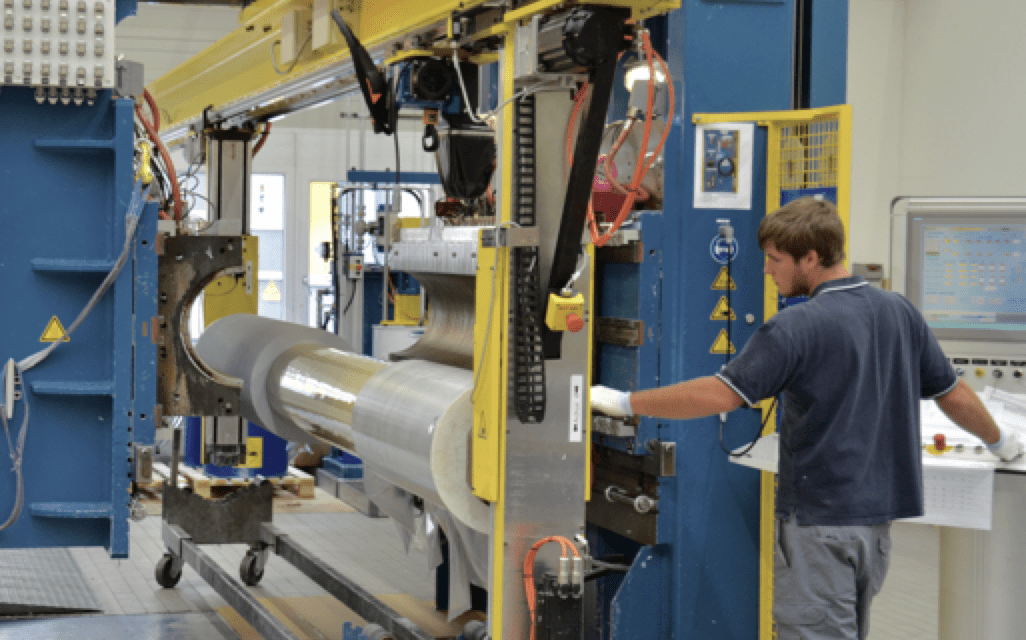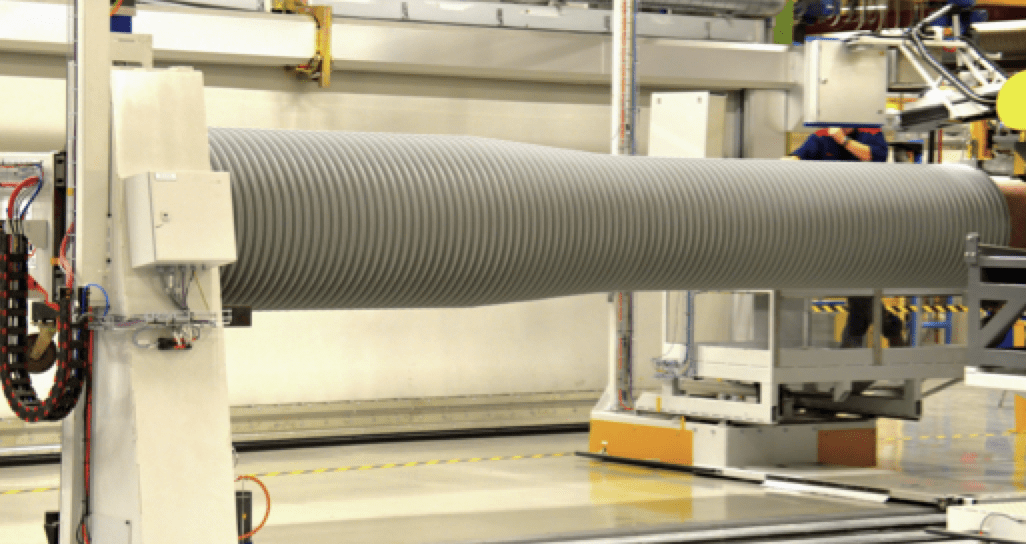 Molding a silicone rubber housing onto the tube is accomplished using a variety of alternative technologies. In the case of insulators with LSR housings, for example, this can be done in a series of low- pressure injection shots onto the primed tube. Insulators up to 220 kV and sometimes higher can be molded in a single such cycle while two or more injection shots are typically needed for higher voltages. A totally different methodology, developed years ago in Germany, sees LSR sheds cast individually on a special machine that moves slowly up the height of the vertically positioned tube as each successive shed has been completed. This process means there is no parting line along the insulator's length and shed inclinations can be designed that could not work easily using injection molding due to the difficulty in removing such a piece from the mold.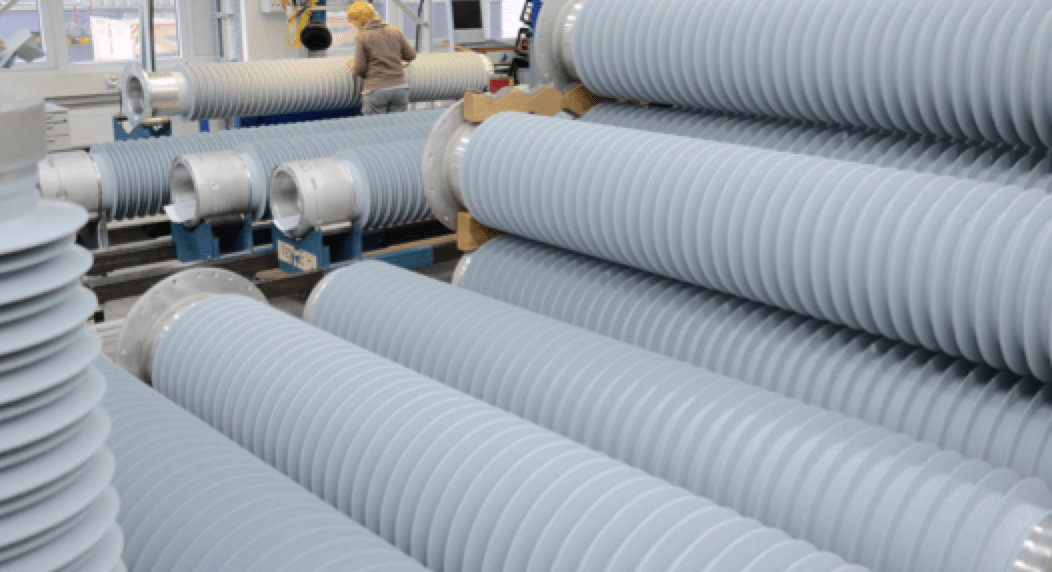 Yet another molding technology, applicable only for viscous HTV silicone material, involves a helical extrusion process that sees the rubber material molded directly onto the tube surface, shed-by-shed, using a special tool. Unlike injecting the silicone material into cavities of a long mold, thereby allowing many sheds to be completed simultaneously, extrusion sees each shed molded on in a continuous cycle. Great effort is therefore devoted to make this step run as efficiently as possible to avoid production bottlenecks. Each extrusion tool is unique to the specific shed profile desired and can be used for any diameter or shape of tube. Among the advantages of this process versus classical injection molding is that there is no need to order expensive molds to achieve different insulator geometries. Another is that tooling does not have to be changed to accommodate conically shaped insulators. This gives more freedom in designing unusual items, such as tapered station posts. A further advantage is that there is no parting line caused when the mold inside an injection machine opens to allow removal of the object. This means a seamless housing across the insulator's full length – seen by some as advantageous to minimize risk of moisture ingress through seams and joints as a unit ages. Perhaps the ultimate benefit of this molding technology lies in being able to easily produce housings with smooth sheds tips having relatively large radius, so that water drips off instead of creeping underneath. Such a 'drip edge' not only increases tear strength but, more importantly, also minimizes electric field and risk of flashover.
Experts in composite insulators still debate the relative merits of LSR material versus the more viscous but less costly HTV silicone. Users typically show no consistent preference for one or the other. But some take the view that, since LSR has higher silicone rubber content, this will mean faster recovery in cases where hydrophobicity is temporarily lost. Another issue is that HTV sheds risk becoming brittle due to their higher filler content.