Under the aegis of the GCC Interconnection Authority (GCCIA), members of the Gulf Co-operation Council, including Kuwait, Bahrain, Qatar, the United Arab Emirates, Oman and Saudi Arabia as host, undertook an ambitious project to link their electrical systems. This was achieved through an energy highway consisting of a back-to-back HDVC system as well as a converter station that facilitates exchange of power between Saudi Arabia, which operates at 60 Hz, and the five other states that operate at 50 Hz. The interconnection was intended to promote regional energy security and also to allow power trade among members.
In 2013, insulation specialist & INMR Contributor, Raouf Znaidi, traveled to Saudi Arabia to visit the Arab world's first 1800 MW converter station (see article 400 kV Supergrid with Modular HVDC System Interconnects Countries of Arabian Gulf). Recently, he went there again and in this article reports on GCCIA's maintenance strategy, based largely on the CIGRE technical approach as well as application of unmanned aerial vehicle (UAV) technology. The goal is to assure reliability and stability of all interconnected systems while also optimizing related maintenance costs.
---
Introduction
The backbone of the interconnected national systems of the GCC is a double circuit 400 kV (50 Hz) line consisting of 1750 towers and 8 linked substations. The line runs 900 km south from Kuwait and through Saudi Arabia to Bahrain using a pair of 400 kV submarine cables. It continues to Qatar, the UAE and Oman. Service conditions of this line and indeed most of the interconnected systems are severe, with continuous exposure to a harsh desert climate combined with extensive maritime pollution. There are also pockets of heavy industrial and petrochemical activity. Ambient temperatures in the region often exceed 56°C during summer while relative humidity can sometimes climb to 100% due to fluctuations of 25°C between day and night. This leads to frequent early morning dew – one the catalysts of the classical pollution flashover mechanism.

Because the 400 kV overhead lines run past sand dunes and salt lakes, they were designed to be over-insulated. For example, suspension towers are equipped with double anti-pollution 'V' strings consisting of 43 RTV-coated 120 kN porcelain or glass discs. Tension towers feature strings of 37 coated 222 kN discs. This corresponds to a unified specific creepage distance of as high as 87 mm for suspension insulators, in accordance with IEC 60815/TS (see Table 1).
Global Maintenance Strategy
Mohamed Al-Shaikh is GCCIA's Chief Network Officer and also serves as Chairman of GCC's Asset Management Committee. He states that since commissioning of the backbone in 2009, the strategy has been to secure the interconnector as the primary means to regional energy security. Shaikh explains that GCCIA's role in enhancing member reliability and system stability is then achieved largely by responding quickly and appropriately to any incidents on the interconnected grids. The goal is to ensure no adverse impact on power being supplied to any member state.
"In formulating our operational and maintenance policy for the interconnector," says Shaikh, "we adopted a strategy that adheres to common international practices as well as guidelines published by CIGRE. Moreover, close co-operation between member states and the GCCIA helps assure that any periodic incidents do not spiral into serious outages."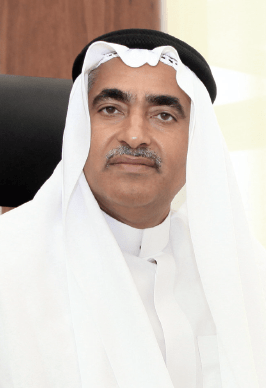 According to Al-Shaikh, one of the main elements of the maintenance strategy has been aerial inspection using UAV technology. This was done in partnership with the Saudi subsidiary of Omexom – a power industry group that offers a range of support services to the sector.
In addition, there has been co-operation with leading organizations in implementation of predictive maintenance tools. The basic approach in this regard has dealt with diagnostics and scientific selection of suitable insulator types and designs and is based largely on the latest CIGRE Technical Brochures. It has also included construction of the GCC's first naturally polluted energized test station. Facilities such as this, says Shaikh, have proven among the most cost-effective ways to compare the relative performance of different insulator designs and materials under actual pollution conditions. They are also considered one of the best predictive tools to alert technical staff in charge of maintenance of lines and substations whenever critical pollution levels are reached at given sites.
The new Pilot Test Station monitors critical pollution accumulation on different candidate insulator types while recording all main weather parameters. This information is then shared with all the GCC power supply companies. In fact, Shaikh foresees that this natural open-air laboratory can eventually serve the needs of the entire Middle East and North Africa region for insulator pre-qualification by users as well as suppliers.
Apart from the test station, the GCCIA has embraced drone technology as a tool toward safe power line inspection while also optimizing related costs. For example, Shaikh notes that field reports have confirmed that a drone piloted by one operator requires no more than 15 minutes for a complete close-up inspection of a tower, including birds-eye zoom. This compares to a minimum of 3 hours and from 4 to  5 linesmen required for an equivalent traditional climbing inspection. Indeed, to pursue its strategy of greater application of UAVs for maintenance purposes, the GCCIA recently awarded Omexom a global package that covers automation and emergency support on some 900 km of double circuit 400 kV lines as well as 8 linked substations.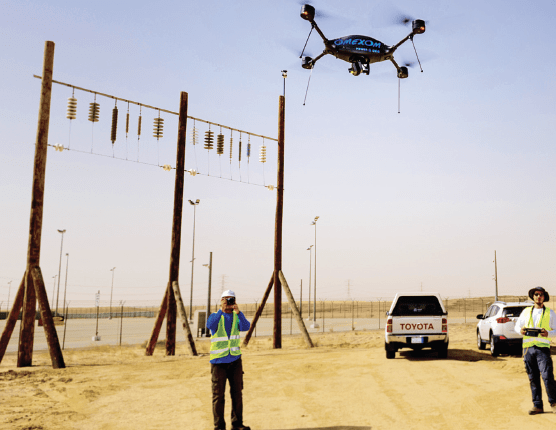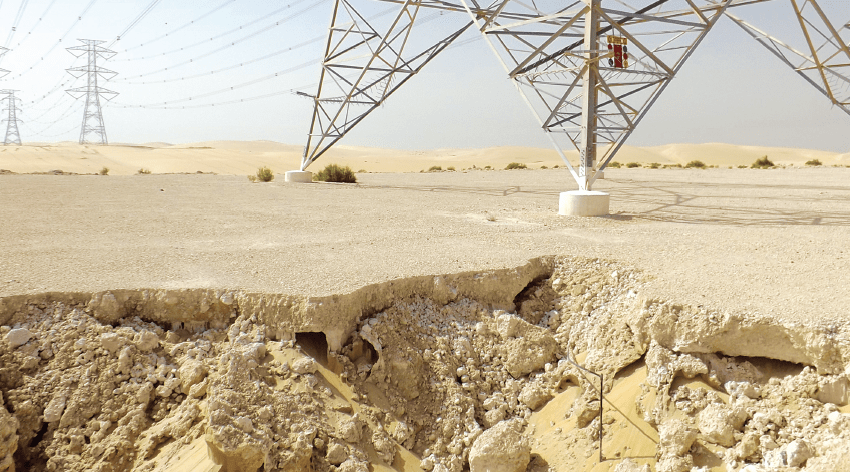 M`Bark Bouchti, Omexom's local Project Director, comments on the challenging service conditions prevailing in Eastern Saudi Arabia where, in addition to the typically severe environment, a large portion of GCCIA's system is exposed to seasonal sandstorms. The mixed grain sizes during these events contribute to more rapid pollution accumulation on affected line and substation insulators and can dramatically impact power system integrity. In particular, RTV coated glass and porcelain line insulators used widely throughout this grid are generally considered a weak link in the overhead network given their varying performance under conditions of early morning dew, high humidity and salt spray from the sea.
Moreover, a new and as yet unfamiliar environmental stress is abrupt climate change, as evidenced by sudden torrential rains experienced over the past few years. These have so far been mostly localized and of short duration but have still caused flooding and severe soil erosion near towers erected on the uneven sandy soil. Landslides have even been reported around some structures.
Bouchti reports that these service and environmental constraints have motivated his team to develop a totally mobile application to support more efficient line inspection. The objective is to successively accumulate all requested information and to report in real time on all relevant observations regarding component degradation or failure.
These observations, along with photos provided from the field by inspection teams, are interpreted in the office by a Project Manager. Then, either an Information Note (IN) as the first alarm for a possible failure, or a Warning Note (WN) for urgent or imminent failures, is sent out. GCCIA asset management staff can then make whatever decisions are necessary and plan for appropriate preventive or remedial action.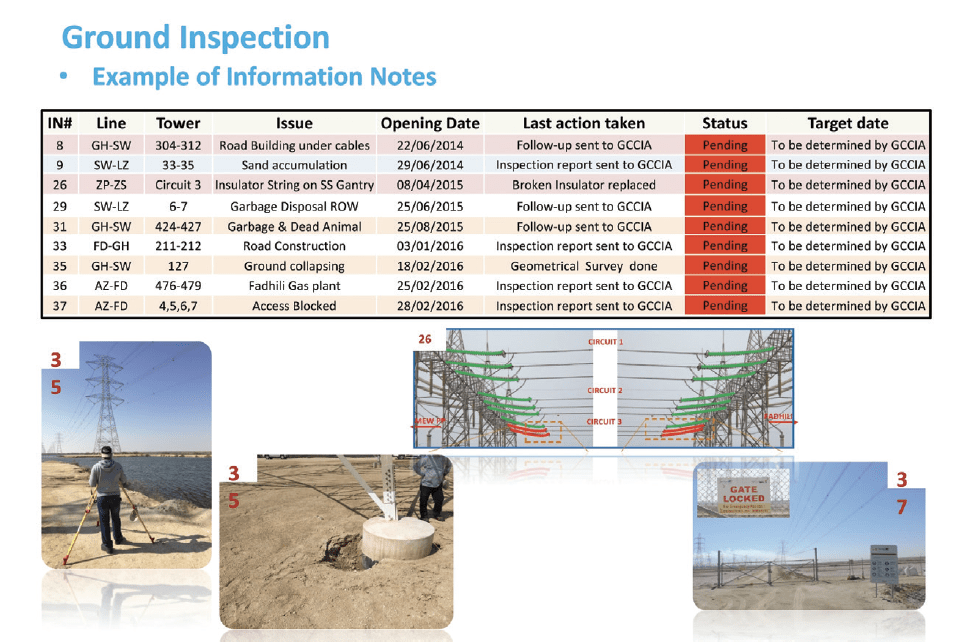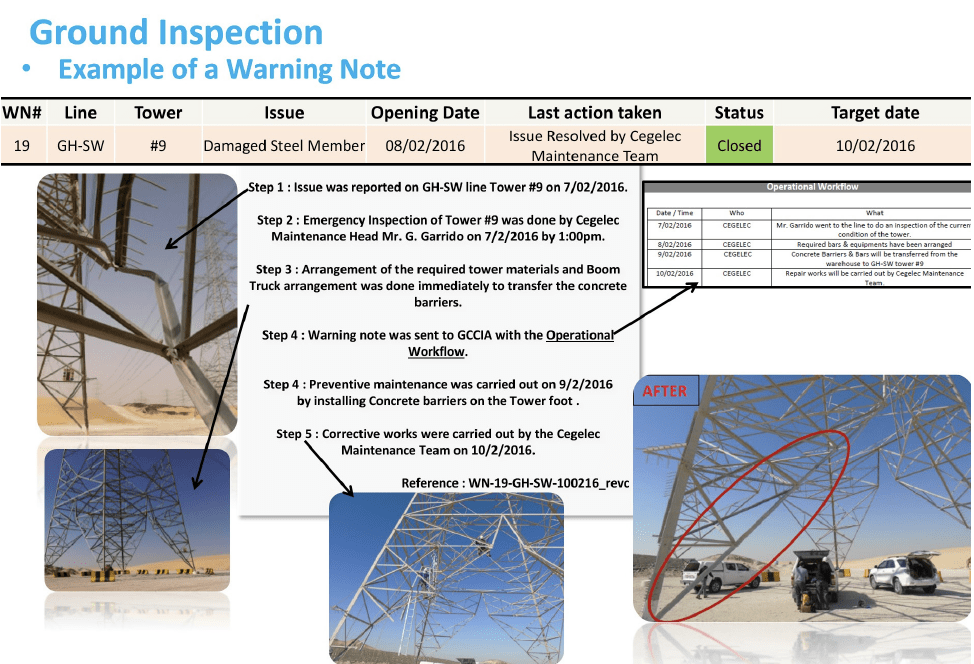 Bouchti explains that, apart from helping to schedule needed line maintenance, these types of notes from the field function much like an expert base-rule system. Analysis of their contents could also include decisions to undertake emergency measures, such as during heavy sand storms that cause tower footings to become buried or create high-risk new dunes. Similarly, unexpected heavy rain can lead to localized flooding or even landslides around towers – a new phenomenon in this region of Saudi Arabia.
Ahmad al-Thagafi, a GCCIA Line & Cable Engineer, currently serves as Coordinator of the group in charge of the new Pilot Test Station. Recently, this working group launched a diagnostic field project focusing on the 400 kV double circuit lines most exposed to the local harsh service conditions in the East. They discovered that, only five years after commissioning, existing insulator types might not have been the most suitable choice under these harsh conditions.
Based on this finding and reviewing the technical approach proposed within CIGRE, the GCCIA has introduced an innovative maintenance procedure. This procedure focuses on estimated site pollution severity, ESDD/NSDD levels, hydrophobicity and measurements of galvanization thickness for different types of insulators. The work is conducted not only on lines but also at the Test Station (see Activities 8 & 10 in Table 2) and relies exclusively on aerial inspection technology based on drones (Activity 9).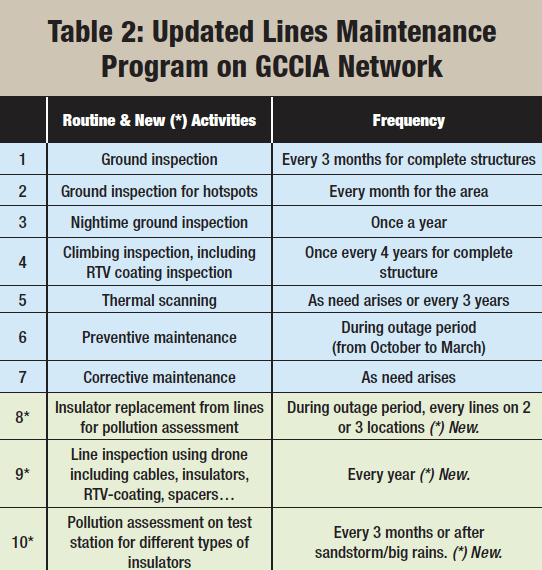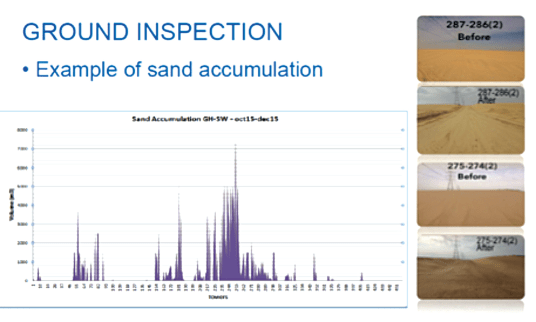 Nicolas Gistau is in charge of OVHL maintenance at Omexom's Saudi office. He emphasizes that even though the GCCIA are satisfied with the maintenance methods and procedures now being implemented, they are working to further enhance and optimize inspection protocols. This will include better predicting rapid sand accumulation to allow more efficient and faster response time, through better co-ordination between inspection staff and the maintenance team. Says Gistau, "this will be achieved through continual improvement in the mobile application. Also, further recommended procedures will be added with a view to help inspection staff collect more accurate information such as higher quality resolution photos of any failed line component. This will allow us to better anticipate and plan for suitable countermeasures or preventive maintenance that fits with the actual situation on the line".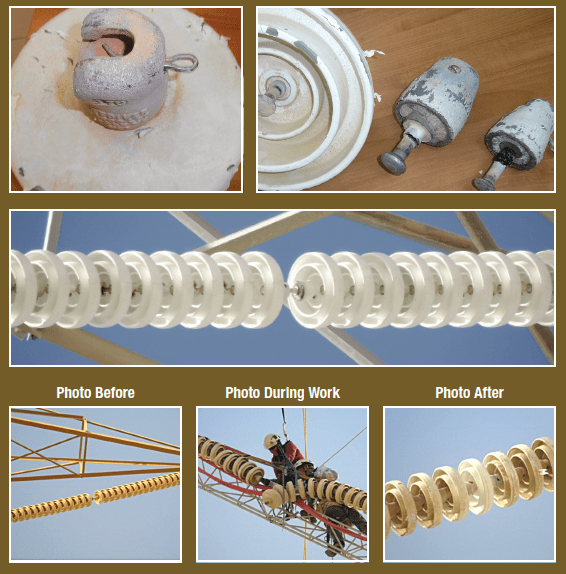 Operating & Maintenance Feedback
GCCIA's double circuit 400 kV system spans hundreds of kilometers from Kuwait southward through Saudi Arabia to the UAE. Gerard Garrido, Omexom's Head of Maintenance emphasizes that the 1770 towers that comprise this network are inspected every three months, including during summer when temperatures routinely exceed 55°C. This constraint means that maintenance workers are often unable to leave their vehicles for any extended period after sunrise. Work therefore starts early to allow as much time as possible for inspection to identify any incipient failures.
The GCCIA network has relied on a policy of over-dimensioned insulation for its double circuit lines. Moreover, coated glass insulators have been applied widely in northern and southern sections (i.e. AZ/FD, SW/LZ & SW/SL) while coated porcelain insulators have been used in middle line sections (i.e. between FD & SW lines). This policy has required greater knowledge of insulator behavior by supervisors and maintenance personnel when it comes to operational concerns such as shattered glass discs and/or localized premature peeling of RTV-coatings. Project Engineers at Omexom report that service experience between 2013 and 2017 showed unexplained shattering of both 127 kN and 222 kN RTV-coated glass insulators. The total number of such failures is in the range of 193 discs and this corresponds to an annual failure rate of 4 and 2.5 shattered discs for each 10,000 installed 120 kN & 222 kN insulators respectively. Normally, this shattering rate should ideally be only about one per 10,000 per year. Moreover, about 1100 discs were found to have unexplained problems of adhesion. For example, serious peeling issues were observed on 120 kN RTV-coated suspension insulators in service on the AZ/FD line section after only 5 years (see Figs. 5, 6, 7, 8, 9 & 10).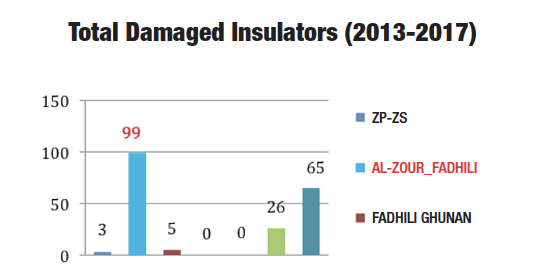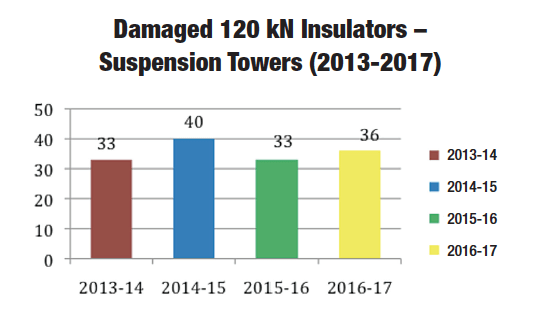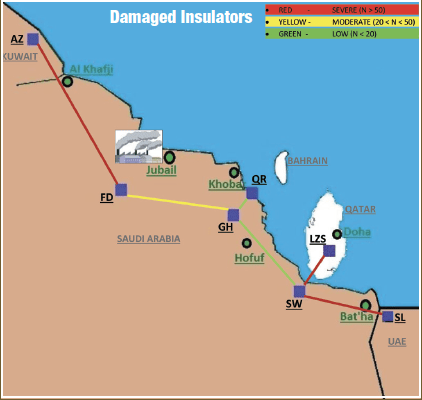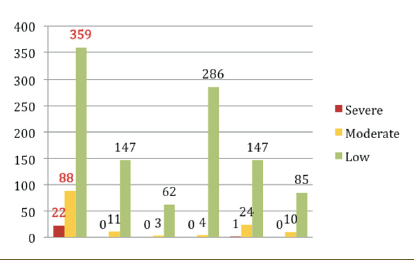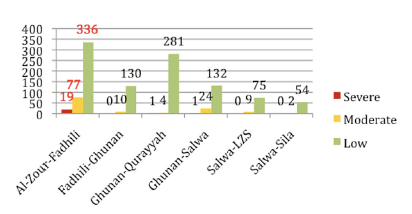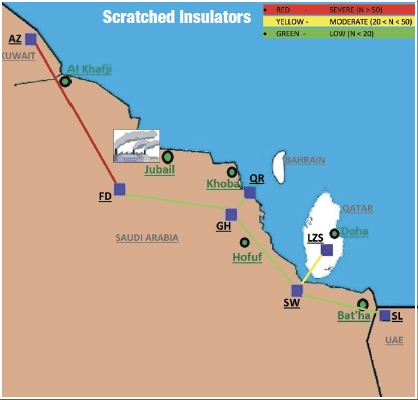 Investigating RTV Coating Failures
Al-Thagafi observes that self-shattering rate can be considered a predictable failure mode for glass insulators and that exceeding the normal rate could be attributed to factors such as sharp temperature fluctuations between days and nights or possible internal impurities in the glass body. However, he was surprised to observe premature damage on RTV-coatings after less than 5 years' service, especially in light of test results from 1000 h salt fog cycles provided by the supplier.
Given this experience, 100 h boiling tests as well as crosscut adhesion tests were performed on samples of naturally aged coated glass insulators. In comparison with newly coated units, these were discovered to display bubbling after 3 days boiling while there was acceptable adhesion after cross cuts on two parts of RTV-coated insulator surfaces. The root cause of such premature degradation has not yet been identified. Still, it is felt that it is mostly chemical and physical factors that affect ageing and consequently coating service life.


However, other contributors could be poor application technique in the field or accidental impacts during handling, installation or maintenance.
A second coating of RTV silicone has been applied to severely deteriorated coated insulators using a local contractor and with the original RTV-coating formulation. This test revealed that such re-application is laborious and costly but without any assurance of longer life expectancy.
Al-Fadhili Energized Insulator Test Station
Al-Thagafi explains that selecting suitable insulators for service in harsh desert environments requires careful review of the impact of conductive  ADpollution on insulator integrity as well as on reliability and maintenance costs of the system. Based on past studies and line diagnostics, the GCCIA has been quick to support construction of an energized, naturally polluted test station. Such facilities are now widely recognized as probably the most realistic and also the most cost-effective tools for monitoring insulator performance. The new GCCIA test station monitors all weather parameters – from UV to temperature to humidity to wind direction and speed – and simultaneously assesses the relative performance of up to 13 different insulator designs under the severe service conditions prevailing in eastern Saudi Arabia. These are then ranked by order of merit in terms of their self-cleaning abilities.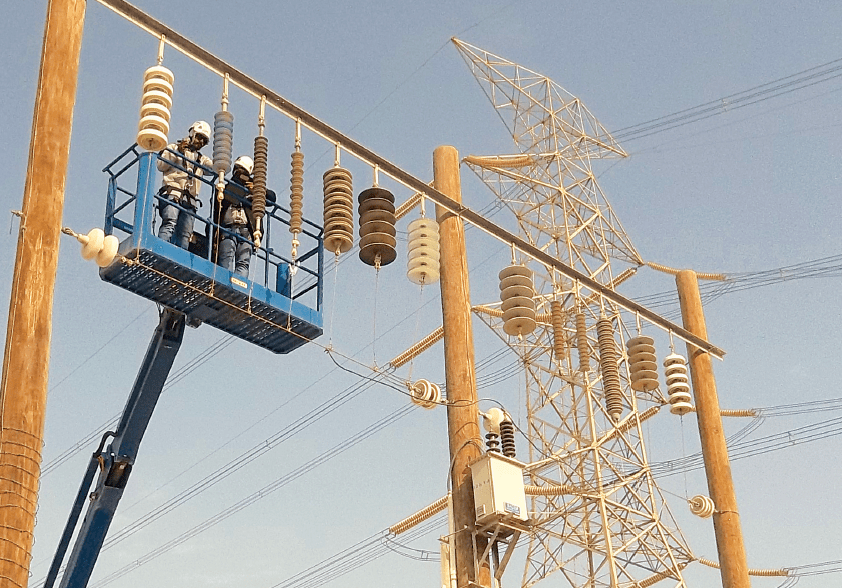 Insulator selection is then based on a range of factors and considers not only results of similar work conducted in places such as Tunisia and Algeria but also co-operation with the R&D and scientific departments of major manufacturers. The different insulator designs and types under test range from silicone insulators (both HTV and LSR) to fully and half RTV-coated aerodynamic glass insulator with different RTV formulations. Uncoated aerodynamic glass as well as long rod and outer rib coated cap & pin porcelain are also installed. Two coated standard porcelain and glass insulator strings serve as reference.
Al-Thagafi notes that the main target of his research is to select the most suitable insulator profiles and materials for service in the GCC region based on several years field diagnostics as well as measurements obtained from this test station. Another benefit, he says, is that analysis of these findings will identify problems such as material degradation, poor design, improper manufacturing and poor adhesion of coatings more quickly and at lower cost than representative laboratory testing.
Original "In Contact" Pollution Measurements
Apart from system voltage, pollution exposure is the dominant design criterion in many regions of the globe and dictates selection of line and substation insulation, including dimensioning of insulator types and profiles as well as length of strings. Given that contaminated insulators present an elevated risk of pollution flashover, the GCCIA has pioneered its own 'in contact' pollution measurement procedure for the 400 kV system and also at the Al-Fadhili Pilot Test Station.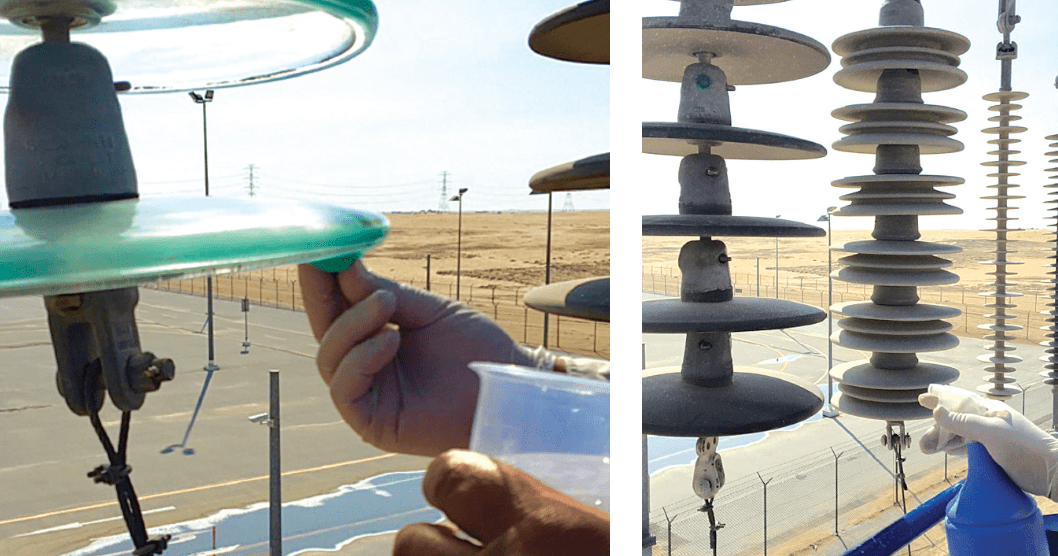 According to Al-Thagafi, this cost effective procedure, performed from a telescopic lift equipped with a large safety platform, has helped optimize pollution measurement. Among the advantages is that there is no risk of pollution loss resulting in more accurate estimation of actual ESDD and NSDD levels. In addition, there is substantial time saving in comparison with traditional techniques that require removing samples from towers, especially during the long hot season. 'In contact' pollution measurement is typically performed following sandstorms, heavy rain and winds or at other intervals judged appropriate to collect maximum pollution accumulation, factoring in any self-cleaning.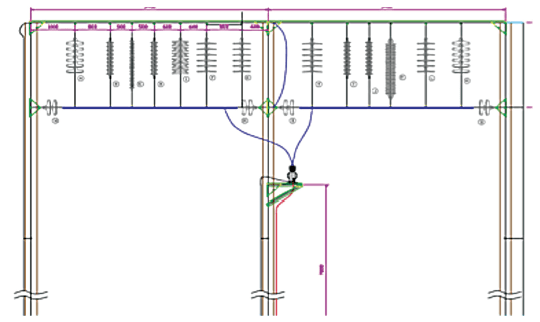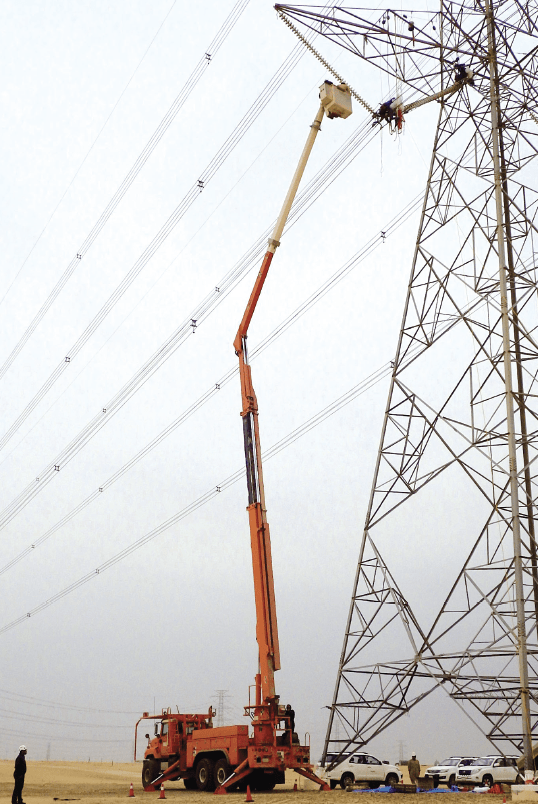 Already there has been some 2 years of regular site pollution severity estimation (ESDD & NSDD) at different locations along double circuit lines as well as four times yearly at the Pilot Test Station. Apart from chemical analysis of both soluble and non-soluble pollution on insulators as well as from soil samples, there is also estimation of hydrophobicity. Members of the group performing this work report that results so far are  promising in terms of being able to rank order of merit of alternative insulator candidates with particular reference to highest ESDD and NSDD levels as well as desert sand granulometry. Chemical analysis of the pollution collected from insulator surfaces after self-cleaning are shown in Tables 3, 4, 5, 6 & 7.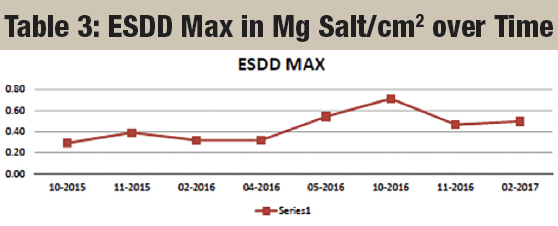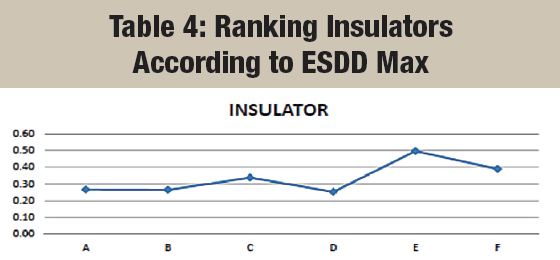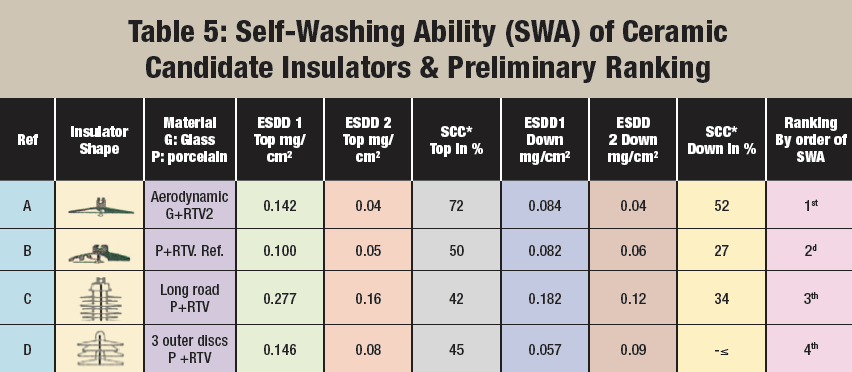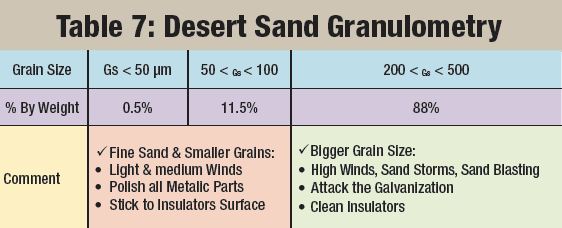 Pollution Map of GCCIA Network
Monitoring weather parameters and build of contamination on lines as well as at the Test Station, with particular reference to a standard U120BL insulator used as reference has provided a database to develop the first pollution map of the GCCIA network. This will now be used for dimensioning insulators for future transmission system projects in the GCC region and could even alert technical staff in charge of line and substation maintenance whenever critical levels of pollution are reached at given sites.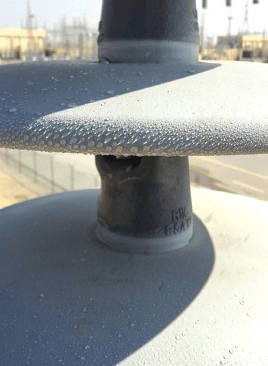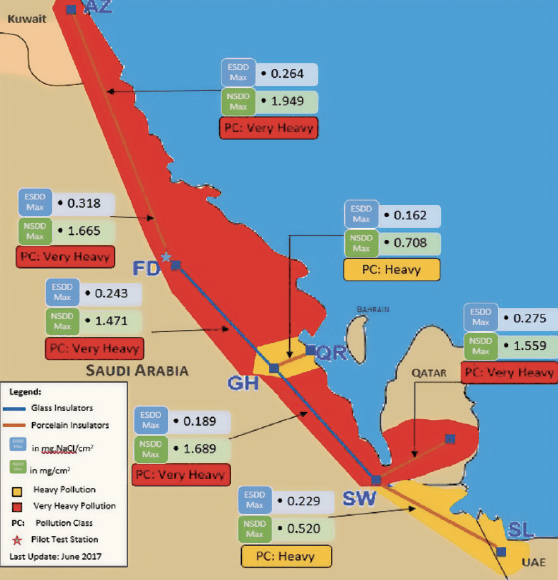 Line Inspection By Drones
Among the top priorities of GCCIA asset management staff is to optimize line inspection and be able to detect any sign of defective components prior to their failure. Says Omexom's Bouchti, "finding inspection methods that are more accurate, more economical and faster than ground-based patrols or climbing inspections is challenging. It is also especially important in our type of harsh service environment. Experience with two types of drones so far has shown significant differences in performance and stability. For example, one drone proved unstable and was out of control and lost somewhere in the desert after only several days. By contrast, the second drone, with its 40 min autonomy, showed better performance and stability."
Michael Naud, drone operator, reports that piloting a drone near live 400 kV structures under windy desert conditions requires a range of skills apart from basic HV system security qualification. These include combined depth perception and close hand-eye coordination. Also, quick reflexes are needed to prevent risk of sudden winds impacting minimum secure standoff distance. Any piloting error or gust can send a drone crashing into a tower.
Comparing drone inspection with traditional climbing inspection, Naud adds that skilled pilots can analyze, in real  time, any suspected incipient failures of line components by zooming in from above and around the tower. Such dead angle views allow precision to inspect even nut and bolts and to obtain helpful photos that might not be visible to other inspection patrols. Table 8 offers a comparison of cost-effective drone inspection versus traditional climbing inspection.

Al-Thagafi and Bouchti expect promising results from aerial inspection at GCCIA, which they say will soon include a model equipped with infrared (IR) as well as UV cameras. In the future, they predict more revolutionary designs that combine GPS with video transmission.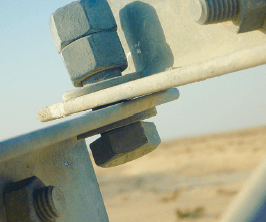 Acknowledgement: INMR & Mr. Znaidi acknowledge and express appreciation to all those who contributed valuable data for this article, in particular members of the Dynamic Working Group: Engineers Al- Ahmad, Tacusalme, Muhanty & Al-Hamoud.