Inter-Continental Transmission: Pipe Dream or Future Reality?
Every two years, people involved in transmission of electricity gather in Paris for the General Session of CIGRE and discuss practical issues covering a range of diverse but related fields. This past August, over 3000experts and decision-makers from within the industry and across nearly 100 countries took part. At the sometime, the associated technical exhibition, which has grown considerably over previous years, allowed delegates to follow progress in services, tools, equipment and materials when it comes to electric power systems.
Issues related to insulators and similar components were discussed during the sessions of Study Committees B2(Overhead Lines) and D1 (Materials & Emerging TestTechniques). The topic of lightning protection and insulation coordination was also covered during the session of StudyCommittee C4 (Power System Technical Performance). For example, a joint paper by Frank Schmuck, Jens Seifert, IgorGutman and Alberto Pigini during B2 reviewed the latest tools for condition assessment of composite insulators.This triggered debate on the maturity and reliability of this technology (see Pigini Commentary on p. 36). While delegates agreed that there have been great improvements in design and performance of these insulators, substantial differences still exist when it comes to views regarding expected performance under polluted conditions.
Pollution performance of line insulators was also discussed within D1, where the effects of desert conditions and the critical role of optimal shed geometry for this environment were both reviewed in depth. It was also pointed out, in this regard, that complex test methods such as the dust cycle method are difficult to standardize and the focus should instead be placed on simpler tests, e.g. the solid layer method.Also the need to standardize a test under conditions of heavy rain was proposed and preparing this will become the task of a newly established working group under Alberto Pigini.
However, what especially captivated my attention (as well asthat of many other participants) was the Session's openingspeech by Liu Zhenya, President of the State Grid Corporationof China. The fact that Mr. Liu was awarded the honor ofdelivering the keynote address was certainly appropriate.The whole world these days seems to be looking toward thegrowing UHVAC and UHVDC power networks in China asmodels for future development in this sector.
Surprisingly, Mr. Liu's presentation did not concentrate on all that has already been achieved. Instead he outlined his bold,if controversial, vision of how better exploitation of global energy resources could be achieved by mega-projects such as a ±1100 kV DC transmission highway linking central Asia and Europe.
Growing energy shortages in densely populated areascombined with the need to finally reverse ongoing dominanceby fossil fuels have triggered new efforts to increase the shareof renewable resources such as wind and solar. Nevertheless,in spite of the growing role of electricity grids in allocatingenergy, balancing supply and demand throughout the worldcannot always be assured. A good example is Europe, whereit is estimated that as much as 70% of the energy consumed by2030 will have to be 'imported'. Among the possible scenariosassumes direct transmission of electric energy from nearbycontinents, e.g. North Africa or the Middle East.
Referring to the fact that the cost-effective distance of a±1100 kV DC line with 11 GW capacity is at least 5000 km,Mr. Liu pointed to Xinjiang in western China, Kazakhstan and even Siberia as all potential sources of electric power that could one day be transmitted to Europe. All these regions have excess energy resources, in both fossil and renewable forms, and the scenario foreseen assumes local electricity production and its transfer via direct or relayed links.Given likely energy shortages after the closure of Germannuclear power plants, Mr. Liu claims that inter-continental transmission offers competitive advantages versus the cost of connecting new wind parks in the North Sea to the country's main grid. (Those looking for more details on this topic can search for the summary at: www.cigre.org.)
This vision certainly seems technically feasible since manufacturers of high voltage equipment are already well advanced in developing the equipment necessary forUHVDC networks. Engineers at ABB, for example, recentlyannounced success in manufacturing and testing a 1100 kVconverter transformer. Special attention is also being devoted to developing new insulation systems, where composite insulators will apparently play a major role. Moreover, newtest sites are being set up to address the need of verifying theperformance of these designs under real service conditions.
However, for Mr. Liu's bold vision to succeed, the main issue may well turn out to be public acceptance as opposed to economics or technical feasibility. Even today, there are concerns in various parts of the world regarding security of supply and environmental impact of energy supplied from outside. In parts of Europe, these types of concerns stemfrom past experience with gas supplied from Russia, wherethe threat of 'closing the valves' presented a potent argumentduring energy related negotiations.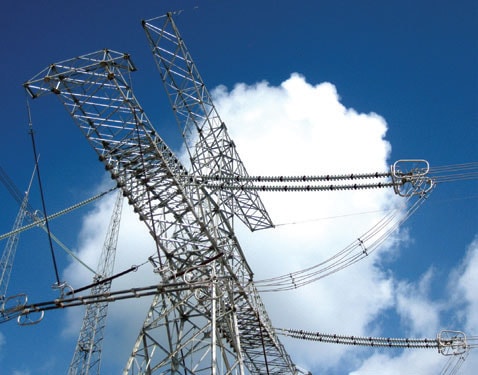 Does Europe have alternative solutions to meets its future energy needs? Perhaps not. But, whatever the answer, long-term regional stability as well as strong trust among international partners will be key prerequisites in order to one day turn the prospect of inter-continental transmission into reality.
Prof. Stanislaw Gubanski
Chalmers University of Technology
stanislaw.gubanski@chalmers.se