Almost everyone has a treasured family album containing vintage photos of parents, relatives and friends. INMR is no exception with its own 'high voltage family' that goes back to its start in 1993. Searching through archives filled with thousands of photos, the images below offer a unique sampling of the people that filled INMR issues during the early years. Many of them have gone on to become the pioneers whose efforts and achievements guided the course of technical progress in power engineering.
---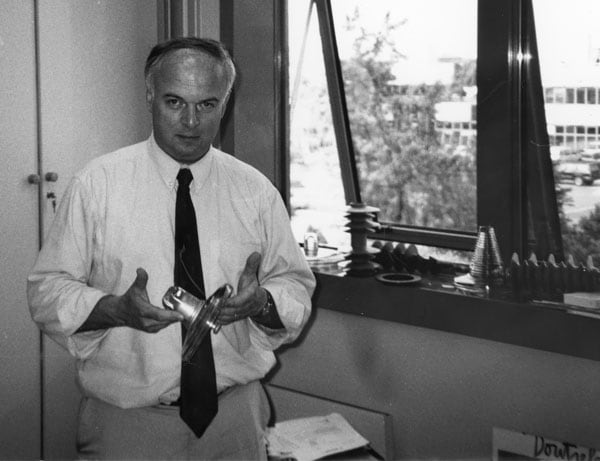 This is actually the very first photo INMR published, appearing in Issue 1 in September-October 1993 and deliberately taken in black & white since the first issues were planned to be only two color. In spite of our being a total newcomer, Dominique Bour, then Marketing Director at Sediver in Paris, accepted to meet me and took INMR on our first factory tour of the huge glass insulator plant in St. Yorre. Neither of us could ever have guessed at the time that INMR would outlive the plant (which closed years ago) and that this same photo would appear 20 years later in our 100th issue. Merci Dominique, wherever you are!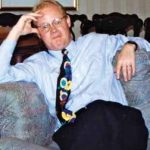 "We have chosen to acquire more factories because we have come to believe that you cannot be a reliable porcelain insulator supplier today while being relatively small-sized."
Anders Bohm, CEO (retired)
Ceram Group Austria June 1993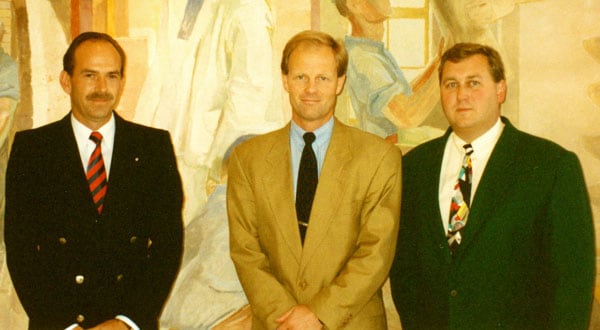 Management at Norsk Teknisk Porselen in Norway (from left: Terje Thomassen, Ketil Thoresen and Rune Johannessen) appeared in Issue 2 when they invited INMR into their plant in Fredrikstad, during the autumn of 1993. NTP management viewed the growing consolidation of insulator manufacturing at the time not so much as a threat but rather an opportunity for them to offer customers an alternative for electrical porcelain and thereby maintain healthy competition.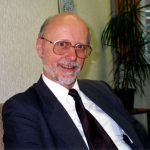 "If you have a material, such as silicone,with a property that is advantageous, it makes no sense to destroy this benefit right before you test it. It would be like striking porcelain with a hammer before testing it."
Fritz, Hammer, Managing Director (retired)
HSP Hochspannungsgeräte Porz, March 1994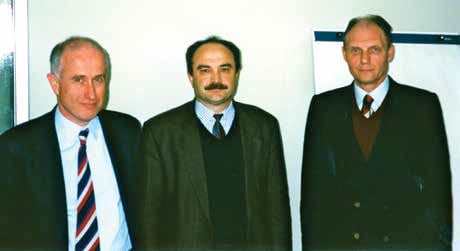 Early in 1994, INMR interviewed the 'fathers' of Italian insulator research through the 1970s and 80s, (from left) ENEL's Adalberto Porrino, Gian Pietro Fini and Giovanni Marrone. In spite of over 20 years' experience with composite insulators in Italy, all were clearly worried about brittle fracture, given recent such problems with locally made PTFE insulators. They therefore proposed a severe new 5000-hour accelerated ageing cycle followed by a special ENEL-developed mechanical test.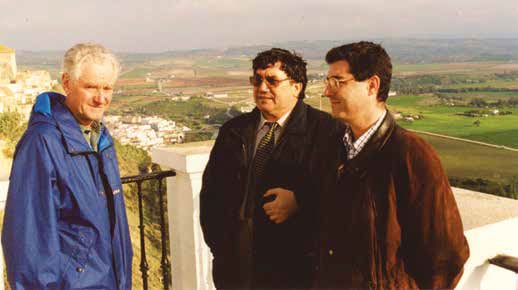 Our beloved Claude de Tourreil stands alongside Martin Portíllo and Jose Maria Cabeza Muñoz of RED Electrica on the ramparts of Arcos de la Frontera, in southern Spain. Together, all were about to conduct a nighttime inspection of silicone insulated 400 kV lines that would see Claude approach the live conductors raised in a bucket and under complete darkness, armed only with his dedication and an early generation UV camera. But that was Claude!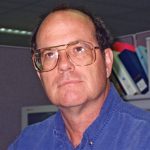 "My goal at this utility is to take full advantage of the attributes of polymeric insulators to save my company money and improve reliability."
Jeffrey Burnham, Transmission Design Engineer (retired)
Florida Power & Light, February 1994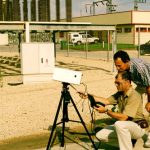 The late Radu Munteanu of Israel Electric and Pinhas Lindner, one of the founders of Ofil Systems, work together to set up an early generation solar blind corona camera during the late 1990s for an inspection of a substation near Beersheba. Looking at the camera size and seeming complexity, one can quickly appreciate how much this technology has advanced, with modern cameras being both portable and easy-to-use.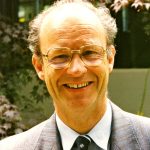 "The biggest advantage of polymers is that they allow us to be creative and find new solutions as well as innovative designs for both indoor and outdoor applications."
Ernst Hubler, Marketing Engineer (retired)
Ciba-Geigy (now Huntsman Advanced Materials), Switzerland, June 1994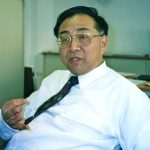 INMR met Tang Zhenming in Austria in the early 1990s. A former Managing Director of China's largest insulator plant, located in Xi'an, he had recently retired and been appointed advisor to the Chinese insulator industry at large. In spite of enormous local production capacity, China at the time still relied mostly on foreign made insulators for any lines and substations above 230 kV. Neither he, nor myself – nor anyone else for that matter – could ever have foreseen how fast the Chinese power grid was about to develop and how quickly that country's insulator industry would develop and become a major player on the international insulator scene.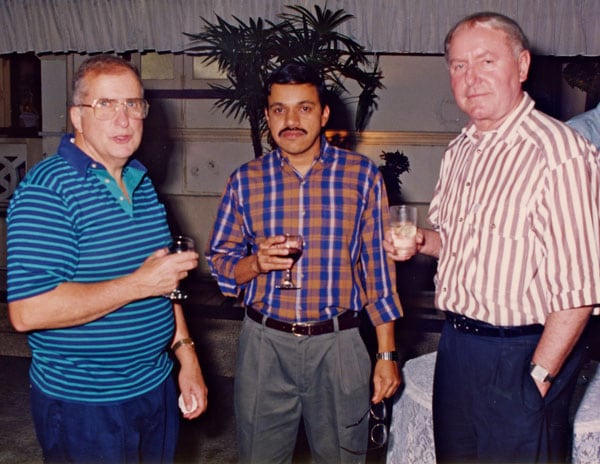 Lots of 'brain power' in this shot of (from left) Herman Schneider, Ravi Gorur and Hermann Kärner, taken at the 2nd INMR WORLD CONGRESS in Singapore in the summer of 1996. Every reader knows that Ravi was a major force at these events, as Chairman of the first several, and that he also served as INMR's lead Columnist for years. Herman Schneider also helped INMR a great deal as a truly accomplished, persuasive speaker at our first conference in Zurich in 1995. Prof. Kärner, a respected academic at the University of Braunschweig, trained many of Germany's current generation of power engineers and was also a valued contributor to our early issues.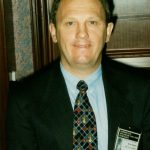 "Replacing old assets which have high O&M costs is a win-win proposition if the increased value of the new assets is offset by reduced maintenance and higher availability."
Brian Pokarier, Engineering & Projects Manager,
Powerlink, Australia May 1999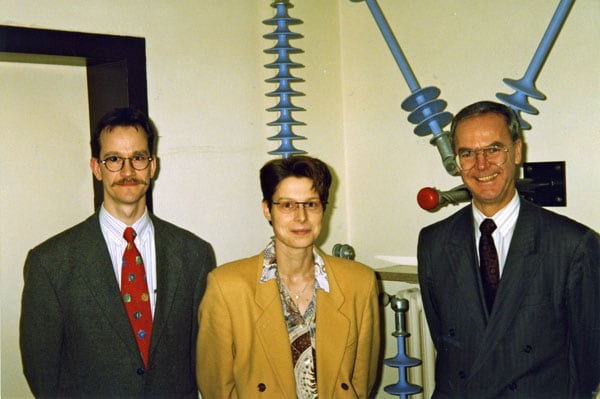 Hoechst CeramTec (previously known as Rosenthal) was long one of the leaders in electrical porcelain in Europe and also one of the pioneers in developing silicone long rod insulators. But, during the mid-1990s, the German chemical giant decided to divest itself of its legendary insulator unit and the business was sold to the Dynamit Nobel Group of Metallgesellscahft. It was at that time that INMR visited Board member, Dieter Kreuziger (right), as well as Bernhard Kahl (now MD at Lapp Insulators, the firm's current corporate identity) and Anke Schütz, one of the company's 'bright young stars' of the time.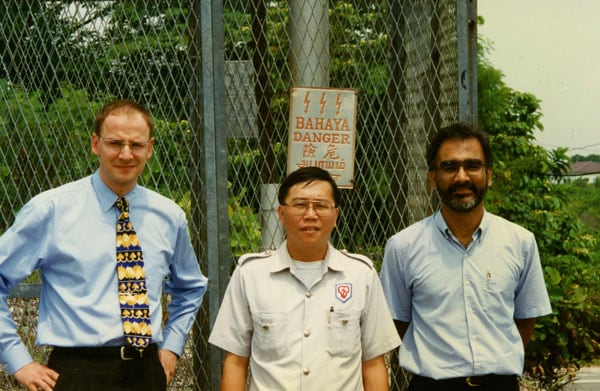 Utilities in South-East Asia seemed the ideal beneficiaries of new polymeric arrester technology introduced in the late 1980s and early 1990s, since all had long suffered from moisture ingress into porcelain-housed units exposed to continuous tropical conditions. Yet most of these same power companies approached the new technology with caution and decided to conduct local field tests to verify performance, such as one in Perak State by Malaysia's Tenaga Nasional Berhad. In 1996, ABB's Chris Schüpbach (left) accompanied INMR to meet TNB engineers Lee On Chye (center) and Hardanjit Singh Gosal who were overseeing trial installations of new polymeric arresters on a 22 kV network.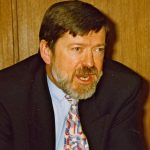 "You should not aim to simply replace porcelain with a composite insulator because by simple substitution you will only realize half the possible benefits."
Jens Innerling, Deputy Director (retired),
Siemens, Germany, December 1995/1994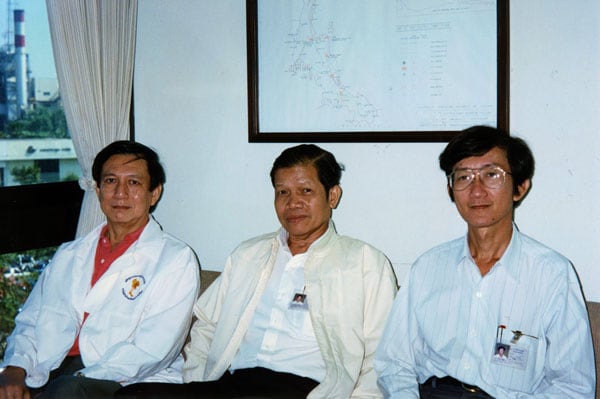 In 1995, INMR traveled to Thailand to meet engineers (from left) Banyat Phathramai, Banjerd Janjerdsak and Nat Nilavajara at the Electricity Generating Authority of Thailand. At the time, EGAT expressed hesitation in applying composite insulators on transmission lines due to concerns about premature ageing in their tropical service environment. There was also the perception that any such change in technology would mean longer, not shorter, insulators compared to the porcelain cap & pin strings traditionally used. They claimed at the time that their conservatism was supported by reports from power companies in the U.S. who cautioned against applying composite insulators for any entire 500 kV line, but rather suggested they be used only for those sections with high pollution.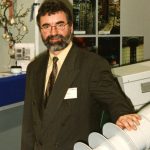 "The fact that giants such as ABB and Siemens jumped into the field of hollow core composite insulators proved we were always on the right track."
Albert Kräling, Marketing Manager
Haefely-Trench-MWB December 1998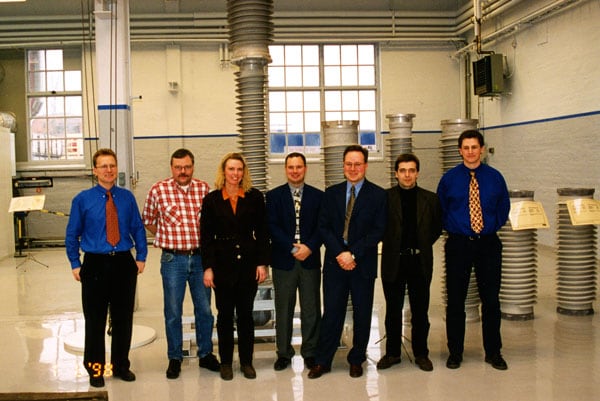 In 1998, INMR was the only technical journal invited to cover ABB's official entry into the hollow core composite insulator business, with the launching of a small-scale factory in Ludvika, Sweden. Under the direction of Johan Engström (third from right), the new business unit consisted of experts drawn from several areas, such as materials expert, Dan Windmar (left) from ABB Corporate Research and testing specialist, Susanne Hörle from STRI. Dan has gone on to occupy several key positions within ABB and is now V.P. at STRI.
The name Emil Haefely was once synonymous with bushings. Shortly after the firm was merged with Canada's Trench Group, forming Haefely-Trench in the mid 1990s, INMR visited the company's instrument transformer plant in Toronto. We were welcomed by General Manager, Roger Alberton (left), just recently retired, Dave Caverly of Sales (center) and Mike Stedman, an enthusiastic early supporter and friend of INMR. The plant was in the process of developing prototype CVTs using silicone housings in place of porcelain and also preparing to start up manufacture of ANSI bushings.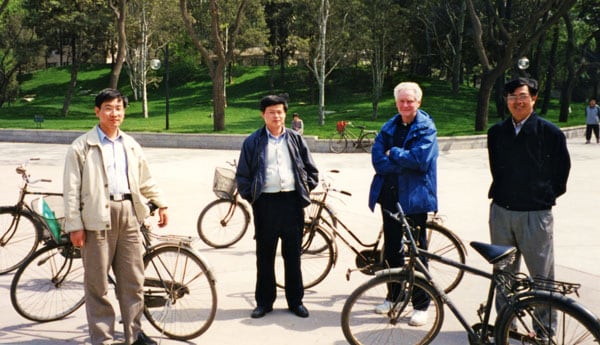 It was still the time of bicycles in China when, in 2000, INMR accompanied Claude de Tourreil for our first visit to Beijing's Tsinghua University. There, we were introduced to Prof. Liang Xidong (left) as well as Prof. Guan Zhicheng (right) – both of whom went on to become valued contributors with their incisive Scene from China columns. Prof. Liang also served as expert speaker at every single INMR WORLD CONGRESS since 2001. Xie xie, Liang Xidong. Prof. Guan will take on this role during our next event in Vancouver, this September.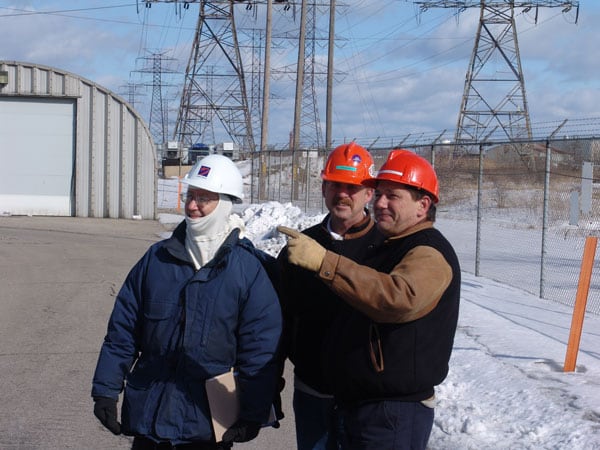 On a bitterly cold day in January more than a decade ago, INMR accompanied long-time contributor and friend, Bill Chisholm (left), to inspect the 230 kV Hamilton Beach Substation – long one of the former Ontario Hydro's (now Hydro One) most problematic in terms of pollution flashovers. This Canadian substation eventually came to serve as a model for successful implementation of anti-pollution measures and, in particular, for application of RTV silicone coatings that are still in service after more than 15 years.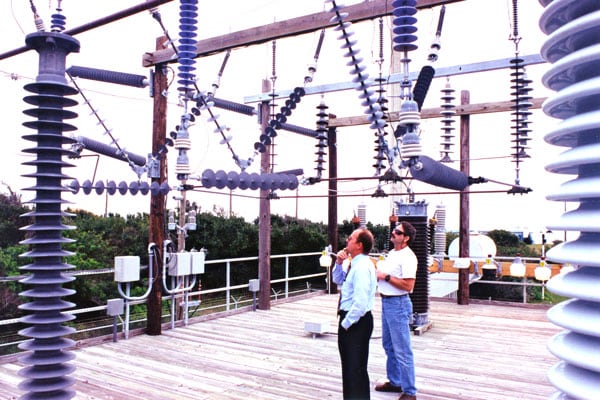 Florida Power & Light is one American power utility that has seen more than its fair share of problems on overhead lines, triggered mostly by heavy contamination from the sea. In 1998, INMR accompanied FPL Substation Engineer, Jack Hochheimer to visit Aquarina, a special test station located along one of the most polluted stretches of coast in the state. Hochheimer (left) and Randy Newnam explained that this facility allowed FPL to evaluate comparative performance of components such as insulators, arresters and cable terminations under service conditions of high UV, wind, humidity and high maritime pollution.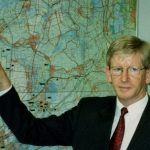 "Between the mid 1970s and now, past mechanical problems with composite insulators have been mostly solved. There is no longer any reason not to use them, although they must still be monitored."
H.L.M. Boot, former South Holland Electricity Company (retired),
Netherlands, September 1993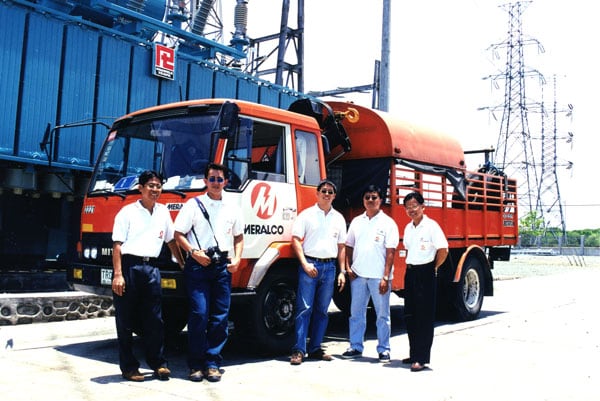 Meralco Engineers (from left) Manuel Galvan, Ronaldo Garrido, Ronoel Dellota, Ismael Cruz and Mercedo Delgado took INMR in 1998 to visit a special internally-developed site devoted to monitoring how pollution levels were affecting insulators near Manila. All were also involved in a new test program to evaluate covered conductors as well as polymeric MV arresters for acceptance in the Philippines.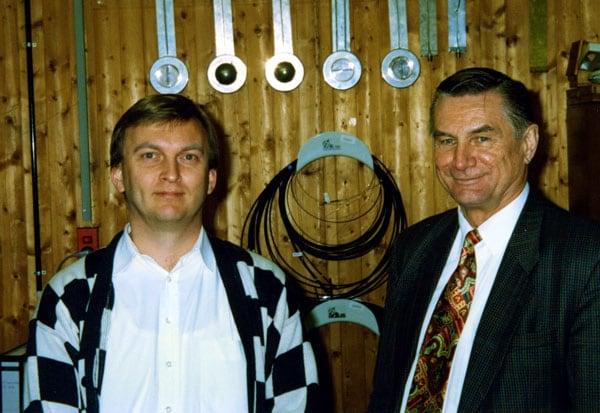 Professor Kurt Feser, one of Germany's respected academics in high voltage engineering, met INMR in 1995 during our visit to the University of Stuttgart. At the time, he and colleague Wolfgang Köhler (left) were conducting research on diagnostics as part of new monitoring equipment being developed for arresters, transformers and GIS systems.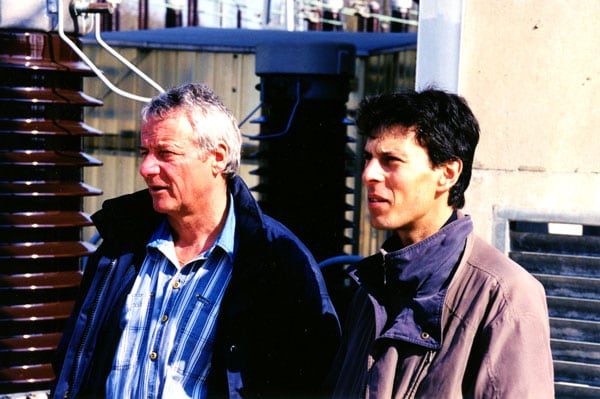 Marc Weber of Geneva's main power utility, SIG, (right) stands alongside Verbois Substation Manager, Edouard Besson, and surveys the switchyard at the giant 400 kV facility. When INMR visited them in early 1999, Besson was considering himself very lucky not to have been anywhere near a 130 kV air blast circuit breaker that had been making strange noise before suddenly failing violently. (He apparently was inside at that precise moment, making a call to report the noise). The resulting explosion ejected porcelain shards over a radius of 300 meters and collateral damage to nearby equipment blacked out 400,000 residents across the Canton. Weber soon found himself involved in a major investment project to re-insulate Verbois, this time mostly with silicone-housed insulators, arresters and bushings.
"If you look at existing lines in Switzerland, it's true that some 90% use porcelain long rods. But what's more relevant is that 90% of new lines in our country are using composite types."
Konstantin Papailiou, CEO (retired),
Pfisterer, Germany/Switzerland, January 1999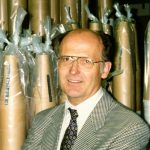 "Composite-insulated bushings now represent only a few percent of the market but will definitely grow. The only unknown at this time is whether this growth will prove linear or exponential."
Jürgen Jeske, General Manager (retired),
Haefely-Trench, Switzerland, 1995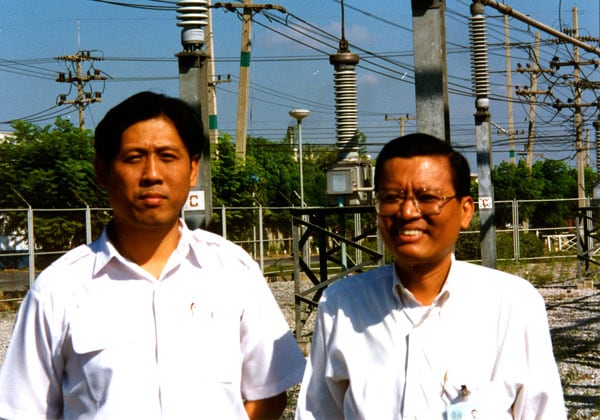 INMR visited the Provincial Electricity Authority (PEA) of Thailand in 1995. Chairat Preechacheewawat and Chaiyaporn Navarat (right) were engineers who took us to see trial installations of 33 kV silicone insulators near a cement plant and also near the coast. PEA had its own development program for composite insulators at the time, headed by R&D Manager, Somsak Nitisaringkarin.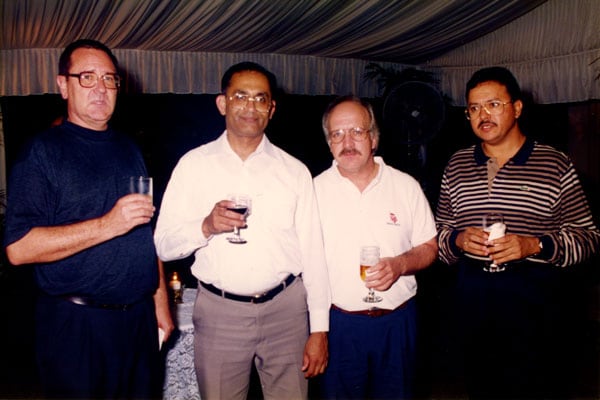 Several longtime friends of INMR, including (from left) Rüdi Stieger (formerly of Micafil), Mangesh Rajadhyaksha (retired recently from Huntsman after a long and distinguished career) and colleague Hans-Jörg Wieland, now with Motic Electric in China, as well as an unidentified guest all enjoy a glass of Chablis at the 1996 Congress in Singapore.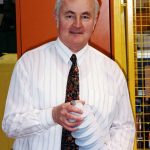 "From the very start, we developed our new arrester designs with silicone in mind since it was a material which offered good pres-sure relief, did not burn and maintained hydrophobicity – all advantages which our customers could quickly appreciate." Walter Schmidt, General Manager (retired), ABB High Voltage Technologies, Switzerland January 1998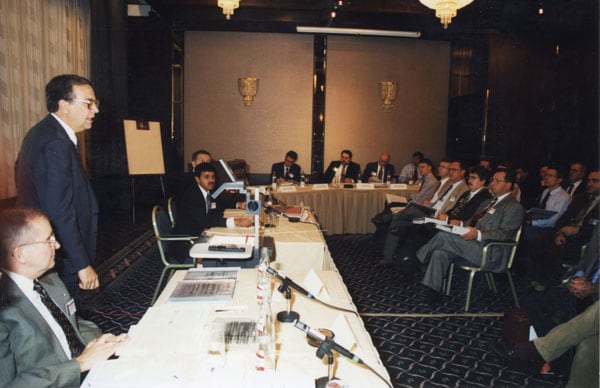 This is one of few surviving photos from the first INMR WORLD CONGRESS, held in Zurich in 1995. Here, Canadian researcher and educator, Ed Cherney, flanked by Ravi Gorur of ASU and Herman Schneider of EPRI, addresses delegates about the basics of composite insulators – something that back then was only a little known technology. This first INMR conference featured but a handful of speakers but was widely regarded as a success. Indeed, it was perhaps the first event ever in the power delivery field where nearly 200 people spent two whole days talking nothing but insulators.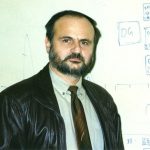 "At EDF, one of our biggest concerns in regard to composite insulators is how we can detect non-visible internal defects that affect the safety of live-line work."
Guy Riquel,
EDF Les Renardières, 1994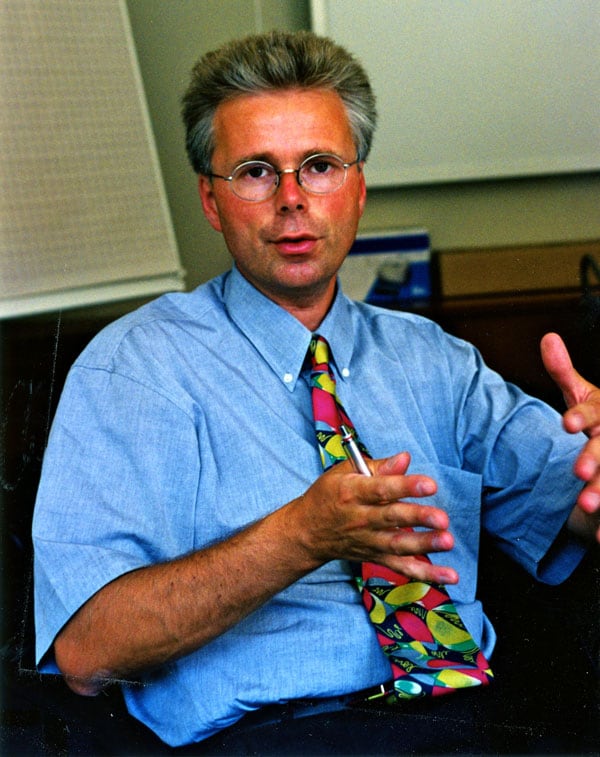 INMR first met Volker Hinrichsen back in 1997, when he was still a young engineer at the Siemens arrester factory in Berlin. In recent years, he has gone on to become a well-known and respected Professor in the HV Engineering Department at the TU of Darmstadt and also Chairman of IEC TC 37. He reported at the time that German power utilities were increasingly demanding arresters that were 100% safe under failure conditions and that only composite housed designs would be able to satisfy such a requirement. Still, polymeric station class arresters were then regarded as mainly niche products due to their relatively high cost versus porcelain-housed units. These days, that perception has changed in a big way.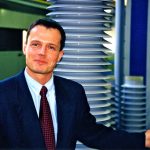 "It is really quite a common situation for new products competing against an established technology, such as porcelain, to suffer initially from a price disadvantage."
Frank Schmuck,
Cellpack, 1995 (now at Pfisterer Sefag)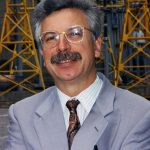 Alberto Pigini, who retired several years ago after a long career at CESI and has since been working as a successful consultant and INMR contributor, is one of the doyens of the high voltage field. A regular contributor at CIGRE sessions for decades now, Alberto is also closely involved in IEC work setting new standards. INMR's first contact with him dates back to the mid 1990s, when this smiling photo was taken.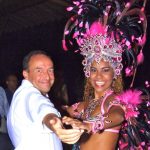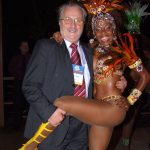 Zoran Zic's lovely wife, Sanya, hopefully will not mind (too much) publication of this treasured memory from the 2007 INMR WORLD CONGRESS held in Rio de Janeiro Transformer manufacturers the world over already know Zic from his many years at Swiss-based Micafil. What they may not have realized, at least until now, is that his competence in resin-impregnated bushings is matched by his demeanor and skills on the dance floor (photo left). Not to be outdone at the gala evening, Hungary's Alajos Bognár –among the composite insulator industry's early pioneers and contributors – was also quick to 'take matters in hand' at this event.
Igor Gutman's numerous projects and contributions to the design and testing of electrical insulators have filled the pages of INMR for many years now. When he was first interviewed (as shown in this vintage photo), he had only recently arrived at STRI in Sweden but his infectious enthusiasm towards the topic was already evident. It was obvious even then that he had some bold ideas that would advance the field – and indeed time has shown that they have.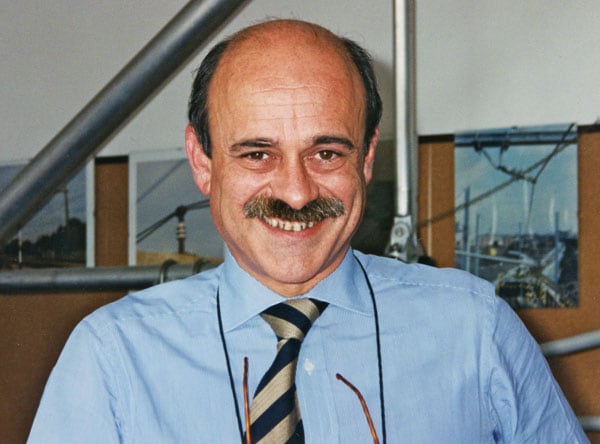 The name Rebosio is part of the 'folklore' of composite insulators since this company was among the very first to explore using polymers – in this case a fluoropolymer better known as Teflon – in place of ceramic materials. Sergio Rebosio, told INMR in the mid 1990s that the idea behind such insulators was in part inspired by the flexibility and strength of fiberglass fishing rods. Initial applications were focused mainly on traction, where the mechanical behavior of composite insulators was seen as offering advantage against service forces and vibrations. Then, in the 1980s, soon after expansion into overhead line applications, a flaw in the end fitting design introduced the world to a new failure mode – brittle fracture. These very early failures are believed to have slowed acceptance of the technology by at least a decade, yet Rebosio overcame the problem and indeed was soon so successful that his firm was purchased by ABB's Italian operation.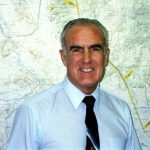 "Gunfire damage to porcelain has been one of the main causes of line outages in certain remote parts of the western U.S. and was one of the reasons we selected polymers for the 500 kV Mead-Phoenix line."
Stuart Harrah, Project Manager (retired),
Salt River Project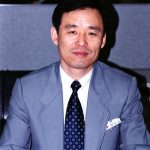 INMR first interviewed Park Sang-Ho of Korea Electric Power Corporation in 1997 when he was working in the company's Distribution Division and studying the increased application of composite insulators on KEPCO distribution lines. His knowledge of the field was so great, that he was invited as a speaker at the 2001 INMR WORLD CONGRESSA, held in Shanghai.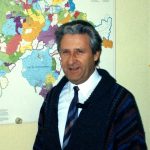 Bernhard Staub has been a consultant to the power industry for years now and before that had a long career in the field of insulators. INMR first met him shortly after its founding when he was still part of the management team at the Ceram Group, now known as PPC Insulators. Bernhard used to be manager of the porcelain insulator business at Swiss-based Laufen concern (long since closed) and is probably one of the foremost specialists in porcelain long rods. In fact, he carried out important work at CIGRE that demonstrated that failure rates for porcelain long rods on overhead lines in Germany, Austria and Switzerland are extremely low, making this one of the most reliable of the different insulator technologies.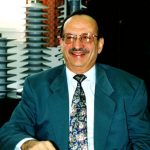 Now, long since retired from his role at ABB's Surge Arrester Division in Ludvika, Minoo Mobedjina was a colorful personality and a great supporter of INMR during its early years. He was among the early proponents of polymeric housings and helped propel the technological transition toward such arrester designs for station class applications.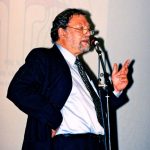 To those who remember him, Laurent Pargamin, who retired from Sediver about a decade ago, was among the key personalities behind that company's development of line and station composite insulators. In this photo, he addresses delegates on that topic at INMR's 2nd WORLD CONGRESS held in Singapore in 1996. It could not have been easy for him back then to develop a technology that competes head on with the toughened glass for which his company was most famous. Laurent admitted to me when I last saw him at a CIGRE session in the late 1990s, that he was among the greatest cynics when INMR first came out. But he was gracious enough to acknowledge that he had been wrong.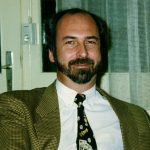 Although now officially retired, Hans-Jörg Winter's face and name must still be familiar to many of the world's manufacturers of insulators and related components. As a technical specialist at Germany's Wacker Chemie, he has been a virtual 'fixture' at all power industry conferences across the globe, from CIGRE to IEEE to IES. He is also one of only a handful of people who have attended every single INMR WORLD CONGRESS held since 1995 – 11 in all. That's a good measure of his close involvement and important career contribution towards increasing knowledge of silicone used on medium and high voltage lines and at substations worldwide.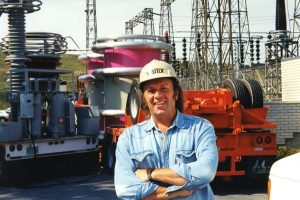 John Kuffel appeared frequently in the first issues of INMR during the mid to late 1990s since his management role at Ontario Hydro Technologies (now known as Kinectrics) at the time resulted in numerous insulator research projects of interest. John has also been a valued contributor at several INMR WORLD CONGRESSES.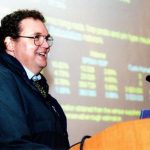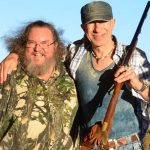 Wallace Vosloo surely ranks as one of the insulator industry's most colorful yet also most respected personalities. He has undergone somewhat of a physical metamorphosis from this photo of his smiling face at our 2001 INMR WORLD CONGRESS in Shanghai yet remains firmly embedded in the insulator field, now working with Eskom to upgrade the Koeberg Insulator Pollution Testing Station to much higher voltage and also DC capabilities. Wallace is not only an expert on insulators but has unique survival skills as well as diverse interests, such as antique muzzle loading rifles which we fired together only this year at his remote mountaintop retreat outside Cape Town.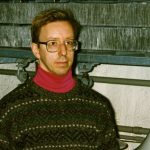 "Hydro One (then Ontario Hydro) learned important operating lessons on its 230 kV and 500 kV systems from 'flashover weather' where light fog and melting during winter results in porcelain insulators starting to flashover at line voltage."
William Chisholm,
Ontario Hydro Technologies (now an independent consultant and INMR columnist)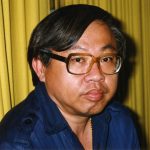 Before I first met him on a visit to Bangkok in 1996, I spent some time trying to memorize the family name 'Nitisarinkarin', only to discover that in Thailand people are usually called only by their first name, along with the salutation 'Mr.'. Mr. Somsak was R&D Manager at the Provincial Electricity Authority (PEA) at the time and in this role he was working to resolve problems with punctures on ageing pin-type insulators on 22 kV and 33 kV lines, aiming to solve this problem by application of solid core line posts as well as pin-post insulators.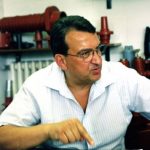 Italy has always been at the forefront when it comes to the development of electrical power (remember the term 'volt' honors Italian physicist Alessandro Volta) and it is therefore not surprising to find Italian firms among the early pioneers in composite and cast resin insulators. One of these is Rosario Scarpetta whose firm, Isoelectric, has been visited during the 1990s and been the topic of several INMR articles over the years. Scarpetta seems to have enjoyed surprising some of his much larger competitors by establishing 'beachheads' for his products all over the globe.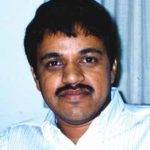 It would be difficult to overstate the benefits that resulted from INMR's long-term co-operation with Prof. Ravi Gorur of Arizona State University that began in the mid 1990s. In many respect, ours was what biologists refer to as a 'symbiotic relationship' where both sides benefit – we from his research and expertise and he from the international exposure he was given over many issues of INMR and also at our INMR WORLD CONGRESSES, starting in Zurich in 1995. Today, Ravi is a well-known and much respected expert, but when we first met, as this early photo attests, he was still an enthusiastic young academic only setting out on his professional mission. Thank you, Ravi!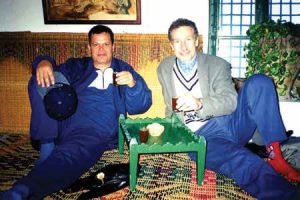 INMR made its first visit to Tunisia in 1998 where we were introduced to Raouf Znaidi, an energetic young engineer from the national power utility, STEG. He proceeded to take us to insulator test stations he had set up across the country, including deep in the Sahara. Raouf, who remains a close friend and INMR contributor, reveled in showing his beautiful country and introducing some of its customs, including a comfortable afternoon mint tea break at one of the iconic teahouses outside Tunis.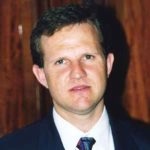 When INMR was first introduced to him at an IEEE event in Berlin in the mid 1990s, youthful EPRI researcher, Andrew Philips, was just beginning to 'make waves' with his fascinating work on water drop corona and its impact on composite insulators.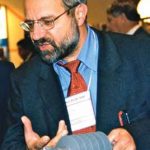 Manfred Peter of Pfisterer Sefag has had a long relationship with INMR, going back to 1994 when we first interviewed him during a visit to Switzerland. Sefag has also been a frequent exhibitor at INMR WORLD CONGRESSES and this image of Manfred, taken at our event in Barcelona in 1999, tells the whole story of his ever-present exuberance for his company's insulators.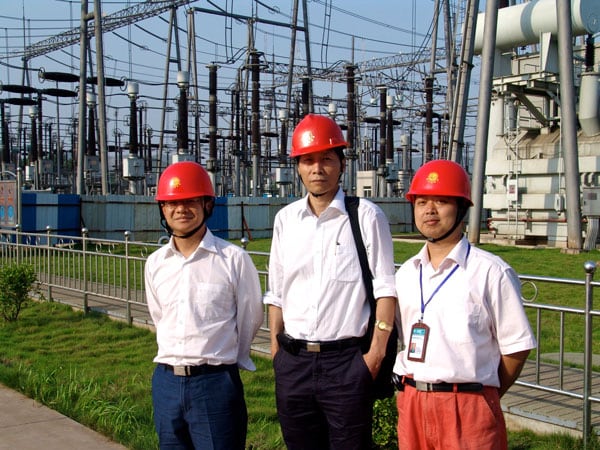 Chief Engineer, Li Yu, with the Hubei EHV Transmission & Substation Company in Wuhan, was among the first power engineers in China to invite INMR to visit lines and substations in that country. Here, flanked on both sides by colleagues, Li (center) took INMR to the 500 kV Xiaogan Station located in an area with high industrial pollution.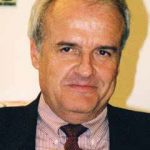 Michel Ammann, a transmission engineer at EOS (now known as Alpiq) in western Switzerland, contributed to early issues when he took INMR to visit interesting new lines, including a series of special 380 kV towers designed using hollow core braced line posts. In the backgroud, one can see a photo of the famous 'tennis racquet' tower, also located in the EOS network.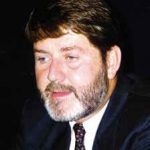 ABB's Andrew Ericsson was Chairman of CIGRE Study Committee 33 at the time INMR was first published and gave us one of our very first interviews. Ericsson, always mindful of his need to remain impartial in his role as a CIGRE executive, was among those in the industry who already foresaw a major change underway when it came to overhead line and substation insulation.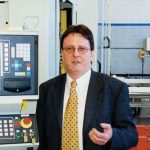 Just after the 2nd INMR WORLD CONGRESS, 17 years ago, a young man came up excitedly to say how much he had enjoyed the event and, more importantly, how he thought that his company could contribute to future such meetings. That man is Harald Schmid , General Sales Manager at Desma Elastomertechnik in Germany and it was not long after that he accompanied INMR on a visit to ABB's surge arrester factory in Ludvika, Sweden. Desma at the time was among the early suppliers of injection molding equipment purpose built to manufacture electrical components made with polymeric housings.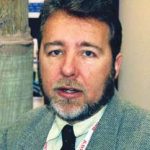 Barry White of Polyone Glasforms personally participated in every single INMR WORLD CONGRESS exhibition since 1996 in Singapore and is also one of INMR's oldest advertisers, going back some 15 years.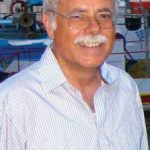 Emmanuel (Manolis) Thalassinakis of the Public Power Corp. in Greece left a lasting impression on attendees at the 2003 INMR WORLD CONGRESS in Marbella, Spain – first from his hi-tech expert presentation during the conference and then again later when he tried (despite protests from his wife, Susanne) to climb into the bullring during the event's gala evening. Manolis – in many respects a modern day 'Zorba the Greek' – has been a valued friend and partner ever since, especially in the planning of the 2009 WORLD CONGRESS which was held in his native Crete.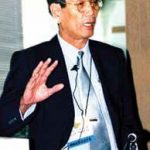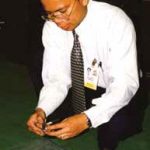 In this photo from 1999, Mercedo Delgado (photo right) of Meralco in the Philippines, looks over the remains of a failed porcelain-housed arrester. He and colleagues in that utility's R&D Dept., then under the supervision of respected utility executive Sixto Camaclang (long since retired), studied failed arresters in great detail as part of their goal of improving reliability through transitioning to newer polymeric designs that significantly reduced historical problems due to moisture ingress.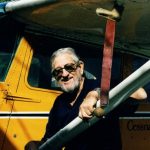 Philip Dulhunty must certainly rank among the more colorful and influential personalities in the insulator world, especially in Asia and Australia where he co-founded some of its leading suppliers. INMR first visited him back in 1998 and he was as gregarious and generous a host as one can hope to find, not only 'talking insulators' but also taking us out on his fine boat to view Sydney harbor. There was once an old TV show called The Flying Doctor, which chronicled the exploits of a fictional Australian physician who crisscrossed this massive continent providing emergency medical assistance. Well, Phil could well be 'The Flying Insulator Expert' who personally flew himself to meet power supply customers from one end of the country to the other.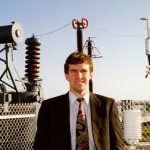 Ray Houlgate was once among the United Kingdom's leading insulator specialists, closely involved in standard setting at the international level and also conducting research at the country's apparently now shuttered Dungeness insulator test station on the North Sea. In 1997, not long after the former Central Electricity Generating Board CEGB transitioned into the National Grid as well many privatized operators and decisions were made to curtail R&D spending, Houlgate worried about the imminent loss of decades of experience as expert after expert either was given early retirement or otherwise departed the scene. We'll leave it to history to judge whether or not he was right to have been concerned.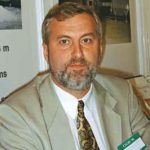 Unfortunately, no retrospective of all the hundreds of people who INMR visited and befriended over the early years can ever hope to be complete yet limit itself to only several pages. However, we cannot finish without including among these Dan Wikström, President of STRI, who INMR first visited back in 1994 and who has been a close friend and ally now for almost two decades. I had first heard his name from Fritz Hammer of HSP who told me in 1993 about the STRI hydrophobicity scale and directed me to Dan as the 'man in charge'. This made arranging to meet him seem quite a challenge. Yet, from the start, Dan was among INMR's greatest believers, not only introducing to us to experts in the field but also arranging technical visits for us in Sweden as well as Tunisia. Dan and his colleagues at STRI have also been a major contributor and exhibitor at every single INMR WORLD CONGRESS, starting in 1996 in Singapore.