Guide for Handling Composite Insulators: Update
In 2001, growing evidence of service failures of composite insulators due to mishandling caused CIGRE Working Group 22.03 to issue Technical Brochure 184 titled Composite Insulator Handling Guide. Pioneering utilities as well as manufacturers contributed to the document, which aimed to educate users about the risks of inappropriate handling during transport, storage and installation. Although composite insulators are often still thought of as 'indestructible' (at least compared to ceramic equivalents), experience has shown that this is only partly true. In spite of their flexibility and non-brittle nature, improper handling can lead to modes of failure that are quite different from those of other insulator technologies. For example, cases of damage to an insulator's sealing system or to its FRP core rod have been reported in tension applications due to torsional overloading while stringing conductor. While the existing CIGRE handling guide focuses mainly on mechanical damage and corresponding premature failures, growing experience has made many utilities customize and extend the content of this document. Indeed, some of the areas added over time should now be considered a necessary update to the original document.

1. Corona/Power Arc Protection
Composite insulators require more attention when it comes to designing adequate protection against corona, i.e. ionization of the air adjacent to the high voltage or earth sides due to excessive electric field gradients. This is due to their relatively small diameters which, while advantageous in terms of pollution performance, makes their housings and sealing systems more vulnerable to ageing and damage under continuous corona discharge. In the event that corona or combined corona/power arc protection devices are deemed necessary for an insulator string, detailed instructions should also be available from the supplier to guide those who carry out installation on the line.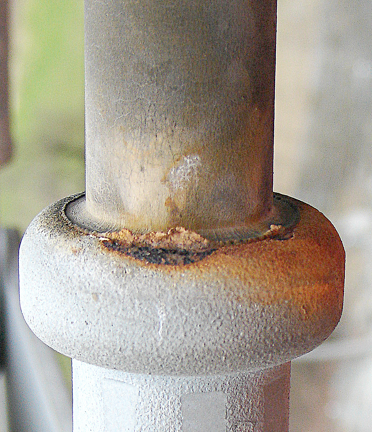 2. Mould Growth 
In a service environment characterized by elevated humidity and temperature as well as the presence of various species of mould, surfaces of both ceramic and composite insulators can become colonized. The effect on inert glass or porcelain surfaces is relatively minor because these materials are already hydrophilic. Mould growth can therefore only serve to increase thickness of the pollution layer. In the case of composite insulators with hydrophobic surfaces, however, this valued performance-enhancing characteristic can temporarily be diminished or even lost. Fortunately, experience has shown that in only relatively few cases is the mould growth such that removal is required. The decision whether or not to remove is then usually taken only as preventive measure once heavy colonization has been identified. Positive field experience in this regard is confirmed by laboratory investigations that have shown that only white rot fungus Phanerochaete chrysosporium can actually degrade the main components of the silicone rubber polymer.
It has recently been reported that mould growth occurred during long-term storage of composite insulators in crates exposed to rain and warm temperatures. These crates are typically made of wood and import into many countries requires pre-treatment (i.e. ISPM 15). Research, however, has demonstrated that such pre-treatment has no influence on potential for subsequent mould growth and practical experience suggests that the design of wood crates calls for a compromise: on the one hand, holes or slots are needed to ventilate the internal space; on the other hand, their size should be small enough to prevent ingress of pollution or entry by animals. Depending on climate, wood crates can quickly deteriorate when left fully exposed to the environment. If the insulators inside the crates are unprotected or if the protection was removed from earlier use, water with organic content from the wood can come into contact with the insulator surface and lead to colonization by fungus. A wide variety of species are available worldwide to create such 'biogenic' pollution.
From the user perspective, there are two possible scenarios: 1. insulators can be covered by fungal species such as Aspergillus niger and Cladiosporium which are superficial and can easily be removed, with the previously colonized areas again becoming fully hydrophobic, or; 2. combined colonization by mould species Chaetomium and Cladosporium, which have a symbiotic interaction with Methylobacteria, may create a pink appearance on insulator surfaces. While the mould is easily removed, the colour diffuses into and remains in the silicone rubber bulk material. Surfaces with such pinkish residue return to being hydrophobic after cleaning and therefore regain their original performance, but lose their aesthetic appeal.