HVDC cables that transmit large amounts of power over long distances have now become increasingly important in power systems. Indeed, one of the signs of on-going progress in the field took place two years ago with introduction of 525 kV extruded XLPE HVDC cable – then a major step forward versus the 320 kV level used for years.
More recently, at the CIGRE 2016 General Session in Paris, cable manufacturers presented several new polymeric HVDC cable solutions with voltages up to 600 kV and able to transport more than 2 GW. Terminations and joints for these cables employ a combination of non-linear resistive field control and geometric stress control elements. In the case of long land cables that have a greater number of joints, reliability and ease of installation of these are critical factors.
Also new is application of so-called P-Laser insulation, i.e. high performance thermoplastic elastomer for 525 kV. Recently introduced for 320 kV, the step up to 525 kV represents a remarkable evolution in this technology.
The development of AC XLPE submarine cable up to 420 kV, including design of factory and repair joints, was presented in different papers as well as in the CIGRE exhibition. One of these is an interesting combination of three single core land cables applied to a three core submarine cable (see photo). This is an application for a wind park connection in the Baltic Sea, not far from the coast.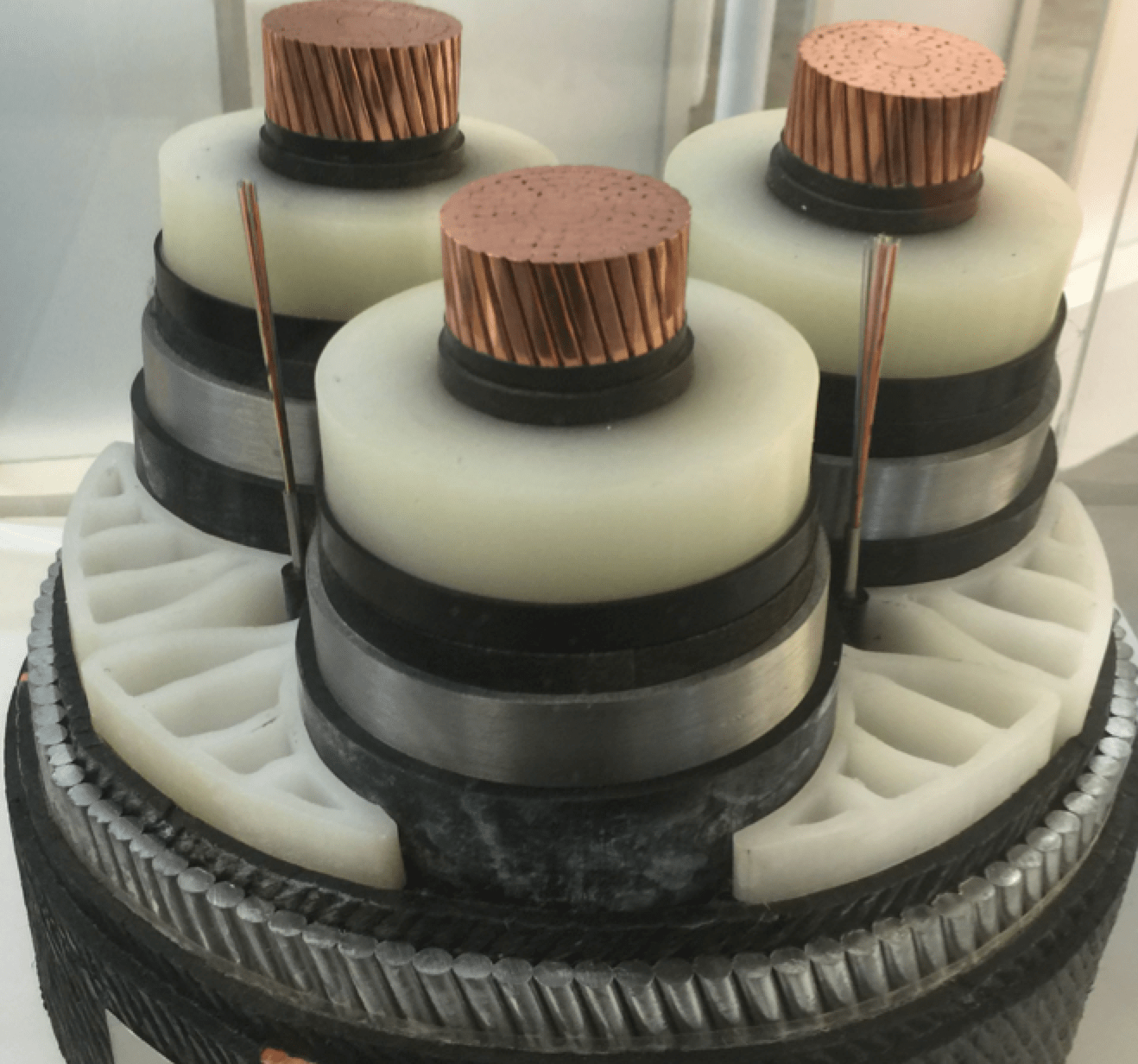 High temperature superconducting cable designs for medium and high voltages were also displayed at CIGRE by several manufacturers. A second photo shows a single core high voltage cable construction for 138 kV that has a power transfer capacity of 573 MVA. While offering an interesting, innovative technology, it is probably still far from broad based application.
Old oil-filled cables are still in service on many HV networks and the number of faults and oil leaks require their replacement either by new ones or better by XLPE cable constructions. Often, complete replacement is either not possible or practical. In such cases, use of transitions joints to XLPE cable represents a useful compromise for partial replacement of oil-filled cables.
For example, one contribution from Argentina presented a special transition joint combining wrapped paper insulation on the oil cable side with a plug-in system on the XLPE cable side.
Use of aluminium for the conductor and cable sheath from low voltage to extra high voltage was another interesting issue discussed at CIGRE 2016. Even at the EHV level, a fully aluminium cable with XLPE insulation has advantages and a paper from the Netherlands described such cable and joint construction for a 3500mm2 150 kV cable and a 300mm2 400 kV cable.