Standards have the greatest long-term impact on any industry as well as on the products offered in the marketplace. In this regard, quality of standards automatically defines customer trust and acceptance of the products they purchase. The general rule: "No standard – no business".
IEC TC 36 is the Committee responsible for insulator standards and its central role is to develop standards that satisfy market needs in general and customer needs in particular. This is accomplished by means of a Strategic Business Plan (SBP) that is periodically reviewed and maintained to ensure continuous improvement based on assessment of new technologies, market trends, environmental changes as well as changing requirements for quality and safety. The high voltage insulator industry is known to be highly conservative. As such, consideration and inclusion of innovation is by nature difficult. To put this statement into better perspective: in the electronics industry, typical product life cycle times are commonly measured in months; in the HV insulator industry, product life cycles are from 10 to 30 years. Yet it is still necessary to open doors to permit entry of new ideas.
At its meeting held in Frankfurt in October 2016, TC 36 implemented a new organization and decided on a series of major revisions to standards, not only for composite insulators but also for porcelain and glass types. For example, key standards such as IEC 60383 have not been revised over the past 25 years although the technologies, quality and supply chains for related products have changed significantly during this timeframe. At the same time, much recent standardization work has focused on composite insulator technology. As a result, present product standards for these insulators include IEC 61109 (composite suspension tension insulators), IEC 61952 (composite line post insulators), IEC 62231 (composite station post insulators) and IEC 61462 (composite hollow insulators). These can now be considered as relatively mature and sufficient to govern this business segment. Of course, there are always continuous ongoing refinements in these standards, where needed.
Other standards, such as the common testing clauses of IEC 62217 and the family of IEC 60815 documents for selecting insulators for polluted service conditions are still in the continuous improvement phase. This consists of periodic maintenance cycles where new insight from CIGRE Study Committees D1, B2 and C4 and also from user inputs are all being integrated to update the standard. This work refers mainly to new knowledge about ageing mechanisms of polymeric materials as well as the dynamics of hydrophobicity and hydrophobicity transfer. The goal is to better integrate all the gains being made in knowledge about insulator performance under polluted conditions, especially under DC voltage stress. Standards for Insulated Bushings are managed by a separate Sub Committee (SC 36A). The former SC 36B and SC 36C were disbanded and their work is now being managed directly by TC 36.
TC 36 has decided on the following necessary revisions and allocated this work to Maintenance Teams (MT), Project Teams (PT) and Working Groups (WG) shown in the Table below: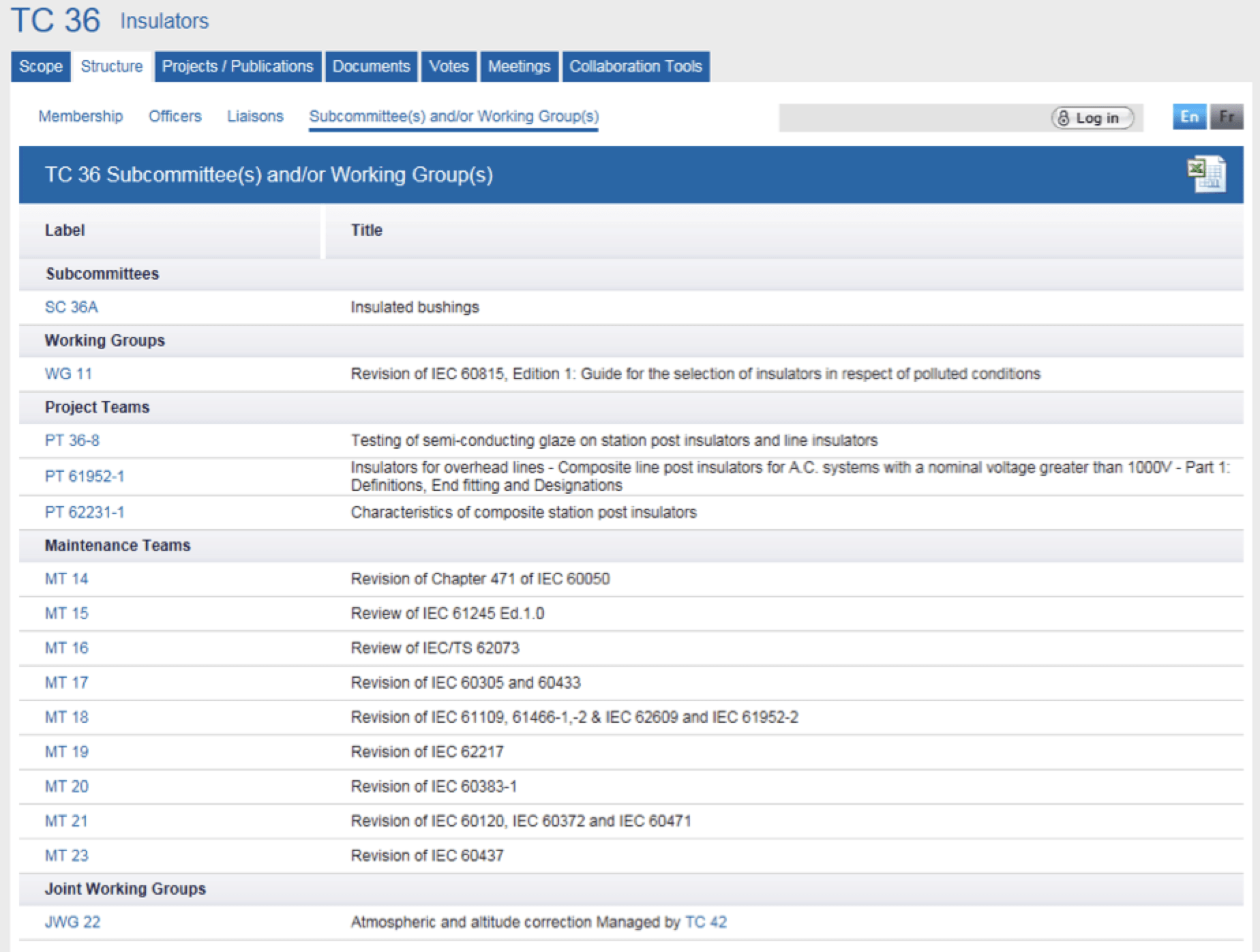 The role of an MT is to maintain standards while Project Teams and Working Groups devote their efforts to developing new standards. The various people involved in this work are typically international experts from within insulator manufacturers, power utilities, apparatus OEMs and test laboratories. The involvement of these various members and invited guests is aimed strictly at the needs of the IEC rather than on promoting only the interests of the companies where they are employed.
Lean management structure, as typical of most industries today, can now also be found in standardization organizations. In this regard, one of our targets is to shorten the time to market of any new or modified standard, especially since the IEC has set a rule of 36 months' duration from the start of a new project to its publishing. Indeed, TC 36 has been criticized in the past for being too slow with regard to certain standards, e.g. for D.C. product and test standards and artificial pollution tests for hydrophobic insulators. As a remedy, TC 36 has reinforced its co-operation and liaison with the CIGRE community. Initial feedback has been uniformly positive. Evidence of this can be seen in the talented young professionals from within CIGRE WGs and also from universities who have been added to our human resources. This is seen as key to promote fresh ideas as well as new information based more on fundamental rather than solely applied research. Challenges remain over coming years, such as optimizing cooperation with other TCs to avoid duplication of work. The idea here is to work in Joint Working Groups (JWG), with leadership by the main stakeholders but supported by experts from relevant other TCs. JWG 22, for example, is such a group working to develop a standard for a common altitude correction procedure.
Dr. Jens M. Seifert                                                                                    
Chairman, IEC TC36