Benefit from Lessons Learned from Service Experience with Composite Insulators on Transmission Lines in Australia at the 2019 INMR WORLD CONGRESS
Powerlink Queensland is the network service provider that builds, owns and operates the extensive transmission network in Queensland, Australia. Approximately 30,000 composite insulators are currently installed on this network, operating at 110 kV, 132 kV, 275 kV and 330 kV. In a paper to be presented at the 2019 INMR WORLD CONGRESS in Tucson, Arizona, USA from Oct 20 to 23, 2019, Glenn Stapleton and a consulting expert from Powerlink's transmission engineering department will together review service experience with these insulators and present some of the important lessons learned. Moreover, since a considerable proportion of third generation composite insulators are now approaching their projected end of life, they will outline related replacement strategies across the whole life cycle for these insulators.  
---
A high voltage AC network interconnects the east coast of Australia, stretching 4500 km from Cairns in North Queensland to Port Augusta in South Australia. This grid is operated by AEMO (i.e. Australia's National Energy Market Operator).
Some 1700 km of this network is in coastal Queensland, owned and operated by Powerlink Queensland.
• 700 km of 330 kV;
• 9800 km of 275 kV;
• 4400 km of 132 kV;
• 400 km of 110 kV.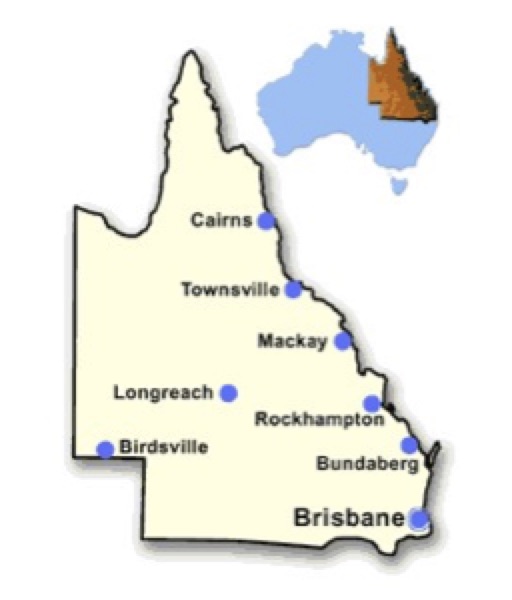 Maximum demand in Queensland is just over 10,000 MW with little annual load growth but increasing growth in renewable generation. In financial year 2017/2018, for example, there was 1600 MW of renewable generation connected or under construction. Financial penalties can be imposed by the Regulator if power flow is constrained when lines have to be de-energized to change any type of insulator. Such constraints effectively result in raising the market price for electricity. At present, a substantial composite insulator population is approaching end of service life but changes will become difficult if lines have to be taken out of service. Therefore, it is strategically important to be able to change these insulators live.
In the late 1970s and early 1980s, approximately 1000 composite insulators were installed in Queensland on a trial basis. Then, in 1992, approximately 1000 more were installed on a single new 275 kV transmission line. Among the reasons behind initial interest in composite insulator technology has been that disc insulation suffered pin corrosion as the dominant failure mechanism on lines close to the coastline in north Queensland, with service life of less than 15 years in extreme cases. Fitting new discs with zinc sleeves on the pins only extended service life by some 20%, which is only three to five years in extreme marine pollution environments. Since composite insulators have lower leakage current than porcelain and glass, they were initially seen as a viable alternative in such challenging environments. Based on this, it was decided in 1997 to adopt composite insulators as standard insulation for all new lines and, between 1997 and 2002, 22,000 unts were installed on new lines.
However, by 2002 Powerlink's insulation selection policy was again reviewed, particularly in regard to:
a. serviceable lifetime unknown;
b. susceptibility to damage from beaks of birds, first considered to only happen when de-energized, but later discovered to occur at all times in high-risk areas;
c. diagnosis of condition not sufficiently understood.
At this time, standard insulation design reverted back to glass and porcelain discs, with composite insulators adopted only in certain defined applications. This strategy has continued, with current application for new build or refurbishment that includes:
• assets close to people, for aesthetics;
• compact construction using insulated cross-arms;
• like-for-like replacement on nominated assets as part of end of life refurbishments;
• areas with very heavy to extreme pollution.
Attend the 2019 INMR WORLD CONGRESS, to learn how technical drivers and asset management strategy at Powerlink have changed over time. Asset managers will explain how they are considering replacement strategies for whole populations of composite insulators while also managing them using fleet management approaches. Desktop models, with calibration based on field inspection and laboratory investigation, will be discussed as well and a case study using three sub-populations of composite insulators will be demonstrated.
LEARN MORE AT: www.inmrworldcongress.com