Assessing Condition of Line Insulators in Korea
Unlike in certain industries where rapid technological change is the norm, the key goal for an electric power system is reliability. Since much of Korea's transmission system operates at 345 kV, any system failure can have a ripple effect and become a great concern given that important local industries such as semiconductors, steel and chemicals all require a high quality, stable power supply.
Based on experience, some 80% of transmission system failures in Korea are caused by natural events such as lightning strikes. Ageing and failure of insulators is another key factor that can impact power supply. Therefore, proper scrutiny management of the insulator population is critical to prevent line failures. The Korea Electric Power Corp (KEPCO) conducts several monitoring programs to avoid problems with insulators – the leading cause of transmission line failures.
This edited article, contributed by Hyunmin Park, Bong Gyu Park and Chang Bae Moon of KEPCO's Transmission Operation Department, discusses recent programs to verify the integrity of the insulator population through analysis and testing.
---
Porcelain accounts for about 99% of all insulators used by KEPCO. In the past, these were imported but domestic producers have been supplying 154 kV lines since the mid-1980s and have grown to more recently also supply 345 kV class 210 kN and 300 kN insulators and even 400 kN insulators for 765 kV lines. Since domestically produced insulators have had quality issues in the past, KEPCO introduced the power arc test (before it was internationally standardized) and also raised quality control test requirements by combining mechanical and electrical strength testing. As a result, there have been no reports of failures of domestically produced insulators since 1998 and this confirms that quality level has stabilized. In addition, local steep front of wave flashover test requirements have been revised in Dec. 2007 to reflect international standards and since Sept. 2011 have also been applied to HV suspension insulators. This is expected to further increase reliability of suspension insulators in service on Korea's transmission system.
Table 1: Insulator Failures in Korea Due to Separation
| | | | | | |
| --- | --- | --- | --- | --- | --- |
| | 2010 | 2011 | 2012 | 2013 | 2014 |
| Number of Failures | 5 | 4 | 3 | 4 | 2 |
Maintenance
General Performance Diagnostics
To verify the condition of porcelain insulators, KEPCO diagnoses their integrity every 5 years using an electromagnetic faulty insulator detector. A detector, developed by KEPCO, is used to diagnose insulation resistance as well as electric field on 154 kV lines.
Advertisement

Table 2: Defective Insulators Detected/Year
| | | | | | | |
| --- | --- | --- | --- | --- | --- | --- |
| | 2010 | 2011 | 2012 | 2013 | 2014 | Annual Average |
| Number of Faulty Insulators | 427 | 280 | 702 | 365 | 205 | 395.8 |
Cleaning
Since South Korea has the sea on three sides, insulators must also be washed regularly.
Table 3: Cleaning Cycle in Contaminated Areas
Contamination

Level

Clean Area
Grade A
Grade B
Grade C
Grade D
ESDD
Below 0.03
0.03

~ 0.063

0.063

~ 0.125

0.125

~ 0.25

0.25

~ 0.5

Industrial Area
–
–
Light industry/metal

industry, dusty areas

Heavy/metal/

petrochemical industries

Petrochemical

Industries

(Ulsan)

Cleaning

Cycle (Year)

1
1
2
3
4
Evaluating Insulator Performance in Heavily Contaminated Areas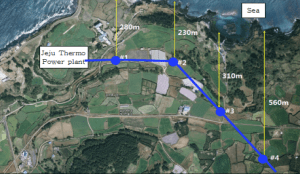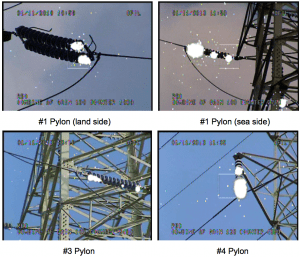 To test performance of insulators in coastal areas, KEPCO conducted research on Jeju Island where there is severe maritime pollution (contamination level: D). A total of 8 samples were removed from a 154 kV line running between Jeju Thermo Power Plant and Jocheon, with 4 insulators selected from 2 towers. These insulators had been manufactured abroad and were in service for about 25 years.
Measurement of Daytime Corona
Daytime corona of the insulators was measured before testing. Results showed continuous corona discharge, even in dry, bright weather and frequency exceeded 5,000 times/min. in humid weather.
Testing Insulators
These insulators were tested using methods prescribed in KEPCO standard procurement specifications (ES-5970-0010), including:
1. Puncture test and combined mechanical & electrical strength test to assess performance of corroded insulators;
2. Thermal shock test to assess porcelain body and connectors;
3. Low frequency wet flashover voltage test to analyze the characteristics of low frequency flashover caused by corrosion on caps and pins.
Table 4: Test Program for Insulators
No
Test Items
Remarks
Thermal

shock

test

Low-frequency

wet flashover

Advertisement

voltage test

Puncture

test

Combined

mechanical

& electrical

strength test

1
◯
–
–
◯
Insulator numbers 1~4

(#4 Pylon)

 

Insulator numbers 5~8

(#3 Pylon)

2
◯
–
–
◯
3
◯
–
–
◯
4
◯
–
–
–
5
◯
–
–
–
6
◯
◯
◯
–
7
◯
–
–
–
8
◯
◯
◯
–
Findings  
Advertisement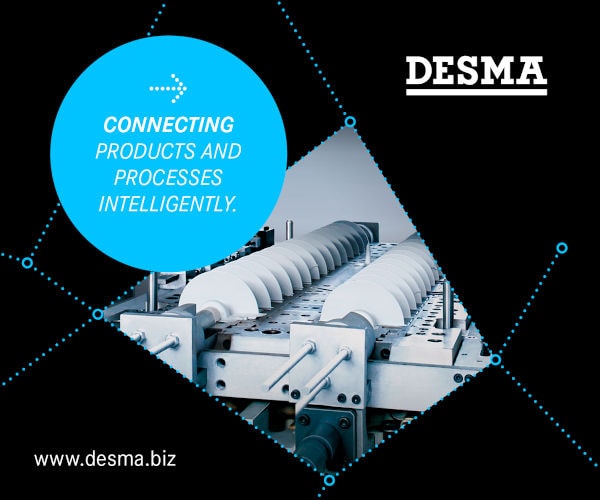 a. Visual inspection
– Based on EPRI guidelines, the corrosion of caps on insulators taken from tower #4 was Grade C. Therefore, replacing them had to be considered.
– Among the insulators taken from tower #3, 2 were judged Grade C, meaning replacing them had to be considered, while 2 were Grade D, requiring immediate replacement.
– Since the Grade C insulators were installed in a severely contaminated area, corrosion was likely to continue. As such, it was decided that immediate replacement was necessary.
– In particular, insulators taken from towers #3 and #4 located further from the coast than towers #1 and #2 were categorized as Grade C and D. Based on this, immediate replacement of insulator strings on tower #4 was seen as required.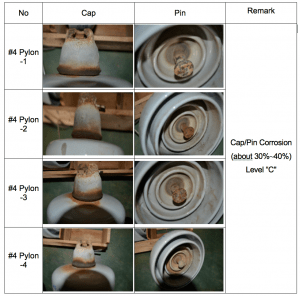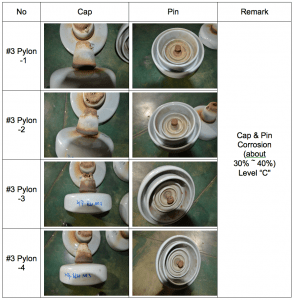 b. Daytime corona
– Corona discharges occurred even in dry, bright weather, which might accelerate corrosion of insulator caps and pins, thereby resulting in risk of flashover during washing.
– Since live line washing might cause flashover, extreme care was deemed necessary.
– Increased humidity might also cause flashover.
The results of electrical and mechanical testing did not satisfy the criteria for the low-frequency wet flashover voltage test and the thermal shock test. Electric field strength on the metal surface increased locally due to corrosion of the cap & pin of sample insulators, reaching the threshold of flashover voltage in a wet state (thereby lowering low-frequency wet flashover voltage).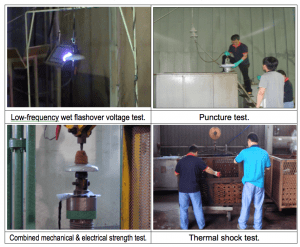 • Results of low-frequency wet flashover voltage testing did not satisfy the test criteria;
• Results of puncture testing satisfied the baseline (110 kV)
• Results of combined mechanical & electrical strength testing satisfied the baseline (12,000 kgf).
• 3 insulators broke during thermal shock testing and failed the test.
Analysis of Insulators Used for Many Years
To assess the condition of insulators used long-term in clean areas, a testing program was performed with 30 imported insulators which had been used about 35 years and also 30 imported insulators used for 45 years on a 154 kV line (Shindeokeun-Wonheung to Shindeokeun-Moonsan). In total, 9 separate tests were conducted.
Results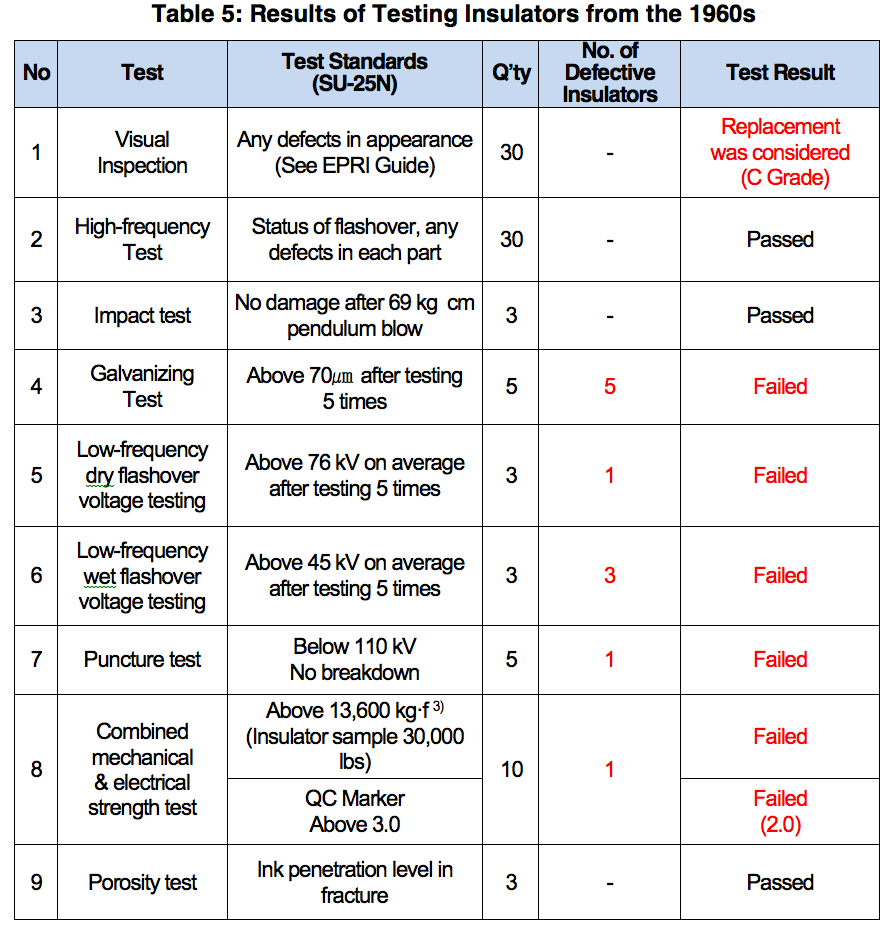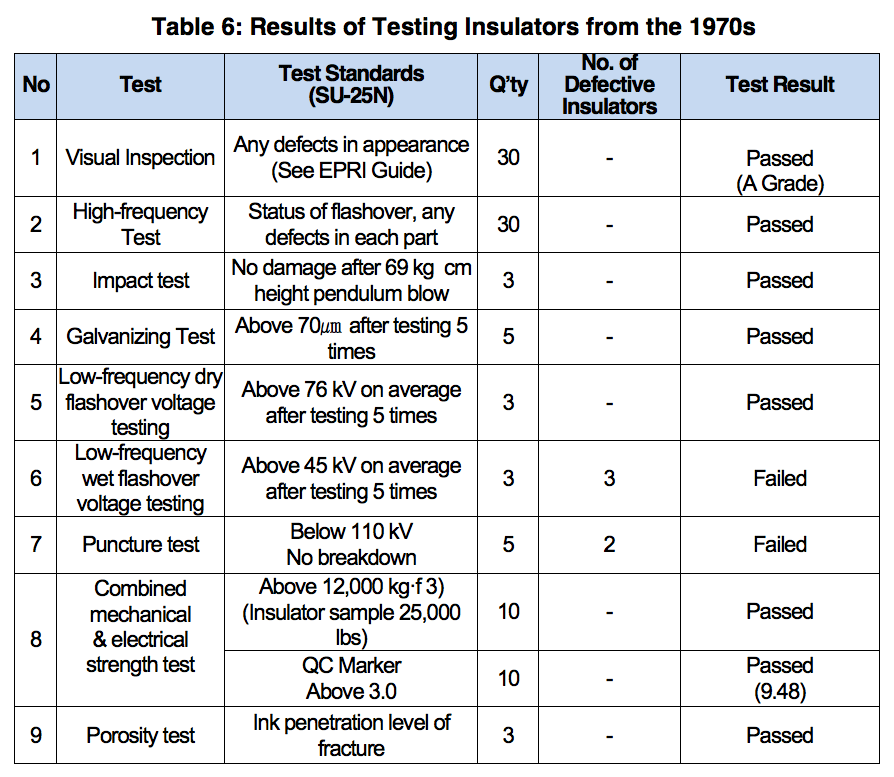 • The state of corrosion on insulator caps and pins was Grade C based on EPRI guidelines and galvanizing test results indicated a coating thickness defect due to corrosion.
• The results of combined mechanical & electrical strength testing indicated a QC marker of 2.0, failing the test. The final breakdown took the form of failure of the porcelain, indicating its vulnerability to ageing.
• Samples failed 4 tests due to electrical and mechanical degradation from temperature ageing and corrosion of caps & pins after long-term use.
• Corrosion on insulator caps and pins was Grade A (based on EPRI guidelines) and results of the galvanizing test indicated that coating thickness satisfied the baseline.
• Samples failed 2 tests due to degradation in electrical performance due to ageing after long-term use.
Considering test results on insulators used long-term from two lines (temperature ageing, corrosion, test failures and service years), degradation in their electrical and mechanical performance is expected to increase the probability of failures.
Future Plans to Assess Insulator Population
In total, 22% of the insulators used long-term in Korea are now more than 30 years old. In order to determine the proper time to replace these units, evaluation of their integrity is urgently needed. Moreover, since ageing processes can be accelerated in coastal areas, it may also be necessary to take appropriate measures even for insulators in service for less than 30 years. KEPCO is planning to perform a 2 to 3 year research project on the reliability and residual life of line insulators used long-term and to replace them on the basis of findings. The research project will cover the following:
1. Performance testing and analysis of insulators classified by their number of years in service, exposure to contamination and manufacturer;
2. Analysis of factors that contribute to ageing of insulators and the development of suitable life cycle evaluation methods;
3. Estimation of the remaining life of insulators with many years in service and establishing standards for their replacement.