A report from 2012 provided interesting data on the different types of insulators in service on Chinese transmission lines and made fascinating reading. The populations of porcelain and composite insulators at the time were almost equal while glass occupied a secondary position. However, if one looks at insulators put up since 2007, (i.e. new lines and replacement), there was clearly increased use of composite insulators and, to a lesser extent, glass.

Examining the situation by voltage level allowed greater insight into how utilities in China viewed the merits of each alternative technology. For example, on UHV AC & DC lines (i.e. 1000 kV, 750 kV, ±800 kV and ±500 kV) composite types accounted for more than 55% of all insulators in service. At 1000 kV and ±800 kV, their relative share jumped to 62.1% and 66.7% respectively. The reasons behind this included superior withstand against flashover due to pollution, thereby reducing required string length and also decreasing tower profiles/sizes – all meaning lower project costs.
The relative application of composite insulators on 66 kV lines exceeded 50% while at 110 kV and 330 kV, their share dropped to circa 40%. At 750 kV, 220 kV and 66 kV, porcelain strings accounted for a comparatively greater share – in total exceeding 42.0%. By contrast, on ±660 kV and 500 kV lines, glass insulators had the single largest shares, i.e. 42.0% and 36.2% respectively.
From a regional perspective, comparatively large populations of composite insulators were being used on the Northwest China Grid and the North China Grid, i.e. 66.8% and 43.9% respectively. On the Northeast China Grid, porcelain was dominant on all transmission lines with a share of 53.1% while on the East China Grid glass dominated with a share of 40.1%. The relative emphasis placed on these different insulator technologies was due to factors such as local geographic and climatic conditions as well as tradition. In the northwest and northern parts of China, insulators suffer relatively more from pollution: since composite insulators increase pollution flashover withstand, they eliminate the need for frequent cleaning.
Leading Chinese manufacturers of porcelain insulators tend to be based in the northeast and this favors their application in the region. Similarly, the East China Grid uses relatively more glass, whose main advantage is decreased need for maintenance to detect punctured porcelain. Indeed, in the northeast, the population of glass insulators has trended upward over the years leading to 2012, to the point where their share of use on newer lines matched porcelain.
Age of lines was another factor affecting type of insulator in service. Historically, most insulators used on transmission lines in China were porcelain and therefore older lines tend to be equipped with these. By contrast, local manufacturing of glass insulators is relatively new, as is also the case for composite insulator production. These factories tend to be newer and larger, with greater and more efficient output – thus promoting more rapid increase in their application over recent years.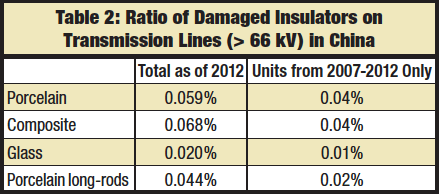 The ratio of all damaged insulators found on AC & DC transmission lines in China of 66 kV and higher in relation to total population in service was 0.043% in 2012. These relative proportions for porcelain, glass, composite and long rod porcelain are shown in Table 2. It is interesting to note that quality of insulators definitely seemed to be improving. Damage to porcelain and glass insulators often results from corrosion, breakage of fittings such as steel pins and unusual overload. Damage to composite insulators is linked mainly with mishandling in transport and installation, core rod corrosion and brittle fracture, defective crimping, erosion, bird pecking, ageing or loss of hydrophobicity of shed material. The rates by type of insulator in Table 2 were, of course, averages and varied by manufacturer due to capability and production process. Some are known to have damage rates of more than 1%. To decrease this, the starting point has to be finding better ways to force all suppliers to raise their technical standards.
Double and triple-shed aerodynamic cap & pin string insulators offer good self-cleaning and are very popular in China. These are mostly porcelain since the production process for equivalent glass profiles requires complicated molds and is costly. Therefore, based on preferred insulator profile, porcelain has a competitive edge. On the other hand, the main advantage of glass is no need for testing for punctured discs, as required for porcelain. Decreasing the rate of self-explosion is the goal of most glass insulator suppliers. Since composite insulators offer excellent pollution performance, are light and low in price, they have benefited from several competitive strengths. With this technology, the priority will be how to further improve product quality measured mainly by long-term, trouble-free service performance. Although application of composite insulators in China goes back over 30 years, large quantities are in service only during the past 10 to 12 years – not long enough to predict what might happen in the future. With longer experience, new problems may emerge and solving these will require the combined efforts of grid operators, manufacturers and research institutes.
Prof. Guan Zhicheng
Tsinghua University, Shenzhen Campus
guanzc@tsinghua.edu.cn