Algerian HV Grid Operator Combats Harsh Pollution
Algeria's transmission grid operator, GRTE, has had to deal with a combination of pollution challenges that impact reliability of the overhead network. This article from 2012, contributed by INMR Contributor, Raouf Znaidi, focused on one particular region of the country where pollution is especially severe and where findings on comparative insulator performance at a special test station have been applied across the network.
---
When it comes to a potent combination of industrial and marine pollution, few places rival the northwestern city of Oran – one of five maintenance regions managed by Algerian HV grid operator, GRTE. A vast industrial zone near the city is dominated by a panorama of flaming petrochemical plant chimneys that release unending clouds of black smoke. This smoke combines with salt from the nearby Mediterranean and quickly settles on insulators of nearby 220 kV and 60 kV lines that run parallel to the coast.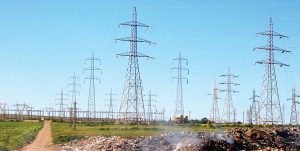 To make matters worse, this part of Algeria is home to large populations of migrating storks that usually nest on towers and further contribute to the widespread problem of pollution flashover. Regional Transmission Director, Mokhtar Said, explains that, in spite of frequent live washing, several 60 kV and 220 kV lines – insulated with strings of 7 and 18 fog-type glass cap & pin insulators respectively – routinely experience as many as 20 outages/100 km each year. He goes on to say that the local combination of pollution sources is so severe that Oran has been chosen as a pilot site for GRTE maintenance staff to assess the relative performance of alternative insulator designs as well as remedial countermeasures.
For example, in 2007, a research study was launched on pollution phenomenon with the aim of identifying which insulators and profiles perform best under the harsh local service conditions. Another goal was to optimize the costly washing program in terms of identifying the most appropriate washing cycle.
Growth of Oran's Transmission Network  
Said notes that rapid industrial growth in the region around Oran has created a sharp increase in electricity demand and resulted in expansion of Algeria's Western Transmission Network. Indeed, between 2007 and 2011, the length of regional transmission lines increased by nearly 80% to the point where they now make up nearly a third of the country's grid.

Tewfik Bentabet, Head of GRTE's Maintenance Department for Oran region, reports that persistent flashovers in the area are typically triggered by layers of solid pollution that quickly form on insulator surfaces and then become wetted by salt spray or nighttime humidity. These problems, he notes, have led to a progressive shift away from the fog type and instead toward aerodynamic glass disc profiles. There has been an increasing application of composite insulators as well. Says Bentabet, "we are looking to benefit from the self cleaning properties of aerodynamic strings or the superior flashover performance of composite insulators, even with little to no maintenance."
Pollution Test Station
In order to evaluate how best to deal with high levels of industrial pollution mixed with salt spray and dry salt, GRTE recently embarked on a south-south and south-north study of polluted insulators. This work, undertaken in co-operation with STEG International Services from Tunisia as well as consultants from a French utility, aimed, among other things, to establish a pollution map of Algeria. "The main goal of the study," explains Bentabet, "was to better understand the pollution environments through which our transmission lines are routed with a view to better selecting and dimensioning insulators for our service conditions."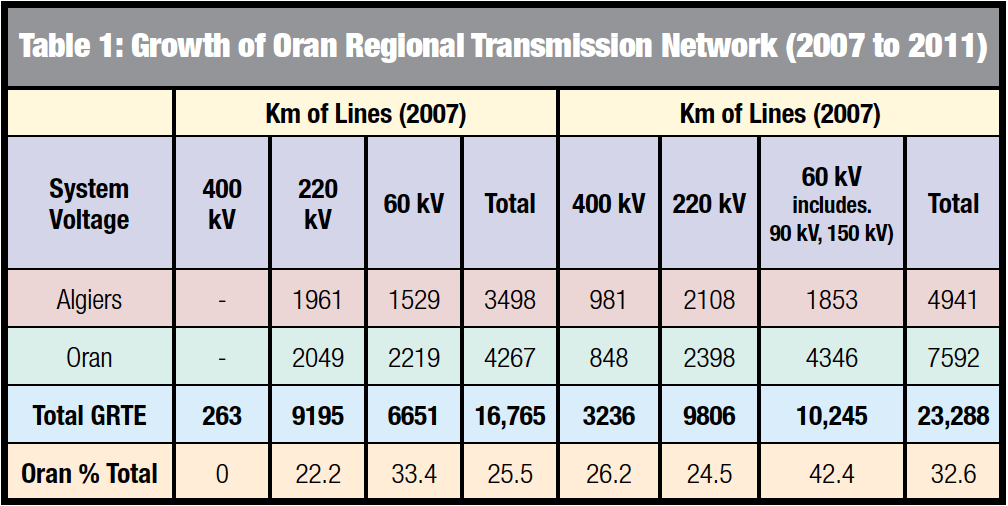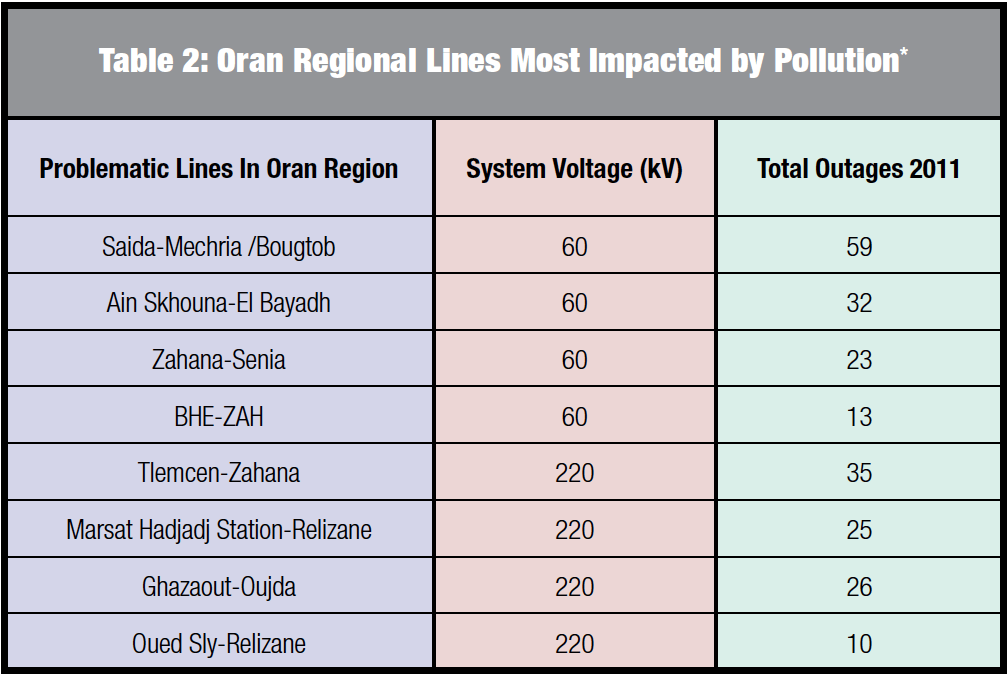 As part of this work, the Marsat El Hadjaj Substation near Oran was selected as site of a pollution test facility with a system for monitoring leakage current on five different types of insulators energized at 17.5 kV phase-to-ground through a single-phase transformer and fuse cutout. The site was also equipped with a full-fledged meteorological station allowing climatic variables such as humidity, temperature, rainfall and wind speed to be measured and then correlated against leakage current data. Assessment of site pollution severity was based on 3 to 4 ESDD and NSDD measurements conducted per year on standard profile glass cap & pin insulators.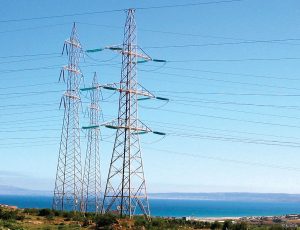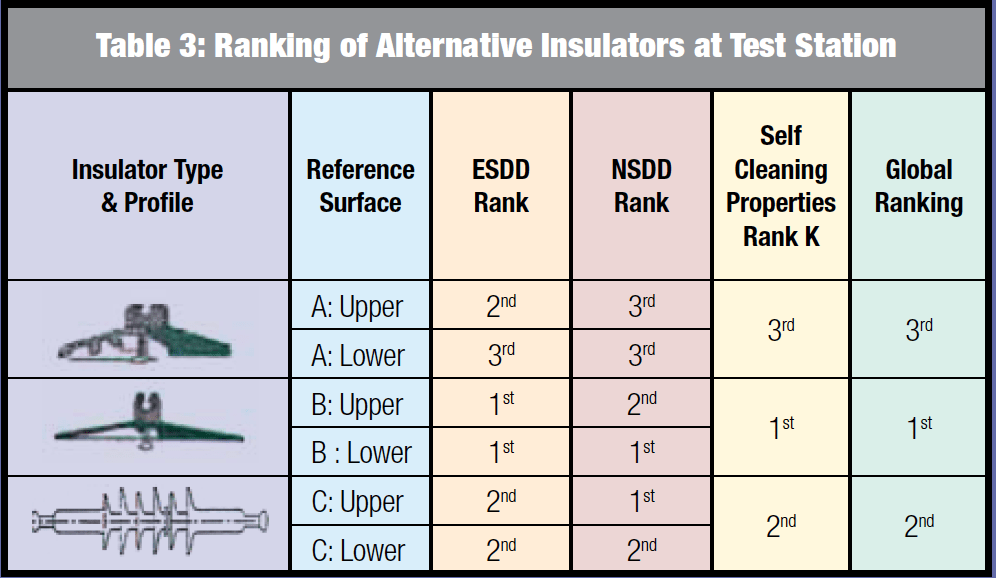 Mohamed Belouf of GRTE's Maintenance Dept. for Oran reports that the first 18 months of findings from the test facility provided valuable information on the comparative performance of different insulators under local conditions. For example, based on ESDD and NSDD measurements, a preliminary ranking of the various insulator designs tested confirmed that aerodynamic glass cap & pin discs had the best 'order of merit', followed by silicone composite insulators with alternating shed profile. Standard glass cap & pin insulators were third in terms of performance (see Table 3).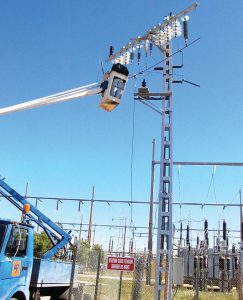 According to Beloufa, among the insulators tested at Marsat El Hadjaj (i.e. standard profile glass, aerodynamic profile glass, silicone insulators with alternating sheds and EPDM insulators of the same geometry), accumulation of pollution varied greatly by insulator. Moreover the distribution of pollution deposition was not uniform such that the non-soluble pollution accumulating on lower surfaces of sheds was usually higher than on upper surfaces (e.g. see Fig. 1).
In regard to developing a pollution map covering all of Algeria's service conditions, as many as 36 non-energized test stations were eventually set-up across the five different regions of the GRTE network. Both ESDD and NSDD measurements are performed there each year by a joint research group.
Chemical Analysis
Analysis of pollutants accumulating on the insulators installed at the Marsat test station as well as on the standard profile glass disc used as reference revealed that the composition of artificial pollution within IEC Standards is not representative of actual service conditions in countries such as Algeria (see Table 4)
Bentabet points out that such findings on pollution composition and extent of accumulation have made GRTE question the applicability of guidelines within IEC as regards optimal insulator selection for locations such as Oran. In particular, these findings have led to a process of gradually replacing unsuitable fog as well as special fog type glass discs with aerodynamic designs or composite insulators on all transmission lines that run parallel to the coast as well as pass near industrial areas up to 30 km inland.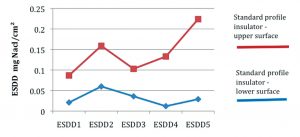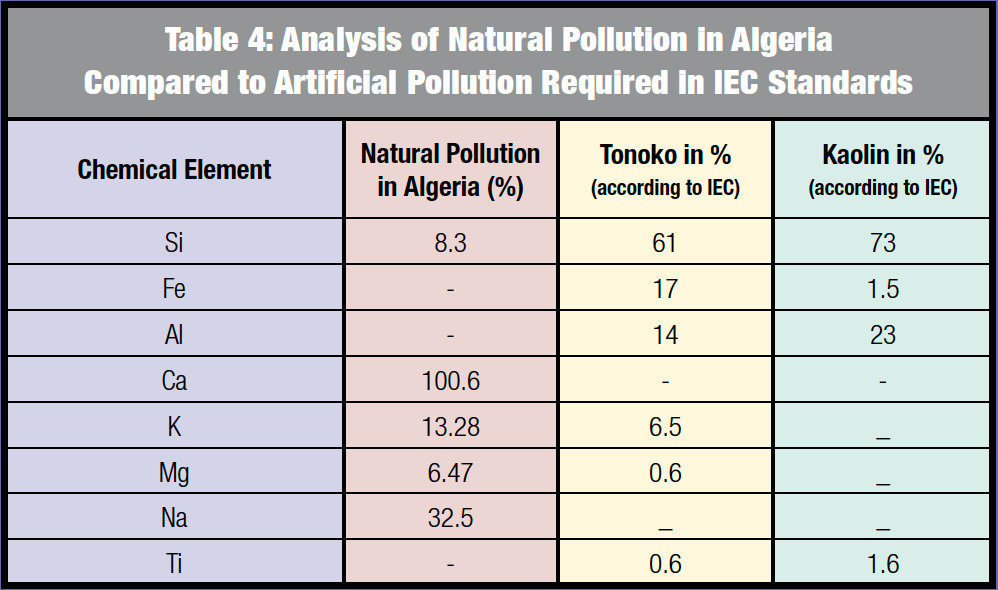 Impact of Birds on Transmission Outages  
As reported in past issues of INMR, experience in countries such as China has shown that up to 43% of flashovers on lines (even those equipped with composite insulators) can be attributed to bird streamers (often included within the category 'unexplained causes'). This is the case in Algeria as well since seasonal migration of large stork populations that nest on towers is among the major problems affecting performance of local transmission lines.

"Contact of stork streamers with conductors is a serious concern for maintenance staff in our region," notes Mrs. Goumari, the country's first 'lineswoman' and who also analyzes outages in Oran. "As a result, we have had to rely on remedial countermeasures, the most effective of which we call the 'umbrella technique', i.e. installing a wide aerodynamic glass disc at the top of the suspension string (or mounted on the dead end side). This protects fog type discs from possible short circuit not only from bird droppings but also due to local acid rain." According to Goumari, the technique also has the benefit of reducing the accumulation of pollutants on lower surfaces of discs in the string.
Another valuable tool has been the 'stork road map' developed in cooperation with the R&D center of SONELGAZ and which shows stork migration routes across Algeria in relation to overhead transmission lines. Beloufa explains that one measure adopted to reduce the impact of storks on flashovers of suspension strings was to build secondary nest sites, typically on less vulnerable nearby tension towers. However, in a pattern generally noted by those who study the impact of birdlife on overhead networks, storks will often set up new nests very close to the ones that have been removed and relocated.
Silicone Grease versus RTV Coatings
Prior to 2009, the main solution used by GRTE for protecting substation porcelain from the effects of petrochemical, industrial, marine and desert pollution was based on application of silicone grease. While the life expectancy of the greasing technique generally would not be expected to exceed 3 to 5 years in a heavily polluted environment such as that near Oran, the first grease applied to insulators at the Marsat el Hadjaj substation in 1992 has proven effective for almost 20 years in preventing high leakage currents and discharge activity.
Given the difficult service environment as well as experience with diminishing efficacy of grease under heavy pollution, GRTE began applying RTV silicone coatings in 2009. Since then, more than 1000 kg of such material has already been applied on critical substation equipment such as breaker housings, surge arresters, current transformers and bushings. At the time of the visit by INMR, coating of insulators at the Marsat El Hadjaj Station was almost complete and one of the points of interest involved the unique application technique selected by local maintenance staff. Says Beloufa, "we coat insulators and porcelain equipment housings here quite generously with more than a 0.5 mm total thickness of RTV material. But we apply this coating to only half or at most two-thirds of the total length of insulator from its dead end."

Cleaning the porcelain in preparation for coating is done using a range of different manual techniques and involves much time devoted to removing all solid pollutants as well as dried grease still adhering to surfaces. Later, once surfaces have been wiped clean, application of the coating is relatively quick.
At present, substation operating staff for Marsat El Hadjaj and surroundings report that, with the exception of audible noise from corona activity during wetting under high humidity, the RTV coatings seem to be performing remarkably well.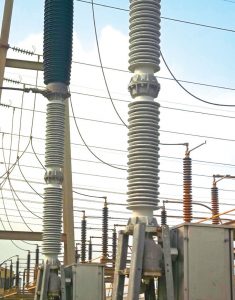 Summary  
Bentabet and Beloufa look back over recent service experience and report that it is probably not yet long enough to make a definitive assessment of how various remedial measures are reducing pollution problems in the Oran region. Nevertheless, they agree that more appropriate insulator design combined with live line washing and growing application of composite insulators has already improved performance of those lines that were most problematic in the past. These are now insulated mainly with combinations of aerodynamic glass and composite insulators, made from both silicone and EPDM housings.
Looking to the future, they see that similar efforts will also be undertaken within other regions of GRTE with the goal of improving overall service quality by systematically reducing pollution flashovers. Back at Head Office in Algiers, GRTE Maintenance Director, Fathallah Souker sees a steadily growing but controlled application of composite insulators in Algeria. "To maximize performance of insulation on our transmission lines," he says, "we will still rely on live line washing even as we use progressively greater quantities of composite insulators. But in spite of our efforts to ensure proper selection criteria for these insulators and even considering their economic and performance advantages in overcoming pollution flashovers, GRTE will continue to follow a cautious approach. What we wait for is the time when their actual life expectancy in our environment is clearer and there are no longer any perceived operating risks in terms of inspection and live-line work."