In a day when power utilities across the globe have to increasingly deal with ageing power infrastructure, one transmission line crossing a wide lake presents an example of the types of asset management issues that can be involved. The project in this case is made all the more interesting because of its unusual history and the fact that, when built, it was a true engineering marvel and the world's longest transmission span. In 2016, INMR traveled to the Kootenay region of British Columbia in Canada – a rugged landscape of mountains and lakes – to report on current efforts to maintain this important lake crossing.
---
The Lake Kootenay Crossing certainly ranks among the world's more remarkable transmission line projects. Commissioned in 1952 and designed for 170 kV, it was constructed by an industrial company to supply power to its large mines in the nearby Purcell Mountains. In spite of challenges that came with erecting huge towers in the steep forested terrain, a 3.4 km (2.13 mile) span across the lake – a record distance at the time – was deemed preferable to the alternative of building 112 kilometers of new line to go around the lake.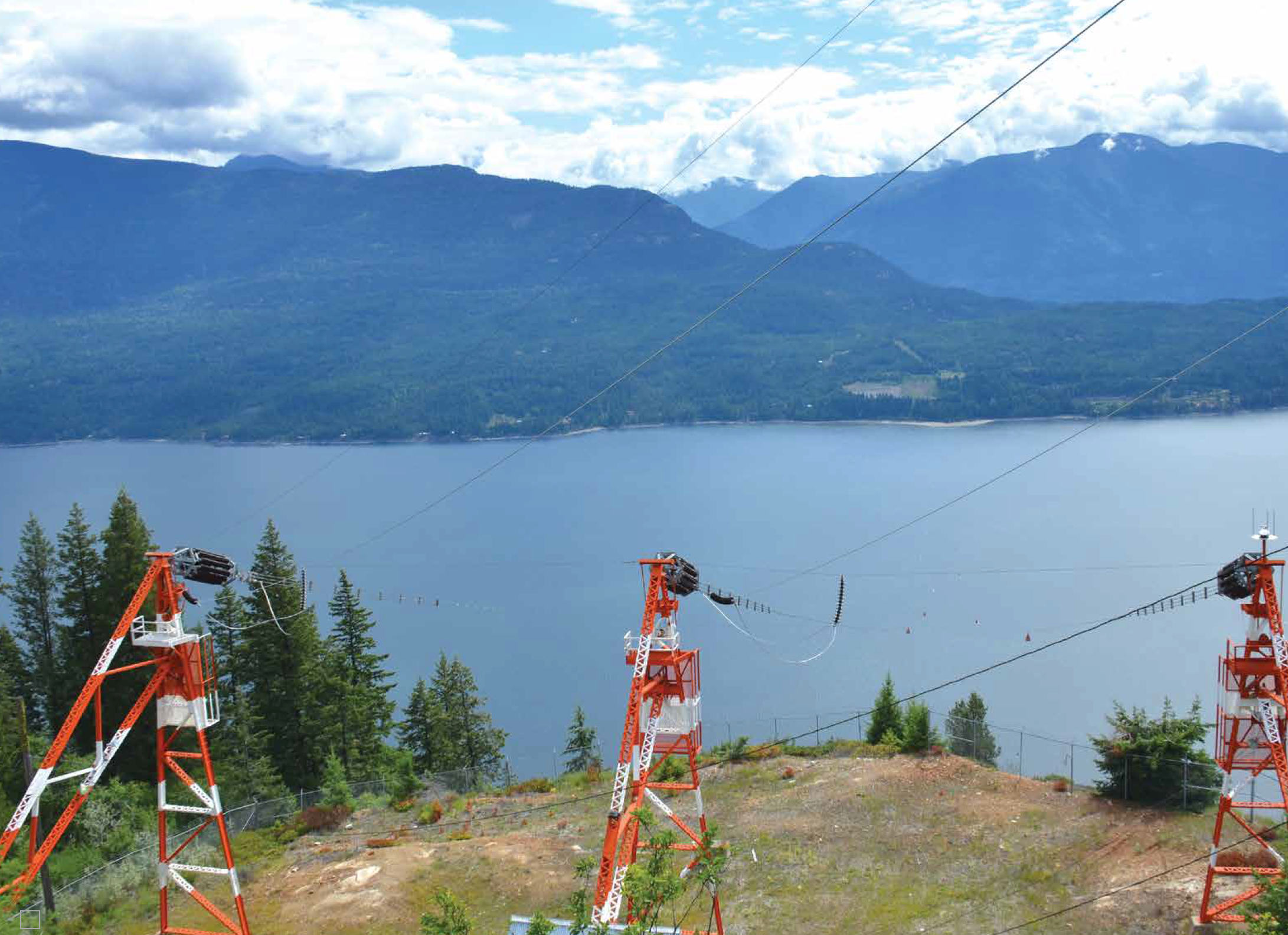 What made this lake crossing all the more fascinating is that it soon became target of one of the first examples of modern-day terrorism. In 1962, it was believed, a fringe group from a religious community of pacifist farmers who emigrated from Russia a century ago allegedly protested industrial development by bombing the monumental 366 foot (112 m) transmission tower that stood on the east shore of the lake. The event made national headlines and caused a massive outage across the region. Yet, in spite of the extensive damage, temporary restoration was achieved in less than a month while cross-lake service was permanently restored in only 8 months due to the importance of the power supply for local mines.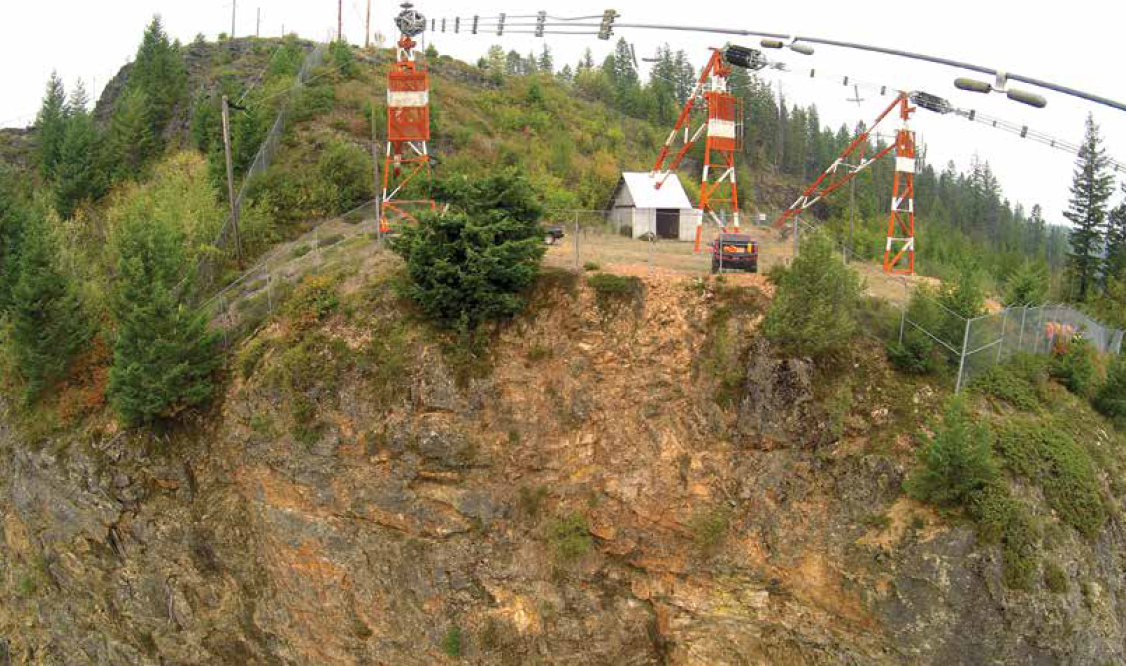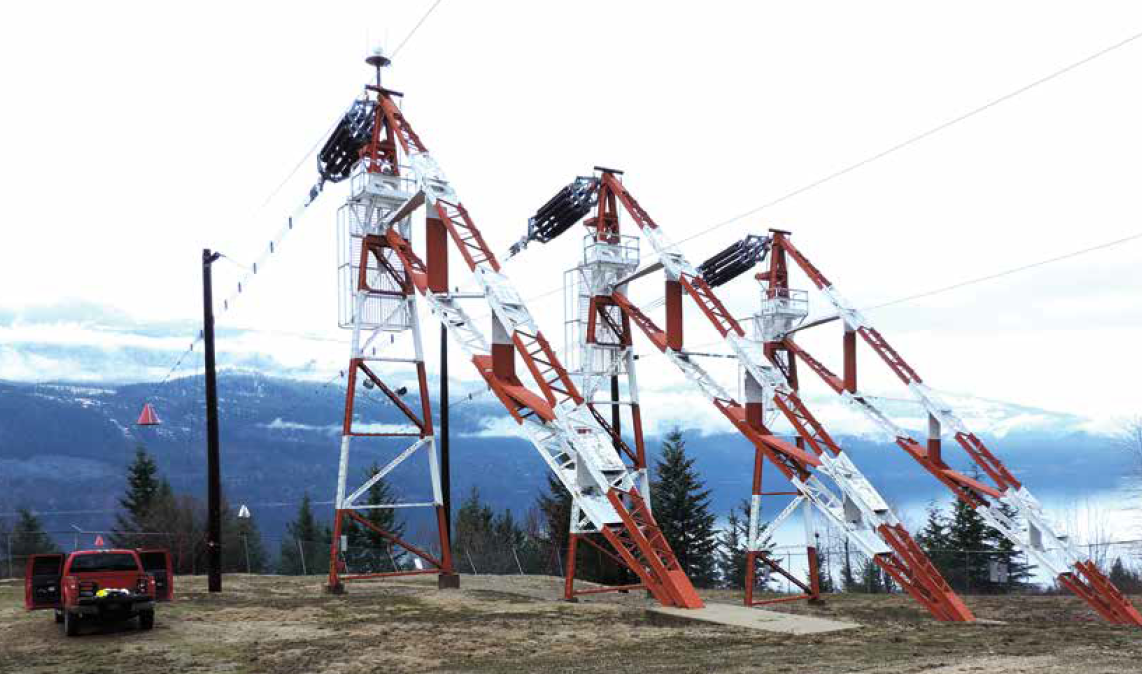 The reason why a 366 ft. 3-phase tower was originally needed on the east of Kootenay Lake in spite of high mountains on both sides was that the crossing distance at that point was the maximum available at the time for a single length of conductor without splice – in this case 10,656 ft. or 3,248 m. On the west side, however, single-phase towers could be engineered much shorter (only 62 ft.) since these were sited at an elevation of about 1300 ft. (396 m) above the lake.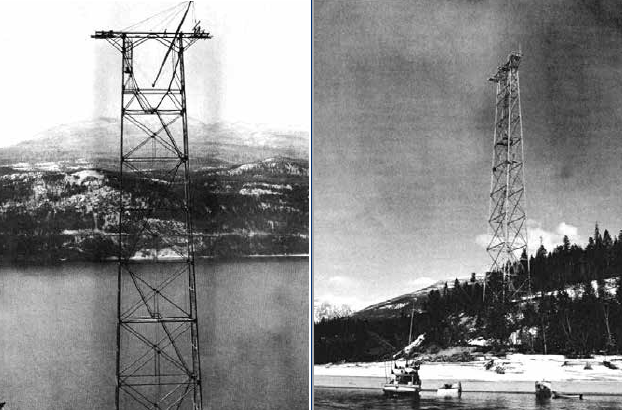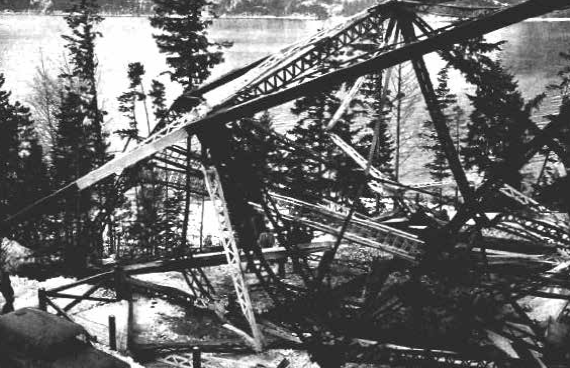 However, by the time the huge east tower was destroyed in 1962, manufacturing technology for steel wire had advanced to the point that a longer single span of conductor had become possible. This meant that replacement towers could now be relocated to higher elevation and further from the lake, allowing them to become much shorter and virtual duplicates of those on the west side – unaffected by the bombing.

Among the project's more notable engineering achievements was the unique dead-end insulator arrangement that still carries the 75,000 to 79,000 lb. load of the 1.25 in. diameter (3.175 cm), 91 strand high tensile steel wire used for each phase. Maximum design load for the crossing under wind and winter conditions is 120,000 lbs. (UTS of 237,000 lbs.). Composed of 6 double strings of 18 bells, each assembly contains a total of 216 x 25,000 lb. short-shank, tongue and clevis porcelain bells, connected in a 'shoe string' pattern to reinforce strength. The original insulators from the 1950s were replaced in the 1970s with similar units manufactured at one of Canada's last remaining porcelain insulator factories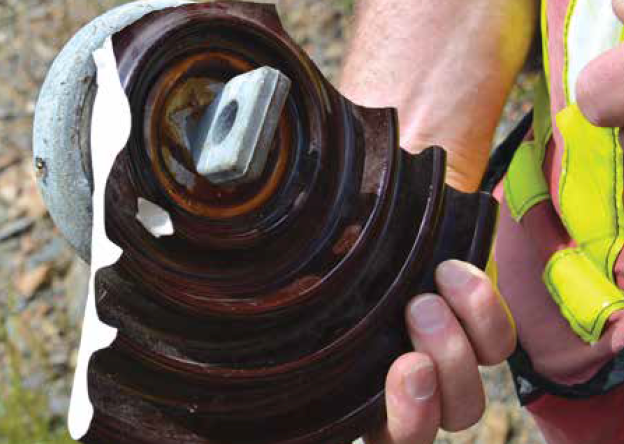 Dennis Schlender, formerly with West Kootenay Power and now head of consulting firm DBS Energy Services, has had a long association with this span and remains closely involved in the present day maintenance decisions that affect it. He and Sr. Transmission Engineer, Alison Loosley of current line owner, FortisBC, face several challenges when it comes to keeping the span operating reliably at the existing line voltage of 63 kV.
One of these challenges is monitoring the condition of the critical six dead-end insulator assemblies, where inspection has revealed signs of ongoing cement growth and cracking as well as fracture between pin and hub in almost all units, while some 13% on the west side of the crossing have tested as failed. There has also been evidence of rotation of the porcelain body inside the cement of the iron cap in some of the bells. Loosley is watching these issues carefully but feels there is no immediate threat since, under worst-case loading, only about 36% of available mechanical strength would be utilized. Schlender is also reassured and remarks, "these bells are known to be from a factory that supplied lower quality porcelain but in all my years I have never seen a case where they failed mechanically before they failed electrically." In this regard, recent testing on each string has revealed several shorted insulators but again not enough to present a serious risk of electrical failure – all the more so since the strings were designed for 170 kV but now need support only 63 kV.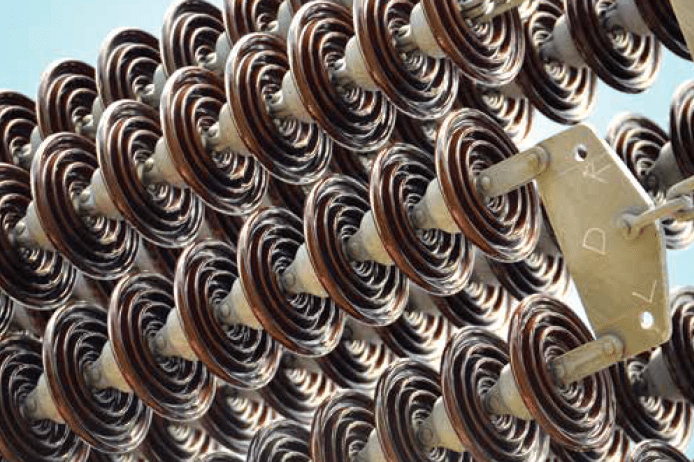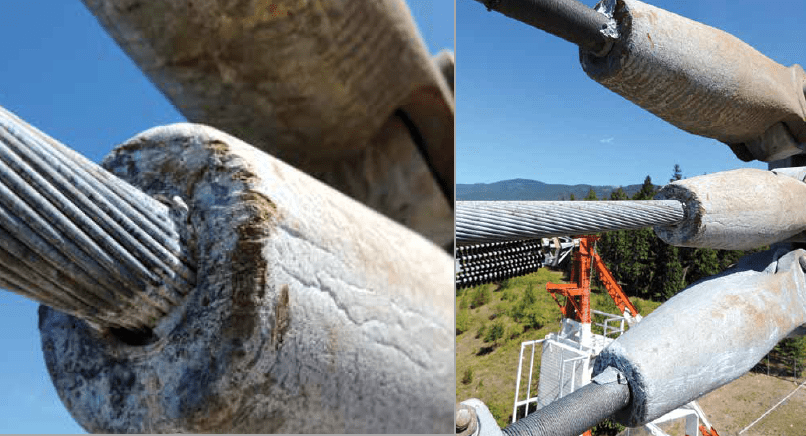 The porcelain ball and socket insulators on the line connecting to the lake crossing towers were replaced with glass strings in 1998, when the line was still owned by West Kootenay Power and operated at 170 kV. According to Schlender, the reason for the insulation changeover at the time was that serious degradation had been found in the cement of these old porcelain bells. "While there is lots of redundancy built into the clevis and tongue deadend assemblies on the span towers," he remarks, "the wood poles coming in had much less insulation. Therefore they were comparatively vulnerable to electrical or mechanical failure due to the low quality insulators. They became the more critical problem and most if not all were replaced."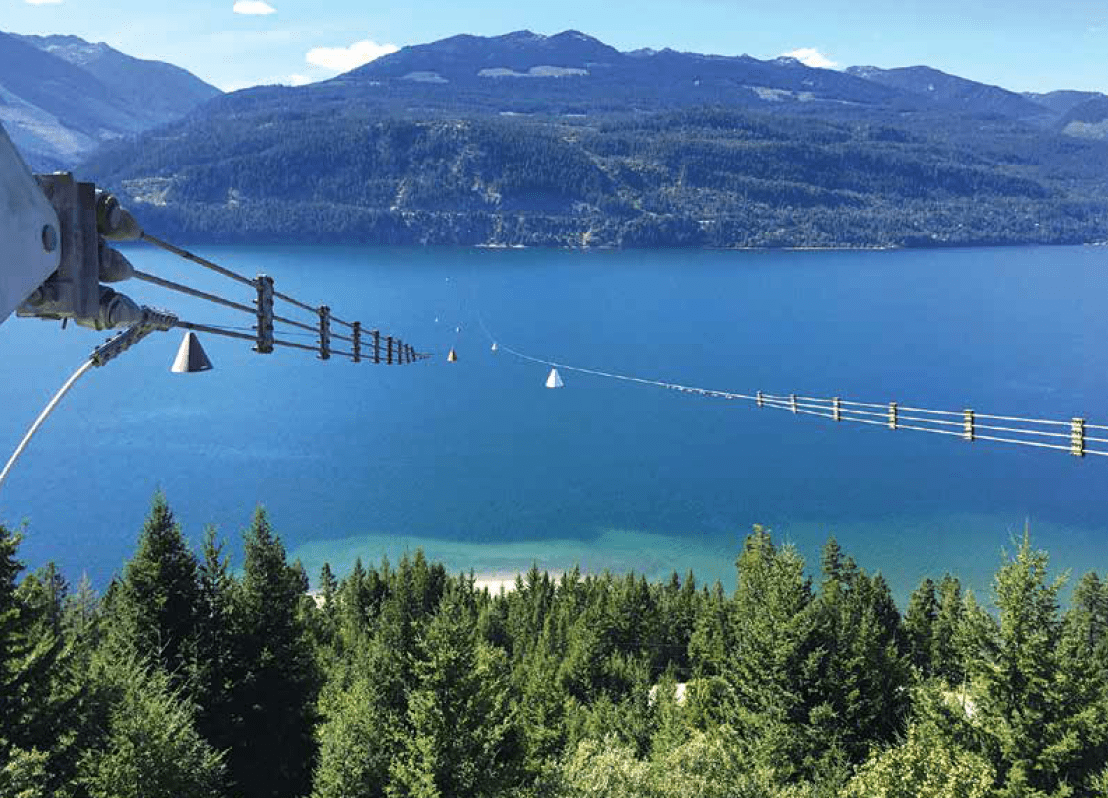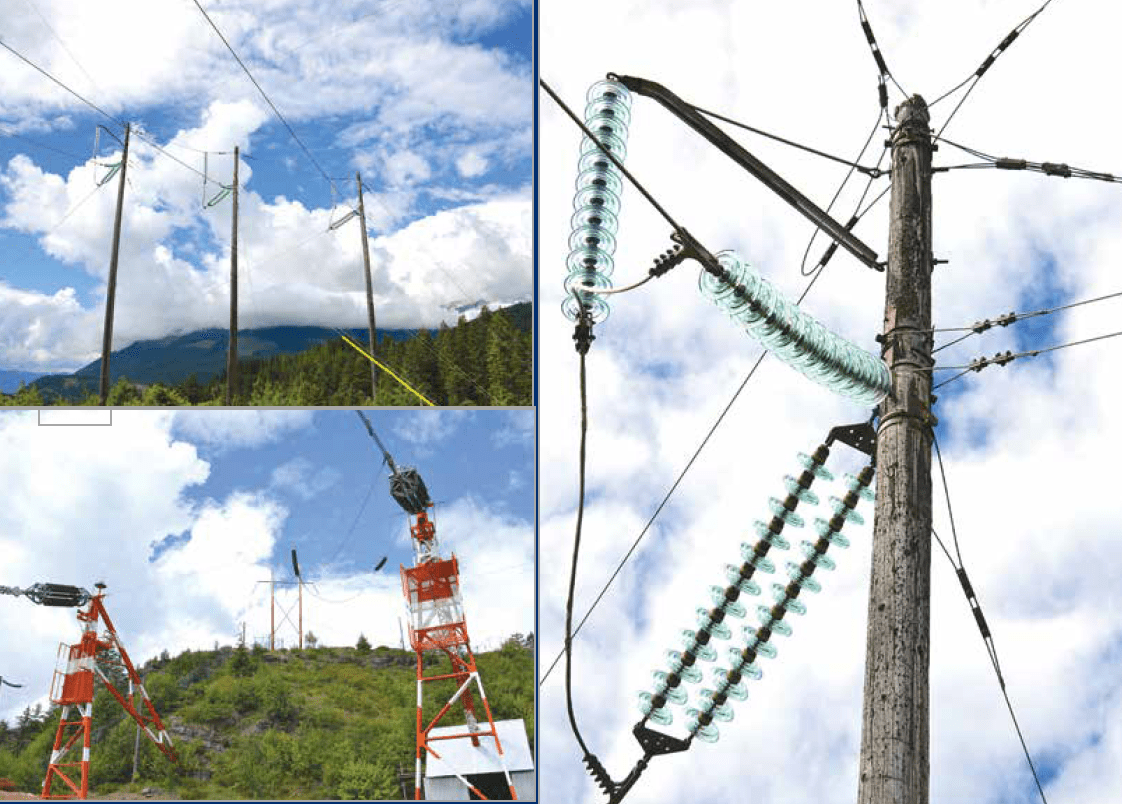 Another present day asset management challenge is monitoring the condition of the 54 year-old tensile steel conductor used on the lake crossing since the re-build after the bombing. In the past, a conductor cart was in place for line workers to travel the length of the span and assess condition or carry out required maintenance. However, this cart is no longer in use and other methods have had to be applied since Loosley states that FortisBC prefers to avoid the expense and safety risks of trying to reintroduce it.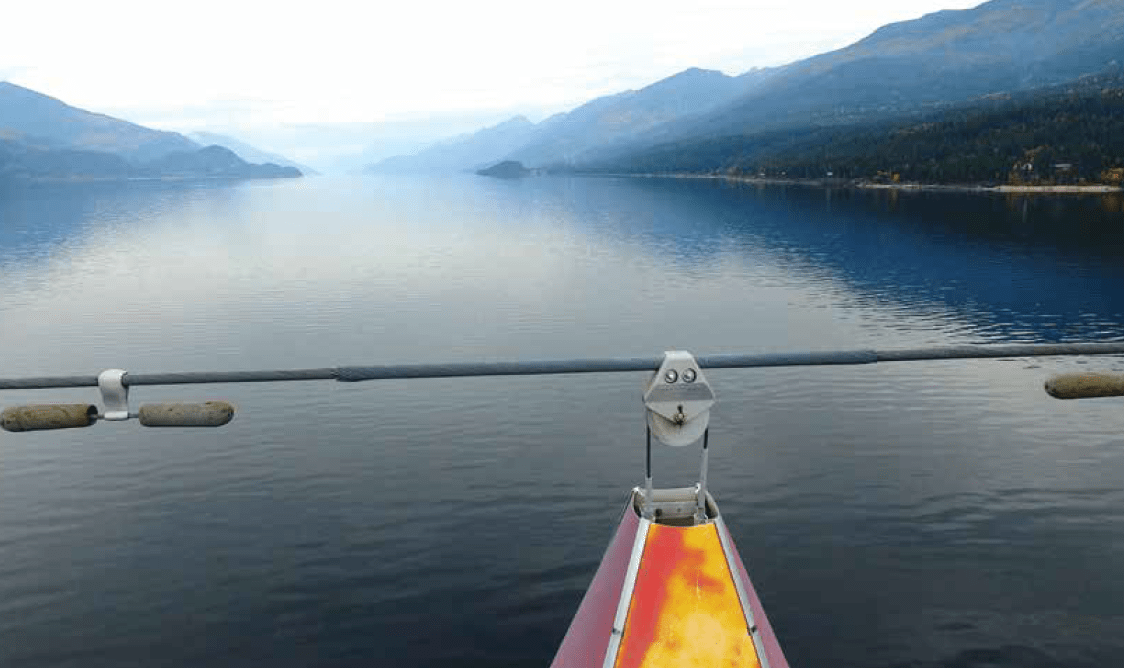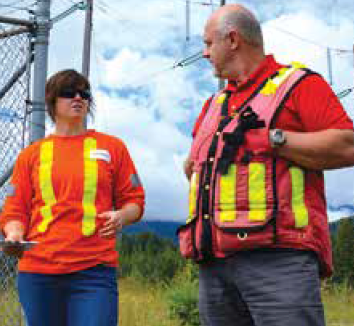 Drones have been an obvious choice given the line's varied topography but have encountered problems such as compass interference with control signals. Moreover, the inherent magnetic properties of the steel conductor are thought to have caused poor synchronization between the drone's internal compass and its GPS. In addition, any UAV used in this unique situation has to fly below the height of operator and one has in fact already crashed, due apparently to a combination of low power and loss of orientation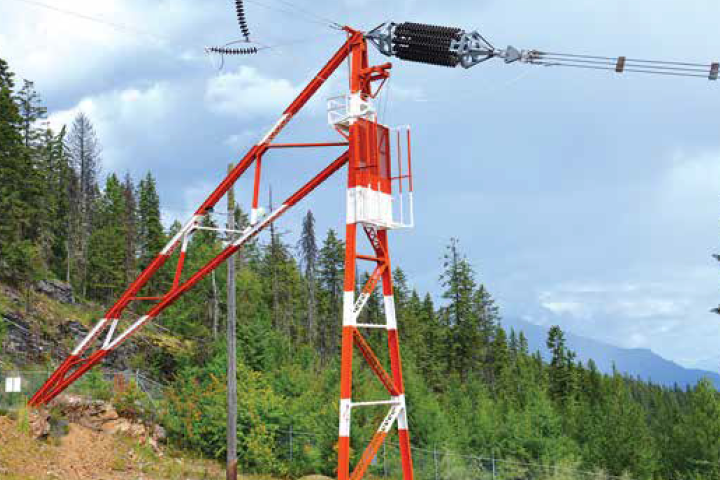 Schlender and Loosley explain that among the maintenance issues with the conductor is deterioration observed in the galvanization in certain places. While not yet severe, this is still a worry. Potentially more serious is cracking detected in the molten metal interface between solid ingot dead-end terminations and conductor along the circa 30 m long strain relief section of the line. This was specially designed to transfer 60% of the line's load to the dead-end insulator assemblies, leaving only 40% to be borne by the main conductors themselves. "We have been trying to X-ray these ingots to evaluate the full extent of any cracks," reports Schlender. "This could eventually become a serious issue but for now inspection tells us that the conductor still has a service life of a further 20 years."
A maintenance project scheduled for this autumn will be replacing the 34 marker cones, some of which have deteriorated severely or fallen off. In the past, these were accessible with the conductor cart that was specially designed to move past them as it traveled along the span. Now, finding replacements that fit will be one challenge and this difficult work will have to be done from a helicopter using long line methods.
As for the original span towers and those built after the bombing, all are deemed to be in good condition with an estimated residual life of 40 to 50 years. Still, there will be a need for evidence of corrosion and also repairing minor cracks in the foundations, both also planned for later this year.
While the lake crossing span presently operates at 63 kV and no longer supplies power to the mining region near Kimberley, it is still deemed important since it is the back-up to other more recently built lines. Says Loosley, "while it now serves a much reduced load, it still helps ensure reliability on the east side of the lake should the newer lines encounter problems due to tree-related outages."
Reviewing the maintenance challenges that need to be addressed for this ageing but still important power link, Schlender notes, "there are a variety of complications today and we have to decide how best to deal with them. The crossing's integrity is still intact but there are, for example, clear insulation problems. It is not one single issue but rather several we will have to address on an ongoing basis and we must choose what are the best options in each case. This is particularly important not only due to the difficult terrain but also from a safety perspective."