Some people work diligently to achieve financial success. Others do it looking for fame and reputation. But there are others whose dedication comes only from an inner desire to advance progress in a field they love. These types of people give of their skills, their time and their personal energy with the only goal being to help promote a body of knowledge.
Such a person was the late Claude de Tourreil – a selfless man who was devoted to electrical insulators – a field to which he dedicated his life and career. Thirty years ago, this remarkable man was willing to share his time and knowledge with someone starting out on a similar quest but who knew nothing about insulators. He then became a friend and mentor and helped to launch INMR onto the world stage.
In March 2006, Claude passed away from leukemia.
To honor his memory, in 2009 INMR instituted an annual award to pay tribute to remarkable people like Claude who give of themselves and their skills to advance progress in a field to which they have dedicated their lives. Past recipients of this award include: Prof. LIANG Xidong (Tsinghua University, China), Wallace Vosloo (Eskom, South Africa), Prof. Ravi Gorur (ASU, United States), Igor Gutman (STRI, Sweden) Tony Carreira (K-Line Insulators, Canada), Frank Schmuck (Pfisterer Sefag, Switzerland), Alberto Pigini (Italy) and Vaclav Sklenicka (EGU HV Laboratory, Czech Republic).
---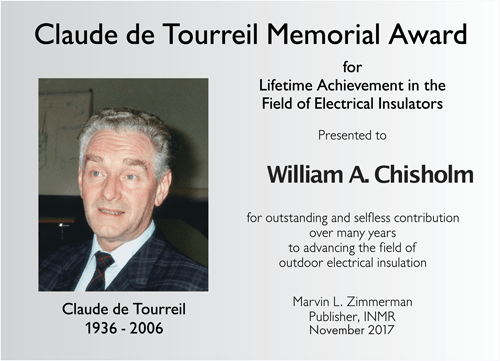 It is a great pleasure to announce that the recipient of this honor for 2017 is Dr. William A. Chisholm.
Bill has been a steadfast and longtime contributor to INMR with his wonderful and insightful column, Transient Thoughts. He has had an illustrious professional career at Ontario Hydro Technologies and later Kinectrics, where his innovative research resulted in significant progress in better understanding the cold fog flashover phenomenon and how to prevent it. He then successfully expanded beyond this early work, becoming an important contributor to knowledge about lightning performance of overhead lines.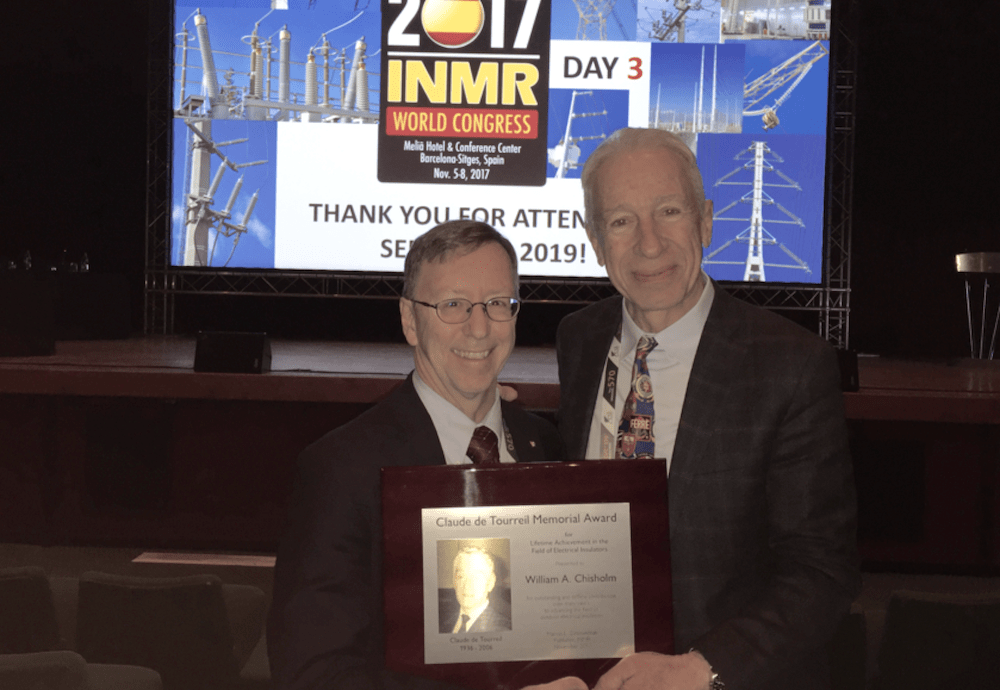 Bill has been a tireless contributor to IEEE Working Groups and Committees where his skill and knowledge have helped advance their agendas. He has also served with distinction as both expert speaker and Session Chair at INMR WORLD CONGRESS events going back years. Lately, he has also become involved in pioneering new thinking into methods to use satellites to monitor pollution worldwide and to better assess its impact on power systems.
Bill has justly earned this award for his dedication and contributions to his profession and to the HV industry overall. Power engineers worldwide congratulate him on his achievements and express appreciation for his decades of selfless service.