In January 2009, China's first commercial 1000 kV system was put into service with the goal of linking the North and Central China Power Grids. This 'demonstration project' by the State Grid Corporation of China (SGCC) was regarded as especially significant since it promised great impact on how electric power will move across the world's most populous nation. For example, apart from the advantage of allowing better network integration, UHV power transfer means that China can plan large-scale generation projects and reduce dependence on many local coal-fired power stations. The high profile project spurred growing interest in UHV AC transmission in other countries as well.
INMR visited the 1000/500/110 kV Jindongnan Substation, near the city of Changzhi in Shanxi Province in January 2010 and reported on some of its unique equipment. Three years later, INMR traveled to the other end of this project – the Jingmen Substation located in Hubei Province, some 3 hours drive from the industrial city of Wuhan. One of the most interesting differences in this 'sister substation' is that, unlike at Jindongnan, it features the first ever practical application of 1000 kV composite GIS bushings.
---
SGCC's 1000 kV UHV AC Project starts at Jindongnan and passes through the Nanyang Switching Station in Henan Province before ending at Jingmen Substation. With a maximum operating voltage of 1100 kV, the single circuit line of 654 km comprises 1280 towers and crosses two of China's most famous rivers – the Yellow and the Han. Substation capacity is 6 million kVa. The ambitious project faced numerous hurdles when it was first approved in August 2006 by China's National Development & Reform Commission. For example, there was almost no equipment available at this voltage level with any demonstrated service experience. Nor were there relevant standards to follow in regard to substation design as well as for key components such as surge arresters, CVTs, oil-paper bushings, etc. On top of these obstacles, there was also no relevant experience available when it came to construction, which had to rely instead on experience with 750 kV and 500 kV projects and R&D on UHV from abroad.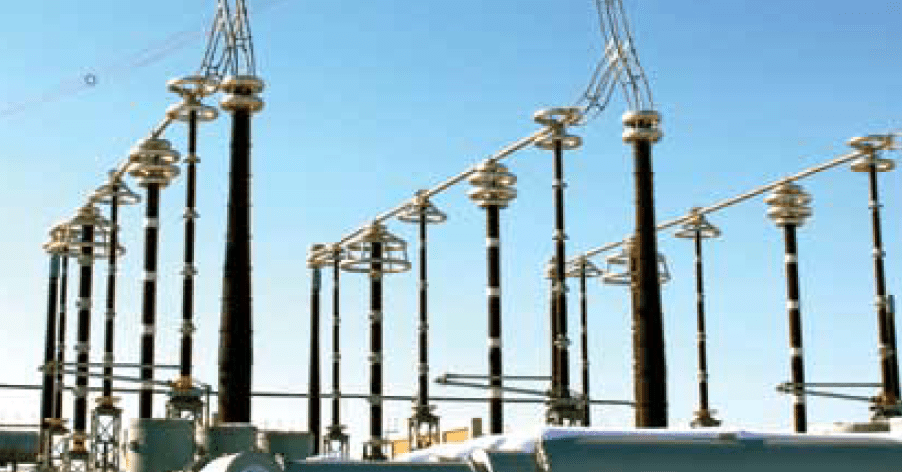 In order to proceed with the project's design phase, some 50 key technologies apparently had to be investigated, including insulation co-ordination, electromagnetic environment, lightning protection, structural loads, reliability, etc. Specification then emphasized local suppliers for all key equipment, from the special low noise 3-phase shunt reactors with 1100 kV rated voltage and 320 MVar capacity, to the single-phase transformers (each with rated voltage of 1050 kV, weighing some 1575 metric tons and developed to yield a capacity of 334 MVA in their single column windings), to the unique hybrid GIS breaker, measuring 10 meters in length and claimed to be one of the most technologically advanced anywhere.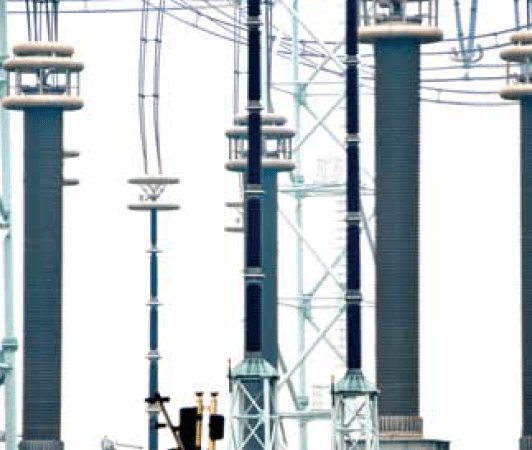 On the line itself, large cross-section conductor bundles, low noise equipment and special fittings were developed to ensure that the line and its electromagnetic field would meet all environmental requirements. Indeed, engineers point out that fields around the new 1000 kV line with its special steel-reinforced 8 bundle aluminum conductor arrangement are similar to what is found at 500 kV – even though power transfer capability has been increased by a factor of five.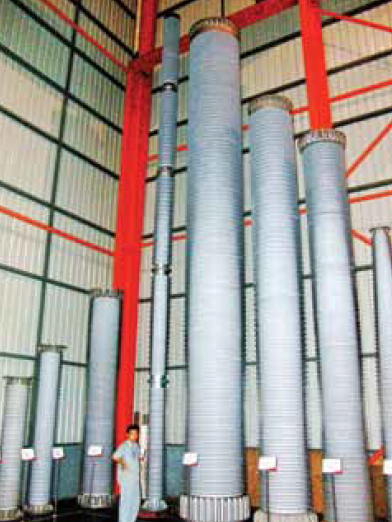 Among the unique items utilized at the Jingmen Substation and that set it apart from Jindongnan are six 1000 kV composite GIS bushings. While at Jindongnan the GIS bushings are made with porcelain housings, the 10.8 m high lead-out bushings at Jingmen are all constructed using silicone composite housings instead – the first practical application of this technology at 1000 kV. The supplier awarded the supply contract for these housings was one of the pioneers in developing hollow composite insulator production in China and the only one at that time approved to apply this technology at 1000 kV. According to company management, the criteria to select these insulators in place of porcelain involved cost as well as lead time considerations. For example, sales engineers report that the production lead time for the huge housings proved to be only about a month – considerably shorter than would have been required for equivalent porcelain – while cost is believed to have been reduced by as much as 65 percent per unit.
The 1000 kV hollow core composite insulators at Jingmen are typical of this technology, comprising an epoxy glass fibre tube, silicone rubber sheds and special end fittings. Applied as the outer insulation for the substation's unique HGIS equipment, they were designed to operate over a temperature range of from -60° to +50°C, while creepage was selected as applicable for the local service conditions which are typical of a Class IV pollution area.
The development of hollow composite insulator technology up to 1000 kV is regarded by many in the industry as offering significant benefits not only from the standpoint of reduced manufacturing time and costs but also in terms of improved performance. For example, PD levels on these composite housings are claimed to be less than 2 pC versus an estimated 10 pC or higher for porcelain. In terms of mechanical behavior, the Jingmen bushings' inner pressure damage/failure limit is said to exceed 4 Mpa (compared to 2.6 Mpa for porcelain), meaning increased safety for personnel as well as less risk of damage from explosion. Moreover, cantilever bending tests have demonstrated that the bushings can withstand 54 kN (583.2 kNm) – surpassing the minimum failure bending load of 45 kN specified by SGCC. Engineers claim that this superior seismic resistance means the bushings Could survive even a magnitude 8 earthquake.
With the Jindongnan-Jingmen line now having 7 years operating experience, projects are underway for yet more 1000 kV lines, including the Wandian-Dongsong project originating in Anhui Province as well as the Huainan-Zhejiang-Shanghai UHV AC transmission demonstration project. Apparently, it was decided that the new Wannan Substation will employ the same composite outer insulation on its 1000 kV HGIS bushings as used at Jingmen. Composite-housed bushings and other insulators now also feature prominently in projects to further expand the Xinjiang-Tibet Power Grid. The 750 kV Shazhou Substation in Gansu Province, for example, was the first in China to be equipped with composite insulators in all applications.