Transmission Grid in Pakistan Confronts Dual Challenges of Pollution & Icing (Part 1 of 2)
There are several regions of the globe where environmental pollution represents a serious challenge to the reliable operation of power networks – from the petrochemical complexes of western Algeria to the deserts of northern Kuwait. Ranking high among these are parts of Pakistan, such as south of Karachi, whereat times it can be difficult to distinguish system voltage of different lines due to dense smoke from nearby power plant and industrial chimneys. INMR Contributor and Insulation Specialist, Raouf Znaidi, recently visited Pakistan's National Transmission & Dispatch Company (NTDC), where engineers have to deal with a combination of challenges to reliable operation of the overhead grid. Apart from heavy pollution and corrosion, these also include snow and icing in steep mountainous terrain.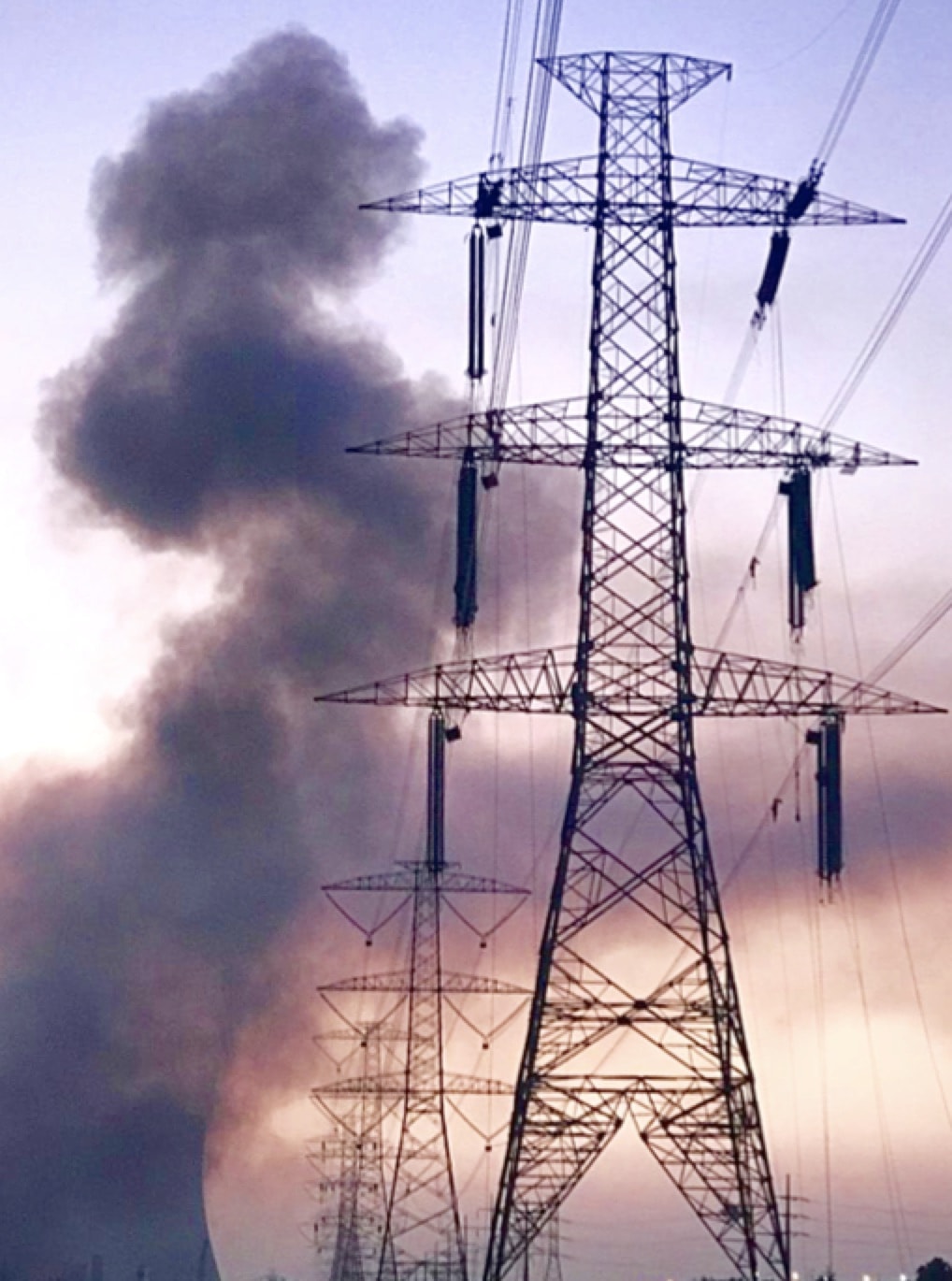 ---
Environment & Power Generation
Located between Asia and the Middle East, Pakistan has a blend of diverse climates and landscapes, from plains to deserts to forests to the towering Karakoram Mountains. The country's south includes over 1000 km of coastline running along the Arabian Sea and Gulf of Oman. Some 40 independent power producers contribute significantly to electricity generation and combined deliver up to 34,520 MW, predominately from natural gas (31%), coal (16%) and oil (14%).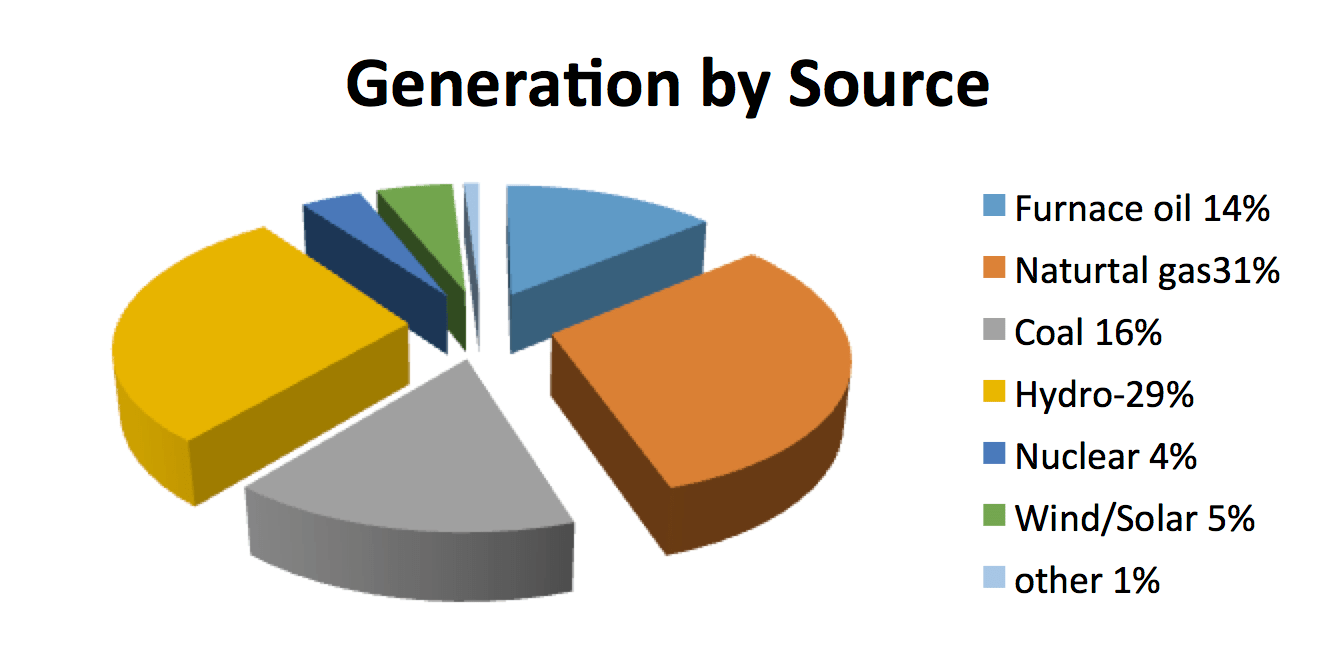 Almost all this power is transferred to the NTDC, whose transmission grid is now undergoing significant expansion through ongoing double circuit 500 kV projects expected to be commissioned in upcoming months. General Manager of Design & Engineering, Khawaja Riffat Hussain, reports that apart from the focus on expanding the transmission system, another priority has been improving existing infrastructure to assure more consistent as well as higher quality service, especially in the south where there are frequent outages due to the impact of severe industrial and marine pollution.

NTDC Transmission System
The NTDC was incorporated in November 1998 with the mission to build, operate and maintain the transmission network owned by Pakistan's Water and Power Development Authority (WAPDA). This network includes almost 5900 km of 500 kV lines and over 11,100 km of 220 kV lines.




Muhammad Iqbal, Chief Engineer of Line Design, explains that NTDC's Transmission Line Div. faces two different types of extreme insulation challenges. In the south, particularly near coastal areas, industrial pollution mixed with salt spray causes frequent outages in spite of costly regular insulator washing. In the north, with its towering mountain ranges, engineers confront challenges in selecting and dimensioning insulators for new 500 kV double circuit lines that will run through areas with heavy snow and ice exposure.
Most transmission lines in Pakistan have traditionally been insulated with locally manufactured anti-fog type porcelain disc insulators. To cope with the severe service conditions, NTDC has adopted a strategy of over insulating all lines running along the south coast by using more than 43 U160CP discs. This corresponds to a unified specific creepage distance (USCD) of as high as 74 mm/kV. By contrast, systems in the north typically do not exceed 40 mm/kV USCD and strings consist of only 23 discs.



Yet in spite of past over-insulation practices, unacceptably high numbers of flashovers have still been recorded. This motivated NTDC engineers to undertake a global review all HV transmission structures in general and of insulation design in particular. Among the latter priorities has been selecting and dimensioning suitable insulator profiles and materials – not only for the polluted regions of the south but also for stormy snowy regions in the north. There, a key new double circuit 500 V line will interconnect the Suki Kinari Hydropower Station to major load centers in Islamabad and Lahore.
First Challenge: Severe Pollution
The area south of Karachi is marked by heavy contamination from power plants and industrial sites and thick smoke is not uncommon. The result is severe pollution accumulation on insulators of different lines passing through the area.
Manzoor Ahmad, General Manager at 'Project Delivery South', points out that, as bad as pollution can get, it is not the only problem adversely impacting NTDC lines in the south. Another is that the HV network around Karachi suffers extreme, irreversible corrosion on towers, cables and hardware connections due to high humidity and constant salt spray from than 1000 km of nearby coastline.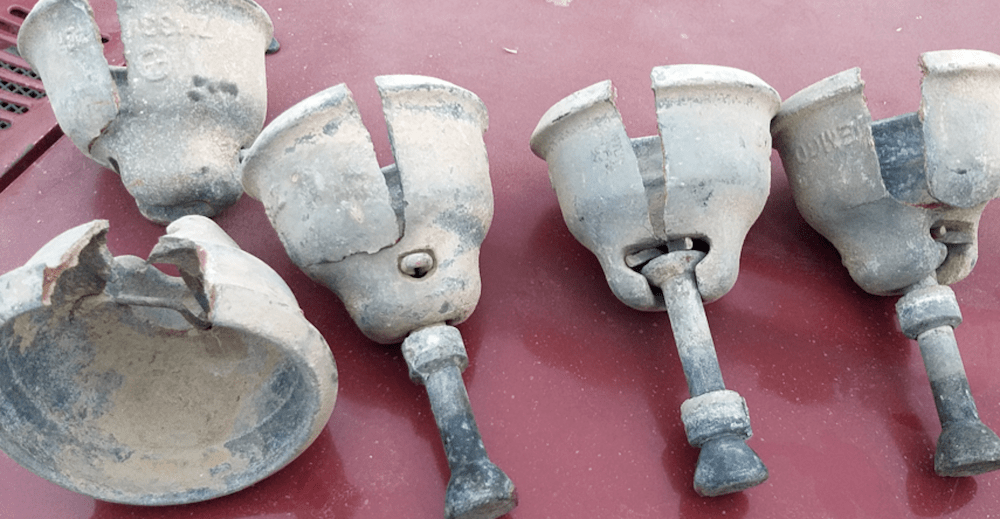 By way of pollution countermeasures the NTDC has started a preventive program of applying RTV silicone coatings to fog-type insulators removed from lines as an alternative to costly yet relatively ineffectual insulator deadline washing. This procedure has so far proven more cost effective and easiest to implement when performed inside a localized plant. The long-term goal will be to define and optimize the most suitable RTV silicone material for the specific insulation problems occurring in the south but the short-term focus is on mitigating rapid dust accumulation on ceramic insulators in the area around Port Qasim. This has led to pollution-related flashovers on the most affected 500 kV double circuit lines due to poor insulator pollution performance. For example, towers #1 to #28 on one of these lines have in the past been washed up 2 times per month during the summer months using a 70-ton crane and 6000 liter tank of de-mineralized water. Three crews of 8 lines workers each are typically deployed for such scheduled deadline washing, which takes some 2 hours for one circuit of a tension tower and about half that time for one circuit of a suspension tower.
First Application of RTV Silicone Coating
Recently, hundreds of fog-type porcelain insulators were removed from a critical stretch of the 500 kV Port Qasim Line for coating by locally installed applicators using an RTV silicone material.
The workshop for this program has been sited inside the Port Qasim Power Plant and consists of separate areas, including one for insulator washing and preparation. A second area is reserved for application of coating using about 50 semi-automatic dipping machines. These proprietary machines have double faces (i.e. front and back) that include rotary axes to hold up to 8 discs – 4 per side – ready for immersion in a movable tank of manually mixed RTV silicone material. According to the NTDC Supervisor, this coating process has had to be stopped on at least one occasion due to observation on several insulators of poor finish as well as cement residue at the interface between cap and porcelain disc.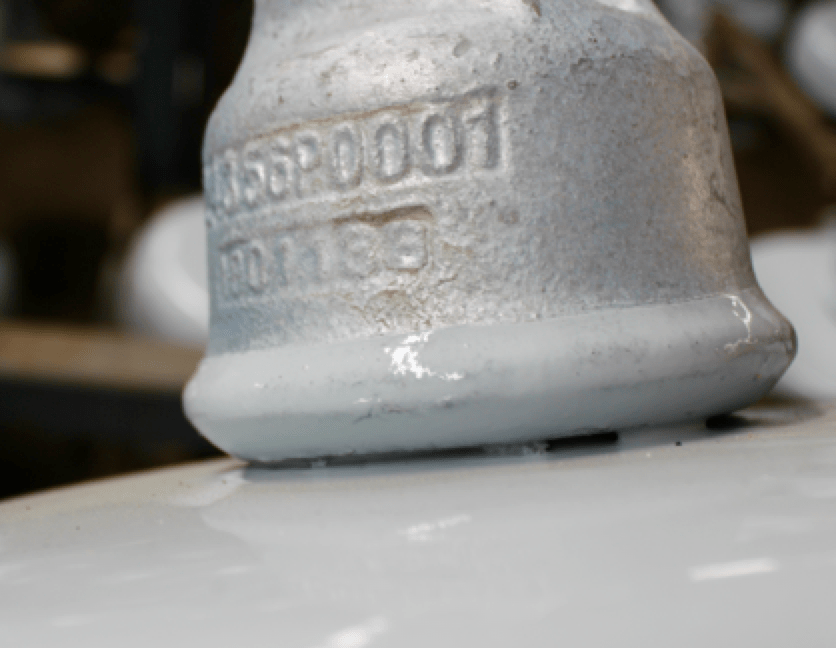 Measurements performed on fog type insulators removed only 2 months after heavy rainfall still showed ESDD levels in the range of 0.4 mg/cm2, corresponding to 'very heavy' pollution class according to IEC 60815.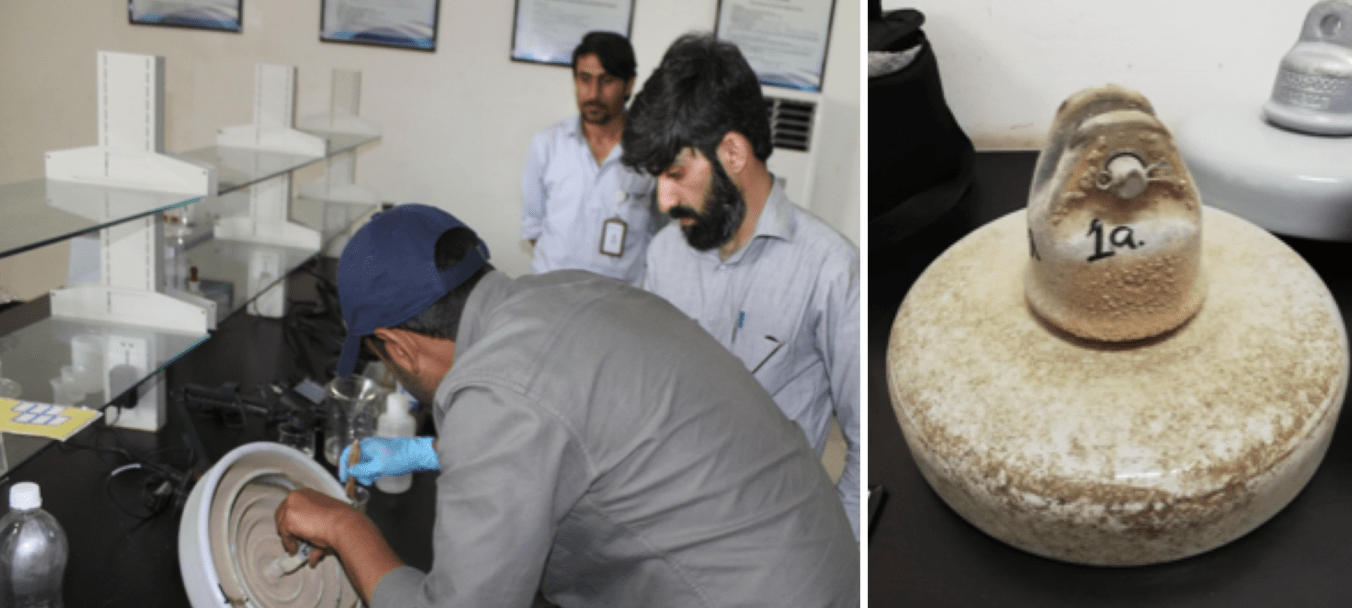 Second Challenge: Severe Corrosion
Shakir Hafeez, Project Manager and Usama Ahmad, a Sr. Transmission Engineer at National Engineering Services Pakistan (NESPAK) accompanied INMR during site visits to the south and north of Pakistan. They explain that, apart from insulators, transmission towers themselves have now also become an important part of power grid management. This is due to the fact that, when located in severe marine conditions such as found in the south of Karachi, they can experience serious corrosion during their first 10 years in service. Hafeez emphasizes that if corrosion risk is not properly addressed at the early stage, it will not only affect system reliability but also lead to substantial cost for repairs or even replacement of corroded towers. In the past, lattice steel towers of Hub transmission lines in the region have been galvanized with a 130 µm zinc coating and then painted over with anti-corrosion paint having a nominal dry film thickness (NDFT) of 240 µm. Nevertheless, in spite of such countermeasures, these towers started to exhibit signs of corrosion after approximately 15 to 20 years. Since then, deterioration of tower members has progressed to the point where overall mechanical strength of structures has been compromised.
Apart from steel towers, aluminum clad steel (ACS) shield wire as well as insulator hardware have also experienced severe corrosion, which have resulted in mechanical failures at multiple locations near the coast. In addition to severe corrosion, lines in this area have also experienced pollution flashovers due to the severe service environment – especially the first 24 towers of Hub transmission lines. To prevent disproportionate pollution flashovers, affected line sections require insulator washing at least two times per month. Moreover, beyond tower #24 maintenance teams conduct nighttime inspections to identify towers that require washing through detectible corona and localized partial discharge activity. In view of the risk to public safety and power reliability from corroded towers, NTDC management has decided to de-commission the first 10 towers from the sea on two circuits of Hub-Jamshoro and to replace two existing single circuits with newly erected double circuit structures.