Testing Cable Terminations Under Polluted Conditions
Cables and their accessories are an integral part of power networks and, whenever there is a transition to them from either overhead lines or busbars, the ends are sealed using terminations. Terminations are of different construction depending on whether the application is medium or high voltage. In both cases, however, care must be taken in regard to pollution withstand since they are an interface with the service environment. While a pollution test has already been standardized for MV terminations, no similar standard yet exists for HV terminations. This INMR article from 2013, contributed by Heiko Jahn and Wolfgang Manzke of CESI (FGH Engineering & Test) in Germany, reviewed existing standards as well as some of the important factors when it comes to testing terminations for pollution performance.
---
Fig. 1 provides an overview of the various IEC and CENELEC standards used for testing medium and high voltage cable accessories. It is worthwhile noting that this assortment of standards only defines minimum requirements to satisfy the quality demands of power utilities. Some users have chosen to issue their own test specifications, based on these standards but with increased stresses placed on the accessories.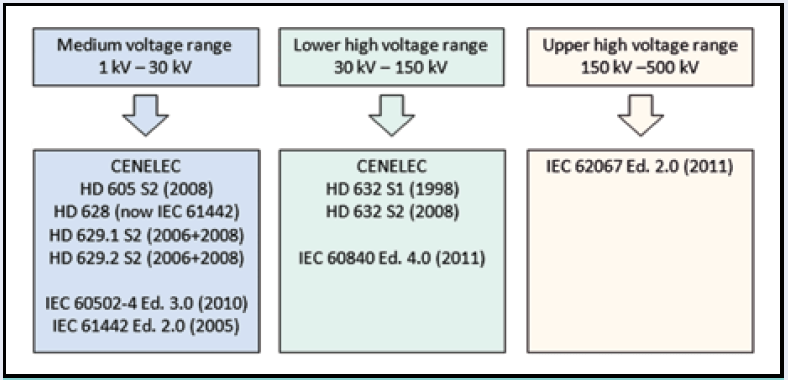 For MV terminations, a test with respect to pollution behaviour has been standardized (Clause 13 of IEC 61442). Depending on application, this test is either:
• a humidity test for indoor terminations; or
• a salt fog test in the case of outdoor terminations.
MV terminations are directly installed onto cable ends, either with all components integrated into a single piece or with the individual elements (i.e. field grading, heat-shrinkable tube, weathersheds) installed separately. Due to their relatively limited size, the weight of medium voltage terminations is typically low enough that no additional mechanical support is required.
With increasing nominal voltage, terminations become larger and therefore installation is often made in discrete steps with the various elements installed individually. Housings can be either hollow porcelains or, as increasingly being used, hollow composite insulators with different silicone rubber material.

For glass and porcelain insulators, pollution tests have been standardized in IEC 60507 for AC and IEC/TS 61245 for DC. In both cases, however, the scope of the standards does not include terminations as the test object. While a cable termination can basically be regarded as a bushing, meaning that both applicable standards can apply, care has to be taken to avoid internal breakdown.
Composite insulators are excluded from the scope of the standards referred to above since the test procedures were developed for hydrophilic surfaces and hydrophobic silicone results in certain unwanted effects. As a result, the only standardized test procedure for hollow composite insulators is the tracking and erosion test according to IEC 62217, which is really a test of the housing material and not of pollution performance. Therefore, when it comes to HV terminations equipped with composite insulators, either a test procedure has to be agreed upon between manufacturer and user or some specification from the purchaser must be made available. Tests that have been carried out in this regard are described below:
Humidity & Salt Fog Tests on MV Terminations
To ensure appropriate behavior, a humidity test was introduced for indoor cable terminations and a salt fog test for outdoor terminations. The main differences lie in test duration and conductivity of the saline water. The relevant humidity and salt fog test conditions are defined in IEC 61442 (see Table 1).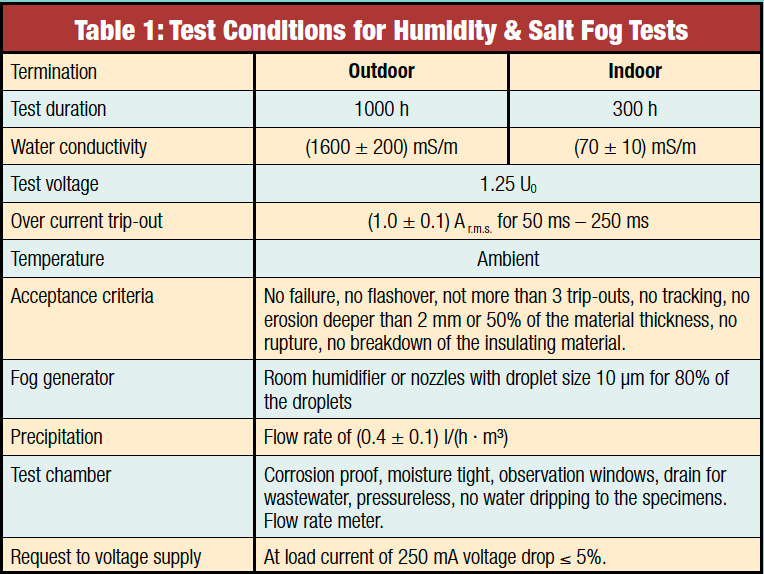 A corrosion-proof test chamber with inclined roof is essential to avoid any influence from water that might drip down onto the test object. Moreover, the circuit feeding the test has to provide low impedance to ensure only a small voltage drop at high test currents. When testing 3-phase cable accessories with spreader caps, the voltage must also be supplied 3-phase so as to correctly test the whole termination system.
Medium voltage terminations are often installed with significant mechanical strain on the cable. As such, in cases where tracking affects the edge of the termination or erosion becomes too deep, the material may rupture and there will be moisture ingress. Eventually, the termination may fail.
Advertisement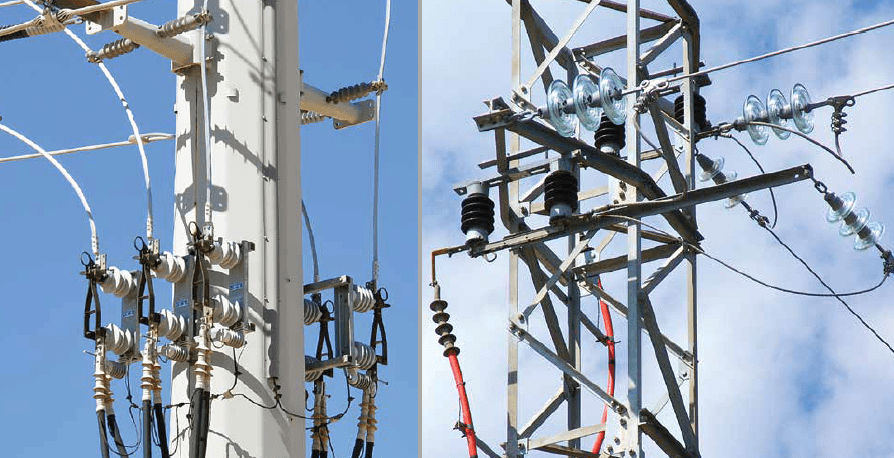 The various conditions specified can sometimes require significant time and effort to build up the test circuit. Moreover, since such a test lasts up to 1000 hours, most customers require that it yield extended information beyond simply 'pass or fail'. For example, while only over current detection is required by the standard, today's test systems also provide for long-term measurement of leakage current. From such a curve, it is possible to establish if there has been a loss of hydrophobicity; the stress on the cable termination can also be estimated. With today's systems, an oscillogram is available should any over current situation occur (see Fig. 2). This allows the possibility to carry out additional investigations should there be failure.


With currently available technology, the test bays can even be observed by remote access to the measuring system and test engineers informed about events by mobile phone or e-mail. This ensures that there will be only minimal delay should there be any unexpected interruption to the test.
Salt Fog & Solid Layer Tests on HV Porcelain Terminations
While for MV terminations pollution behaviour is tested using the procedure discussed above, no such methodology is requested by the standards in the case of HV terminations. For those terminations equipped with a porcelain housing, IEC 60507 (AC tests) or IEC/TS 61245 (DC tests) can be applied. But since cable terminations are not specifically mentioned in these standards, it seems left open how the test set-up should be prepared.
In any case, the standard can be understood to test the termination under service conditions – exactly as proposed for components such as wall bushings. Here, a short cable loop must be prepared and the termination to be tested is installed at one end. The other end must also be sealed, either with another termination of at least the same pollution withstand or using a GIS plug and compartment. In the latter case, the test assembly is easier to handle and re-locate within the laboratory.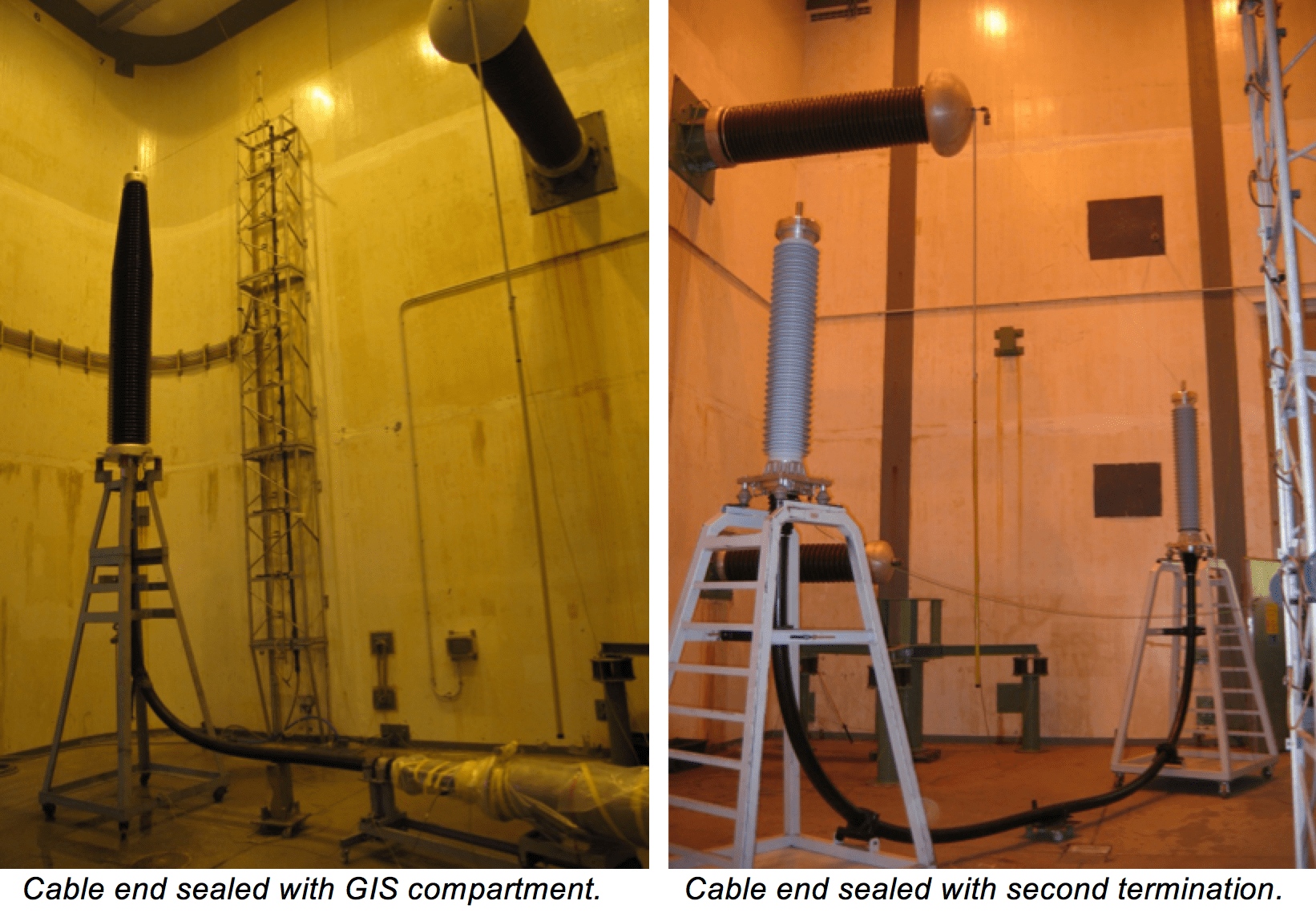 IEC 60507 (for AC tests) and IEC/TS 61245 (for DC tests) describe essentially the same test procedure with the difference being mainly in test voltage. Before the test is started, a decision is made whether the solid layer method or salt fog method is to be applied. While results in both cases are generally recognized as being equivalent, there is a tendency toward salt fog testing to simulate service conditions in coastal areas. The solid layer method, by contrast, is usually preferred to simulate stresses in regions where solid pollution layers of dust, sand etc. can build up on the termination. Table 2 shows essential details of the test requirements for the salt fog method and Table 3 for the solid layer method.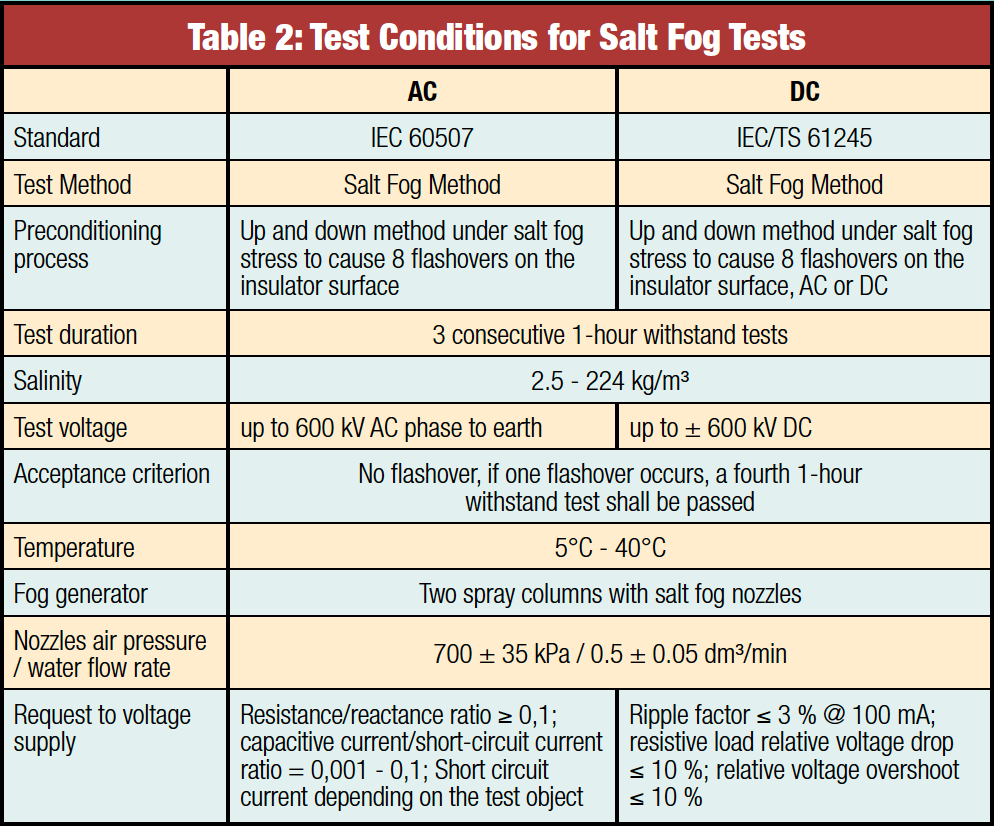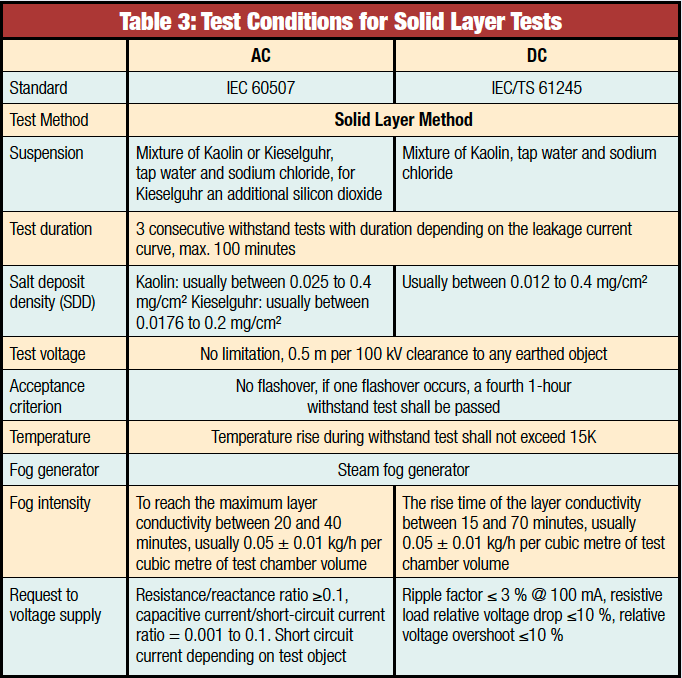 Pollution Tests on HV Composite Terminations
Since non-ceramic insulators are now increasingly being used on power grids worldwide, there is an important need to test their behaviour under polluted conditions. At the moment, however, the only IEC test for hollow composite insulators used in cable terminations is the tracking and erosion test, according to IEC 62217/IEC 61462.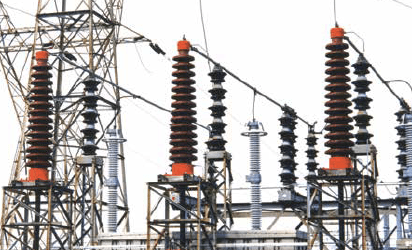 Unfortunately this is not a full-scale test and therefore does not consider the influence of length or of field grading on the termination. Rather, the only result is information about the housing material and quality of design. In any case, information about pollution withstand behaviour is essential, even if the new composite insulators are hydrophobic at the start. Typical requests for testing these types of cable terminations include:
Advertisement
• Tests according to the standards used for porcelain insulators (i.e. IEC 60507 (1991-04) Ed. 2.0, IEC/TS 61245 (1993-10) Ed.1.0) including pre-conditioning for salt fog testing, regardless of their exclusion from the scope of existing standards;
• Tests according to the standards for porcelain insulators but without pre-conditioning for salt fog tests, again even though these are outside of present standards;
• Tests according to whatever specifications are set by the buyer.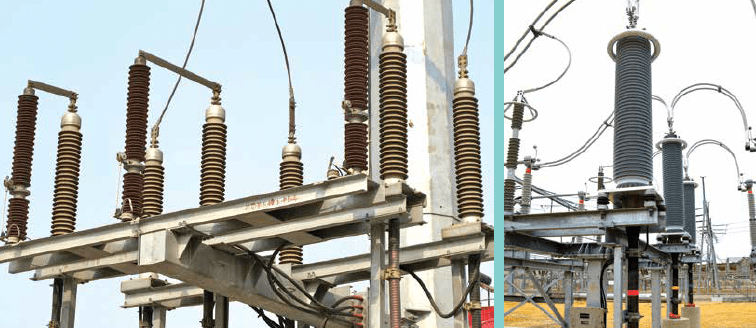 From the above, there are obvious problems in the case of composite insulators exposed to the same standard pollution test conditions used for porcelain. For example, where there is salt fog testing, the standard mandates pre-conditioning consisting of 8 flashovers. This, of course, will reduce the hydrophobicity of a composite housing given the impact of electrical discharges. As such, the test does not properly reflect normal behaviour in service but rather only a 'worst case' scenario.
The problem with solid layer testing is similar. Since the artificial pollution layer cannot be applied to a silicone rubber surface, it is necessary to 'overpower' the hydrophobicity by covering the surface with kaolin powder, done by rubbing the surface with a cotton cloth and the powder or using a brush. Afterwards, the composite insulator surface behaves much like porcelain. Again, such a test does not reflect normal behaviour in service but rather only the worst case.

To arrive at an acceptable solution, given the above, it seems that the best way for test laboratories now is to follow whatever specifications are required by the purchaser of the composite-housed termination. At least this guarantees acceptance of the results by the cable system's end user. An example of such a specification is UX LK208, used by Italian grid operator, Terna, and which proposes the following procedure for testing terminations equipped with composite insulators:
Salt fog test method with all parameters according IEC 60507 but with important modifications that include: a) Preconditioning with 80% of test voltage over a period of 3 hours without interruption; b)12 subsequent 1-hour withstand tests, at 100% test voltage, with the requirement that at least 8 tests must be passed without flashover or breakdown.
Since test voltage is equal to U0 (phase-to-ground voltage), the termination is not so heavily stressed as by application of repeated flashovers. On the other hand, experience has shown that the insulator of the termination does not remain hydrophobic over the entire test period. As such, this procedure seems to offer a good compromise.
Summary
While the pollution withstand performance of MV cable terminations is part of the standard according to IEC 61442, no such test is yet defined for HV terminations. For those terminations with porcelain housings, existing test standards IEC 60507 and IEC 61245 can be applied. Still, care has to be taken to avoid internal dielectric breakdown.
For terminations equipped with composite housings, these test standards are not applicable since composite insulators are excluded from the scope of existing standards. Therefore, existing procedures have to be somehow modified or the tests carried out according to specifications set by the purchaser. Revisions to the pollution test standards are in process but composite insulators are apparently still not included in their scope and will have to await a future new standard.