Environmentally-induced pollution of high voltage insulators is a common problem experienced by utilities worldwide and one capable of leading to rapid deterioration in their performance under nominal voltage stress. The extent and characteristics of this problem can vary from place to place, even within the same transmission or distribution system. For example, different pollutants as well as transfer mechanisms and rates can be experienced resulting in a unique overall impact, especially when existing insulation properties are taken into account.
Usually the problem is more severe on transmission lines. This is due to the broad variety of different service conditions that can be experienced along their routing and which can induce surface activity. Subtle 'micro environmental' differences can even be detected from one tower to the next, such as when one is at the top of a hill and the next located in the valley beyond.
As part of the battle to maintain outdoor installation operating without failure under environmental pollution, many methods have been proposed. In this article, contributed by consultant Dr. Kiriakos Siderakis with the cooperation of Emmanuel Thalassinakis and Isidoros Vitellas of the Public Power Corp. (PPC) of Greece as well as Dionisios Pylarinos from the University of Patras, the problem of pollution maintenance is investigated for the case of substations and based on the considerable service experience gained battling this problem on the Greek island of Crete.
---
High Voltage Substations
Since the high voltage substation is a node in the transmission system, any outage there typically corresponds to a much more severe impact on the power system than a corresponding incident on a transmission line. Therefore, from the reliability point of view, substation maintenance has considerable importance, which only grows with the corresponding increase in the number of connected transmission circuits.
Fortunately, as far as pollution is concerned, in the case of substations there are two important advantages compared to dealing with the same problem affecting overhead lines. First of all, a substation is a geographically concentrated installation and therefore the environmental conditions that affect it tend to be more uniform. Secondly, most substations are supervised, either locally by personnel or remotely. Consequently, the development of any pollution problem can be detected and suitable remedial measures applied in time. This is the reason why the incidence of pollution related outages at substations is relatively small in comparison to transmission lines.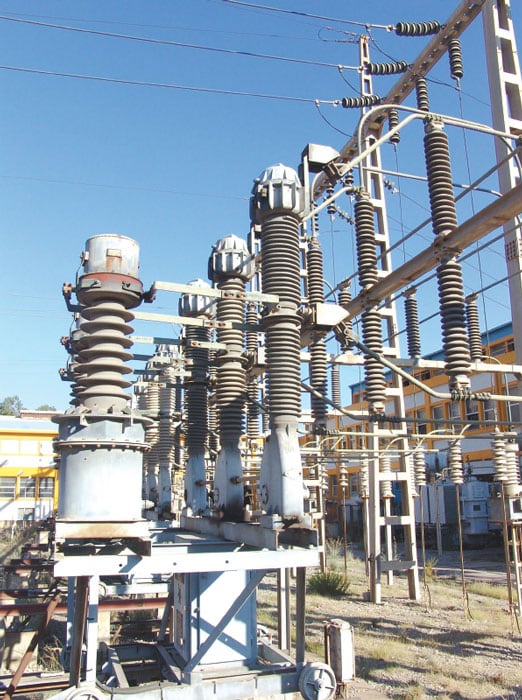 Nevertheless, there are still variables that can complicate any effort to find permanent solutions for substations. One of these is the simple fact that there can be a large number of very different insulators, serving diverse equipment and components such as CTs, VTs, bushings, station posts, arresters, etc.). Each of these might have different geometries from the rest and therefore be subject to different pollution performance and maintenance requirements. Moreover, at least until some years ago, the broad availability of composite housings for substation applications was still comparatively limited.
Related Posts
« Performance of Insulators Under Rain Growing Interest in Insulating Cross-Arms »