Silicone Offers Solutions for Cable Accessories
While silicone elastomers, gels, fluids and pastes are best known for their use in insulators, surge arresters and coatings, these polymers have also found growing application in a sophisticated new generation of MV and HV cable accessories. Modern power cables consist of much more than a conductor surrounded by a layer of insulation. Therefore, the industry is looking for superior solutions when it comes to accessories such as terminations, joints and plugs. It is here that silicone elastomers exhibit characteristics that make them ideal to meet the new demands.
When it comes to growing concern for safety and the environment, new accessories based on silicone elastomers have the advantage that their decomposition products are non-toxic. Similarly, silicones themselves are non-hazardous and also virtually non-flammable. From the performance perspective, these materials have desirable mechanical properties such as high elasticity that provides accessories with an advantageous stress-strain relationship and the equivalent of a low-tension set.
For example, the dominant physical property of silicones in the case of terminations and joints lies in their high elasticity that enables them to effectively seal any interface between cable and accessory. This eliminates risk of partial discharges and guarantees short-term dielectric properties. Moreover, these properties remain virtually the same over a wide temperature range. Finally, silicones are ideal for outdoor applications due to their well-known hydrophobicity as well as resistance to arcing, tracking and weathering – including to ozone and radiation.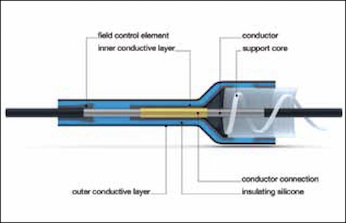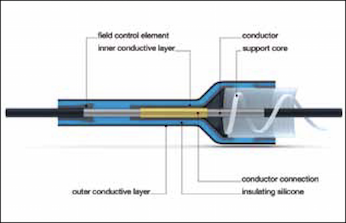 In general, the design of a cable joint consists of a middle electrode and two field control electrodes encapsulated by the insulation material. The control electrodes at the end of the joint body are made from an electrically conductive or a high permittivity silicone. The joint insulating silicone body is then covered by a layer of semi-conductive material in order to build up electrical contact to the cable's conductive shield. Similarly, terminations generally consist of either conductive or high permittivity silicone stress control elements as well as the silicone insulating body.
There are two established techniques for field installation of silicone joints and terminations: slip-on and cold shrink technologies. In the case of the former, the accessory is mounted by sliding it onto the cable with the help of a lubricant such as silicone paste. Cold shrink technology relies on a different principle whereby the joint or termination is expanded beyond its original size and stored on a support core until ready to be installed. During the two-step assembly, the termination is first moved onto the cable and then mounted easily by removing the core. For instance, it is simple to adjust the expanded termination and move it to the desired location. The mechanical properties of the silicone must then be able to withstand any subsequent expansion or shrinkage of the joint.
The installation of a termination or joint creates a change in the insulating system at the crossover from the cable to the accessory. It is therefore necessary to integrate some field control device, without which the field would reach a maximum at this point and exceed the limits of the surrounding insulation. This could lead to partial discharge activity and reduce lifetime of the joint. With proper grading, however, PD onset voltage can be increased by a factor of 10.
Capacitive or geometric field grading is a common technique in this regard and sees an electrically conductive element connected directly to the outer conductive layer of the cable. The special shape of the deflector smoothens the field by widening the electric field lines and achieving manageable tangential field strengths. This reduces electrical stress on the insulation material and increases long-term performance of the termination or joint. Refractive field grading is another option and makes use of a thin layer of a high-permittivity silicone elastomer. Based on deflection of the field lines by materials with different relative permittivity, the deflector prevents any concentration of field. Field grading with high permittivity silicone allows a manufacturer to design accessories with very slim profiles.
Grades of silicones are already available for the realization of these different terminations and joints, including cold shrink and slip-on accessories with either capacitive or refractive field grading. Nevertheless, R&D is ongoing, spurred on by the trend to higher voltage applications and HVDC. Novel cost-effective silicone compounds and new types of accessories are therefore already 'in the pipeline' to meet the needs of growing cable cross-sections.
All in all, it can fairly be said that silicone elastomer-based accessories offer sophisticated solutions for today's requirements in both MV and HV cable applications. Such applications benefit from the insulating and electrical conductivity characteristics of these materials, their outstanding mechanical performance and their stability against outdoor weathering.
Dr. Georg Simson