Shazhou Will Serve as China's 'Demonstration' Project for All-Composite-Insulated Substation
Nowhere in the world has composite insulator technology been so quickly and so widely adopted as in China. The reason for this lies in the country's recent history, which has been marked by rapid economic expansion and a huge increase in coal-fired generation. Combined with growing industrial emissions, many parts of China's south-east and north-east began to suffer heavy pollution, made worse during winter by cold fogs coming in from the sea. These wetting events affected numerous lines and substations and at times triggered widespread pollution flashovers. In the early morning of February 23, 2001, for example, a massive outage hit Shenyang, capital of Liaoning Province. Flashover accidents of this scale created enormous interest in finding ways to prevent them.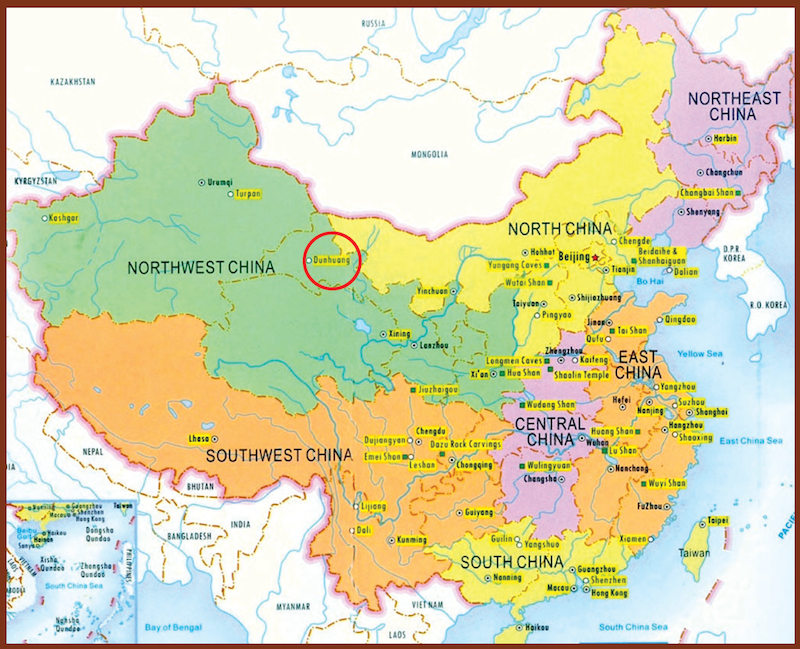 Application of composite insulator technology soon came to be regarded as the best solution, being both more economical and also more effective than the manual cleaning that had been the primary remedial measure until then. Initially, China was forced to look abroad for most of its requirements for HV silicone rubber insulators, which were sourced from Europe or the United States. However, by the mid 1990s, university researchers had begun to develop local expertise in this technology and licensed this to domestic manufacturers. Within only two decades, China went from being a net importer to by far the world's largest producer of composite insulators – with an estimated 200 different suppliers.
Up until recently, composite insulators found greatest application on overhead lines, including for UHV AC and DC where they now dominate most suspension towers. In the case of substations operating in high contamination areas, however, their application has been much more selective – mainly for dead tank breakers, wall bushings and instrument transformers. Instead, the most common remedial solution to combat pollution flashover has been applying booster sheds and RTV silicone coatings.
Now, that policy may well change as China seems ready to embark on the next major step in its transition away from porcelain insulation in high contamination service areas. That solution: complete reliance on silicone rubber across all substation post and equipment applications.
In 2015, INMR Columnist and Contributor, Alberto Pigini, attended a meeting of experts in the Province of Gansu and was given the opportunity to tour the unique 750 kV Shazhou Substation, which serves as China's first test of  this changeover.
---
Gansu and neighboring Xinjiang are among China's largest and most remote provinces. They are also perhaps the most barren, with vast stretches of treeless desert swept by powerful winds. In fact, the rugged plateau between the two features much of the country's wind generation and these facilities provide a good example of the desert's impact on substations. Although washed twice a year, it takes little time for contamination to build up and cover insulators in sticky, wind-blown dust. The local soil has high levels of conductive salts, more typical of a coastline than a desert, and large daily temperature fluctuations, especially during winter, allow moisture to mix with these and create the classic recipe for flashover.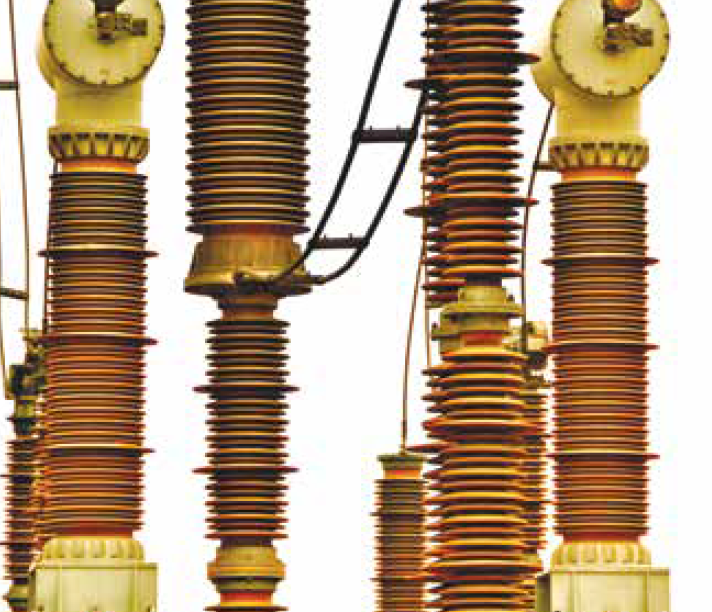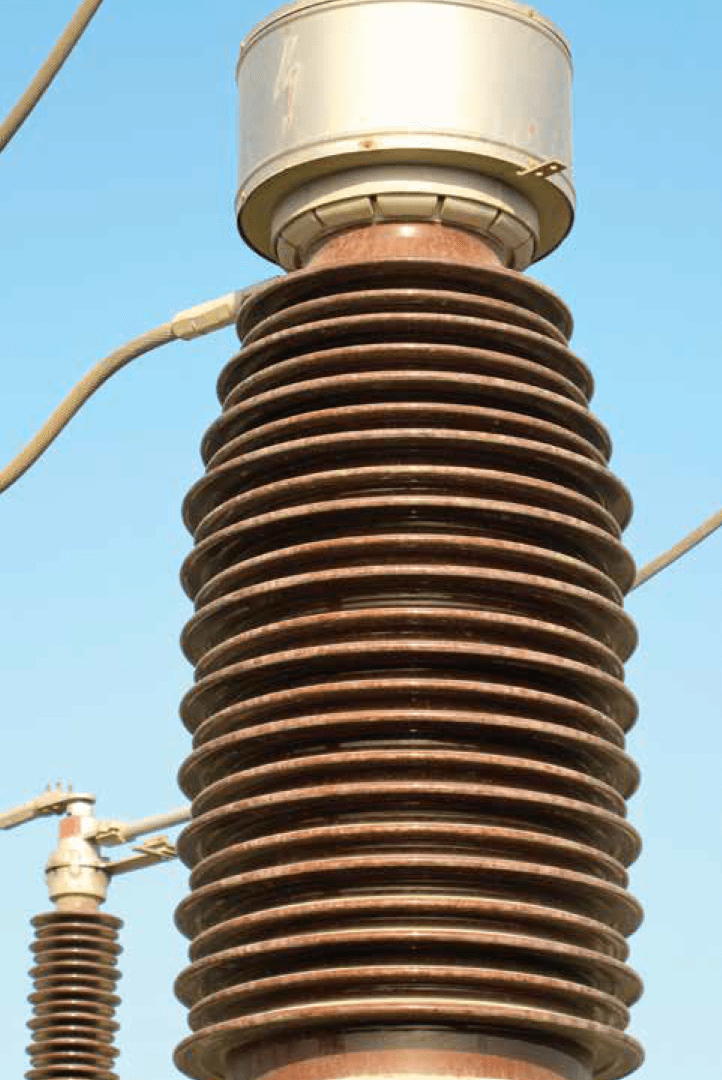 The transmission network in the North- West, while operated by the State Grid Corp., has developed a distinctly 'local character' and bulk power is transfered along an expanding 750 kV grid not found elsewhere in China. The first 750 kV line was built in 2006 between Manas Power Station and Wubei Substation, near the city of Urumqi, and within only several years this network already comprised eight lines and five 750 kV substations.
Advertisement

The original lines and the ones built since 2012 have allowed a growing circle network in China's Northwest. According to local engineers, these lines have routinely been equipped with silicone suspension insulators for two reasons: lower acquisition cost than equivalent porcelain cap & pin strings and less cost to maintain due to superior pollution performance. By contrast, as is still policy across much of China, most tension insulators on these lines have remained insulated with porcelain.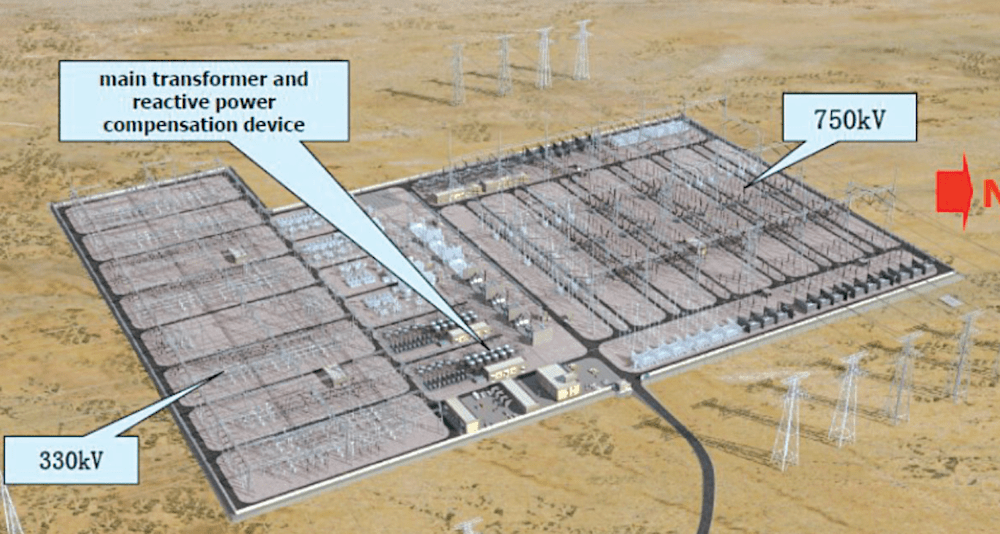 Shazhou Substation was commissioned in 2013 and is a pivotal node in the 750 kV grid interconnecting systems across this vast region. Located at an altitude of about 1000 m, its pollution exposure is classified as harsh – characterized by conductive sand, high wind, intense solar radiation and extreme temperature variations. The area also has risk of seismic activity. Given this demanding environment, it was regarded an excellent candidate to test the performance of a substation where HTV silicone housings are specified for all posts and apparatus. While silicone is used exclusively in all other applications, a conservative approach was adopted for the substation's dead end line insulators. Here, only exterior ribbed porcelain sheds coated with RTV material were adopted. Coated ceramic insulators were also specified for tension strings on all 750 kV lines coming out from the station, while silicone insulators were used for all suspension applications.

The decision to go entirely with composite insulators in such an environment in place of the usual choice of creepage extenders and RTV coatings was made not only because of their superior pollution and seismic performance but also taking into account related economic benefits. For example, a comparison of investment costs determined that using composite housings in place of porcelain on each type of equipment at Shazhou would result in a net savings in acquisiiton costs of some RMB 13 million (circa US$ 2 million).
The far greater economic benefit however, is evident when looking at projected total life cycle costs for the new substation (see Table 2). Here, the cost of applying RTV coatings and their subsequent renewal every 5 years or so was considered for porcelain while no need for maintenance was assumed with silicone composite housings. These considerations demonstrated that either RMB 31 or 48 million (US$ 5 or $7.75 million) would be saved by using silicone housings based on life cycles of 20 and 40 years respectively.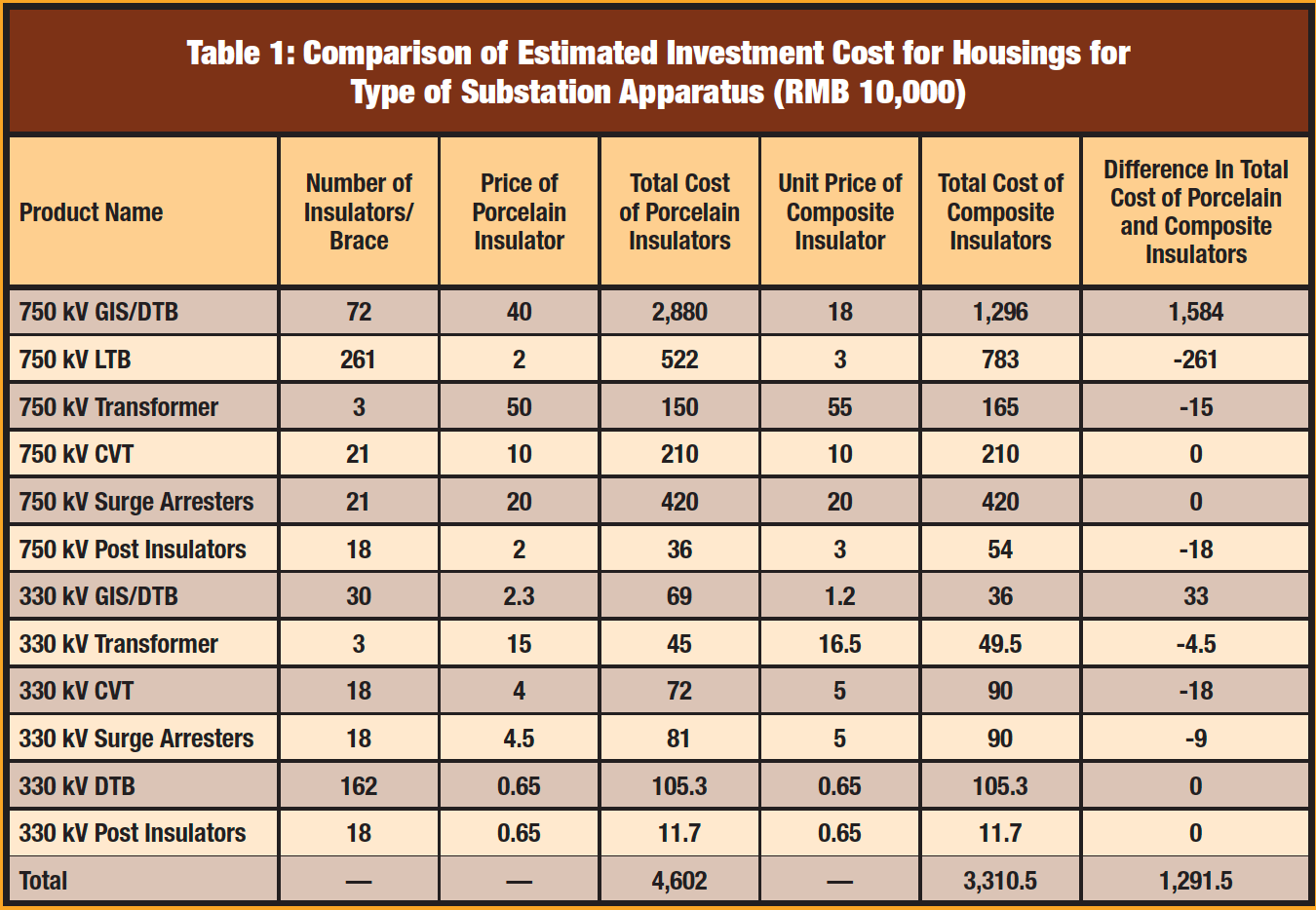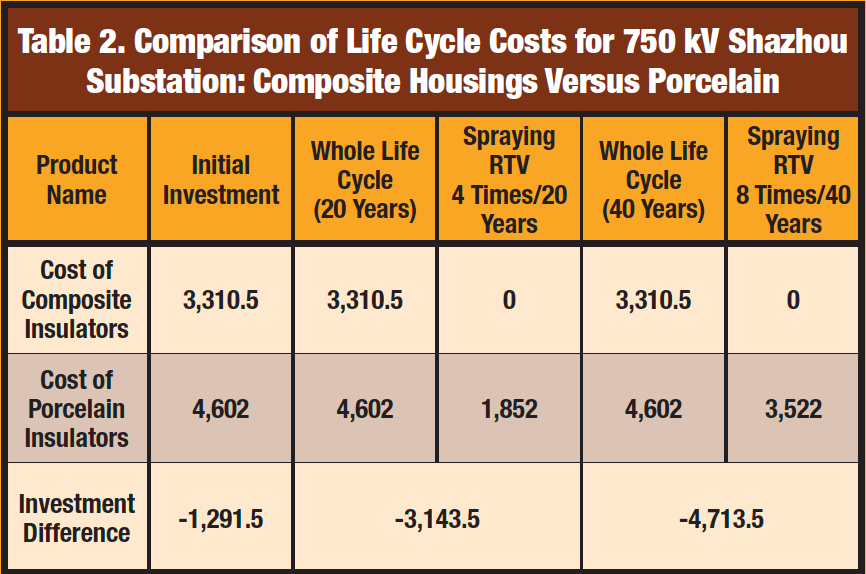 Advertisement
At the same time, such cost advantages had to be weighed against expected service performance of an entirely composite insulated substation. In this regard, a series of severe laboratory tests were conducted to verify that the composite insulators selected could withstand premature ageing in the station's harsh environment.
High molecular weight HTV silicone rubber was the material selected for all housings at Shazhou based on its expected hydrophobicity and performance under pollution, icing and intense UV radiation – allconfirmed by 5000 h accelerated ageing tests conducted at test laboratories in Europe. Typical insulator length is about 7 m, resulting in a unified specific creepage distance (USCD) of 53.7 mm/kV.

The desert near Shazhou has massive dunes with occasional severe sandstorms. Therefore, the HTV housings had to be formulated to also offer high resistance against windblown sand. This performance attribute was verified in the laboratory and, according to the manufacturer, wettability tests confirmed that specimens exposed to sand abrasion still maintained a hydrophobicity level close to HC1 after only 48 hours. Additional testing after these tests also found no significant variation in mechanical or electrical properties of insulators compared to their initial reference condition.

The mechanical support structure for the housings at Shazhou is typical of most hollow core composite insulators and based on fiberglass reinforced resin (FRP) tubes. This ductile material is light in weight and offers large damping capacity, making all equipment more resistant to damage during an earthquake. Indeed, type tests as well as simulations confirmed that the composite insulated equipment at Shazhou met the seismic performance required for the site. At the same time, housing design was also adapted to the specific needs of each type of equipment. For example, in the case of dead tank breakers the inner FRP surface of the tube can be attacked by the decomposition products of SF6 gas under the effects of internal arcing. To prevent this risk, the inside of these composite tubes was coated with special PTFE protective film. A similar liner was used for all apparatus containing oil to prevent any problems of material incompatibility.

Tests were performed as well to verify the rigidity of the composite post insulators adopted for Shazhou's disconnectors. The mechanical requirement for the core was achieved in this case by optimizing winding angle of each tube's FRP rovings based on modeling. Finally, given the high variability in weather in Northwest China, special attention was paid to the sealing system on all the siliconehoused surge arresters, verified in advance by 1000 h thermal ageing tests.
Up to now, visual inspection of all insulation has confirmed that there has been no change in the original surface condition, with the exception of a slight change in color, which could be partly attributed to sand accumulation