Proposals for More Stringent Testing of Composite Insulators
Advertisement

My last column promised readers some simple tests to help distinguish a good from a 'not-so-good' composite insulator. The reason why this has become increasingly important these days is that existing tests required in relevant standards (mainly IEC) do not always detect composite insulators of inferior manufacturing quality.
Now, the above opinion is certainly not intended to malign IEC Standards. I worked for many years in the committees responsible for setting them. But the key word to note here is 'manufacturing'.
The most critical tests in today's standards for composite insulators are carried out on samples that never see service in the field. In fact, the only strenuous sample test requested within IEC 61109, Ed. 2.0 2008-05 is the test, as described in Clause 12.4, that determines an insulator's SML (specified mechanical load) – per definition, withstand load. This test can easily be expanded to gain valuable additional information about the quality of the batch of insulators being tested. Indeed, the Standard itself opens this door by mentioning in 12.4b, that "… the load may be increased until the failing load is reached, and its value recorded."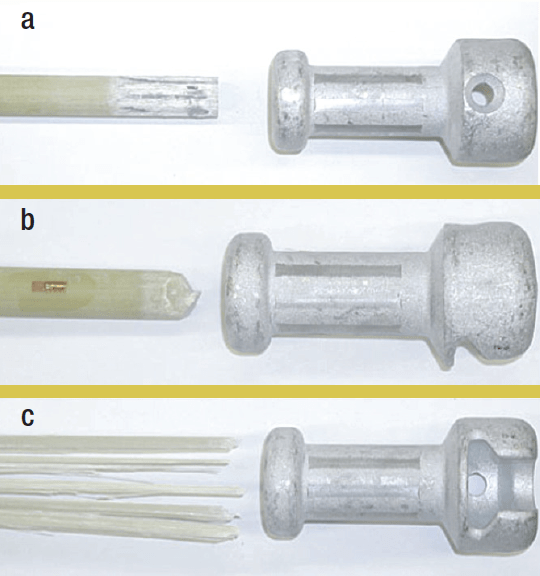 A research project described in the text, Silicone Composite Insulators (Springer-Verlag, Berlin Heidelberg, 2013), by myself and Dr. Frank Schmuck, reported on investigations of failure modes under tensile loads (see Fig. 1). A properly manufactured composite insulator should ideally fail with complete pullout of the core rod from the metal end fitting (as in Fig. 1a). The reason is that the shear stress of the GRP rod will then have been exceeded, manifesting proper compression of the fitting to the rod. On the other hand, rod breakage of the type shown in Fig. 1b is a sign of over-compression during manufacturing. This risks inducing dangerous micro-cracks into the rod, making the insulator more prone to failure in service. Delamination, as per Fig 1c, is evidence of under-compression and equally unacceptable.
Advertisement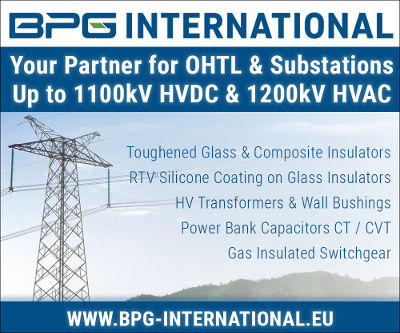 Based on these observations, my first proposal is: Test a suitable sample of insulators (from 5 to 10 units) up to failure and make sure they all fail by complete pull out of the core rod. Moreover, there should be consistency in test results.
Post insulators now account for a fast-growing proportion of the composite insulator family. Because these insulators are loaded perpendicular to their axis, their inner mechanics and failure modes are more complex than for suspension or tension insulators. Often, post insulators are damaged at the point of contact between rod and metal end fitting and in a location that is inaccessible and not visible. Yet for reliable service, it is important that the core of a post insulator remains undamaged below its MDCL (maximum design cantilever load).
IEC prescribes a rather complex design test to determine the MDCL of a post insulator with 96-hour duration and typically conducted in the absence of an inspector. My second proposal is: Select a suitable sample of post insulators (from 5 to 10 units) from the manufactured batch. Gradually apply a cantilever load up to failure, at the same time recording maximum deflection (as in Fig. 2). The MDCL should be less than the point in the load-deflection curve where the slope changes since this point indicates that cracks have started in the core. As before, there should be consistency in test results.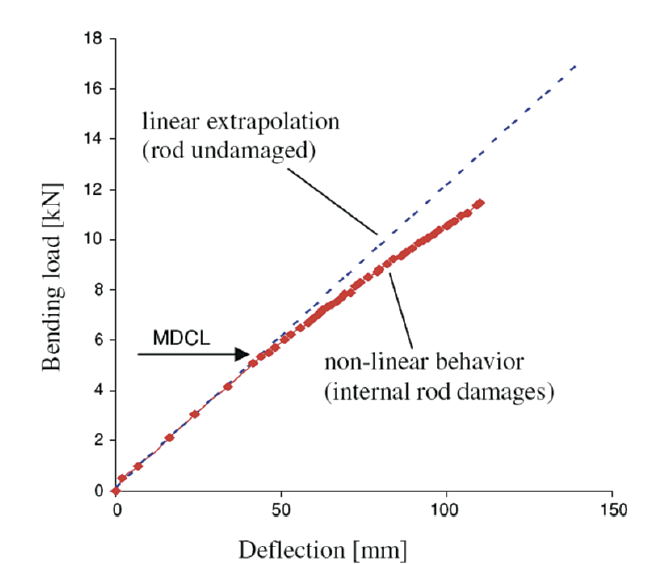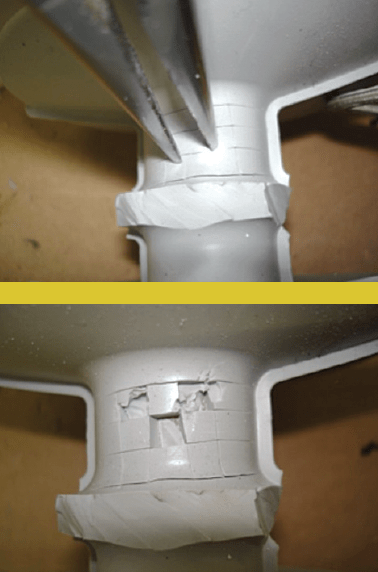 Advertisement
The last test proposal is actually the simplest and can be applied to any type of composite insulator. All that's needed is a Swiss Army knife and a pair of pliers: With the knife, cut squares on the surface of the silicone sheath and penetrating to the rod. Then, using pliers, grip and pull the squares from the rod surface (as in Fig. 3). Good adhesion to the rod should result in cohesive failure of the rubber rather than then adhesive failure between rubber and rod. The necessity of good adhesion between silicone and rod cannot be overestimated since poor adhesion can cause 'flashunder' and destroy the insulator. This test can also be applied to insulators removed from service.
Additional stringent tests are proposed in a paper: A Proposal for Intensified Inspection and Acceptance Tests of Composite Insulators, published in April 2010 in the IEEE Transactions on Dielectrics and Electrical Insulation (Vol. 17, No. 2). The more of these you apply, the better the manufacturing quality of the insulators you install will be safeguarded.
Dr. Konstantin O. Papailiou