Proper Insulator Specification Key to Network Performance
Advertisement

Reliability of transmission and distribution systems depends greatly on proper selection of insulators. But specifying dimensioning is typically not easy since it is requires knowing site contamination as well as the withstand ability of insulators being considered for that specific contamination. Contamination level, in turn, depends on a large number of site dependent parameters that are often difficult to assess. For example, wind, rain, humidity and the chemical-physical characteristics of local contaminants all play a role. There are also secondary parameters that have to be analyzed, including dominant wind direction and intensity of rain. Moreover, all these parameters are site specific. Consequently evaluating them is all the more complex. Since a priori characterization of a site is further complicated by uncertainty in estimating these parameters, statistical methods are needed to reduce uncertainty and achieve a more robust estimation.
Advertisement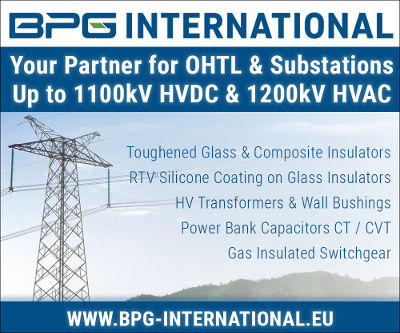 Contamination measurements represent another approach to classify a site and can be performed directly on energized as well as un-energized insulators or using specific dust catching devices such as DDDGs. Both priori characterization of a site based on meteorological parameters and measurement with dust catchers require a further step, namely evaluating the contamination that deposits on insulator surfaces. All three methods also need feedback from operating experience that, apart from validating the priori evaluation and also validating pollution measurements, can help refine uderstnading the contamination level of a site.
Withstand ability of an insulator (or an insulator string) to specific contaminants is related to its characteristics. As such, numerous tests have been performed over the years in test laboratories on different insulators types with a range of geometric profiles. This data has then been gathered to obtain mostly 2-parameter models that give the unified specific creepage distance (USCD) for whatever the specific contamination level. The final task in any correct approach to proper insulator/string selection for a specific site is evaluating the risk of failure so as to ascertain that this value is lower or equal to acceptable risk. Acceptable risk usually varies with voltage level and type of installation (e.g. line or substation). Confidence in final selection comes from actual field experience – a final refinement in proper insulator dimensioning.
Attend the 2017 INMR WORLD CONGRESS in Barcelona-Sitges this November to hear a paper by Massimo Marzinotto of Italian grid operator, Terna. In his paper, he analyzes line as well as substation insulators separately since acceptable risk is in general different for the two. After reviewing the risk-based approach, he will present experience gathered by Terna after years of operating some 75,000 kilometers of overhead transmission lines and over 850 high voltage substations.
Advertisement