Program of Pollution Countermeasures Paid Off at Key Transmission Substation
Advertisement

In the early 2000s, an important substation supplying power to a cluster of process-based industries in Canada recorded a decade without unplanned outages. While this may not seem so extraordinary, what makes the achievement remarkable is that during the 1980s and 1990s this station was one of the most problematic within the affected utility's entire network. In fact, on one December day alone, more than a million dollars worth of porcelain insulators at the station were destroyed by a series of flashovers triggered by accumulated pollution. Not lnog afterwards, there were some 20 different phase-to-ground flashovers – all taking place over only a one night period. Then, a few years later, the situation with flashovers was still so bad that all four 230 kV beakers were simultaneously put out of operation, effectively shutting down the entire station.
INMR visited the affected substation a decade ago to report on the background of this pollution flashover problem and the successful remedial solutions used to eliminate it.
---
Most engineers in the power supply business can quickly identify locations in their networks which have been trouble spots for contamination problems affecting outdoor insulation. In the case of Hydro One (in the past called Ontario Hydro), maintenance personnel would point right away to several substations located in the heavily-industrialized area around Hamilton – a city just west of Toronto. The most problematic among these has been one called Hamilton Beach – a 230 kV station serving steel re-cycling mills as well as other customers in what has been one of Canada's most concentrated industrial landscapes. Situated on a bay of nearby Lake Ontario near Niagara Falls and sandwiched between steel factories, it is also located below a highway overpass constructed about 10 years after the relatively old station had been re-configured.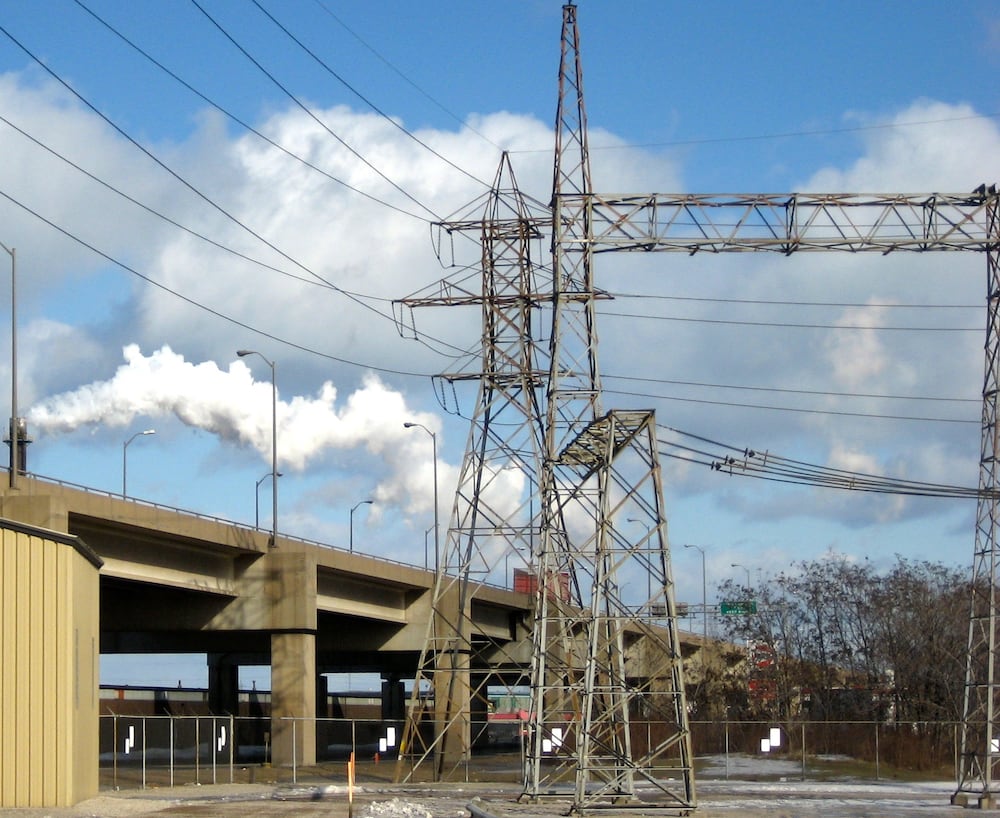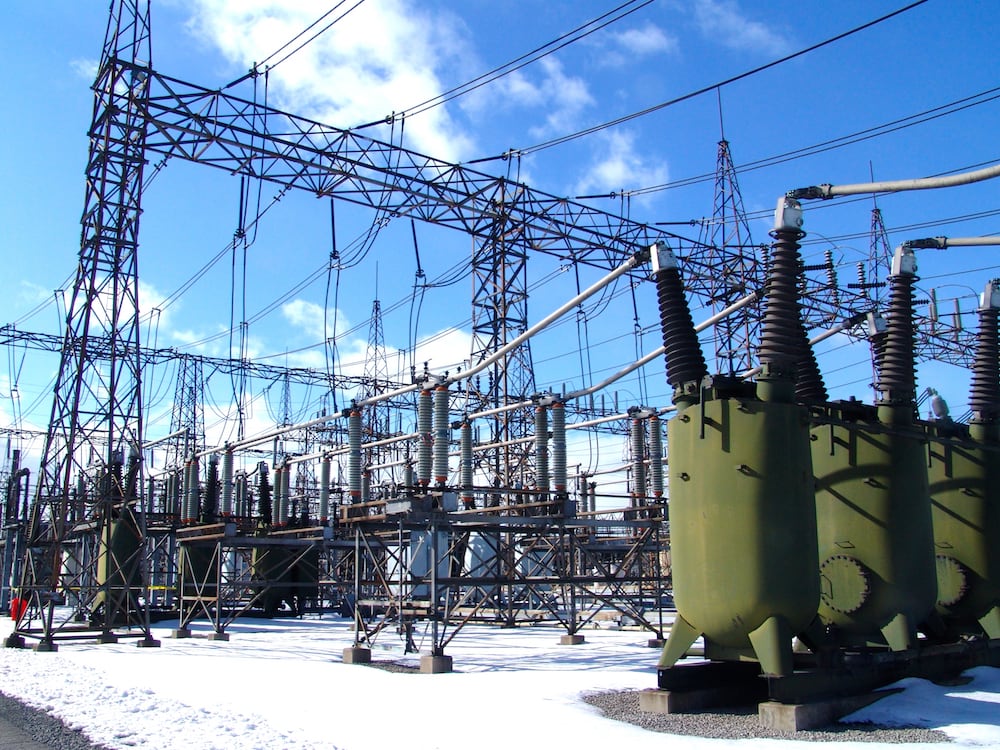 Due to the combination of cold winter temperatures and moisture coming from the lake, Hamilton Beach has always been exposed to occasional freezing rain. The adjacent highway overpass is also affected by snow and ice and road salt is utilized frequently. As a result of these factors, the station is exposed to unusually heavy salt contamination which adheres to the insulators in ice formations. In fact, while located more than 2000 kilometers from the nearest coastline, the station has a pollution exposure as if situated only a kilometer from the sea. 
On top of this already difficult situation, one of the factories near the station has produced carbon black toner used in printing – a conductive, sticky substance that settles onto and adheres to insulators and is hard to remove. To make matters even worse, this cloud of fine carbon particles attracts and traps additional pollutants onto insulator surfaces. For example, a thin layer of carbon black on porcelain will immediately decrease insulator withstand by between 20 and 30 percent.
Over the the 1980s and early 1990s, the main measures to combat this difficult pollution environment were high creepage insulation and frequent washing. In fact, insulators were washed up to 30 times per year, mainly between the months of December and March. Still, problems of flashover affecting insulators and equipment at Hamilton Beach continued with increasing severity. During one winter in the mid 1990s, for example, lost production by local steel mills due to power interruptions at the station amounted to more than $ 10 million.
Advertisement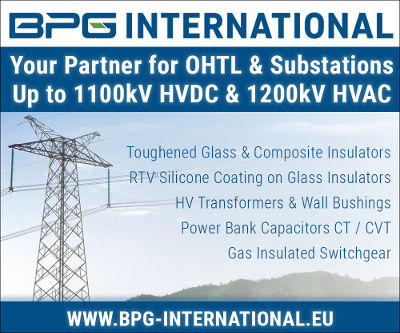 Research Program to Understand Flashover Mechanism 
As a first step to resolving the serious problems affecting Hamilton Beach, a local high voltage laborstory and research organization was contracted to undertake a major research program. The goal was to directly assess the particular flashover mechanisms applicable to this station location and to evaluate the relative performance of various alternative solutions.
Project Manager and INMR columnist, Dr. William Chisholm, was closely involved in this research and the related testing in a cold fog chamber specially designed to simulate the winter conditions affecting insulators at stations such as Hamilton Beach. Since it was able to duplicate the specific flashover mechanism unique to these types of stations in a controlled lab setting, the chamber offered an excellent tool to assess the relative performance of alternative solutions to enhance insulation.
According to Chisholm, among the two countermeasures found to be most effective in such an environment were application of resistive-graded (RG) porcelain insulators (also referred to as semi-conducting glaze insulators) as well as coating insulators with RTV silicone. The RG porcelain offered good performance for this application since the heat generated from the continual small leakage through the glaze prevented formation of ice accretions which mixed with the pollution. By contrast, application of hollow core composite insulators to combat pollution flashovers was found not to be as effective a solution for the specific environment at Hamilton Beach.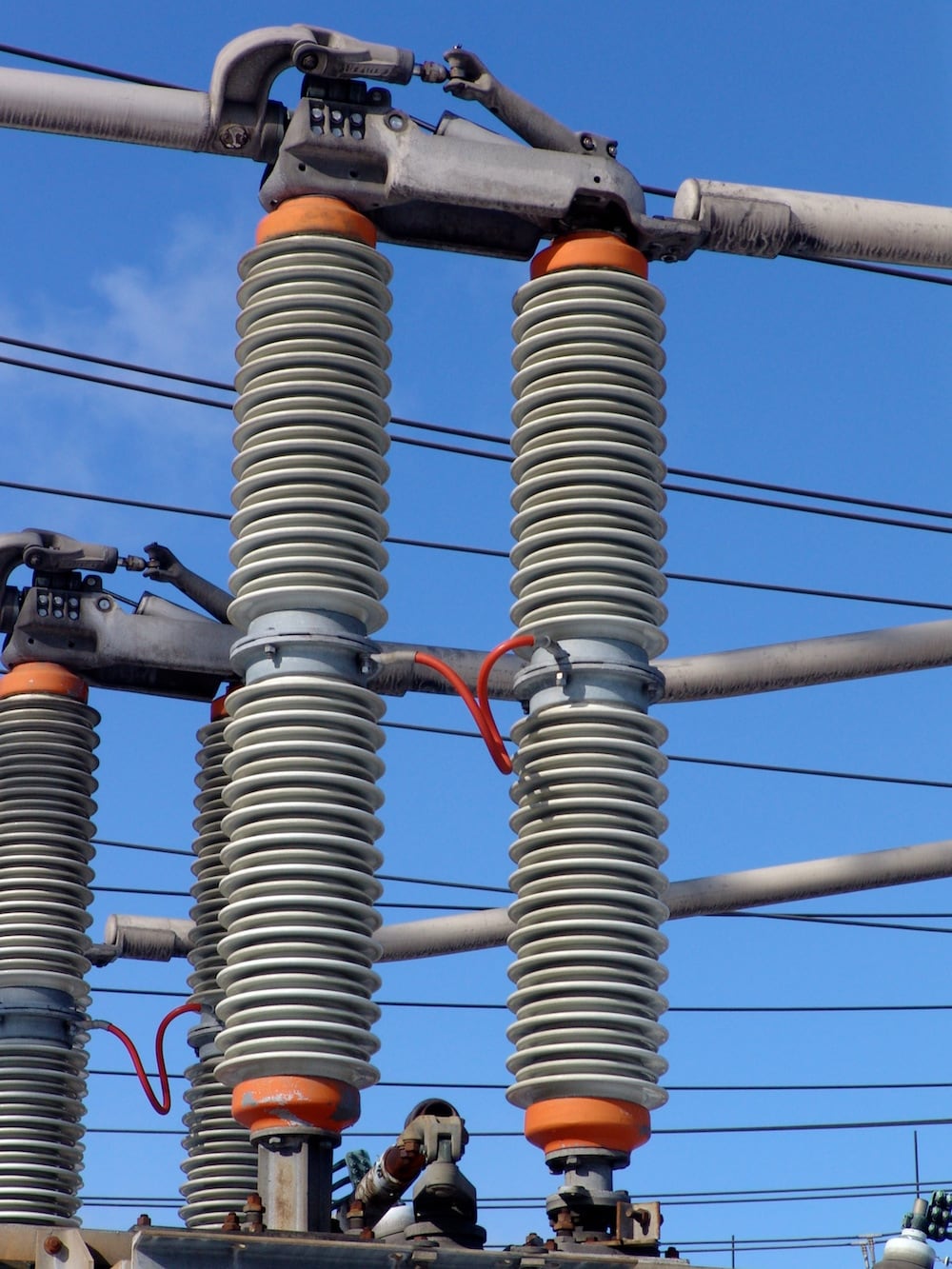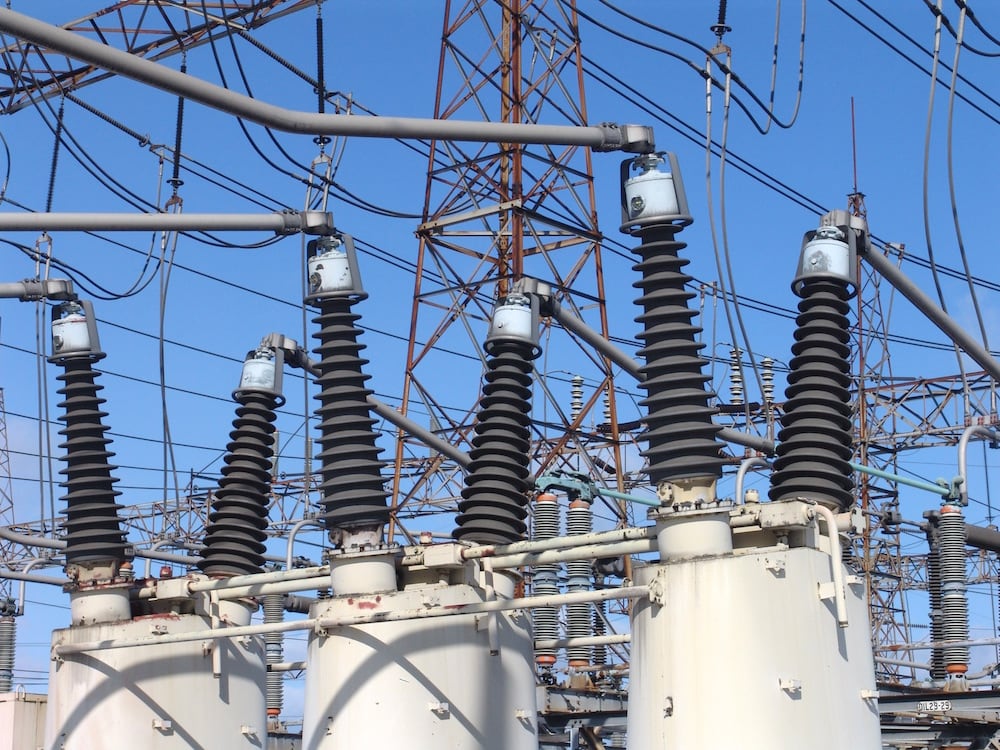 Apart from a series of tests in the cold fog chamber, researchers also studied the specific types of flashover problems which affected various types of insulators at the station. Among the more unusual of these were cases of wintertime flashovers affecting porcelain switch insulators, even though these had already been converted to units containing the special resistive glaze. Chisholm explains that the major problem in this case was that these support insulators were installed in close proximity to one another – typically only about 50 cm apart. After collecting samples of the pollution which had accumulated on these supports, he concluded that putting them so close to one another interfered with their normal voltage grading. As a result, in the event of a spark or any arcing activity, a flashover was quickly initiated, typically between the two insulators. Chisholm says that the key to avoiding this type of problem was to suppress any initial arcing. This was eventually accomplished by implementing a solution which saw a connective wire function as a bond between the center two flanges of the insulators. This served to restore the intended field and effectively suppress the onset of arcing.
The second major remedial measure used at Hamilton Beach involved applying RTV silicone to such apparatus as bushings and cable terminations. These coatings were also pressure washed each year at 800-100 psi from a distance of 15 feet (circa 4.5 meters), typically just before the onset of winter. The surprising finding based on periodic observation was that these coated bushings maintained hydrophobicity for over 10 years.
One of the questions in recent years has been to determine at what point these bushings and terminations will have to be re-coated. Chisholm believes that when this is done it will probably involve simply applying another layer over existing coatings and notes that the effectiveness of this solution will be tested by taking a sample coated insulator from the station and re-coating it in the intended way. Then, the adherence of the new coating can be tested by carrying out a boiling test in salt water for 100 hours. Says Chisholm, "if any blisters appear after this test, then another solution will be necessary for re-applying the coatings." Chisholm also notes that wiping silicone oil over existing coatings is one way to extend their service life but observes that this is not necessarily economical since the manpower involved could be used instead to re-apply another layer of coating.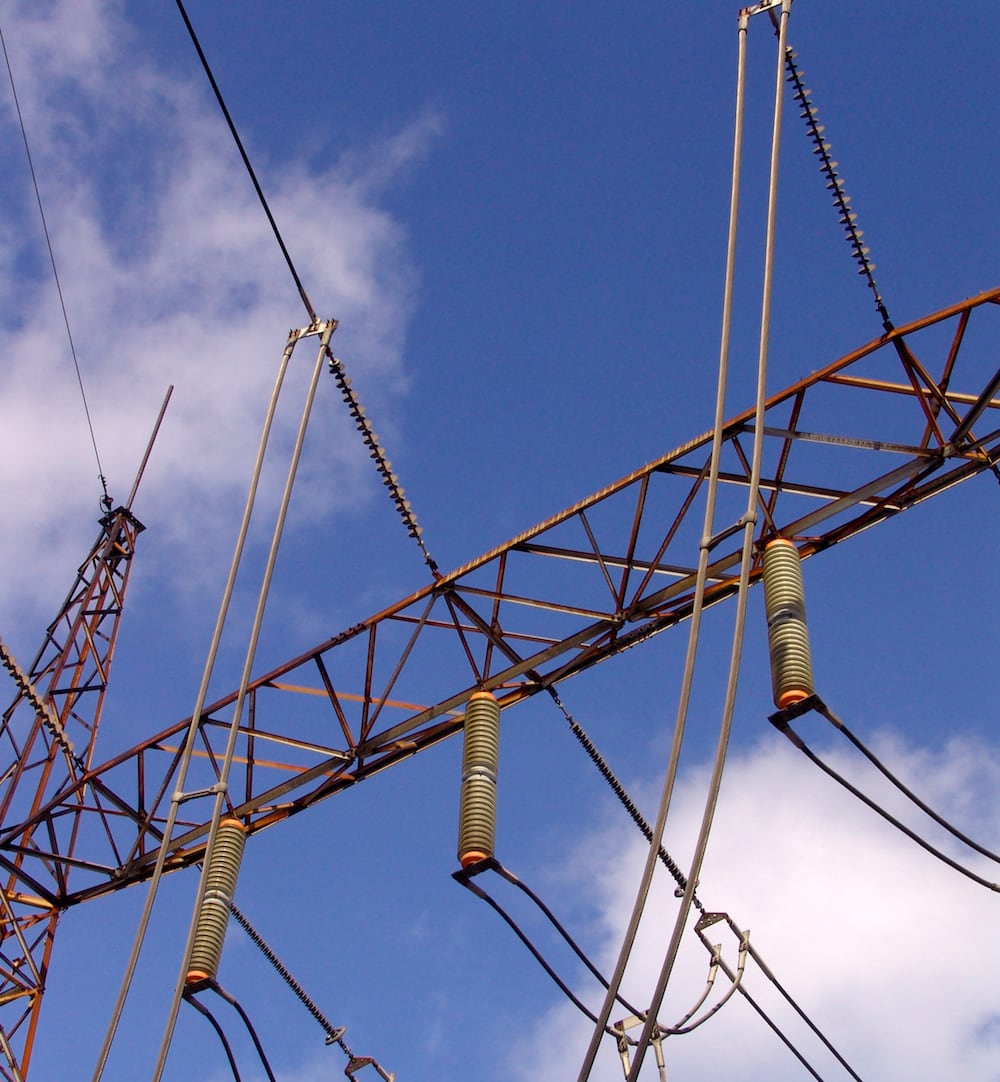 Apart from the insulators used on apparatus, all the tension and other line insulators at Hamilton Beach were converted from porcelain cap & pin strings to 6.8 meter silicone long rods. While it used to be necessary to periodically wash the porcelain strings, this has not been done even once to the silicone replacements. Yet, apart from some minor problems found to be linked to insufficient specified creepage, these have performed well as part of the station's insulation upgrade program.
Advertisement
One of the changes at Hamilton Beach in recent years has been the installation several years ago of polymeric-housed 230 kV MOV arresters to replace the old spark-gap type units. Substation maintenance staff explain that the selection of polymeric housings in place of porcelain was based on better pollution performance and also lower weight. Chisholm notes that going to polymeric housings made the retrofit easier since the new units had much less weight than what they were replacing. This meant that there was no need to reinforce structural supports, something which would have been necessary if going with porcelain arrester housings.
Looking back on the insulation upgrades conducted at Hamilton Beach substation, Chisholm concludes that the various solutions proposed for improving performance at Hamilton Beach worked out very well in practice. He also states that one of the reasons that laboratory testing so well simulated what actually happened in the field was the use of carbon black as a pollutant applied to all insulators tested in the cold fog chamber. This, he emphasizes, allowed testing to be truly representative of what would place under actual service conditions.
The series of changes at Hamilton Beach starting in the mid 1990s eventually affected some 900 station insulators and had a total cost, including labour, of about $ 2.5 million. Yet, local maintenance personnel are amazed at how long these solutions have remained effective given the initial expectations on their service life. For example, the original expectation was that the RTV silicone coatings would have an effective service life of 5 years. However, after more than double that time, they still remained hydrophobic and required only pressurized water cleaning once a year. Insofar as the resistive glaze porcelain insulators, these were originally expected to last for only about 10 years. Yet, after this period had passed, wintertime testing using a thermovision camera revealed that they presented much the same temperature profile as when new.