Polymeric Insulator Materials for HVDC: Properties, Test Methods & Challenges
Advertisement

This recent contribution by Dr. Jens Seifert of Lapp Insulators reported on important material properties identified by CIGRE for HVDC composite polymeric insulators. CIGRE Working Group D1.27 considers tracking & erosion and surface hydrophobicity as key properties and has tried to develop test methods for both in 2009 and 2013. Results are published in CIGRE Technical Brochure No. 611 for tracking & erosion and in an intermediate report in Electra 272/03 for retention of hydrophobicity. No recommendation can be given to standardize a DC tracking & erosion test based on IEC 60587 (i.e. the inclined plane test methodology) while work on standardization for a test of hydrophobicity performance continues in WG D1.58 based on the dynamic drop test (DDT). This article compares material test results in design with field experience of composite insulators in service for up to 36 years.
---
Generation III silicone rubber composite insulators have now been successfully applied in HVDC transmission lines for more than 3 decades. Some well-known installations have included the Pacific Intertie (±500 kV) in the western U.S., Cabora Bassa-Apollo (±533 kV) in Mozambique/South Africa, in New Zealand (±270 kV) and in Norway (±250/350 kV). HVDC has recently begun to gain popularity in all parts of the world. For example, the technology is applied for the realization of long-distance power transmission at 800 kV in China and India and at 600 kV in Brazil and for back-to-back connection of short distances in order to connect non-synchronized national and continental grids. Europe's new offshore windfarms are also connected by 'Smart HVDC' and other Smart grid technologies to continental transmission networks. Many countries are studying and investing in HVDC and FACT technologies under the aspects of network stability, back-to-back connections for synchronization, smart grids and long-distance energy transport. Also, hybrid transmission systems (AC/DC) are under investigation in Germany.
One key factor for OHTL HVDC insulation design is site pollution severity. Pollution severity for HVDC line insulators at most installations can be evaluated in the range of 'light' to 'medium' and partly (locally) 'heavy' to 'very heavy' in accordance with IEC 60815. Data from service experience and testing (material DC inclined plane test) as well as the 5000h DC multi-ageing (design) test can be applied to improve insulation design of new installations. This article provides a design review of established installations with silicone rubber composite insulators and summarizes experience with such insulators on HVDC lines over the past 35 years. During the design review, insulator characteristics will be investigated in regard to creepage selection and housing design, as reflected by statistical methods applied to available pollution data. In addition to electrical performance, material ageing characteristics will also be evaluated by laboratory experiments. Moreover, results of tracking and erosion material tests performed in similarity to IEC 60587 at DC voltage stress and those of a 5000h multi-ageing test at DC voltage will be evaluated and discussed as well. These results will be compared to those obtained from laboratory tests of old insulators removed after 18 years of DC line service.
Case Studies & Design Review
Pacific Intertie ±500 kV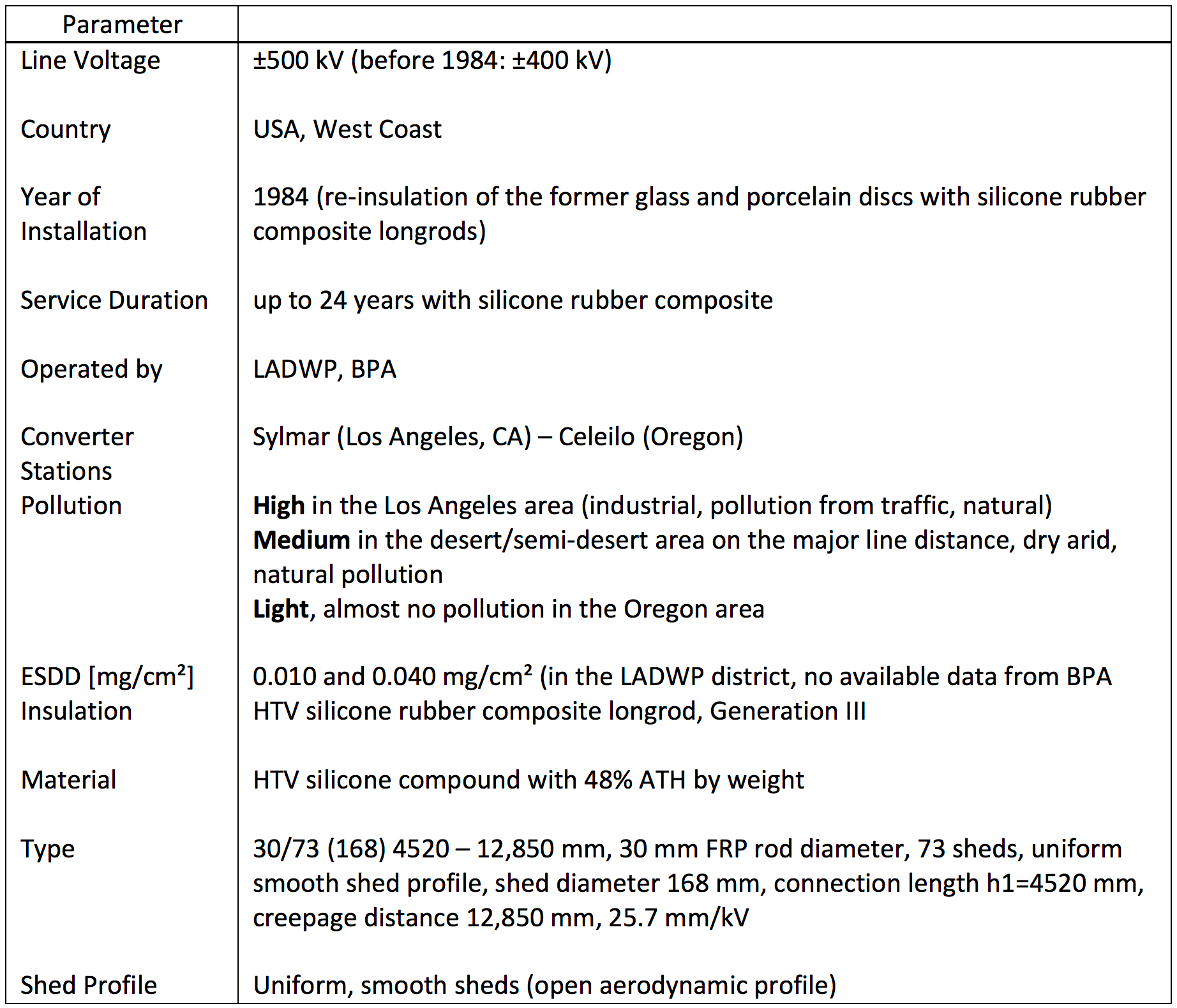 Based on the DC solid layer test method with adjusted hydrophobicity class (HC=3 to 4) STRI's Insulator Selection Tool (IST) was adapted to the type of silicone rubber composite insulators used on the Pacific Intertie. The following calculations were performed using the IST Ed. 4.1 for verification purposes: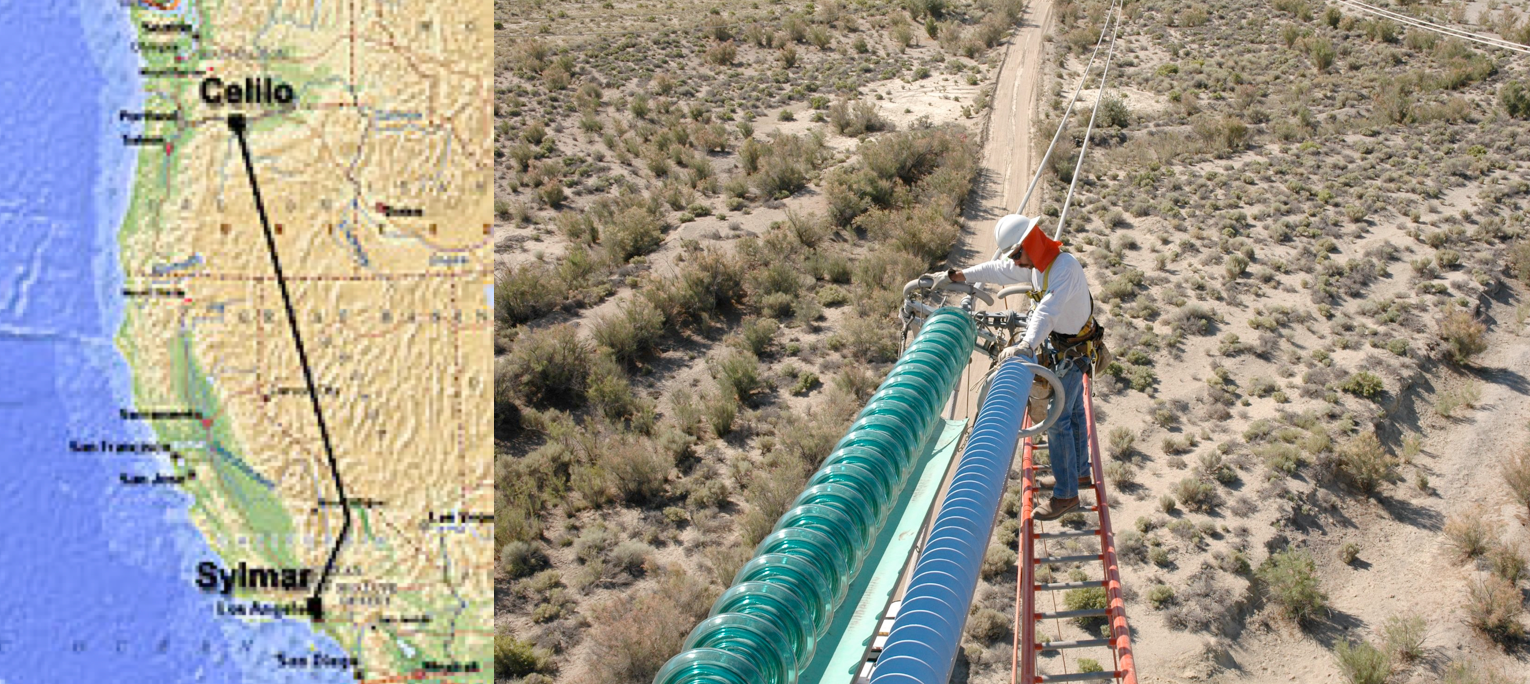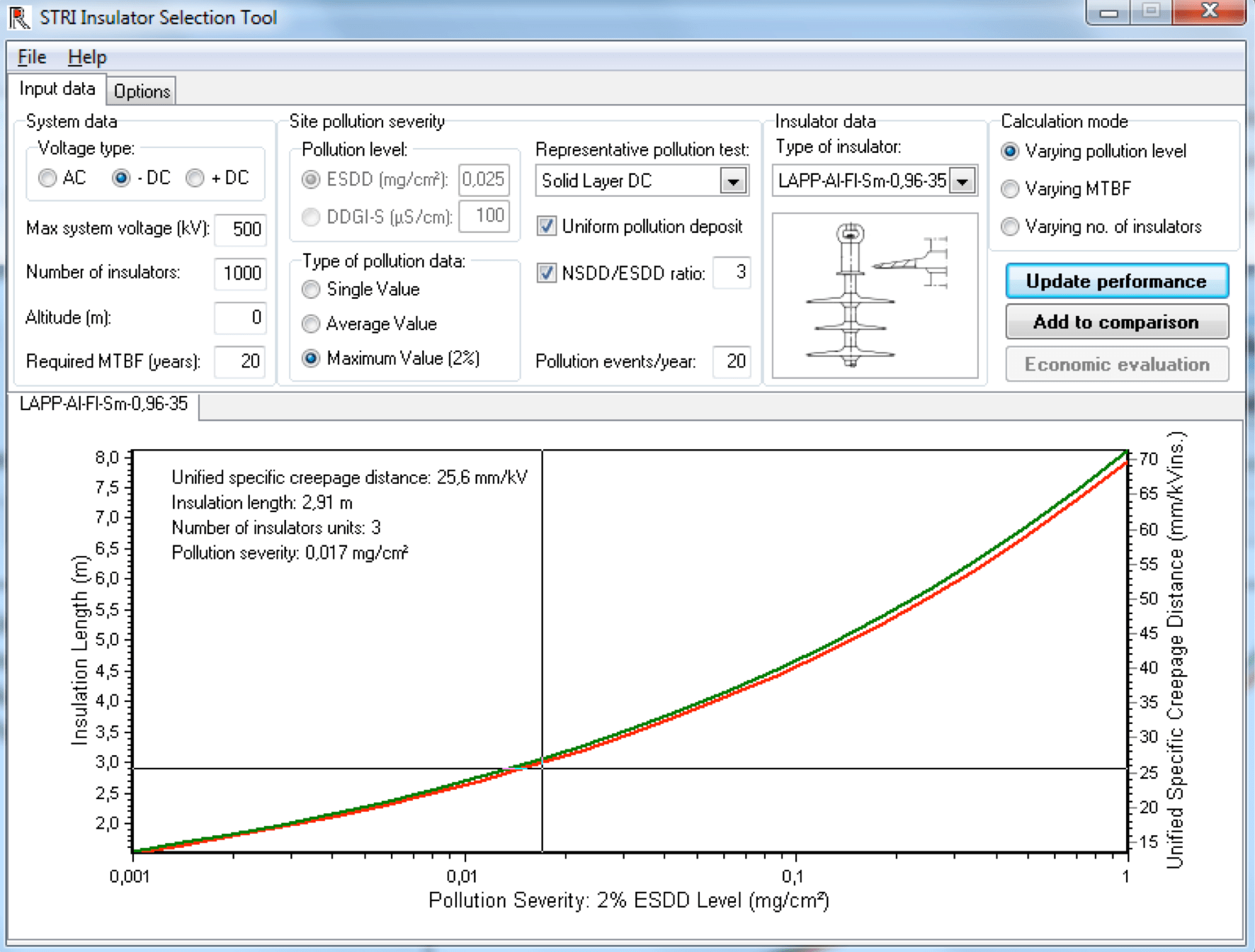 Cabora Bassa – Apollo ±533 kV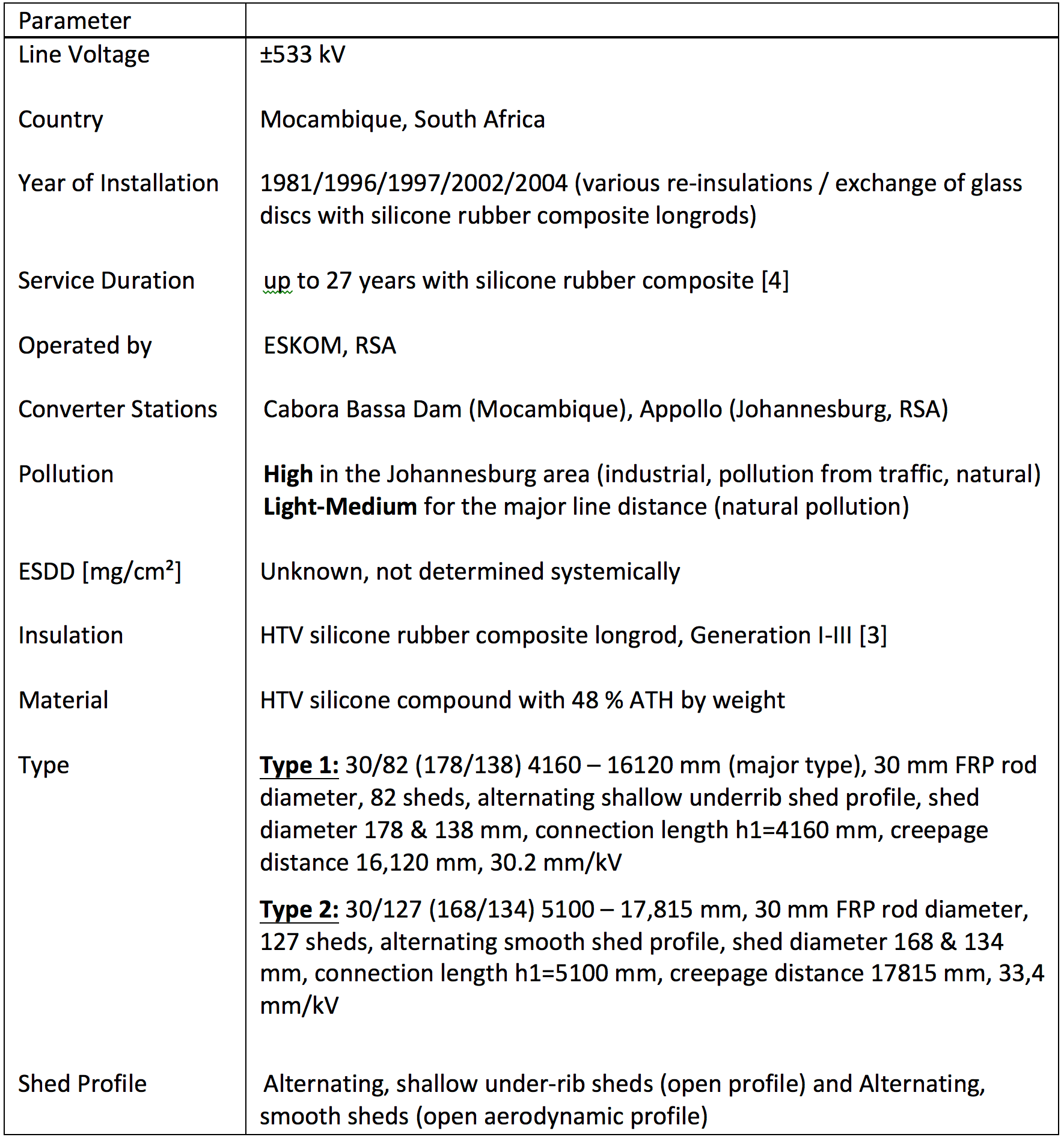 Service performance with silicone rubber composite insulators on this line has been good, with neither pollution flashovers nor tracking and erosion phenomena reported during 35 years of application. Three different generations of composite insulators have been applied on this line that, globally, has had the longest service record of all existing HVDC lines equipped with such insulators. Although pollution severity is presently unknown and expected to be light to medium, the insulation described in this report is able to withstand pollution severities of 'heavy' to 'very heavy' categories.
Laboratory Tests
Presently, there are no IEC material and design test standards for HVDC composite insulators. Therefore, established AC tests were modified for this work. Laboratory tests in accordance with modified tests similar to IEC 60587 and IEC 62217 were performed at DC voltage in order to compare long-term positive service experience to results obtained from artificial composite insulator material and design tests.
DC 5000 h Multi-Ageing (Design) Test
A 5000h DC test was performed at STRI for the housing profile applied in the Cabora Bassa – Apollo Line. The profile is an alternating one using shallow under-ribbed sheds (Type 1 acc. to Table 2).

Summary of results:
•Maximum leakage current during the test was very low (9 mA);
•No flashovers occurred, no tracking and erosion, no sheds were punctured, no core rod became visible;
•There was only a slight reduction in hydrophobicity class (HC), HC=1 before test, HC=2 to 4 after the test;
•Hydrophobicity was not lost during the test and the slight reduction after the test fully recovered to HC=1 several days after the end of the test.
Advertisement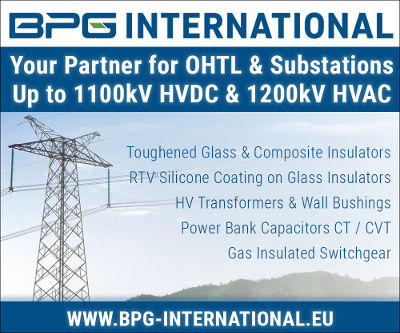 Inclined Plane (Housing Material) Test at DC Voltage
In order to obtain an orientation regarding severity of DC voltage stress compared to AC stress (reference), the inclined plane test in accordance with IEC 60587 was applied. Presently, this test procedure is standardized only for AC voltage stress. Three test series were performed where both polarities of the DC voltage (DC+/DC-) and AC (r.m.s) voltage were applied to the HV electrode of the test set-up. Test voltage was varied at constant conductivity of the electrolytic test liquid. Table 3 shows the main test parameters.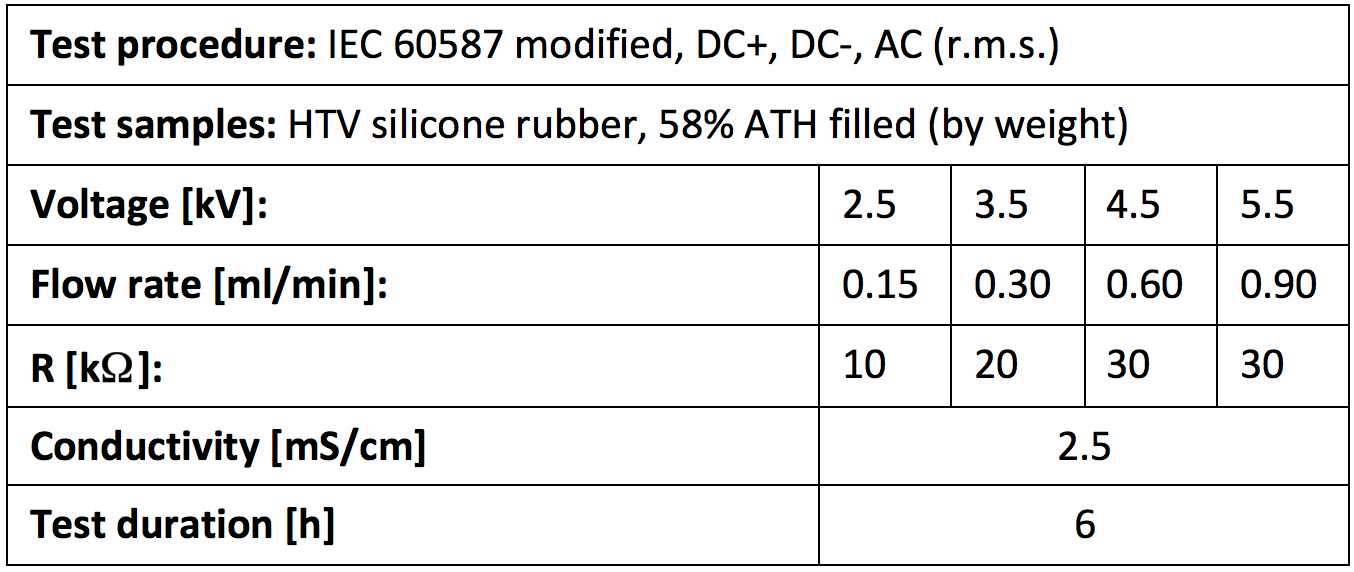 Individual tests were evaluated in regard to erosion depth and length. In order to obtain a comprehensive survey, the test results were normalized to the maximum erosion found at DC+ (5.5 kV) and expressed in per unit (p.u.). Fig. 4 shows average erosion depth and Fig. 5 the respective average erosion length obtained from each test.

Within the tested parameter spectrum, erosion depth and length reached a maximum at DC +5.5 kV. Both DC polarities lead to significant higher erosion than obtained at AC voltage. For DC+ voltage stress, erosion severity increases steadily with test voltage. For DC- voltage stress, a clear tendency cannot be recognized, but severity is at a high level independent of the test voltage. For AC voltage stress, known maximum erosion in the range of 3.5 to 4.5 kV was confirmed. It can therefore be concluded that the erosion severity in the inclined plane test at DC voltage stress is generally much higher than for AC (r.m.s.) stress. As such, while the inclined plane test according to IEC 60587 is a helpful and commonly accepted tool in the evaluation and selection process for AC outdoor housing materials, it does not seem to reflect the same correlation for DC stress. The experience from other ageing tests (5000h DC test) and those from service performance show no correlation to the results of the DC modified inclined plane test. The applicability and representativeness of the test at DC must therefore be further studied. CIGRE WG D1.27 is performing a Round Robin Test (RRT) in accordance with the set-up of IEC 60587, but with modified test conditions. Initial results suggest that a future test can be developed for DC stress.
DC Insulation Performance & Hydrophobicity
Fig. 6 was derived from former investigations regarding hydrophobicity, hydrophobicity transfer mechanism (HTM) and tracking and erosion resistance of HTV silicone rubber material compounds filled with ATH (alumina tri-hydrate, Al(OH)3). Both HTM and tracking and erosion resistance are indispensable features that influence long-term performance of housing materials. Outdoor performance has the general dependence (black curve with a maximum between 55 and 60% b.w. ATH content) for AC and DC stress. Of course, the individual features (red and blue) differ depending on relevant stress type (AC or DC).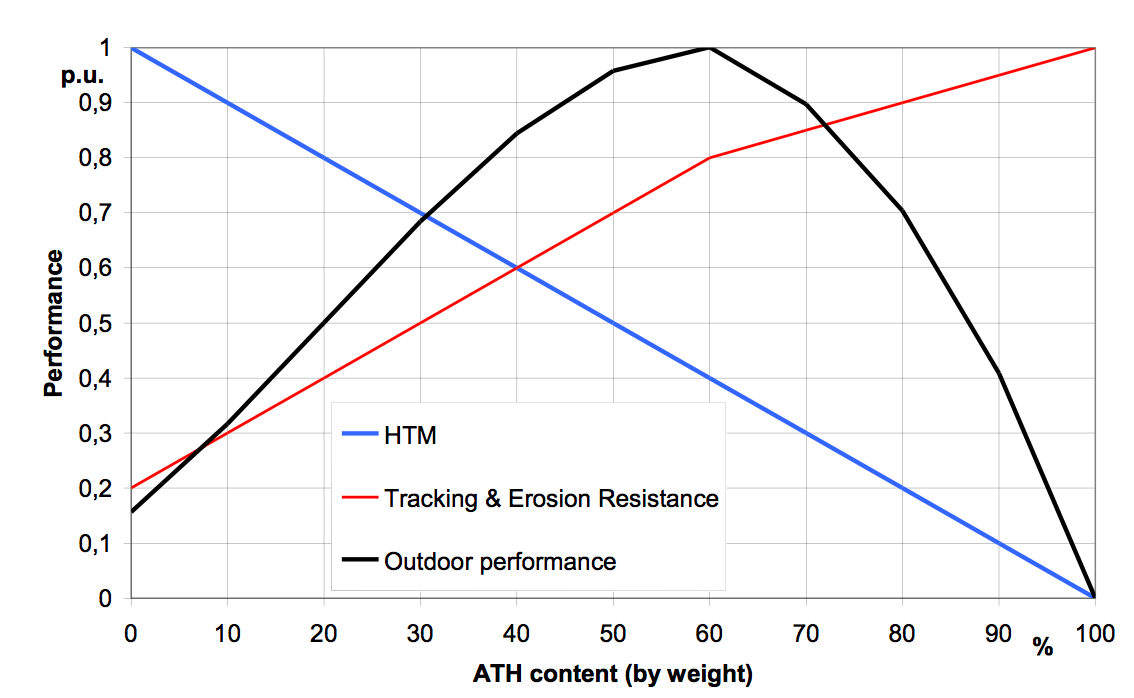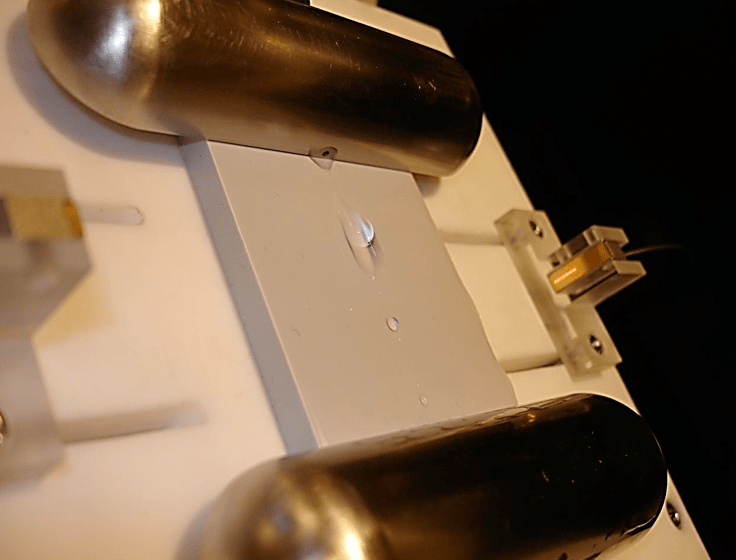 It is assumed that hydrophobicity and HTM behave completely differently under DC than under AC stress. One indication is leakage current development during the 5000h DC test and observed hydrophobicity after the test. Loss of hydrophobicity under DC stress here seems more unlikely than under AC stress, referring to available results from 5000h AC tests. Data from service experience as well as laboratory tests show that suitable HTV silicone rubber housing materials filled with suitable ATH can be used for AC as well as for DC applications. Tracking and erosion resistance can be adapted by adding ATH filler while good hydrophobicity properties are in a well-balanced set-up. Furthermore, the ATH mineral filler is antistatic and prevents formation and storage of critical space charges inside the material or on the housing surface. No additional antistatic agents are therefore necessary for HTV (HCR: High Consistency Rubber). Retention of hydrophobicity under DC stress is also a major task to study within CIGRE WG D1.27 for DC stress (test set-up in Fig. 7).
Recent round robin tests performed by means of the dynamic drop test procedure show good correlation to service experience in the case of HTV silicone materials. Test results for other materials, however, are less promising since loss of hydrophobicity appears earlier for these materials (for which also no long-term DC outdoor service experience has yet been recorded).
DC Pollution & AC-DC 1000h Salt Fog Tests (Tracking & Erosion)
CIGRE WG C4.03.03 performed a feasibility study for a DC pollution test. The experience, findings and ideas of this document should be considered for the definition of test parameters and conditions. A round robin test was performed with 8 to 10 laboratories. After reviewing the report in IEC TC 36/WG 12, the following weaknesses still exist:
• Required surface wetting for the test and its control;
• Repeatability;
• Selection of artificial pollution layer;
• Selection of kind of artificial pollution media.
Test conditions:
DC: 22.2 kV, initial salinity 8 kg/m³, creepage distance 775 mm.
AC: 22.2 kV (r.m.s.), initial salinity 8 kg/m³, creepage distance 775 mm. The test setup is shown in Fig. 8a. Leakage currents during the test are provided in Fig. 8c and sample appearance after testing is shown in Fig. 8b.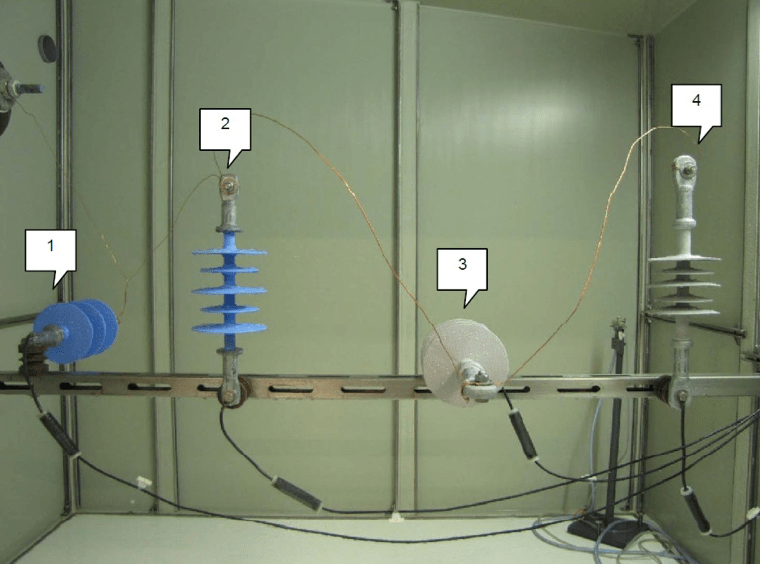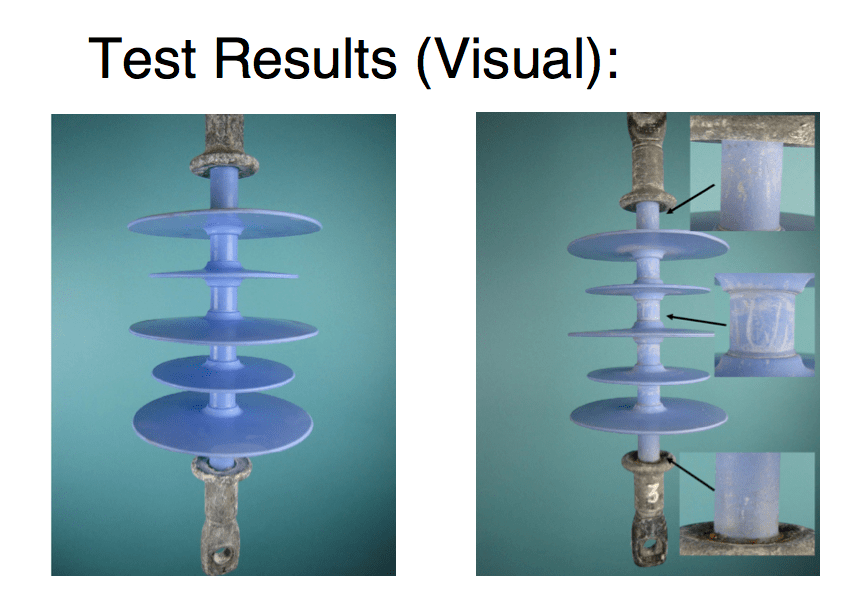 Retention of hydrophobicity at AC stress is maintained over the whole 1000h test time while, under DC stress, leakage current already starts after 500h under the test conditions and voltage of 22.2 kV, indicating loss of hydrophobicity.

Erosion:
DC: slight erosion with depth lower than 0.5 mm
AC: no erosion
Modern insulator housing profile designs made of well selected elastomeric HTV rubber compounds pass the 1000h salt fog test at DC and AC without significant traces of erosion. Erosion seems to be slightly higher at DC than at AC voltage stress, but much lower than IEC requirements (i.e. depth < 3 mm).
Field Experience
Assessment of Line Insulators Removed from Cabora Bassa
Three insulators were removed after 18 years from the South African section of the Cabora Bassa – Apollo line to assess their condition and derive lifetime expectations for the installed collective of several thousands of units. The investigations were performed at STRI where the new Guide for Assessment of Old Composite Insulators was applied. The results of the assessment confirm the sound state of all component parts (housing, core, sealing, end fittings): no traces of erosion, corrosion, UV weathering and no other degradation processes detected. Surface hydrophobicity and hydrophobicity transfer mechanism (HTM) are still active and have been maintained over the in-service time. Expected total lifetime of these insulators is at least 40 years under the given environmental conditions.
Advertisement
Pollution Tests on Insulators Taken from Cabora Bassa
In order to assess insulation performance, additional diagnostic tests were performed in the laboratory under DC test voltage. Diagnostic investigations comprised visual inspection, check of hydrophobicity and HTM as well as pollution measurements. At time of inspection, all insulators were highly hydrophobic and HTM measurements showed that all insulators had the ability to encapsulate surface pollution. Dry AC voltage tests at normal operating 533 kV (r.m.s.) and elevated 800 kV (r.m.s.) along with simultaneous UV and IR monitoring did not reveal any internal or external defects leading to increased temperature or discharge activity.
Pollution performance under DC voltage was assessed through clean fog test of naturally polluted insulators at 1066 kV (DC), i.e. 2 p.u. stress and rapid flashover clean fog test of artificially polluted insulator. No flashover or punctures occurred during the test of naturally polluted insulators and leakage currents remained below 5 mA. Rapid flashover voltage tests were performed on one insulator that had been artificially polluted by a standard suspension of kaolin and NaCl to obtain an SDD of approximately 0.3 mg/cm². Tests performed directly on the hydrophilic insulator and also on an insulator allowed to recover hydrophobicity for 2 days indicate that this relatively short recovery time increased estimated U50% from 492 kV to 555 kV, corresponding to 13%.
Conclusions
Long-term service experience with existing silicone rubber composite suspension/tension insulators in HVDC overhead transmission lines is excellent. Direct evidence comes from service performance of the overhead transmission lines Cabora Bassa – Apollo and also the Pacific Intertie. Both lines have now been in service for more than 30 years while insulated with silicone rubber composite insulators. A review of the insulator designs showed that selection of creepage distance and shed profiles 30 years ago has been done adequately and even in accordance with today's knowledge and new draft IEC standards for HVDC insulators. This has been confirmed by application of statistical design methods. Both lines are operating under light/medium (partly/locally high) pollution conditions. Hydrophobicity of the silicone rubber housing and the hydrophobicity transfer effect have been maintained until present over the whole service period on both lines.
A 5000h multi-ageing (design) test was performed at DC test voltage. The leakage current during the test was much lower than in comparable AC tests in accordance with IEC 62217. Hydrophobicity of the silicone rubber housing was maintained during the whole test period and resulted in HC=2 to 4 obtained after the test in the final evaluation. Low leakage current during the test was a result of maintained surface hydrophobicity. No damage caused by tracking and erosion was detected. The characteristics of these test results indicate that the hydrophobicity loss mechanism is apparently completely different at DC than at AC voltage stress. Results of the 5000h test fully reflect the long-term service experience of these HVDC lines.
Material tests were performed using the inclined plane test in accordance with IEC 60587 that was modified for DC test voltage. A variation of voltage stress was done for both polarities of DC voltage from 2.5 to 5.5 kV. For reference purpose, a series of AC test voltage was also performed with the same voltage intervals and steps. The material tested was a typical high quality HTV silicone rubber compound filled with 58% (by weight) ATH filler for extrusion processing. Such materials are applied for more than 30 years and are also being used in today's Generation III silicone rubber composite longrod insulators for HVDC and HVAC applications.
Inclined plane test results that show severe erosion at DC are in complete contradiction to excellent service performance as well as results of the 5000 and 1000h DC tests. Test erosion severities at both DC polarities are significantly higher than those at AC. Dependence on voltage level is also different for DC and AC. Surface hydrophobicity is intentionally fully suppressed during the inclined plane test. Since hydrophobicity seems to be the protecting feature in actual service and also during the 5000h test, results of the inclined plane DC test will likely mislead if applied for the selection process of DC materials. Nevertheless, the inclined plane test has been accepted and shown representative for the selection process for AC materials. With the results obtained in this and other studies, this test has to be regarded as not representative and not suitable for DC applications. This must be considered if a DC material test for tracking and erosion is discussed for future standardization.
A simple model for leakage current supply of partial arcs has been introduced. Since at DC voltage stress there is no capacitive part of the leakage current, the feeding current for partial arc is only supplied via the ohmic current (represented by RP in the equivalent circuit scheme). RP depends mainly on the surface pollution of the silicone rubber housing and its hydrophobic effects (intrinsic hydrophobicity and hydrophobicity transfer mechanism). As long as these hydrophobic effects are able to suppress ohmic leakage currents, no critical leakage currents, dry band and/or partial arcs come into effect. In such a state, no critical tracking and erosion effects are expected. Theoretically, existence of a critical value for RP can be derived from this simplified model. This fundamental theoretical insight is very important and has to be considered when line insulation design is made for heavy and very heavy pollution severities or if critical hydrophobicity states are expected from environmental or climatic impacts.
This should be considered in future standardization work within CIGRE and IEC, namely as part of the new IEC 60815-4. For choice of creepage distance and housing profile, sufficient data from field and laboratory testing is available and has been implemented in the databases for design and selection in accordance with the statistical approach. The latest draft of IEC 60815-4 also reflects these findings for profile and USCD recommendations. For the time being, there is still no report about negative performance of silicone rubber longrod insulators at HVDC but there have been failures and problems reported with disc type insulators (e.g. pollution flashover, severe corrosion). On the other hand, there is positive long-term service experience with Generation III silicone rubber longrod insulators over more than 30 years at HVDC. Since the dominant problems of hardware corrosion, cement growth, electrolytic elements and accumulation effects are mostly avoided with composite insulators, HTV silicone rubber material compounds with ATH filler are deemed suitable for both AC and DC applications.