Polymeric Insulation for Today's Network Requirements
Advertisement

Among the earliest basic concepts in polymeric insulators were monolithic designs made of structural materials such as epoxy, first developed during the 1950s. At the time, conventional porcelain and glass insulators were recognized as state-of-the-art and the first IEC standards were issued for specifying them (e.g. 1st Edition of IEC (60)075 in 1955 /1/ and 1st Edition of IEC (60)087 in 1957 /2/).
Considering transmission voltage levels >100 kV, the technology of composite insulators was not taken seriously before the 1970s. The concept of a composite insulator is that different materials contribute to insulator function in accordance with their relevant material properties (e.g. fibre-reinforced plastic rod for mechanical function and polymeric housing for environmental protection, with both for electrical function). The 'kick-off' for this technology in the 1970s was initiated by major progress in material development of FRP as well as housing materials. New manufacturing techniques for complete assembled insulators were also proposed, which included various processes for application of housings and attachment of end fittings. During introduction, composite insulators were regarded as highly specialized products and sometimes even termed 'exotic'. They were comparatively expensive due to the low numbers being produced, often as non-standardized products. They were therefore limited to special applications, for example areas with extreme pollution, vandalism or high earthquake risk in the case of apparatus insulators.
Advertisement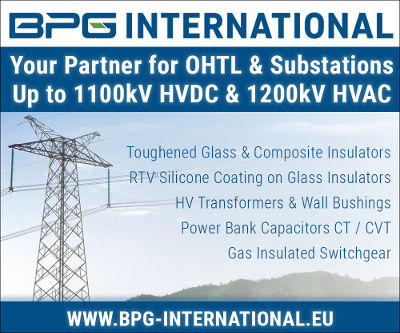 As typical for new developments, there were hardly any standards or long-term operating experience and design errors sometimes resulted in failures in the field. Examples were sealing problems in general and, in the case of Teflon-housed insulators in paticular, no bond between housing and rod. Here, the interface between housing and rod was filled with grease. Once this grease was used up after a relatively short time in service, the insulator failed due to so-called flashunder, rod tracking or brittle fracture caused by moisture ingress.
Since those early years, composite insulator technology has been developing continuously as a realistic alternative offering improved service properties compared to porcelain or glass insulators. Moreover, it has acquired a positive reputation, attributed to satisfactory operating experience in global applications and with high production numbers. Today's technical state-of-the-art of composite insulator technology can be attributed to pioneering work by several international manufacturers and interested users, who together recognized their potential and took the risk of early network applications to gain field experience. Research institutions have also participated in identifying and understanding dynamic interactions between the housing material and the environment, mechanical damage mechanisms and development of models for these behaviours. Composite insulator technology has undergone various development phases and standardization stages, as typical of most technical products. Composite insulators manufactured today, often known as third-generation or third-generation plus composite insulators, are characterised by high-grade components with a long-term history of use.
Advertisement
Attend the 2017 INMR WORLD CONGRESS in Barcelona-Sitges this November to hear a paper by long-time industry expert, Dr. Frank Schmuck of Pfisterer-Sefag, who will review development of this technology for modern network applications.