Performance of MV Epoxy Insulated Outdoor Equipment
Because of its rigidity, the epoxy family of polymeric materials occupies a unique position in the field of outdoor insulation. For example, this property means that it cannot be classified as elastomeric, as are both silicone and EPDM rubbers. Also, epoxies can serve as the strength-bearing member and hence there is no need for a fibreglass core (whether rod or tube) that is integral to both composite line and apparatus insulators. The question is therefore whether tests and standards developed for composite housed insulators and apparatus can ever apply to epoxy insulated devices? And, if not, how should they be evaluated? Certainly, there is a need for this type of information since epoxy insulated devices are used extensively in such low and medium voltage applications as bus support insulators, enclosures for protective devices (e.g. vacuum reclosers, sectionalizers), fuse cutouts, instrument transformers (for current and voltage measuring devices in stations), bushings and pin and post type insulators.
Epoxy-insulated devices offer a number of advantages over porcelain. They are lighter and non-brittle, meaning they are easier to handle and will not chip or break. They can also be cast in a variety of shapes. Since the same material serves both electrical and mechanical functions, they eliminate an important interface, which can be the source of concern during manufacture and also during service. They also eliminate any need for oil and the obvious related maintenance issues. They can even be installed in any orientation and this is an advantage where clearances are tight. However, in order to realize all these potential benefits, it is imperative that the material be able to withstand all environmental stresses, just as do composite insulators, as well as any internal electrical stresses due to the presence of internal active components.
The epoxy being employed today for most outdoor applications is the cycloaliphatic type (CEP) as opposed to the bisphenol variety that is used for manufacturing fibreglass solid rods and hollow cores. CEP is characterized by a saturated molecular structure that results in better tracking and erosion resistance. This particular property is inferior in the case of bisphenol epoxy, even if it has very good mechanical and electrical properties. There are innovations happening as well. Almost two decades ago, hydrophobic cycloaliphatic epoxy (HCEP) was introduced and another advancement, namely a flexible variety of HCEP for the sheds of composite insulators, has also since been made. Yet another novel application – epoxy insulated cross-arms where the conductor can be attached directly to the structure – has also been proposed.
In the absence of standardized tests for epoxy, a judicious combination of laboratory as well as field testing, computer modelling of flashover and degradation and statistical analysis can be used to answer questions regarding expected service performance. This was the thrust of this past INMR article, contributed by Ravi Gorur, formerly of Arizona State University.
---
There are two prominent modes of failure for outdoor insulation that employs polymeric materials. One of these is surface degradation due to tracking and erosion and the other is flashover due to surface contamination that renders the device incapable of maintaining the system voltage. The focus of this project was medium voltage instrument transformers, although insulators were also evaluated.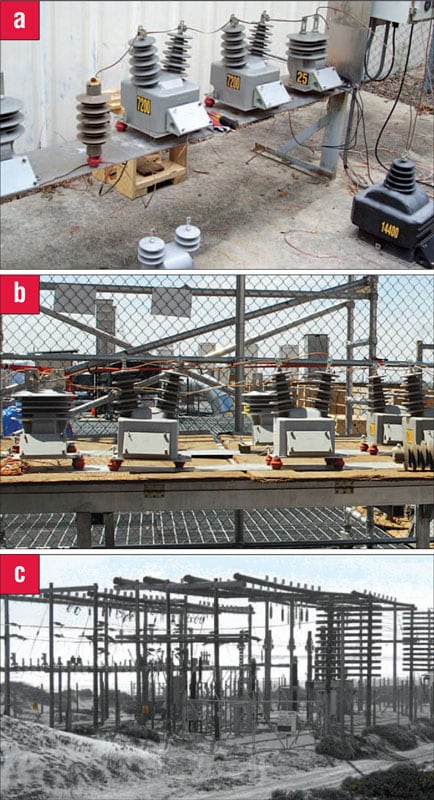 Test Details  
Tracking and erosion resistance was determined in the laboratory using the ASTM D2303/IEC 587 Inclined Plane Test. Rectangular slabs of the same material as used in the final product were provided in this regard. To evaluate flashover properties in the laboratory, the clean fog test was utilized. Theoretical models developed in previous projects and published in IEEE papers were employed to extend the range of prediction. In addition, in order to better correlate results from laboratory testing with real world conditions, two outdoor tests sites were built several years ago – one on the roof of the Engineering Research Center at ASU, the other at the premises of an electrical apparatus OEM in North Carolina. These locations were chosen primarily for convenience but also covered a range of environmental conditions important for polymeric-insulated devices. For example, the ASU site experienced long, hot summers and was considered one of the most severe locations in terms of total UV radiation per year. The North Carolina site experienced high humidity throughout the year and was in a relatively mild place, typical of many service locations. A total of 8 samples were installed in each site, all in their new condition, and were energized at 15 kV (corresponding to a 25 kV system voltage) and representing a two-fold increase compared to the nominal service voltage. This overvoltage provided an acceleration factor and was essential to promote some ageing within a reasonable time in otherwise clean locations.
At the time, the OEM invovled in this work typically tested all their new products for at least a year at the Koeberg Insulator Pollution Test Station (KIPTS) in South Africa – very close to the sea and among the most severely polluted test sites (both marine and industrial) in the world. Indeed, the pollution index at KIPTS is extremely high and would be classified as 'very heavy' according to IEC 60815. Several samples that had been exposed there for a year were supplied for this project and both test sites equipped with instrumentation to monitor leakage current. Photos of the test sites are shown in Fig. 1 while Table 1 lists important weather data. Samples that had been exposed in service in Finland and Norway for up to 20 years were also made available. They provided vital information on the degree of physical and chemical changes that can be expected over such a service life.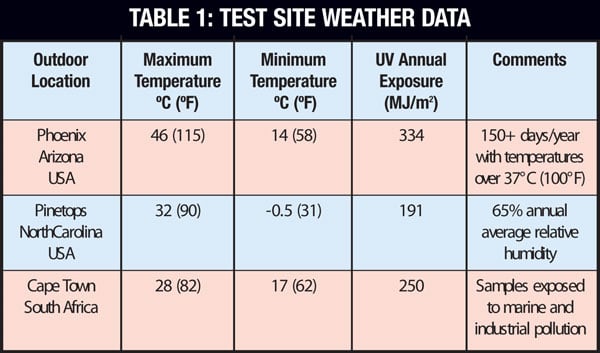 Description Of Samples Evaluated 
Table 2 lists the various samples evaluated in the project, all with alternating sheds.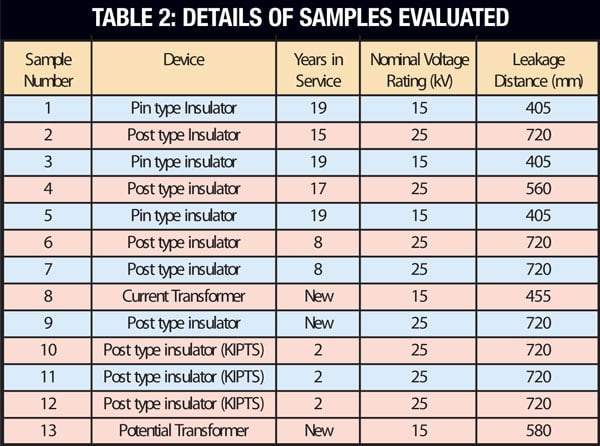 The field-aged samples all had rough surfaces due to weathering. Fig. 2 shows the top and bottom sheds of a pin type insulator exposed in field in Northern Europe for about 20 years. It is interesting to note the relatively unchanged under-surfaces of this vertically-oriented insulator.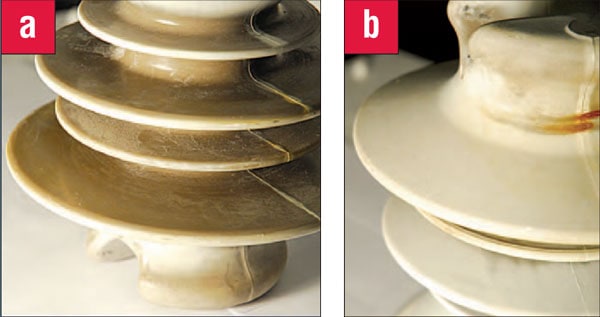 The surface degradation of field-aged samples was measured using a surface profilometer. Average roughness of the exposed surface was about 20 µm, but barely detectable on the new insulator and also on the protected under surfaces. It is reasonable to expect that surface roughness will level off after several years and remain constant for the rest of the equipment's life. This emphasizes the importance of having shed profiles that protect surfaces from the elements. The surfaces were also characterized using Fourier Transform Infrared (FTIR) Spectroscopy and Energy Dispersive X-ray Analysis in a Scanning Electron Microscope (SEM). To simulate an exaggerated weathered surface, several new instrument transformers at the ASU and Pinetops test sites were first sand-blasted to yield an average surface roughness of 50 µm (see Fig. 3). Some of these were artificially contaminated with kaolin and salt to yield an ESDD level of 0.2 mg/cm2 and an NSDD of 1 mg/cm2. These were then installed along with the new samples.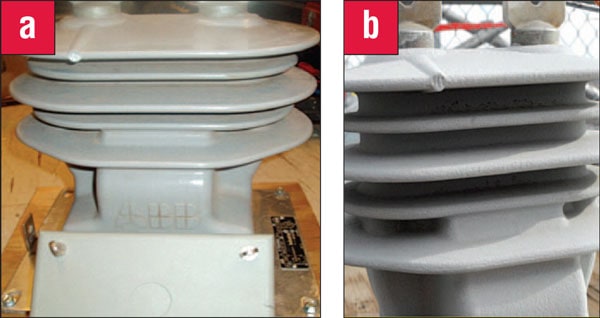 Observations from two years' exposure at the outdoor test sites are summarized below:
1. The three samples received from KIPTS had substantial salt contamination on their surfaces. Two of the three had multiple fuse operations indicating flashover or high current surges. All displayed localized surface degradation.
2. None of the new and sandblasted samples at the ASU and North Carolina test sites had sustained leakage current over 1 mA (lower values were filtered out to eliminate noise).
3. The artificially contaminated samples showed few peaks exceeding 10 mA when they were deliberately wetted with a spray bottle. Otherwise, leakage current was less than 1 mA.
Surface Degradation Prediction
The basic experimental setup for the inclined plane tracking test was very similar to that described in ASTM D2303. Figure 4 shows the schematic. The details of specimen dimensions, electrodes and sample positioning were as per the standard. A peristaltic pump was used to supply the electrolyte while a 5 kVA, 0 to 7.5 kV transformer provided the power.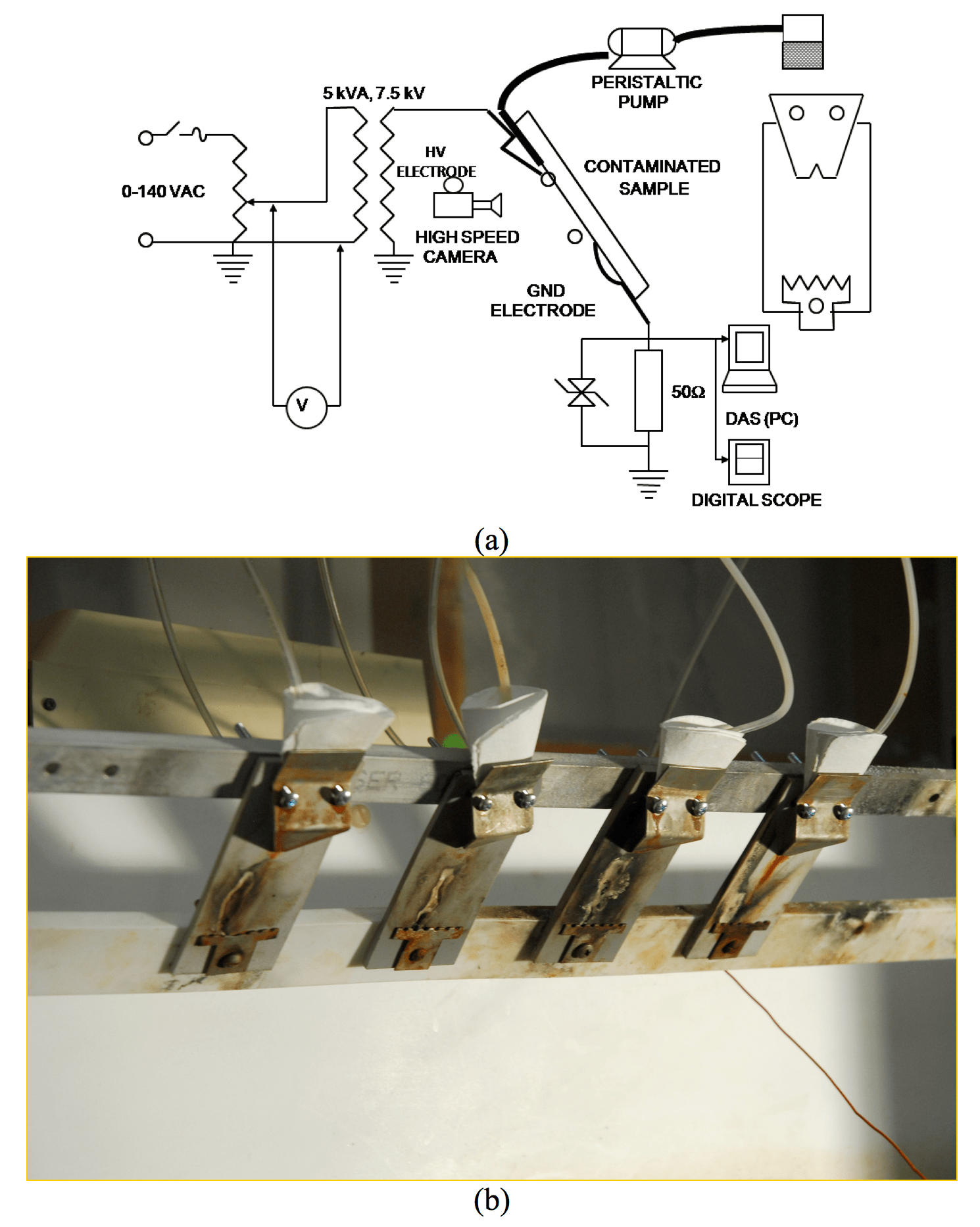 The epoxy samples were first tested using the time to track mode under standard test conditions. As expected, none of the samples failed under standard test conditions. More experiments were conducted by changing the applied voltage (from 1 to 4.5 kV) and electrolyte conductivity (from 500 to 3000 µS/cm). Voltage and electrolyte conductivity were varied in such a manner that discharges were not rapidly moving along the surface. As indicated above, some samples were sandblasted to duplicate the surface roughness of field-aged samples. Discharge current and duration of localized arcing were then monitored.
Using the product of current and time of arcing in a single location, the local temperature rise was calculated and correlated with onset of degradation through tracking and erosion. Four samples were tested for each different experimental condition, which provided a range of results where degradation was noticeable in as little as 1 hour or not at all at even after 6 hours. Fig. 4b shows samples exhibiting different degrees of degradation. The following were the important observations:
1. There was no degradation when discharge current was less than 10 mA.
2. Degradation was initiated for currents higher than 10 mA and when arcing was localized in a particular location for about 3 seconds (180 cycles at 60 Hz).
3. The time for initiation of degradation was shorter for sandblasted samples compared to new samples.
4. The time for initiating degradation reduced as the product of the current and time of arcing in a particular location increased.
Since there was no degradation below 10 mA, the product of the adjusted current (i'= i–10) and arc duration in a location (in terms of 60 Hz cycles) was plotted on a Weibull Distribution format as shown in Fig. 5. The vertical axis represents the probability of degradation initiation and the graph demonstrates that the data follows the 'fat pencil test' very well.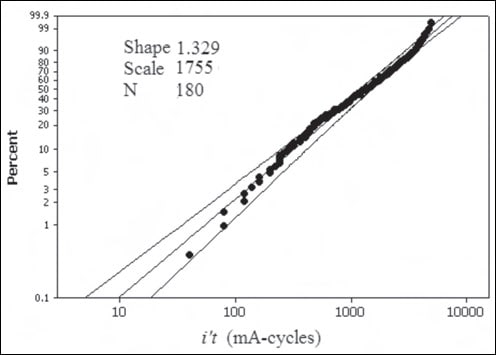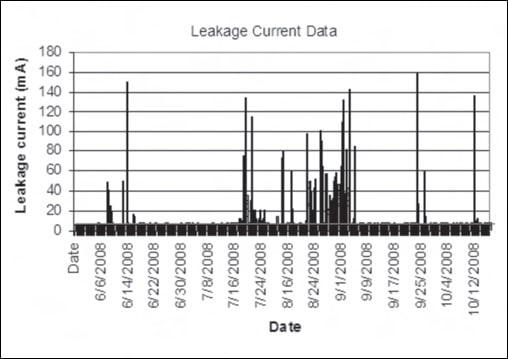 KIPTS was equipped to record the highest leakage current over ten minute durations and Fig. 6 provides this data over a period of 6 months. It can readily be seen that leakage current was quite high for a number of days (from Aug 16 to Sept. 10, 2008) while for other days was mostly below the threshold of 10 mA. Degradation in the form of tracking and erosion was observed on this particular sample. Getting reliable measurements for test sites can be a major problem due to the vulnerability of electronic equipment to weather, current and voltage spikes. Nevertheless, the data obtained still provides some correlation with laboratory measurements.
Flashover Prediction 
The ability of polymeric outdoor devices to withstand applied voltage depends on material condition (e.g. hydrophobicity, surface roughness, aging) and amount of contamination on the surface. But for polymeric devices, ESDD alone cannot predict flashover performance as is the case for inert materials such as porcelain and glass. Measurement of surface resistance under wet conditions has therefore proven to be a more sensitive and reliable indicator for flashover performance of polymeric devices.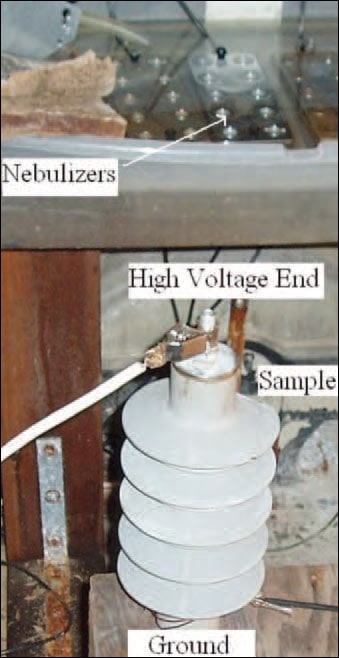 Surface resistance was measured on new, sandblasted, field-aged and artificially-contaminated samples in the experimental set-up shown in Fig. 7. Clean fog was created inside a stainless steel chamber using ultrasonic nebulizers and AC voltage in the range of 2-4 kV was used. This voltage was sufficeint to establish a measurable leakage current but not high enough to initiate discharges. Adhesive aluminium tape was used as the electrodes. The test sample transformers were mounted vertically in the chamber and leakage current was determined by measuring voltage across a resistor and displayed on an oscilloscope. After each surface resistance measurement, an identical sample was tested for flashover or withstand at nominal operating voltage. Only those samples with extremely high levels of artificial contamination (i.e. ESDD> 0.6 mg/cm2) flashed over. A two parameter Weibull distribution was used to plot the conductance (i.e. reciprocal of surface resistance) values with flashover probability as shown in Fig. 8. The correlation is fairly good, although not as good as that in Fig. 5. This is probably due to the limited number of samples available to be tested.
Using the criteria "more probable than not (51%)", the following important predictions regarding performance in service can be made based on Figs. 5 and 8.
1. Flashover is not likely to occur on these devices if ESDD level is less than 0.2 mg/cm2 which, according to the latest IEC 60815 pollution chart, is indicative of heavy contamination. Therefore, for most outdoor locations that can be described as light to medium contamination, the present material and design of equipment should be adequate.
2. Degradation was observed only on samples that were roughened to a level that exceeded that of field samples exposed for 20 years and on which discharge current frequently exceeded 30 mA. This demonstrates that degradation of the material evaluated is also unlikely for most outdoor locations.