Performance & Ageing of Semi-Conducting Glaze Porcelain Insulators
Although porcelain insulators have been used widely at all voltage levels for many years now, they have not performed entirely without problems. These typically tend to occur when pollution and moisture combine to form a highly-conductive layer on their surfaces. In such a situation, surface resistance can decrease by up to 10,000 times compared to the dry and clean state. Surface discharges then occur and bridging dry bands are formed. This dry band arcing can quickly develop into a complete flashover of the insulator. Different solutions aimed at combating such dry band arcing were developed over the years and included oil-bath insulators, water-repellent insulators, insulators with built-in heaters and insulators having a semi-conducting glaze. However, few of these concepts survived the test of time. Although use of semi-conducting glazes was not found practical when the concept was first proposed, it re-appeared once more reliable new materials had become available. The principle behind the improved performance lies in the ability of such glazes to conduct low current (~1 mA) thereby promoting heating of the insulator surface to a few degrees above ambient. Therefore, any existing pollution layer is kept dry, even under conditions of dew or fog. Moreover, the glaze also acts as an alternative path for the leakage current flowing in the pollution layer. As such, dry band arcing formed when the surface of the insulator does not dry homogeneously is prevented. This lowers the risk of flashover. In addition, the layer of semi-conducting glaze also stabilizes the voltage distribution along the insulator. In spite of these advantages, however, there have been concerns expressed in regard to ageing of the glaze with a corresponding reduction in its conductivity over time. This INMR article from 2004, by Prof. Stanislaw Gubanski of Chalmers University of Technology in Sweden, reviewed research performed on ageing of antimony-doped, tin oxide semi-conducting glaze under both AC and DC voltage stress. The objectives were to study how ageing mechanisms differ depending on type of stress and to establish whether semi-conducting glaze insulators can be considered equally reliable to those having ordinary, non-conducting glaze.
---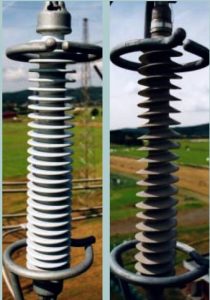 Semi-conducting glazes are obtained by introducing a conducting phase into the glassy matrix. This conducting phase is based on metal oxides which are mixed with ordinary base glaze. The conducting properties of the glaze are then created during the firing process. The first such glazes were based on iron oxide. Attempts were also made to use other metal oxides, for example, nickel, zinc, cobalt, chromium and copper oxides among others. These glazes, however, demonstrated poor resistance to corrosion as well as thermal instability, often leading to thermal runaway. Glazes containing partially-reduced titanium oxide were found to offer better thermal behaviour as well as superior resistance to corrosion. However, these tended to lose their conductivity easily when exposed to spark discharges. Finally, it was discovered that glazes with antimony-doped tin oxide satisfied most of the basic requirements for use on high voltage insulators. Insulators having such tin oxide-based, semi-conducting glazes have been produced commercially now since the 1970s. Great improvements have been made over the years and service experience with such insulators under exposure to AC voltages has been quite promising. The major concern, despite the proven benefits, has remained ageing of the glaze surface over time, leading to deterioration as well as reduction in its conductivity. In addition, field experience of such insulators under DC voltage has been quite sparse and this is especially relevant since laboratory investigation seems to indicate that ageing in such applications can be much more severe than for AC.
Field Testing
An important part of the research involved investigating the performance of full-scale, long-rod porcelain insulators having semi-conducting (SC) glazes. In this regard, special insulators manufactured for this project were exposed to a natural marine environment at an outdoor test station and placed under both AC and DC electric stresses. Applied voltages were 180 kV and 130 kV (rms phase-to-ground) on the DC and AC lines respectively.
The test insulators were covered with two types of semi-conducting glaze and were manufactured in different lengths. All had core diameters of 70 mm and outer diameters of 130 mm. At the same time, insulators with non-conducting (NC) glaze as well as composite insulators with a similar design were installed on the same test lines. Relevant data for these various insulators are provided in Table 1.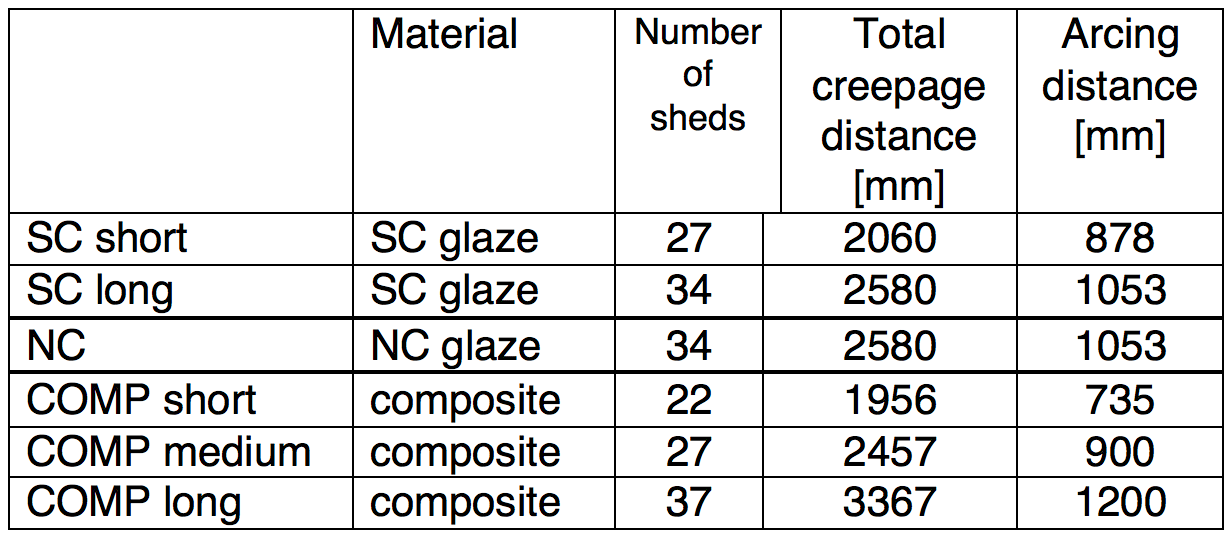 During exposure, the electrical performance of these insulators was monitored in terms of leakage current and incidence of flashover. For insulators exposed to DC, the DC component of the current was recorded, while under AC it was the mean value of the half-wave rectified value. When the insulators were first energized, they were clean and dry. Therefore the 'base' leakage current could be measured and was found to be between 0.04 mA and 0.15 mA for semi-conducting glaze insulators under DC voltage. This same base value was between 0.16 mA and 0.36 mA for those insulators installed under AC voltage. For insulators with non-conducting glaze and for the composite insulators, the amount of current was lower. Figs. 2 and 3 show typical examples of the leakage currents recorded over the test period. Along the time axis, rainfall is indicated by a line of crosses. Leakage currents varied only slightly over time. However, during rainfall, a clear increase could be seen on ceramic insulators with both semi-conducting and non-conducting glaze. This behaviour was less pronounced on composite insulators.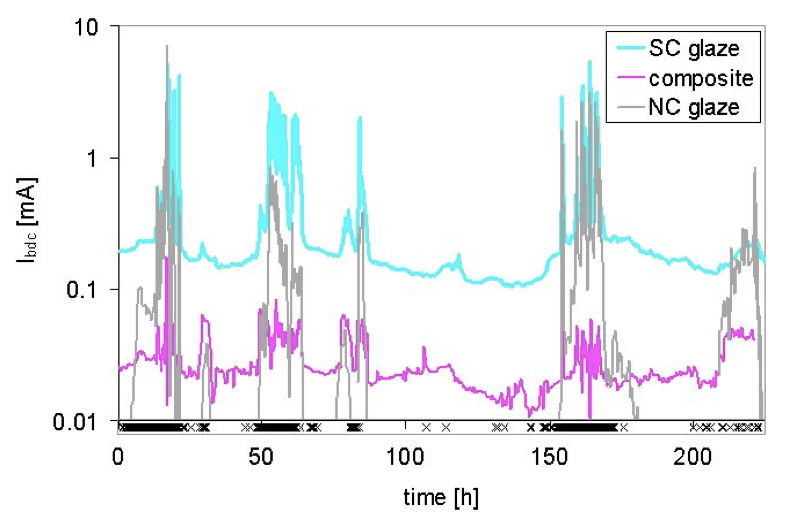 Flashovers were detected on all semi-conducting glaze insulators installed under DC voltage. On the shorter insulators, flashovers appeared after only a few months of exposure, while it took more than one year for the longer insulators to flashover. There were no flashovers recorded on AC-energized insulators with semi-conducting glaze. Insulators with non-conducting glaze experienced flashovers during the test period, mainly under DC, while composite insulators with similar creepage distance had no flashovers (see Table 2).
Advertisement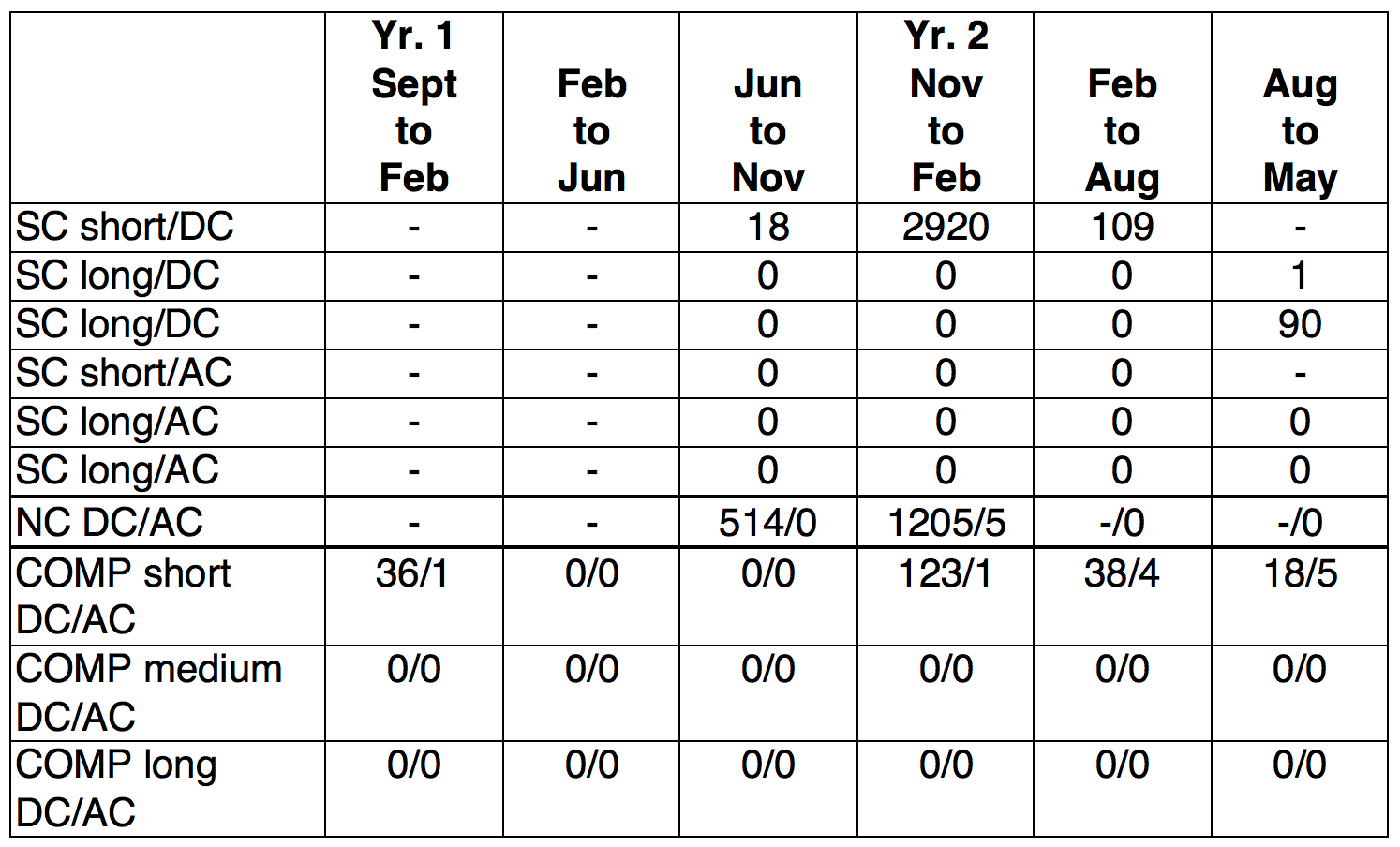 During the first visual inspection of insulators after about five months of exposure, surface changes of the glaze could be seen on the DC-energized insulators. A roughening of the surface was observed and the glaze, originally light blue, became darker and turned a grey colour all over the surface.

As illustrated in Figs. 4 and 5, the nature of surface damage varied among the insulators being tested. Since all these insulators had the same geometry, this effect could be best explained by differences in glaze composition as well as conductivity of the glaze. (A separation of findings according to these factors was, however, not possible during this project). At the same time, it became clear that surface damage was more pronounced in a band around the core of the insulator, most probably due to the effect of current concentration.

A second inspection, after more than a year of exposure, revealed that this surface degradation of the glaze had progressed, especially on DC-energized insulators (as shown in Fig. 6). At this stage of the ageing process, while there was no difference in the appearance of the glaze, another feature became evident in the form of small light spots. These were apparently craters formed by the removal of parts of the glaze (see Fig. 7). Additionally, a rust-like layer had formed in the vicinity of the grounded end of the insulator (see Fig. 8).

On AC-energized insulators, visible surface changes were concentrated mainly around the core and these were similar to those observed under DC. However, the darkening of the glaze was much less pronounced and the glaze kept its lustre (see Fig. 9). By way of comparison, AC and DC-energized insulators with non-conducting glaze exhibited no signs of damage to the glaze. Similarly, composite insulators showed no surface damage, although the silicone rubber had changed in colour from grey to brownish, most probably due to the encapsulated pollution.
To further characterize these ageing-related changes observed on the glaze surfaces, scanning electron microscopy (SEM) in combination with energy dispersive X-ray (EDX) techniques were used. Samples were taken from the test insulators after about one year of exposure. SEM revealed a rough surface with large craters on the glaze sample taken from the core from both AC and DC-energized insulators. Craters and cracks in the glaze were observed on the surfaces of sheds as well (Fig. 10a). Furthermore, a layer rich in tin oxide had formed on the glaze, as illustrated in Fig. 10b. The shape of these craters indicated that they had been formed by mechanical stress rather than by chemical processes. Analysis of cross-sections of the glaze further supported this hypothesis, since cracks under the glaze surface were found (as shown in Fig. 10c). However, higher magnification revealed small holes in the glaze and it appears that tin oxide particles have been removed from these areas (Fig. 10d).

Ageing Mechanisms
To study these various ageing mechanisms further, cylindrical samples with semi-conducting glaze were aged in the laboratory using the rotating-wheel-dip test. This testing was carried out under both AC and DC. With such an approach, more detailed investigation of the development of surface degradation and changes in glaze conductivity became possible. To characterize the samples, different techniques were employed, including measurement of leakage current, current-voltage (I-V) characteristics as well as dielectric spectroscopy in the frequency domain (FDS). It was found that during the first hours of the test, the electrolyte formed separate drops on the glaze surface. This kind of hydrophobic effect is typical for glazed surfaces when new. The amount and density of drops increased with time until a continuous electrolyte path was connecting the electrodes. Discharges were observed in that stage of ageing but disappeared as soon as an electrolyte layer over the whole sample was formed after a few hours of exposure. At this stage, leakage currents had increased significantly compared to the start of the test. Under DC voltage, a brown band appeared on the grounded electrode soon after the sample was wetted continuously. The electrolyte turned brownish and its deposits were observed to be accumulating on the sample. Pitting in the form of small craters in the glaze surface occurred all over the sample.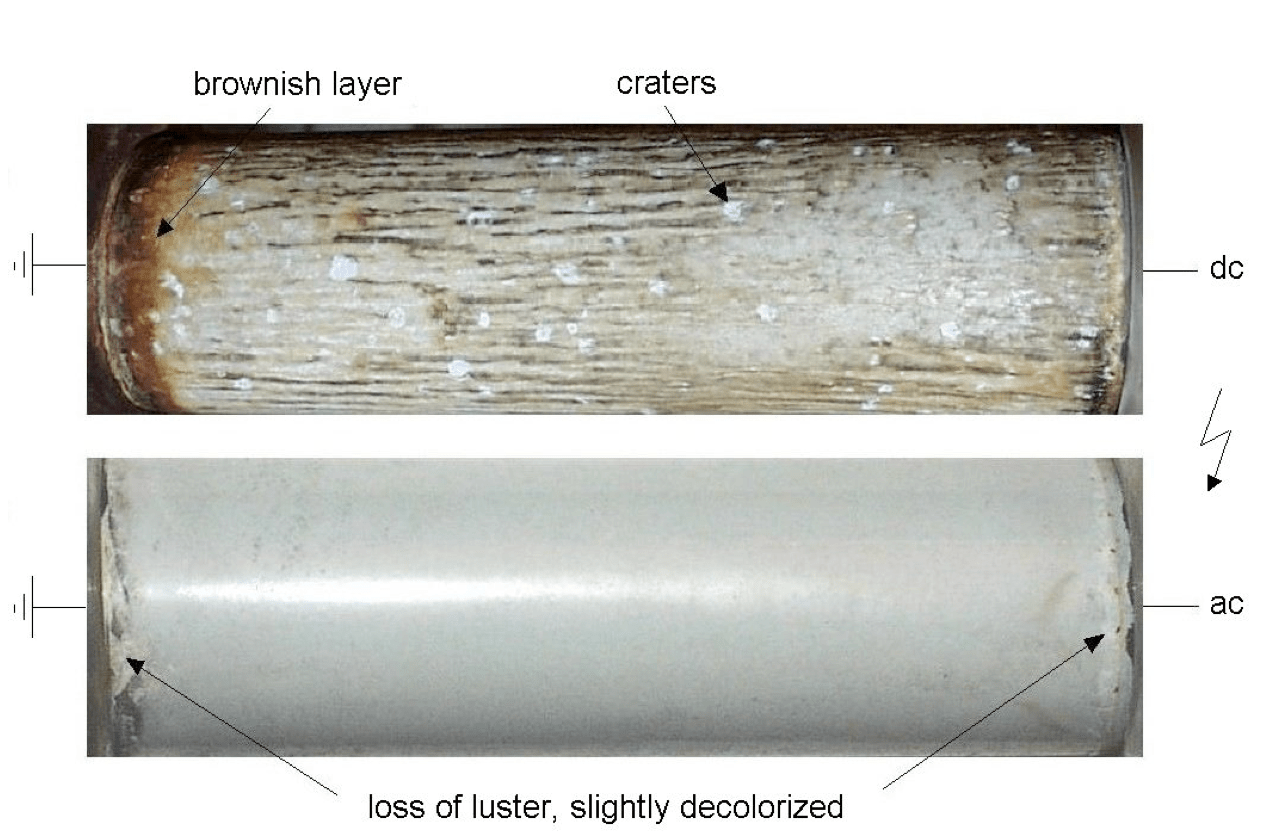 Under AC voltage, however, the glaze only lost its luster and turned lighter in the vicinity of the electrodes (see Fig. 11). SEM analyzes showed that ageing-related changes were basically similar to those observed under field conditions. Dielectric spectroscopy in the frequency domain was found to be a powerful tool for investigating conduction within the glaze as well as for studying the ageing. It revealed that the semi-conducting glazes being investigated consisted of a 'bulk' glaze, which is covered by a few micrometers of a thick, low-conductive glassy layer. This layer yielded a voltage dependent relaxation polarization phenomena. Losses dominated by DC conduction and low frequency dispersion (LFD) were other features observed in the data obtained by dielectric spectroscopy measurements. The latter was due to surface-controlled transport and depended strongly on humidity in the surrounding air.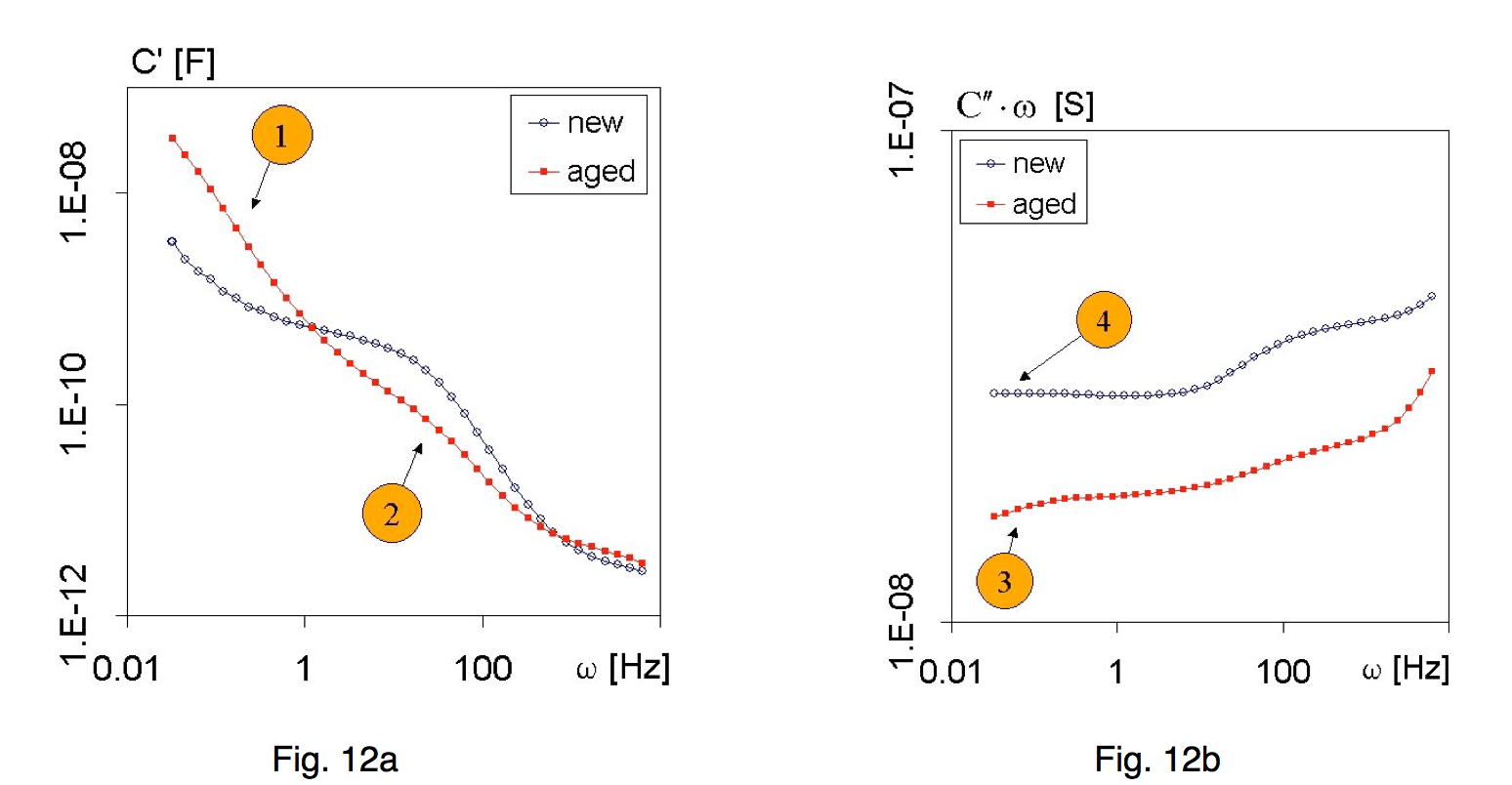 Measurements on aged samples revealed more pronounced low frequency dispersion. Structural studies have revealed that ageing mainly results in damage to the low conductive glassy layer with a net of cracks being formed under the glaze surface. This means that despite the fact that dielectric spectroscopy measurements were performed on dried samples, humidity might have remained trapped within surface cracks. Therefore, the LFD process could dominate the response of aged samples in the low frequency range (Figs. 12a and 12b). Dielectric spectroscopy in frequency domain on aged samples also found a weakening of relaxation polarization. The surface damage observed could also yield this feature, by providing an alternative path for the current to flow between the electrodes and the bulk semi-conducting glaze (as shown in Fig. 13).
Advertisement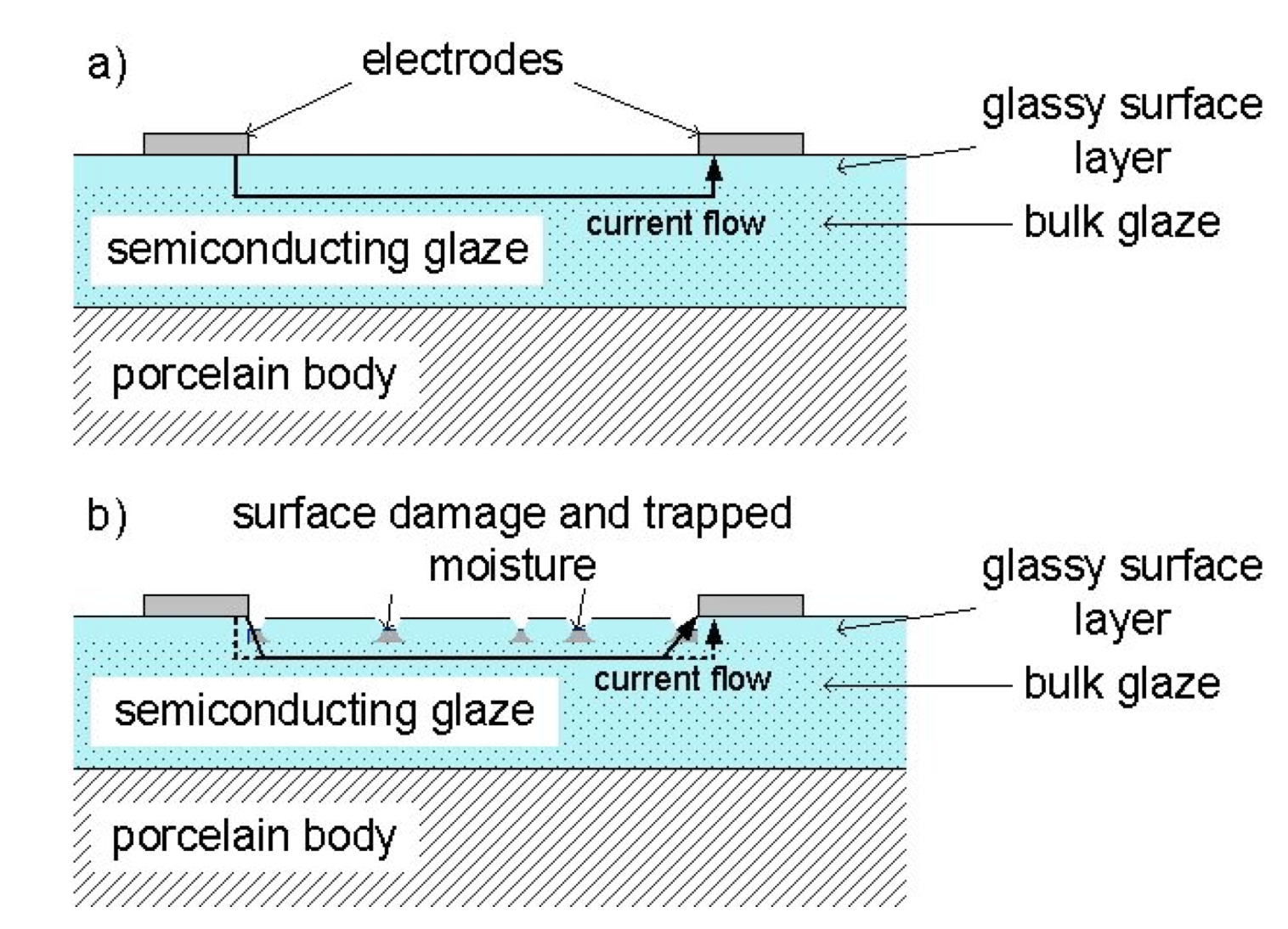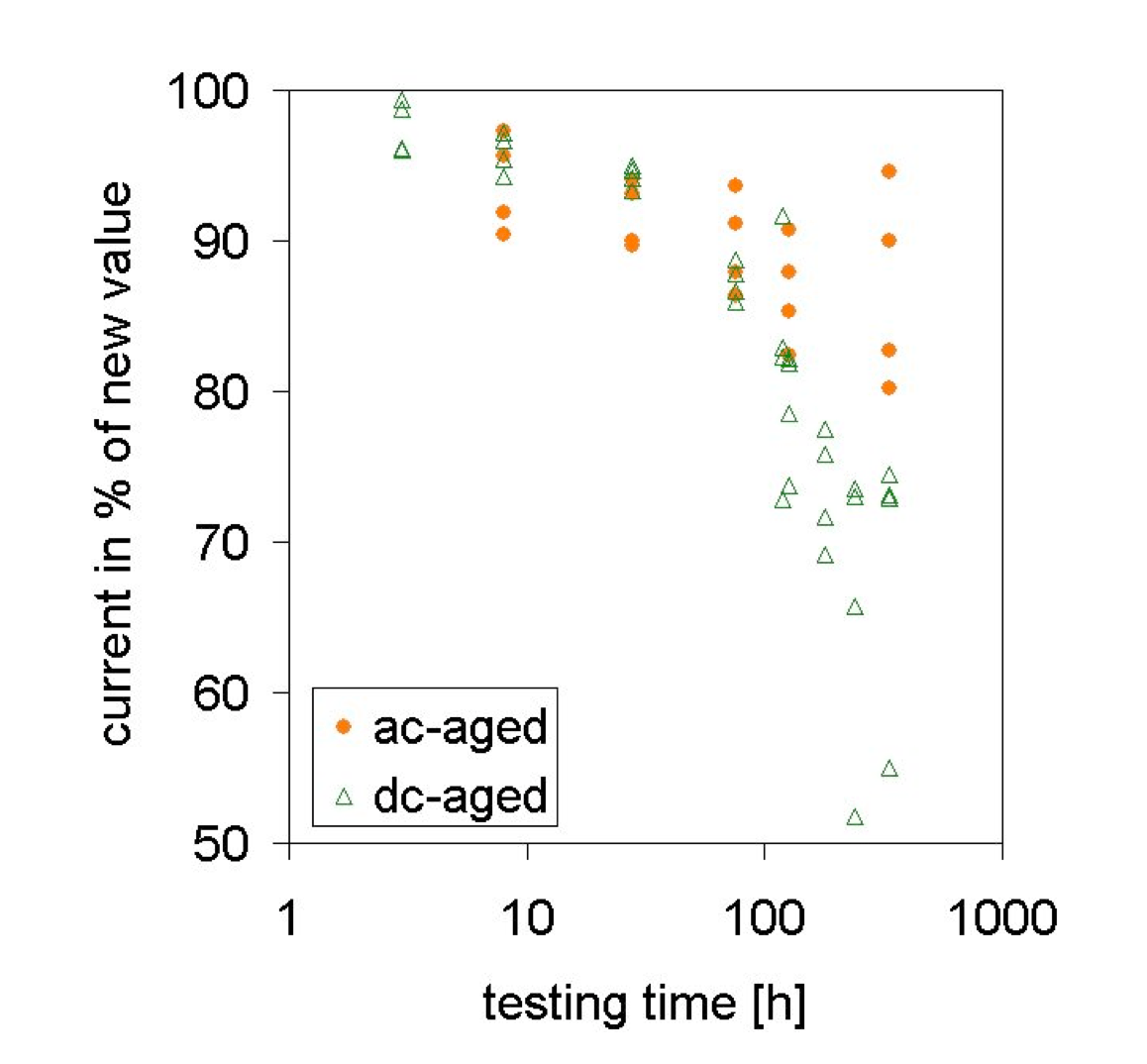 As a result, the damage to the low conductive barrier could be expected to lead to an increase in DC conduction. Instead, a decrease was observed during ageing using both dielectric spectroscopy and measurements of the I-V characteristics.
One explanation for the reduction in the conductance of the bulk glaze could be the formation of surface cracks and craters which can penetrate through the glassy layer into the bulk glaze. Another explanation could be related to so-called 'dry aging', i.e. a decrease in conductivity of the glaze without pollution present. It is not clear at this stage which of these phenomena dominated in producing the results obtained. However, since the decrease of DC conductance in the ageing test under AC voltage was less pronounced than that found after DC ageing (see Fig. 14), the former explanation seems the more likely.
Summary
Field testing of full-scale insulators showed that no significant difference in leakage current activity was found between SC glaze insulators and insulators with non-conducting glaze, while lower leakage currents were measured on composite insulators. All SC glazed insulators performed well under AC voltage (i.e. no flashovers). Under DC voltage, however, all insulators experienced flashovers during the test period. SC glazed insulators with longer creepage distance had superior performance compared to shorter ones as well as the non-conducting types of insulator. Flashovers on composite insulators were detected only on the shortest units. During visual inspection of SC glaze insulators installed under both AC and DC voltage, changes to the glaze surface were observed. The surfaces of DC-energized insulators were more severely damaged when compared to AC-energized insulators. However, SEM analysis revealed that similar ageing changes actually appeared under both AC and DC voltage. These consisted of surface cracks and craters similar to the ones observed on cylindrical model samples. Due to these observed phenomena, the particular glazes being investigated cannot be recommended for use in DC applications. Since structural ageing changes were found to be initiated on the surface, it might be possible to reduce such ageing by applying a protective layer onto the semi-conducting glaze. Further studies are also needed to find practical limits for the electrical and environmental stresses as well as to clarify how changes in the composition of such glazes could improve their performance under service conditions.