Past Experience at Canadian Utility with Surge Arresters on Transmission Lines
This past INMR article contributed by John Williamson, former Manager of Transmission Engineering at NB Power, described the experience at a Canadian utility regarding application of surge arresters on 69 kV and 138 kV transmission lines over a 6-year period. During this time, about 2000 gapless surge arresters were installed with about 1500 of these put into service on double circuit steel towers in an urban area.
---
NB Power is a public utility located on the eastern seacoast of Canada and serving the province of New Brunswick. Its transmission system includes 69 kV, 138 kV, 230 kV and 345 kV lines. Lightning protection on these lines typically employs shield wires, which have been installed on all transmission lines at 230 kV and 345 kV. Shield wires, however, have been only selectively applied on the utility's 69 kV and 138 kV lines. While New Brunswick has a relatively low-flash density, on the order of only 0.5 flashes per 100 km per year, lightning outages still posed a significant problem in areas with soil having high electrical resistivity. Much of this soil is rocky and therefore it is difficult to obtain good lightning performance due to the high resistance of structure grounding systems.
Experience with Shield Wires at 345 kV
NB Power once experienced a 345 kV fault under lightning conditions that led to an outage at the utility's nuclear power station. Subsequent field investigation found that all three strings of 18 insulators flashed over on one structure (#331). A similar lightning fault had been recorded at this same structure two years before that. Since flashover of insulator strings on multiple phases following a lightning strike is evidence of poor grounding at the tower, an engineering study was commissioned to investigate grounding problems along the line and propose mitigation techniques to eliminate this problem. The investigation included:
• gathering soil electrical resistivity data,
• design and construction of different grounding electrodes,
• computer modeling of soil and electrodes,
• field measurement to verify designs using a new impulse injection technique,
• selection of a preferred grounding electrode design.
A helicopter survey using electromagnetic scanning was used to gather soil electrical resistivity data in order to create a two-layer soil model. The data gathered covered a distance of 29 km along the twin 345 kV line right-of-way.
Test installations of 6 different electrode designs were constructed and field measurements were carried out to determine electrode ground resistance. The test laboratory providing this work proposed a new impulse injection technique to measure ground resistance on a multi-grounded system. Measurements were then carried out to verify the electrode design and the computer model. Reviewing the soil resistivity data with the electrode design, it was determined that 25% of the tower electrodes did not require additional grounding to achieve the targeted 22 ohms ground resistance. Field installation of grounding electrodes was subsequently carried out in selected areas of lightning activity and high soil resistivity, resulting in improved performance of these 345 kV lines.
Transmission Lines Near Saint John
Lightning performance improvements were first considered 15 years ago on 69 kV and 138 kV lines supplying the area around the city of Saint John. Many of these lines are supported on double circuit, lattice steel towers installed over very rocky terrain. These towers were built during the 1950s with shield wires included as part of their design for lightning protection.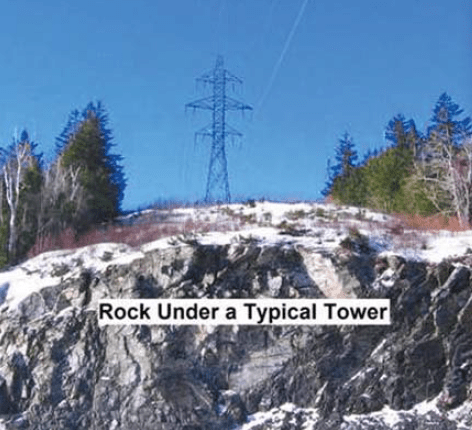 Over the years, salt and industrial contamination resulted in failures of the shield wires due to rust and corrosion. Difficulty in taking lines out of service prevented replacing these and shield wires began to disappear on these lines in many areas. With no shield wires and with numerous towers sitting on rock (i.e. having poor grounding), the number of outages due to lightning became problematic. In particular, customers were concerned as industrial loads and processes were being affected. Initially, to improve lightning performance, it was thought that the shield wires would have to be reinstalled along with improved grounding systems. However, the required line outages to accomplish this were difficult to obtain. Acceptable lightning protection with shield wires depends on obtaining low tower grounding resistance. With towers sitting on rock, this was a huge challenge as well as an environmental issue in this mainly urban location. So, although successful at 345 kV, it would be difficult to achieve improved lightning performance on transmission lines near Saint John using only shield wires and improved grounding systems. Other solutions had to be considered.
Application of Line Arresters
Line arrester application offered a possible alternative to traditional shield wires. Partial application of arresters at a tower requires a low grounding resistance so as to prevent backflash on the unprotected insulator string. The cost of upgrading the tower grounding system given the rocky soil as well as the disruption to property owners in this urban area was of concern. It was therefore decided to apply arresters to all insulator strings on the selected towers. Historical information of lightning events from fault locating relays was then used to identify those locations most prone to lightning strikes. Arresters were installed on all phases of the double-circuit towers in areas where such lightning-induced outages had been experienced in the past. Fig. 2 illustrates a typical double circuit 138 kV tower with arresters installed on all phases. With this solution, no improvements needed to be made to existing tower grounding systems.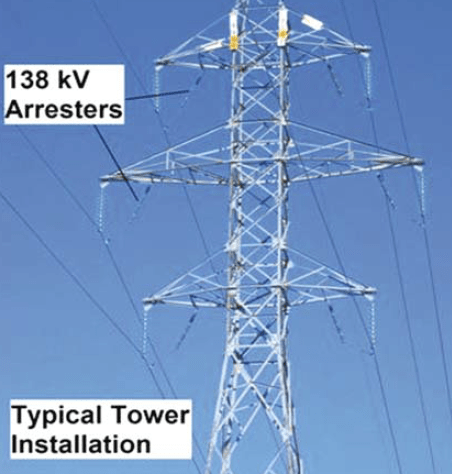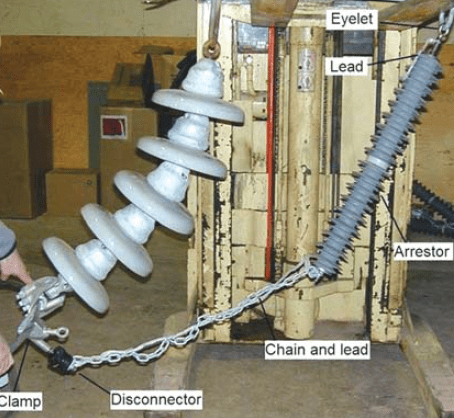 Arrester components were supplied as a kit (see Fig. 3) that included leads, chain, disconnector and a hot line clamp. Installation required only drilling a single hole in the steel cross-arm to hang the assembly and then clamping the arrester lead onto the conductor. This work was then carried out under de-energized conditions.
The purpose of the disconnector was to automatically disconnect the arrester from the transmission system under conditions where the arrester failed internally and thereby isolate the faulty arrester from the system (see Fig. 4). Under normal lightning strikes, within the arrester's rating, this disconnector would not operate.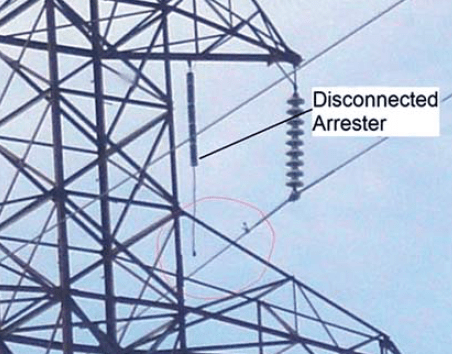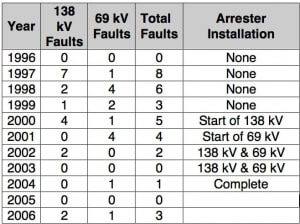 Table 1 provides a summary of lightning outages on transmission lines in the Saint John area. The summary specifically looks only at lightning outages at structure locations where arresters were installed. (Note that installation of these 1500 arresters was not completed until 2004.)
Between 1996 and 2002, a total of 28 lightning-related outages occurred at the identified structure locations prior to arrester installation. From 2003 to 2006, however, only 4 outages were experienced under lightning conditions and all of these resulted from failure of an arrester. Two of these failures were attributed to a manufacturing defect while the remaining two were the result of a lightning strike beyond the arresters' energy handling capability. Historically, NB Power would experience at least two outages each year where the conductor would fall to the ground after insulator flashover under lightning conditions. No events such as this have occurred since arresters were installed. Equally important, the lightning performance of these lines has improved to the point that industrial customers have recognized and acknowledged this to NB Power.
Problems with Line Arresters
NB Power's history with transmission line arresters began in October 2001. Over the following years, a number of manufacturing defects as well as installation problems were experienced. It was also observed that hardware components supplied with the arrester are showed premature signs of wear.
The following photos illustrate examples of arrester problems experienced.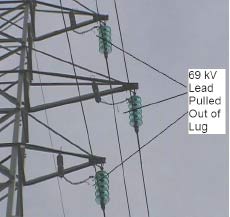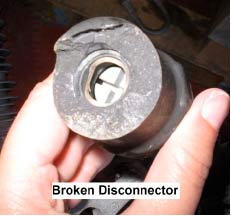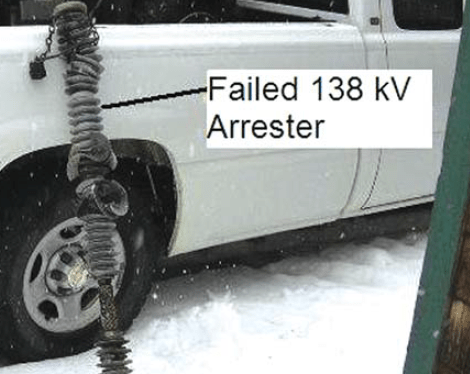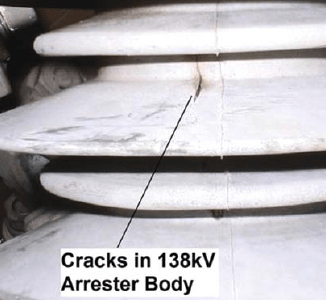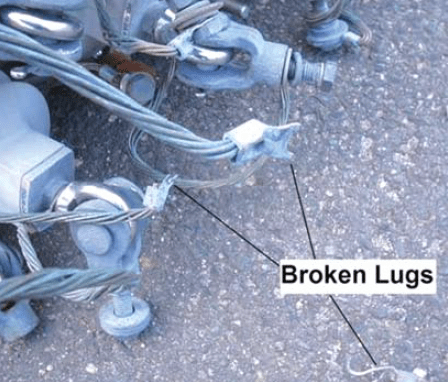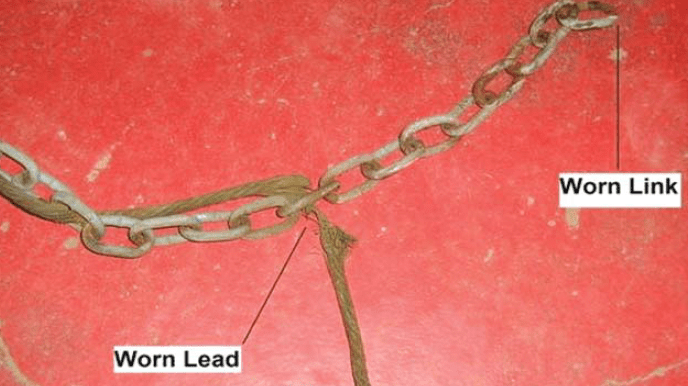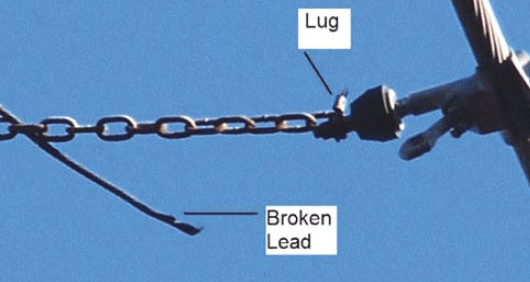 As part of its program of installing transmission line arresters, NB Power purchased these components from three different manufacturers and experienced hardware problems with each of them (see Table 2). In addition to the problems noted above there have also been other hardware problems such as suspension eyelets breaking and a failed pipe clamp on a dead-end insulator/arrester assembly.

Over the initial years after installation, there were four line outages due to failed arresters. Two of these resulted when a 69 kV arrester failed under conditions where the high magnitude of the lightning strike was beyond the arrester's energy carrying capability. The other two outages from failed arresters were at 138 kV and were attributed to a manufacturing defect. Investigation concluded that both arresters had been supplied with an improper moisture seal on the end cap of the weathershed, allowing moisture ingress and causing an internal fault.
None of the other problems described above resulted in transmission line outages. These problems were either found during inspection or were self-isolating, without causing an outage. However, the hardware problems have been problematic as well as time-consuming and bring into question concerns about the longevity of the installed design. For this reason, the condition of line arresters at NB Power has been being closely monitored through field inspection and thermovision scanning of those units in service.
Other Line Arrester Applications
Other installations of transmission line arresters on the NB Power transmission system include:
• 138 kV single steel pole design with post insulator and arrester assembly (three arresters at every second pole)
• 138 kV steel H-Frame (suspended arresters at every insulator string)
• 69 kV wood pole H-Frame (arresters installed on poles below the conductors)
• 69 kV and 138 kV arresters installed at terminal stations across transmission line dead-end insulator strings
138 kV Single Steel Pole
The 138 kV installation shown in Fig. 12 was constructed with arresters installed at every second pole. Poles were at 80 meter spacing and every second pole was chosen with the goal of minimizing cost. Each pole includes a grounding conductor around the pole one meter out from the structure. It has since been learned that a single arrester on the top phase of every pole would be a more efficient design, assuming grounding resistance is low. The insulator/arrester assembly which has been found to be more appropriate for this application is shown in Fig. 13.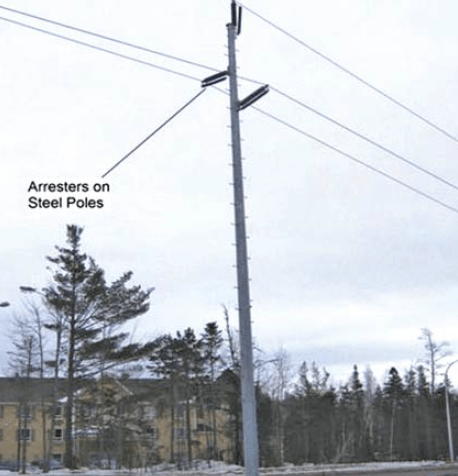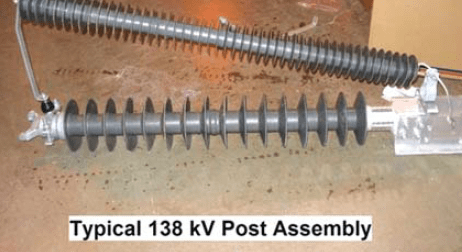 138 kV Steel H-Frame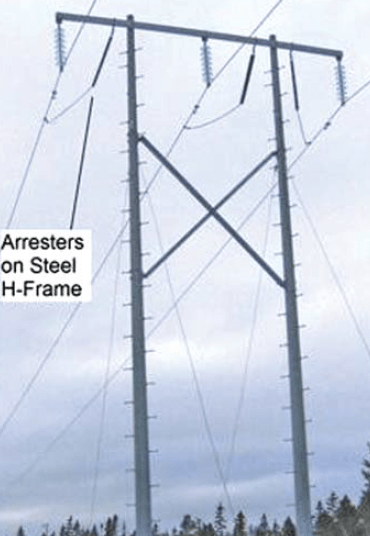 In 2003, NB Power constructed a 25 kilometre long 138 kV line using a steel H-Frame design shown in Fig. 14. Arresters were installed on all phases at every structure. No lightning outages have been experienced up to now on this section of line.
69 kV Wood Pole H-Frame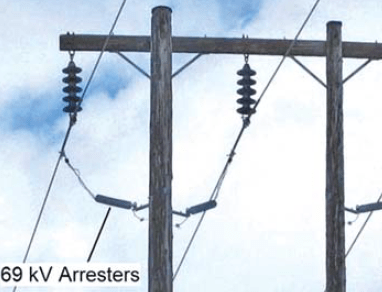 In 2002, NB Power installed arresters on an existing section of a 69 kV wood pole H-Frame transmission line (see Fig. 15). Since it was difficult to install these arresters along with grounding conductors with the line energized, a single transmission line outage was necessary to clamp the arrester lead to each phase conductor.
Arresters Installed at Terminal Stations
In 2002, NB Power experienced failure of a 138 kV SF6 dead tank circuit breaker during lightning conditions. Following this event, a study was commissioned to investigate the application of line arresters on towers near the station. This study concluded that arresters installed at the transmission line dead-end tower at terminal stations provides a margin of lightning protection to a station SF6 breaker located within 100 meters of the tower. NB Power has therefore undertaken installation of line arresters at transmission line dead-end towers for stations with such breakers (see Fig. 16).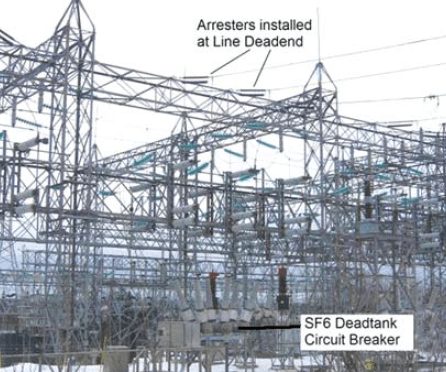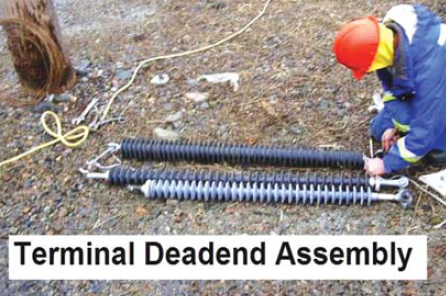 Additional Work
NB Power has investigated use of a specialized lightning detection system as a tool to use along with present fault locating relays and other historical information. An effort was made to identify those areas most prone to lightning-related outages and which were suitable locations for application of line arresters to improve system performance. For example, a lightning event in August 2006 was studied using information from this detection system and is illustrated in Fig. 18. Fault locating relays identified the 138 kV lightning fault location as being near structure #30. But, information gathered from the lightning detection system identified a total of 6 different lightning strikes within 1.5 seconds of the recorded fault time.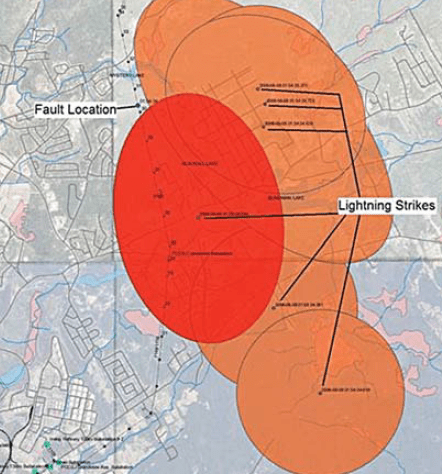 Summary
When lightning protection is required for any particular transmission line, the various pros and cons of shield wire versus line surge arresters have to be considered. The length of the insulator string, the size of the structure grounding electrode and the cost of the arrester or shield wire should all be part of this decision-making process. In general, good lightning performance can be achieved using shield wires particularly on HV and EHV lines. Conversely, shield wires are usually not appropriate at distribution voltages that feature shorter insulators and higher values of ground resistance because the grounding electrode is smaller. To achieve good lightning protection, line arresters are appropriate to apply at line voltages such as 69 and 138 kV and are seeing increased use even at higher voltages. One significant difference in considering shield wires versus line arresters is the need for low ground resistance at the tower. For lightning strikes within the arrester's energy rating, line arresters can provide zero lightning outages when installed across all insulator strings at every tower. If the towers are steel, no additional grounding is required for reasons of lightning performance. Conversely, with low ground resistance, shield wires can provide good lightning performance, approaching zero outages.
There is a fundamental difference between these two approaches for lightning protection of transmission lines. With shield wires, the goal is to get the lightning surge to pass into the ground before an insulator back-flashover. If such a backflash occurs, system power-follow current will flow through the ionized air. Protective relays will detect this and signal the breaker to trip resulting in a transmission line outage. In the case of line arresters, the goal is to prevent the lightning strike from passing through the air by giving it another path. There is no opportunity for power-follow current to flow because the arrester switches off after the lightning strike has passed through it. With no power-follow current, the protective relays and breaker at the end of the line do not operate and there is no outage. Effectively, lightning which hits the transmission line will pass through to the tower steel and ground. The ability of more than one arrester to share in conducting the lightning strike to ground can be an important consideration when determining arrester energy carrying capability. This is an important topic for future research.
Conclusions
Line arresters installed on the NB Power transmission system clearly demonstrated their ability to eliminate lightning outages. For example, a three-day lightning storm struck the Saint John area and caused numerous transmission line outages. However, there were no line outages due to lightning on those towers equipped with line arresters, even though these were located in the very center of the storm area. All outages were triggered at structures without any arresters. Probably, the various problems experienced with arresters and described in this article can be eliminated by using arrester/insulator assemblies similar to those shown in Figs. 13 & 17. More research needs to be undertaken to investigate the energy sharing capability of line arresters under lightning conditions.