In 1992, ABB Hefei Transformer Co. represented ABB's first joint venture for power transformers in China, becoming a wholly owned subsidiary of the multinational engineering giant five years ago. Located in Anhui Province and focused mainly on transformers for 220 kV, it also produces transformers for 110 kV and 330 kV with an annual capacity of some 25000 MVA.
The company is organized into three separate product groups that, apart from power and distribution transformers, also manufacture a range of related insulation materials and components such as bushings, on-load tap changers and oil treatment equipment. At the end of last year, this product group (PGIC) was relocated to a new 30,000 sq m. facility and is now gearing up production to meet most of the condenser bushing needs of ABB's HV transformers in Hefei and to supply other customers as well.
INMR visits the PGIC Division to report on the progress of this latest ABB investment in China.
---
Starting this year, ABB will supply the large part of its domestic demand for HV power transformer bushings from its own new factory situated in the same city as its transformer factory. According to Technology Manager, Rolf Berglund, a Swede  now stationed in Hefei and who has helped coordinate the transfer of manufacturing know-how for these components, the recently-built facility is expected to become one of the most sophisticated centers for bushings production in China. For example, Berglund points to two new paper winding machines just recently installed, which he claims are equipped with the latest technologies available anywhere.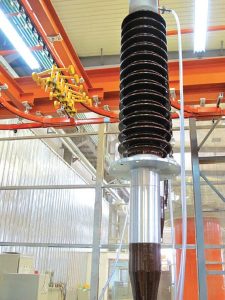 Henrik Nordén and Fredrik Moraeus are ABB specialists who have come to Hefei on a project to assist in optimizing the start-up. Says Nordén, "what makes our new winding machines different from those used by some other suppliers in our industry is their level of sophistication in terms of allowing for simultaneous wrapping and drying with very high efficiency. This means that finished condenser cores can move as rapidly as possible to assembly with no need for additional drying."
Nordén explains that a bushing's tan delta correlates closely with the presence of any internal moisture and therefore the drying elements built into each machine are programmed to attain the vital drying while maintaining a high productivity.
Related Posts
« Advances in Insulation Materials Support High Performance Distribution Equipment Supplier of Hollow Core Composite Insulators Prepares Market Entry »