January 29, 2016 •
ARTICLE ARCHIVE
,
Hollow Core
,
Insulators
The growing market for composite hollow core insulators has just grown a lot more competitive. This past May, TE Connectivity (TE) unveiled its new Kunshan insulator plant, the world's newest such facility. Located near Shanghai, this factory signals TE's renewed commitment to its line of composite hollow core insulators – a field it entered in 2001 when it acquired this business and rebranded it under the name Axicom.
INMR travels to Kunshan to meet TE managers closely involved in this project and takes readers on an exclusive tour of this futuristic production plant.
---
"This factory represents the single largest investment ever made by TE ́s Energy business unit (TE Energy) in this segment," states Transmission Market Director, Robert Strobl, to emphasize the strategic importance of the new Kunshan factory. "It also marks the end of a process that began in 2011 when we first conducted due diligence to examine our alternatives in China, from joint venture to fully-owned production site."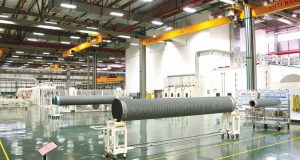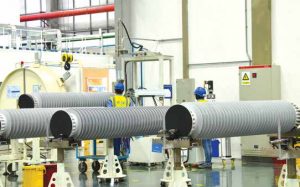 Strobl goes on to explain that the eventual decision to construct a state-of-the-art factory of such a scale was based on a number of market factors. Perhaps foremost among these is the growing tendency within China and elsewhere to employ composite insulators in place of porcelain, especially with rising system voltage. In fact, the recent commissioning of a 750 kV substation totally outfitted with composite insulation (see INMR Q3, 2015) marked a 'watershed' event for the Chinese power industry since it now allows the grid operator to compare life cycle costs and operating performance of this technology versus traditional porcelain.
Another consideration supporting an investment of this magnitude, according to Strobl, was the goal of establishing a production center situated close to key customers across the region – especially given the costs of shipping large insulators here from a TE factory located halfway across the globe. "We needed to have local production," he says, "to better support multinational OEMs in their operations here and elsewhere across Asia."
Steve Dewdney was closely involved in all aspects of planning and start-up of the new plant in his former role as Project Manager and is now Product Manager for its insulator line. He explains that although the new facility breaks new ground in several areas, key elements of its production technology mirror those used for years at Axicom's plant in Wohlen, Switzerland. "Although our capabilities in Kunshan have been expanded to allow us to make tubes up to 12 meters long without any need to join pieces," he reports, "we utilize exactly the same filament winding technology and also the same production tools."
Yet there are also some profound differences between the two plants.
While the Swiss factory offers insulators made with liquid silicone rubber (LSR) housings, those being produced in Kunshan utilize high temperature vulcanized (HTV) silicone . This changeover in material is significant since it impacts key elements of the production process, including type of injection machinery used and critical process parameters such as pressure and temperature. It also influences the stage at which flanges can be attached. "The Chinese market strongly prefers HTV," explains Dewdney. "There are cost advantages as well that determined our final choice of housing material and which will help us to better compete locally."
One point of departure from the norm in the Chinese market, however, is TE's decision not to compound their own HTV silicone, as done by most domestic insulator suppliers. Instead, the decision was made to source this material from the local operations of a European- based chemicals giant. "We evaluated the issue of housing material in great detail," reports Dewdney, "and came to the decision not to mix in-house but rely instead on a proven HTV formulation used for years on our line of HV arresters. That means we already have a lot of experience with this material and how it performs. We also feel that outsourcing the silicone material from a specialist in that business will be seen as an advantage by customers from the perspective of assured uniform quality from one shipment to the next."
Apart from choice of housing material, shed geometry is also key to performance and here Strobl states that it was decided to standardize design as much as possible to reduce complexity and make it "fit for purpose". In this regard, insulators produced in Kunshan are equipped with alternating sheds that have an improved angle in order to offer a higher creepage factor. In fact, Strobl points out that all insulators from the new factory conform to IEC 60815 Part 3 for high pollution and this was done to ensure they would always perform well, even in the severe environments found across parts of China and elsewhere around the world.
For example, Dewdney indicates that the new HTV insulators have been tested under artificial pollution, heavy rain and temperature extremes from -60 to +105°C. "We have gone well beyond the requirements of IEC 61462," he says, "since we believe this standard sets a fairly low level. Customers these days are concerned about challenging service environments and they want to be certain that the insulators they install will perform well for at least 40 years."